23 Pants Upcycle and Refashion Tutorials
This post may contain affiliate links
Get inspired with all these pants upcycle and refashion tutorials! It's a way to turn your pants into something great with these sewing projects!
When I had the idea to put together a list of pants upcycle and refashion tutorials I was worried I wouldn't find very many. I know I refashion pants all the time, but I didn't know if other people refashioned pants too.
Well, I was wrong because you can choose one of these many there are lots and lots of pants refashion tutorials out there and here are just fourteen.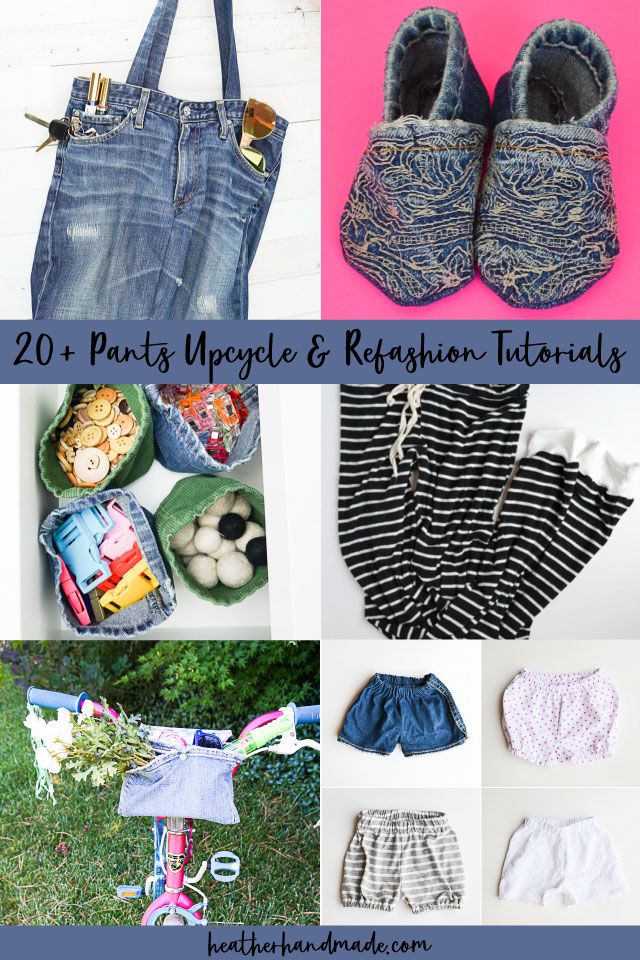 What is refashioning?
Refashioning is to fashion clothing again or differently. I usually use this to describe when I'm sewing clothing to fit different or to look different, but the majority of the item stays the same.
what is upcycling?
Upcycling is to reuse material to create something better than the original. I usually use this to describe when I'm sewing adult clothing into clothing for children or I'm sewing clothing into an accessory or house item.
Do you love to refashion? Check out these lists of refashion ideas! There's something for everyone!
Pants Upcycle and Refashion Tutorials
If you make something using this sewing project, I'd love to see! Please share it on social media with the hashtag #heatherhandmade and tag me!