This post may contain affiliate links indicated with a *. Read the full disclosure here
I really love the look of beach cargo pants. The pockets are perfect for all the rocks, sticks, shells, and bugs that kids find and want to keep. (Seriously, every roly-poly bug is Henry's new best friend!)
A common misconception about sewing is that it'll look homemade. By reusing the zipper placket, pockets, and cargo pockets you get a pair of pants that look ready-to-wear. Let's learn how to upcycle cargo pants for kids.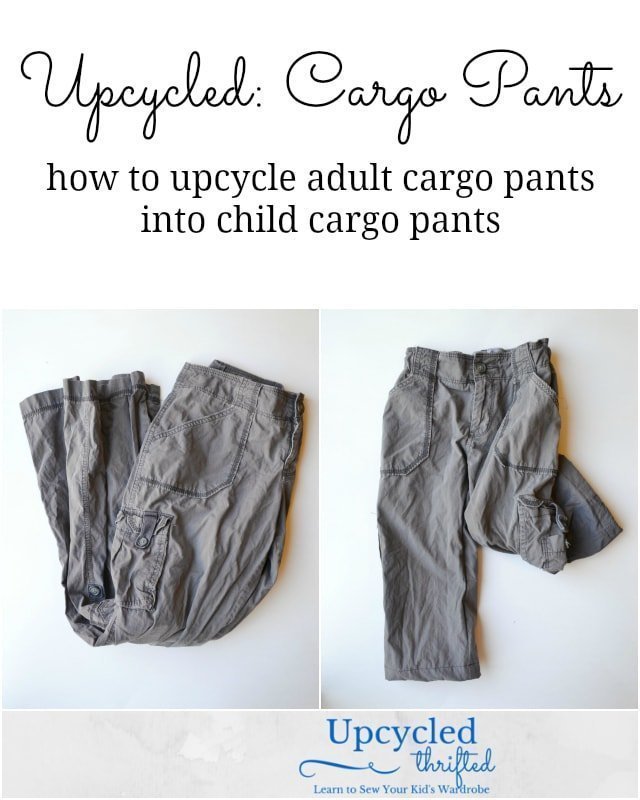 Have you ever upcycled? There's always an excess of adult clothing to be found at the thrift store. Here's a list of how to upcycle kid clothes so you can get started.
Supplies
Instructions
1. Cut the pants along the inseam to open it up flat. Now when you're trying to reuse the zipper placket you have to play with the placement a little. I chose to keep the zipper placket, waistband, front pockets, and cargo pockets.
2. Lay the front crotch curve along the the zipper placket and front curve. Let the part at the top that would fold over to become the waistband hang over the top.
3. Because of the pattern placement  I cut right through the back pockets which I removed after cutting it out.
4. Extend the length of the shorts down to become pants. I also kept the buttons and straps to help with rolling up the pants which I didn't end up using.
5. Cut two slits near the front underneath the belt loops. Insert elastic through the center back part of the waistband and through the slits. Tack both ends of the elastic. I used a zigzag stitch wear I cut the slit and somewhat hid it under the belt loops. Then sew the center back seam together and through the elastic.
6. Sew the pants together as directed by the pattern instructions.
These pants work great as-is or rolled up for walking along the beach. They turned out a little too big for Henry, but they'll be perfect for warm fall days in a couple of months.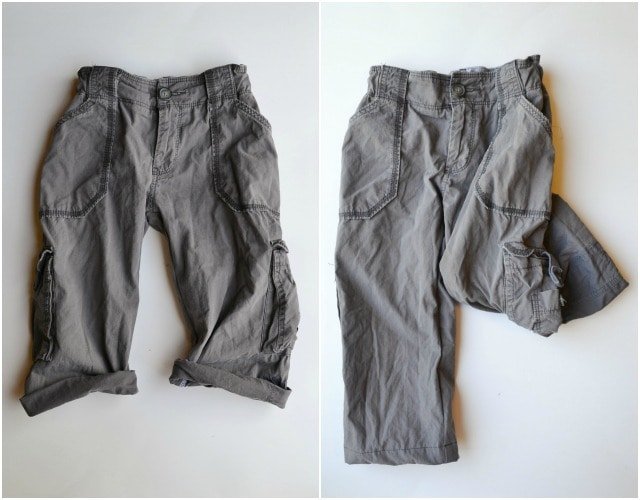 Find the big list of all the upcycling tutorials I've created!
Share any upcycle inspired projects for your children with the hashtag #upcycledkid!
If you ever break a zipper here's how to fix a zipper if the pull came off. This sewing trick works for invisible zippers, separating zippers, and regular zippers. You can also learn how to sew a zipper.