8 Best Fabrics for Sewing Clothing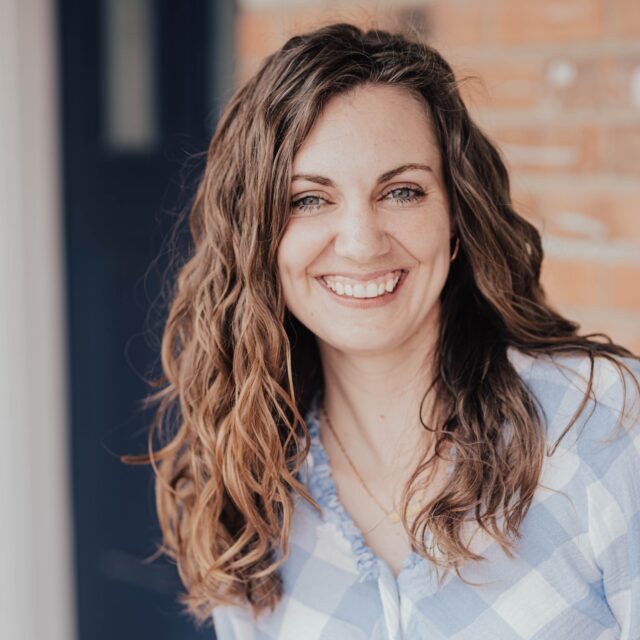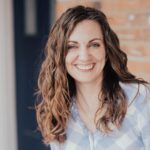 This post may contain affiliate links.
Learn all about the fabrics for sewing clothing so that you'll love to sew that fabric and love to wear the clothing you make with it!
I feel like I've gotten pretty picky with my fabrics, and maybe they cost more, but I'm not buying as much and each item lasts much longer. After all the mistakes I've made, I've figured out what my eight best fabrics for sewing clothing.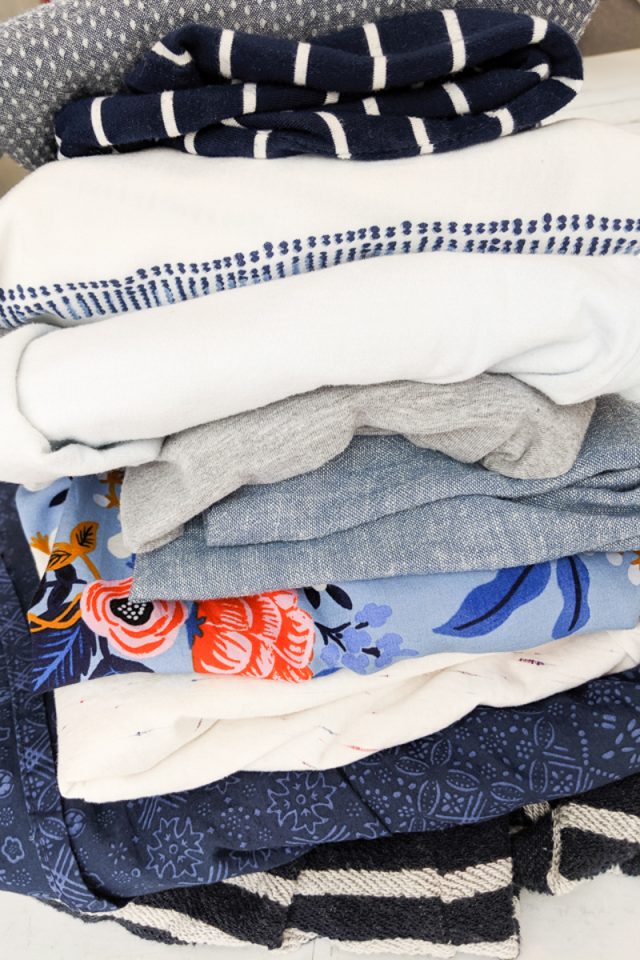 I feel like I've learned a lot about fabrics in the last couple of years. I have been sewing for a long time, and I've made lots of mistakes.
I've made clothing that didn't fit right. I've used fabric that was too light for an item or too heavy for an item. I still make mistakes or don't think items all the way through, but the important thing is that I've learned from my mistakes.
Along the way I've learned my shape and measurements, I've learned which silhouettes I like, and which fabrics I like to sew with. It helps me sew clothing I'll love. Read all about the types of fabric for clothing and all about fabric for a great starting place. These are my favorite places to buy fabric that you will read about below.
Best fabrics for sewing clothing
1. Rayon Challis
I've made a couple of items out of rayon challis*, and I have loved working with it. It's a woven that's fairly easy to work with and some kinds can be pretty slippery. It is opaque, fluid, and cool for when it's hot.
Rayon challis works well for items that need to drape. Rayon challis will not work well for a fitted item because it's not strong. It works best for loose or semi-fitted silhouettes.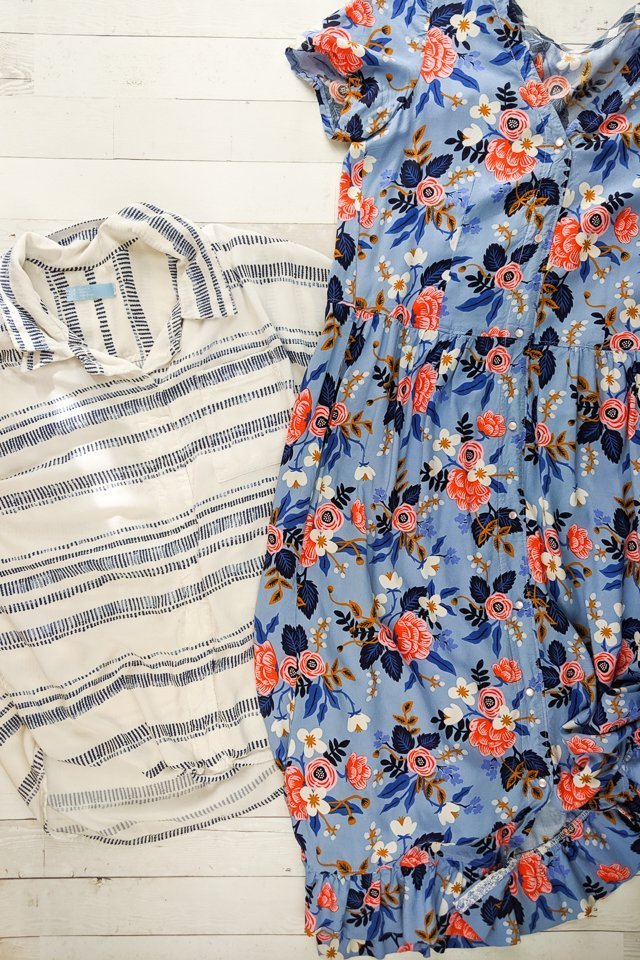 2. Cotton Lycra Jersey
I have sewn with so many different cotton lycra* fabrics and weights. I can't even count how many items I have made using cotton lycra.
Some is definitely better quality than others, and I like to get 8 oz or heavier. It's easier to work with and not transparent.
Cotton lycra works really well for fitted tees, fitted skirts, joggers, and lightweight leggings. I even use remnants to make underwear for my kids.
My favorite is solid cotton lycra. Cotton spandex is also one of the easiest knits to sew with.
Dana Jersey Knit
My favorite fabric to use for a t-shirt that would look like something you would buy at the store is Kaufman Dana jersey knit*. It is a cotton modal blend fabric, and it has no spandex.
It drapes beautifully, and it's pretty opaque. It's a pricier fabric, but it's the only fabric I've found that looks like ready-to-wear fabric.
3. Tencel or Lyocell
I have a deep love for Tencel*. Once I made my denim joggers from it, I was completely sold.Once I touched and sewed with tencel, I only want to touch and sew with tencel.
I literally can spot it from across the room because of the slight shimmer it has and the way it moves. Tencel has similar in drape and hand to rayon challis, but it's much stronger.
Tencel and rayon are basically the same thing, they are just manufactured slightly differently. There also lyocell* which is the un-trademarked version of Tencel.
I haven't noticed a huge difference between the two, but I have been able to compare them very much.
4. Bamboo Rayon Spandex Jersey
There are lots of loose, drapey styles that are popular right now, and lots of new patterns to reflect this. The best fabric that lasts the longest is bamboo rayon spandex jersey*.
Bamboo rayon spandex is a little bit trickier to sew with since it's lightweight, but after some practice you can sew with it. I like to use it for drapey tops, drapey tunics, and drapey dresses.
Bamboo rayon spandex is made from bamboo pulp. It's more expensive than regular rayon, but it's easier to sew with and rarely transparent. It feels like really fancy fabric, and it holds up better to wear than regular rayon.
5. French Terry
French terry is a warm, soft, comfortable to wear, and easy to sew fabric. It's great for hoodies, sweatshirts, and shirts. It's my favorite for winter items. (learn how to sew french terry fabric.)
French terry has a wide range of stretch and a wide range of weight so be careful when looking online. I bought one once and it was more like a transparent rayon spandex, but then I've sewn with one that had almost no stretch and a thick weight.
French Terry fabric comes with spandex and no spandex, and it comes with a lot of stretch or little stretch. You really need to touch it or ask for the stretch percentage.
6. Linen
This might seem silly, but I think linen is one of the most luxurious fabrics. If you dry clean it, it keeps it's special almost shiny coating. If you wash it it gets softer and softer with wear.
I know people hate linen because it wrinkles so easily, which it does; but the wrinkles look luxurious to me. It's a great summer fabric. (I often swoon when I see a man wearing a linen summer suit.) You can make this flat front skirt with my free pattern!
I like linen for structured but not too fitted tops and jackets, and summer pants and skirts. It doesn't do well when it's really fitted because the fabric can tear easily. I've been eyeing this cotton linen stripe in sky* for awhile. Wouldn't it make the most amazing jacket?
7. Chambray or Cotton Lawn
Chambray is a lightweight woven that has white yarn in the weft and colored yarn in the warp making it a subtle multi-colored fabric. It's perfect for tops and lightweight skirts.
I like it because it's such a great basic neutral. Since it has subtle color differences you can see the texture, but it reads like a solid.
Cotton lawn is a similar weight to chambray, but it's dyed or printed after the fabric is woven. Both fabrics are easy to sew with and make beautiful clothing.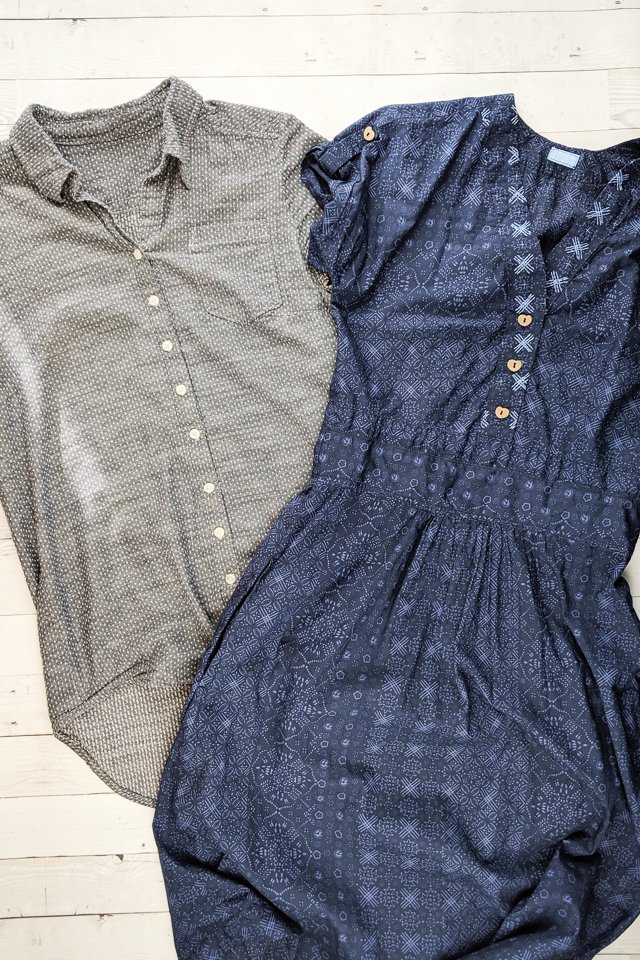 8. Quilting Cotton
I don't often recommend quilting cotton for clothing since it's so stiff, but you can use quilting cotton for fabric. It is really good for beginners!
The only garments I recommend it for are fitted button downs, bows, boys' button downs, and little girls' dresses. It's also great for women's pencil skirts, fitted dresses, circle skirts, or fitted button down shirts.
Quilting cotton works best for fitted items. I'm currently making two girls' dresses using this Triangle Quilting Cotton* and this Floral Quilting Cotton*.
Quilting cotton is really easy to sew with and comes in all kinds of colors and prints. It's really inspiring to walk through rows of quilting cotton.
FABRIC I LOVE AND HOW I USE IT
Loose Fitting Pants: Linen, tencel, rayon challis, non-stretch denim, cotton linen blends, and wool
Fitted Pants: stretch denim, and twill (Here are some tips for sewing denim fabric)
Loose Fitting Shirts: Cotton voile, rayon challis, double gauze, silk, chambray, cotton lawn, linen, Tencel, cotton linen blends, and flannel (less drapey shirts)
Fitted Tees: cotton spandex jersey (essentially only knit fabric that has good recovery) – how to sew knit fabric or how to sew knit fabric with a sewing machine
Slouchy Tees: bamboo rayon spandex, dana knit jersey, and tri-blend jersey
Sweatshirts and Sweaters: sweater knit, french terry, and sweatshirt knit – how to sew French terry
Non-Pencil Skirts: Cotton lawn, rayon challis, Tencel, cotton linen blends, and linen
Pencil Skirts: Silk, denim, heavier weight knits, quilting cotton, and twill
Dresses: Cotton voile, cotton lawn, rayon challis, double gauze, silk, satin, Tencel linen, and wool (for colder weather)
Lining fabric: slippery lightweight polyester, flannel back satin, and flannel (only in the body) – how to sew lightweight fabric
If you make something using one of these best fabrics for sewing clothing, I'd love to see! Please share it on social media with the hashtag #heatherhandmade and tag me!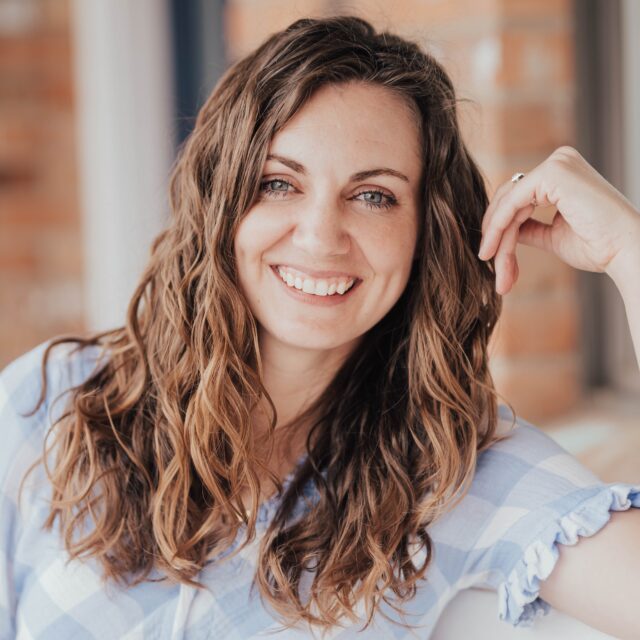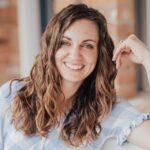 I believe small sewing moments can create great joy. Find your own "right" way to sew. -Heather