How to Sew Clothing I'll Love
This post may contain affiliate links
I've made a lot of sewing mistakes that made items sit in my wardrobe instead of being worn. Today I'm going to go in depth on what I learned about how to sew clothing I'll love and clothing you'll love.
Unworns: I made that word up, but if you sew clothing you know exactly what I'm talking about. You sewed it, you like one or two things about it, but it sits in your closet UNWORN. Why is that?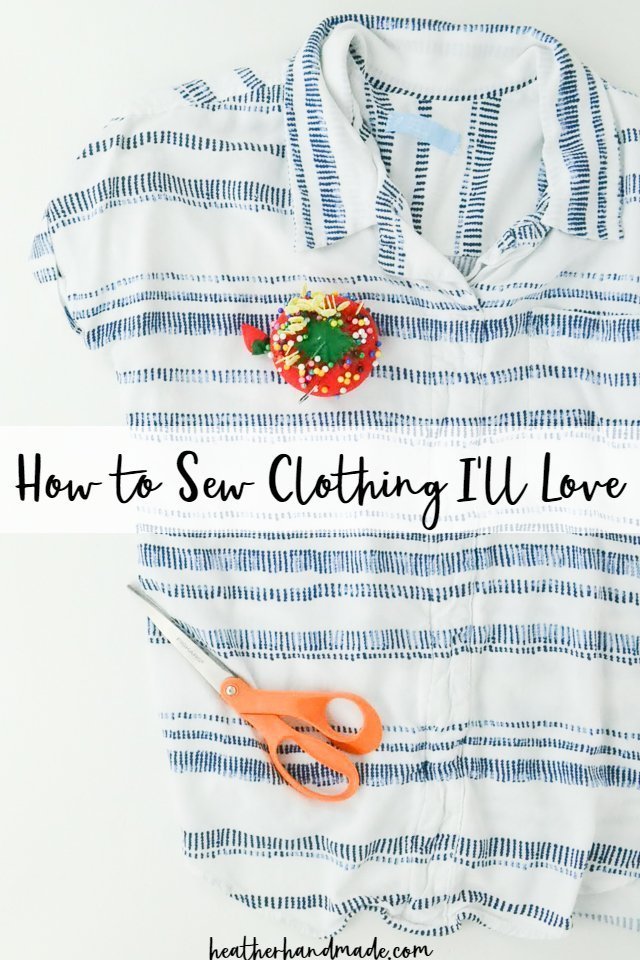 It doesn't fit correctly. It's too long above the bust, it's too short below the waist, it's too tight in the sleeves, it's too loose on the waist, the neckline is too low, the back is too tight, etc.
You like looking at the colors, but the colors actually don't look good on you or "gasp" you just don't like wearing those colors. You used the wrong fabric so it is too stiff when it's supposed to drape, or it is too light when it's supposed to have body. You have nothing in your closet to match with it.
I used to make unworns all the time. I often felt pressured to make something for the blog and would rush through a project. After taking pictures of it and blogging about it, the item would quickly become an unworn. I usually got rid of it.
It felt like a waste of fabric, money, and time. For the past couple of years I have been on a mission to stop making unworns. I wanted to make things I loved. I wanted to want to wear things I made. I wanted to stop wasting time and money.
How to Sew Clothing I'll Love
I haven't been doing this for every long, but it has already made a difference in my wardrobe and in my sewing. These are my steps for sewing loved handmades, making a handmade wardrobe you'll love, and avoiding the accumulation of unworns.
Figuring out your style
Planning your wardrobe
Planning your project very carefully
Making a muslin
Slow sewing
Figuring out your style
For some people they have always known what their style is, what they like, and they are not swayed by trends. I was not one of those people. I have always liked fashion and liked almost all the styles. I thought I had to have a lot of styles represented in my closet to have a good wardrobe.
Finally I went through the Colette Wardrobe Architect series. I recommend this series 100%; it's great for people who sew and for people who don't sew. It's free, and it helps you figure out the words that describe your style, your colors, your silhouettes, your accessories, etc.
I love it because everyone is so different, and not everyone fits into the categories: preppy, classic, romantic, rocker. The series helps you create your core style which is different and unique.
I have found that I am casual, comfortable, classic, preppy, and bohemian. I didn't think that preppy and bohemian could go together, but it totally works in my wardrobe because it's MINE.
Another great resource is this article, how I developed my personal style + 3 steps to develop your own.
Planning your wardrobe
After I figured out my style, I would make things of my silhouettes and my colors, but I still had problems putting outfits together. This was mostly because I had too many prints and didn't have any solids to go with my prints.
I wasn't planning out my wardrobe before sewing. I was just sewing whatever I wanted. I liked the idea of capsule wardrobes, but I didn't know how to make it work. The capsule wardrobe facebook group (join one of these sewing groups on Facebook!) has been a great resource with asking questions and getting help.
What really made it click for me was the class Sew to Flatter: How to Plan Your Best Wardrobe*. Besides learning how to find the colors that flatter me, how to find my shape, and how to flatter my own shape, the teacher also demonstrated how a 12 piece wardrobe can make 96 combinations. It was like a light turned on when I saw the outfits happening right in front of me. I definitely recommend this class.
I also created my own free handmade wardrobe planner to help me plan garments with handmade garments that are already in my closet. I love to see who colors and silhouettes work together before I make it.
Planning your project very carefully
I have found that most of the time a project turns out unwearable, it is because I used the wrong fabric. I would often forget to read the suggested fabrics for the pattern. I thought I was a good enough seamstress to force a fabric to work for the pattern I wanted.
Or I wanted to be cheap, so I tried to use what I had instead of purchasing the right fabric for the right pattern. Then I watched the class Fabric Know-How: Choosing and Using Your Favorite Fabrics*, and I was reminded how important fabric choice is. Here are some other great tips for sewing and saving money when buying fabric.
If you are using wovens or knits, knowing your fabric and how to use it is so important. A fabric will not change it's drape or hand. You might be able to underline something to make it stiffer, but that's about all you can do.
The Fabric Know-How class teaches you how to use the right needles, how to use interfacing, how to cut out fabrics differently, and the right hems for all different kinds of fabric. I learned tips and techniques for fabric that I never learned in my college textiles class. I'm going to rewatch this class over and over again.
These are my tips for sewing knit fabric to help you get started. These are my tips for sewing lightweight fabric to help you get started.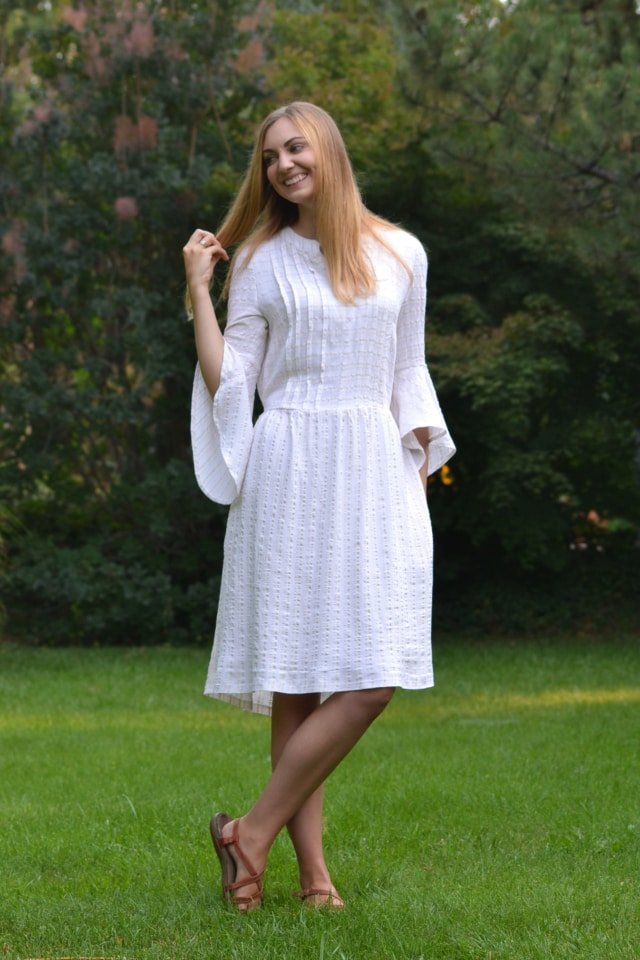 Making a muslin
Once you know your style, you've planned your wardrobe, and you've planned your fabric and pattern carefully, you think it's time to start sewing. But there is one more step: muslining. You can do flat pattern alterations all day long, but you should see it on your body in a similar weight fabric as your fashion fabric before you start cutting into your fashion fabric.
I muslined a pattern four different times before I ended up scrapping the pattern altogether. I am SO grateful I never cut into my expensive fabric. Most of my fitting and muslining skills I learned from my college classes, working as a tailor, and sewing experience I've had since.
My favorite way to get help with fitting is to look up videos on youtube. It's free and you can learn so much. If you don't understand the way one person does it try looking for someone else.
Slow sewing
Once you've gone through all these steps, you can start sewing. But after learning all these things about yourself, you should know when your best times for sewing are. I almost ALWAYS make a mistake if I sew in the evening (I'm just too tired), or if I'm in a rush.
I've come to terms with the place I am in life as a mother of young children so I can only sew a little bit here and there. I'm trying to embrace slow sewing, so that I don't make mistakes and don't neglect other important things in my life.
What will you do to about how to sew clothing I'll love and you'll love? If you make something using this tutorial, I'd love to see! Please share it on social media with the hashtag #heatherhandmade and tag me!