Tips for Sewing Jeans
This post may contain affiliate links
Learn all my tips for sewing jeans and denim fabric in my quest for the perfect handmade skinny jean with the Ash Jeans sewing pattern.
I remember years ago wondering if I could ever make my own jeans and having someone comment that they would never look as good as ready-to-wear. Then I saw people online starting to sew their own jeans and thinking is was just too hard, and I've never be able to do it.
I've sewn lots and lots of pants patterns, but most of they avoid the front fly zipper. That's pretty much why I chose those patterns. I'm trying to develop more of my sewing skills and have a completely handmade wardrobe which meant I had to make my own skinny jeans.
I started with the Ash jeans sewing pattern my Megan Nielsen because out of the designers that I've tried, I fit her block the closest. It's always easier to start where you have to make less fit adjustments.
I've made the Ash jeans twice, a corduroy version and a basic navy stretch denim version (unblogged). I did a little bit of fitting adjustments, but could never get them perfect.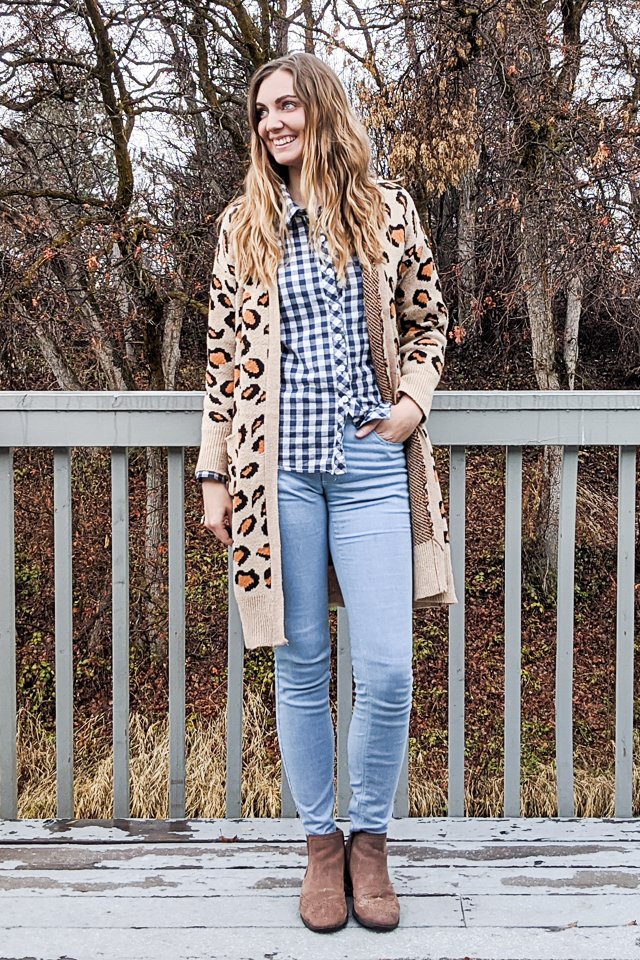 I finally sat down and studied those pants that I had made, studied ready-to-wear jeans that I own, and figured out some fit adjustments that I need for my own body.
I made three pairs of jeans and learned a lot about fitting and tips for sewing jeans. I made a black/charcoal version with sturdy cone mills denim. These are the best jeans out of the three I made.
Then I made a light denim version out of some lightweight fabric. This fabric won't last very long, but I'm grateful for the practice.
The last pair I made was a lightweight tencel blend that I cropped to be the perfect summer pants. I'm really excited to wear these when the weather warms up.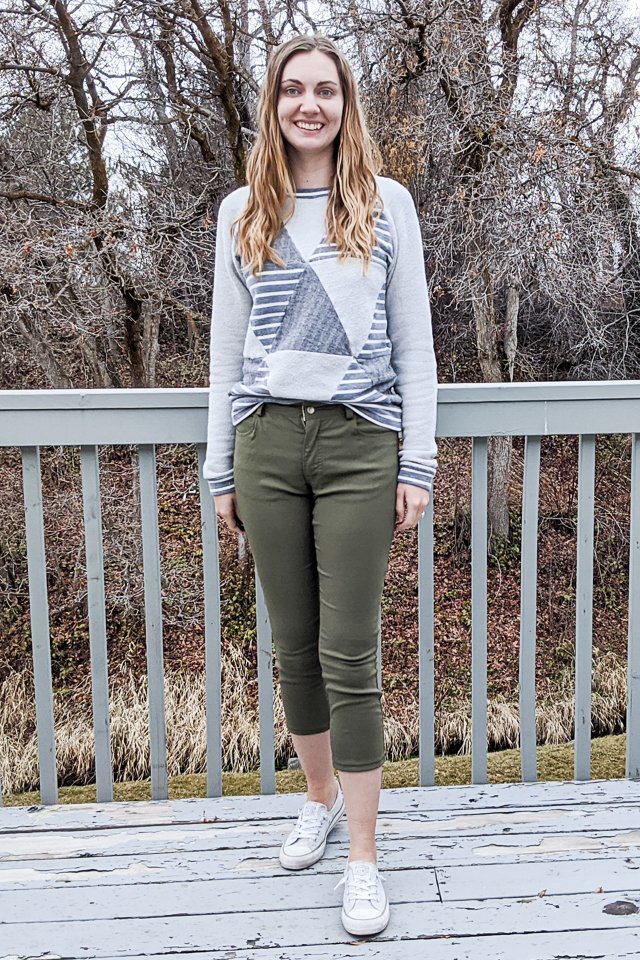 A great way to practice sewing denim before actually sewing jeans, is to upcycle jeans into a tote bag. It's a quick satisfying project!
tips for sewing jeans
Start with the right sewing pattern
Do you like to wear stretch jeans or do you like to wear non-stretch jeans? This will point you in the right direction for which pattern to choose.
Also, try to pick a pattern designer that drafts tall if you're tall or drafts short if you're short. It's easier to fit when it's closer to your unique body.
Know how much your fabric stretches. or doesn't.
If you do choose a stretch jean pattern pay very close attention to the stretch recommendation and follow it. Stretch denim comes in lots of different stretch amounts and weights, so you will need to choose the right one for the pattern. Test how much the fabric stretches or doesn't stretch.
Make a muslin
Check the fit of the pattern with a muslin. Do the flat pattern alterations you think you need then cut it out of basic woven cotton fabric. Baste it together to check the fit.
Your fabric will cause the pattern to be slightly different when it's cut and sewn, but a muslin will help you find any glaring problems.
Watch your grainline
If you are making skinny jeans it's easy to mess up the grainline which will cause the legs to twist. Be really carefly when you cut out your fabric so that the grainline is correct. I even recommend cutting each piece out in a single layer.
Practice your topstitching
Topstitching is what makes jeans look professional and ready-to-wear if its done right. Practice topstitching on samples to prepare you for your real jeans.
If you are really nervous about the topstitching, I like to use thread that matches in color because it hides my imperfect topstitching better than a bold color.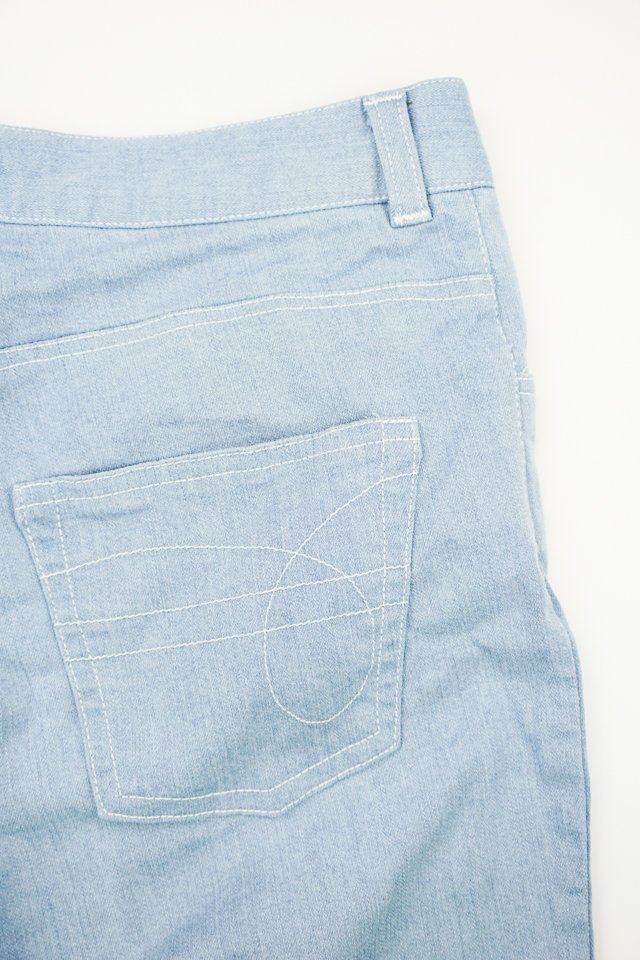 Use a denim needle and topstitching thread OR a regular needle and a triple stitch
If you use topstitching thread and a denim needle you will have to switch back to a regular thread and a regular needle for all the regular seams. This means you are switching almost every other seam. The topstitching thread looks the most like ready-to-wear, but it can wear out easily.
If you use regular thread and a regular needle you can do a triple stitch for topstitching which means every stitch has thread layers of thread and creates the look of thick topstitching thread. You do have to switch between a regular stitch and a triple stitch, but that's a little easier. This stitch is really, really strong.
I have topstitched jeans both ways, and I like both depending on the application.
Use a longer stitch length
STAYSTITCH
Before you try on your jeans or baste fit them or anything, staystitch the whole waist area. If you stretch out the waist it can never be unstretched and it will be too big to fit the waistband.
Do at least two baste fits
When I sew jeans for myself I like to baste everything together first and check the fit. Then I sew the pockets, zipper fly, yoke, and back crotch seam, baste the side seams and do another baste fit.
This helps me check the fit twice and find any glaring mistakes before I go on. It is a lot of extra work, but it's worth it to get nice looking jeans.
If the seams get too bulky, use a hammer.
I learned this trick while working at an alterations shop. Sometimes the seams with lots of layers of denim get to thick for your sewing machine to sew.
Hit the bulky area a couple of times with a good hammer to flatten the seam. It really does flatten the fabric to make it easier for you sewing machine to sew.
Press. Press. Press.
It's really important to press your seams as you sew to strengthen the actual thread and to make the seams look nice. It will make or break your project.
There will still be wrinkles for movement
Just remember that even after lots of fitting adjustments there will still be wrinkles so that you can move in your clothes and that you can be comfortable.
There's nothing wrong with your body, but you can celebrate the amazing things that your hands can accomplish.
If you learned something from these tips for sewing jeans, I'd love to see! Please share it on social media with the hashtag #heatherhandmade and tag me!
Alterations I did to the Ash Jeans
started with the straight leg version and tall length
graded the waist out to a larger size than my hips
shortened the rise
lengthened the leg
removed length from the back thigh
did a full calf adjustment
moved the back pockets down
did a knock knee adjustment (which corrected a grainline problem at my hips)
took in the knees
took in the ankles
added a pocket stay which caused less stretch across the front and so
let out the side seams slightly at the hips
You can make your jeans last with these great tutorials: