How to Sew Knits: 16 Tips for Sewing Knit Fabric
Learn how to sew knit fabric with these 16 sewing tips and techniques. Sewing stretchy fabric will be easy!
Sewing knit fabric can be a little intimidating unless you know some simple tips and tricks.
When I first started sewing knit projects I had no idea what I was doing, but I thought it was way easier than using woven fabric. I loved not finishing the edges and knowing that knit fabric gave me a little bit of forgiveness.
I look back at those first projects and cringe a little because I made so many mistakes. But in the process I learned a lot about sewing a knit garment, and I want to help you learn to love it to. When I started I sewed knit fabric without a serger.
I will teach you everything there is to know about how to sew knit fabric and share a video, so you can learn and become comfortable with sewing knit fabric!
What is Knit fabric?
Knit fabric is yarns or threads looped around each other. When the fabric is pulled the the loops pull against each other. The space in between creates space for the fabric to move and stretch.
Knit fabric comes in all weights and stretches. It can be made from every single fiber or fiber blend. Clothing made from knit fabric can be tight and fitted or it can be loose and draped.
Sew one of these gifts with knit fabric to practice!
Tips for Sewing Knit Fabric
Know your knit fabrics.
There are lots of different kind of knit fabrics. Each knit fabric behaves differently, drapes, differently, and stretches differently.
Knit fabric is made by looping threads around each other. This creates space for the threads to move and gives the fabric stretch.
Once you've learned and can recognize multiple knit fabrics, you'll be able to use the knit fabric with the correct pattern. Here are couple of examples of fabric:
Lightweight knit fabrics
rayon spandex, bamboo rayon spandex, ITY knit, stretch lace
Midweight knit fabrics
cotton spandex jersey, jersey fabric, double brushed poly, single brushed poly, Liverpool
Heavy weight fabrics
sweatshirt fleece, polar fleece, French terry, ponte de roma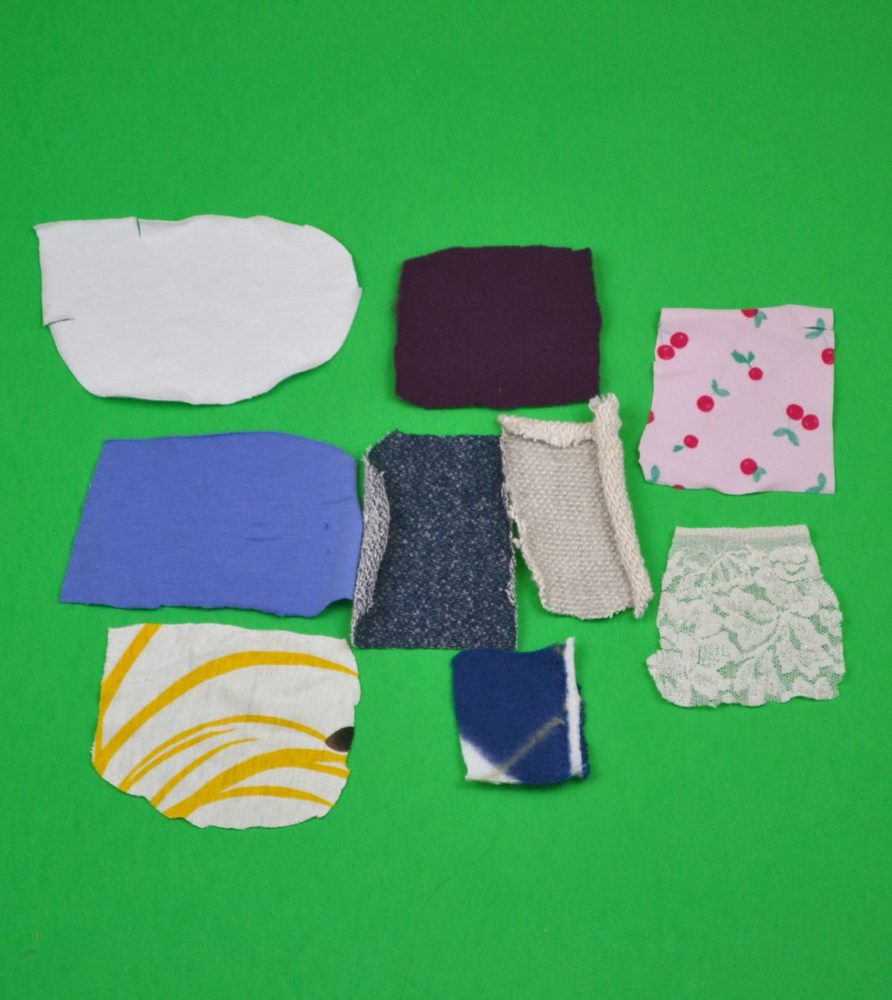 Learn how to figure out stretch percentage.
Each fabric stretches differently. There's stretch percentage and then there's returnability.
The stretch percentage tells you how much a certain fabric has the ability to stretch, and the returnability tells you how much the fabric can return to it's original length.
To figure out the stretch percentage line up the cut edge of your fabric next to a ruler*. Hold the fabric at the selvedge and 4″ and stretch the fabric as wide as it goes. Then release it and see if the fabric returns to 4″.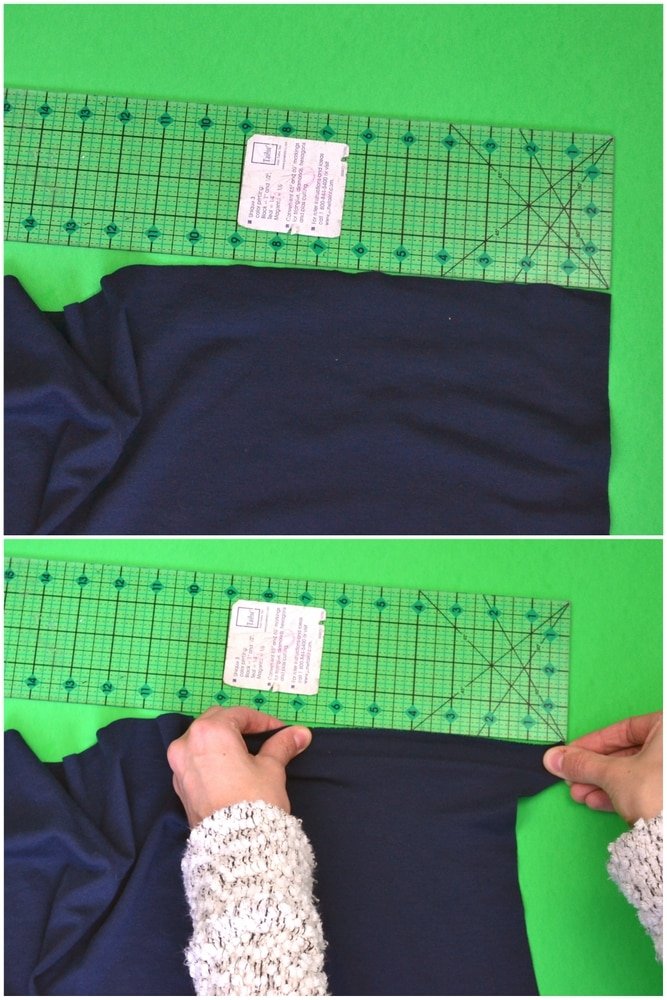 This interlock fabric stretched from 4″ to 7″ which means it has 85% stretch.
Use the correct sewing machine needle.
When you sew knit fabric you want duller needles to push the fibers apart instead of poking holes in the fabric. A sharp needle will pierce and cause runs in the fabric.
There are two kinds of sewing machine needles you should use with knit fabric. Each needle comes in different sizes which corresponds with the weight of your fabric: smaller needles go with lighter weight fabrics and bigger needles go with heavier weight fabrics.
Use on knits and some stretch fabrics. The medium ball point does not damage or break knit fibers.
I use these on jerseys, interlocks, fleeces, and French terry. (Learn how to sew French Terry.)
Use on elastic materials and highly elastic knitwear. The medium ball point has a specially designed eye and scarf to prevent skipped stitches.
I use these on thicker fabrics like swimsuit fabric, elastic, and ponte de roma. This needle is great for the fabrics that seem to cause a lot of skipped stitches. Don't miss tips for sewing swimsuit fabric.
Two stretch needles mounted on one shank that creates two rows of stitches simultaneously. Use on elastic materials and highly elastic knitwear.
I use a twin needle to hem all of my knits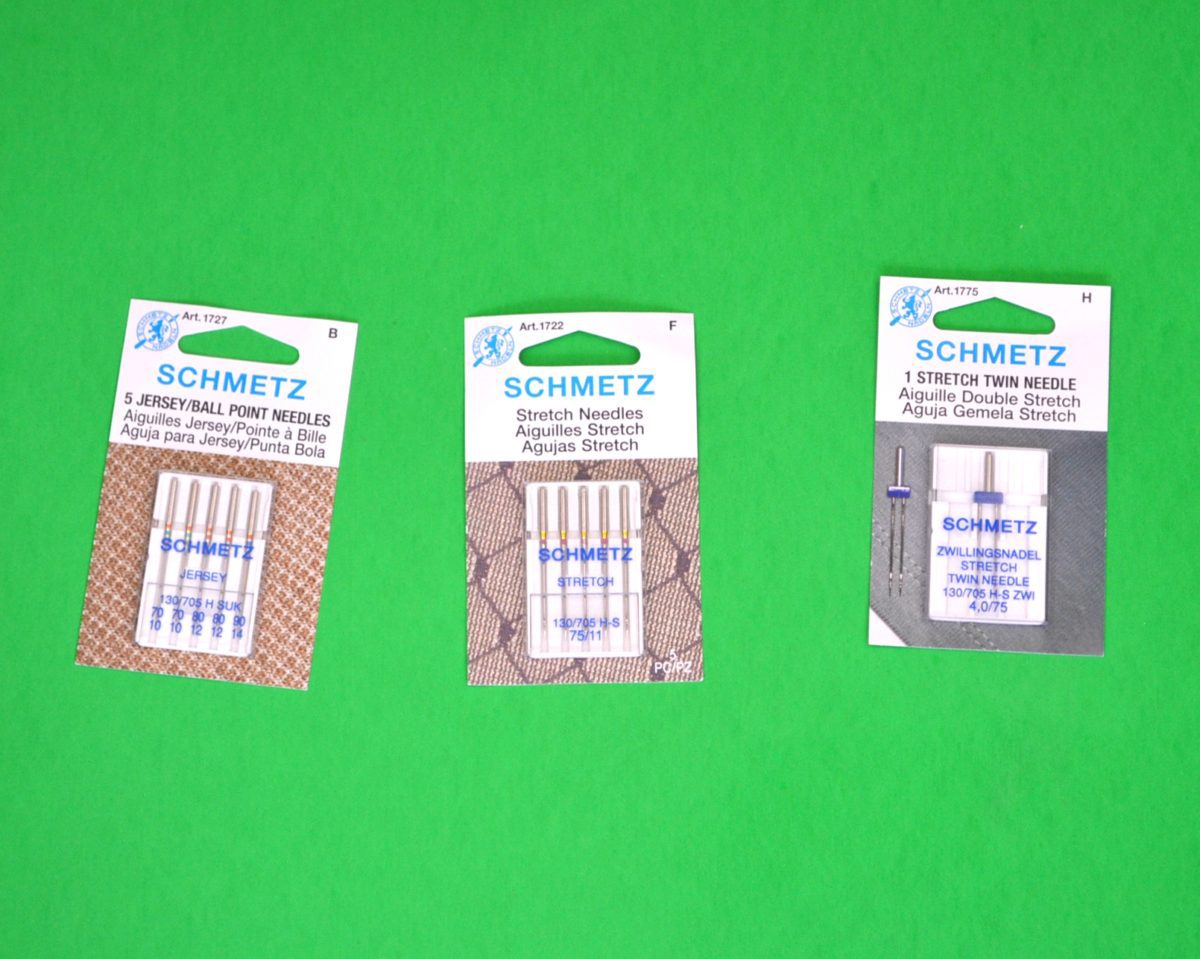 Cut with a rotary cutter and cutting mat.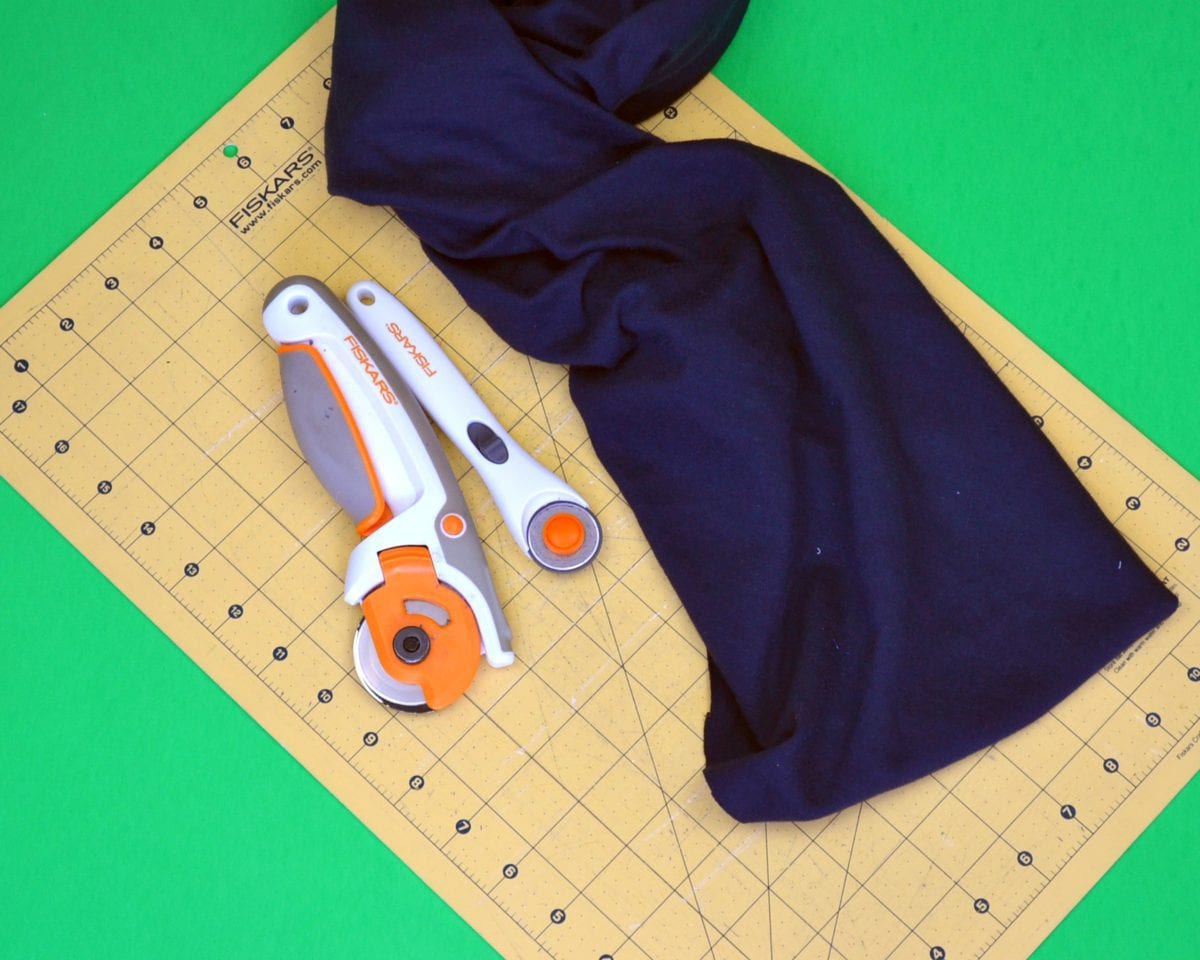 Knits are a little tricky to cut out especially with pins and scissors.
The most accurate way of cutting out knit fabric is to use a cutting mat, pattern weights, and a rotary cutter*. Rotary cutters make cutting curves and notches easier.
Knit fabric does have a grainline like woven fabric. The grainline runs parallel to the selvedge.
Usually when working with a pattern, the pattern indicates a line for the greatest stretch of the fabric which is perpendicular to the selvedge. You want the greatest stretch to go around a body.
Use the correct thread.
Different sewing machine thread can produce different results in your project.
All-purpose thread
I use all-purpose thread for almost all knit fabric. I rarely have a problem with it, and it works great.
Cotton thread
Every once in awhile I notice holes forming in knit seams. This is caused by the polyester thread being too strong for the knit fabric and slowly pulling holes in the fabric.
The cotton thread is not as unforgiving as polyester thread and won't pull holes in the fabric.
This is a newer product that is actually thread with stretch. It's not elastic thread that's used for shirring; it's a thinner thread with a little less stretch.
I don't think it has enough stretch to be used as a straight stitch on really stretchy fabric, but it's is a really nice option once you figure out where to use it.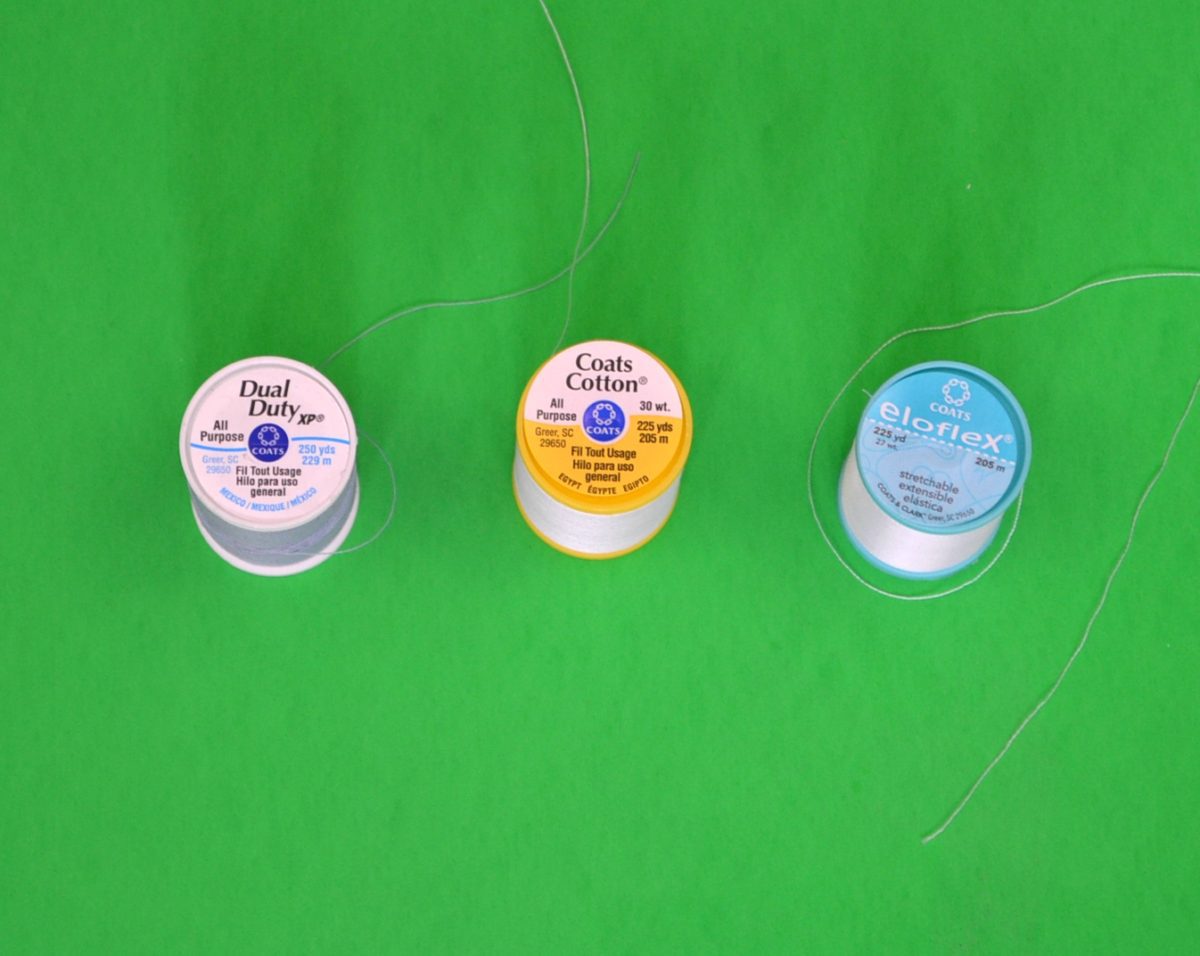 Use a stretch stitch.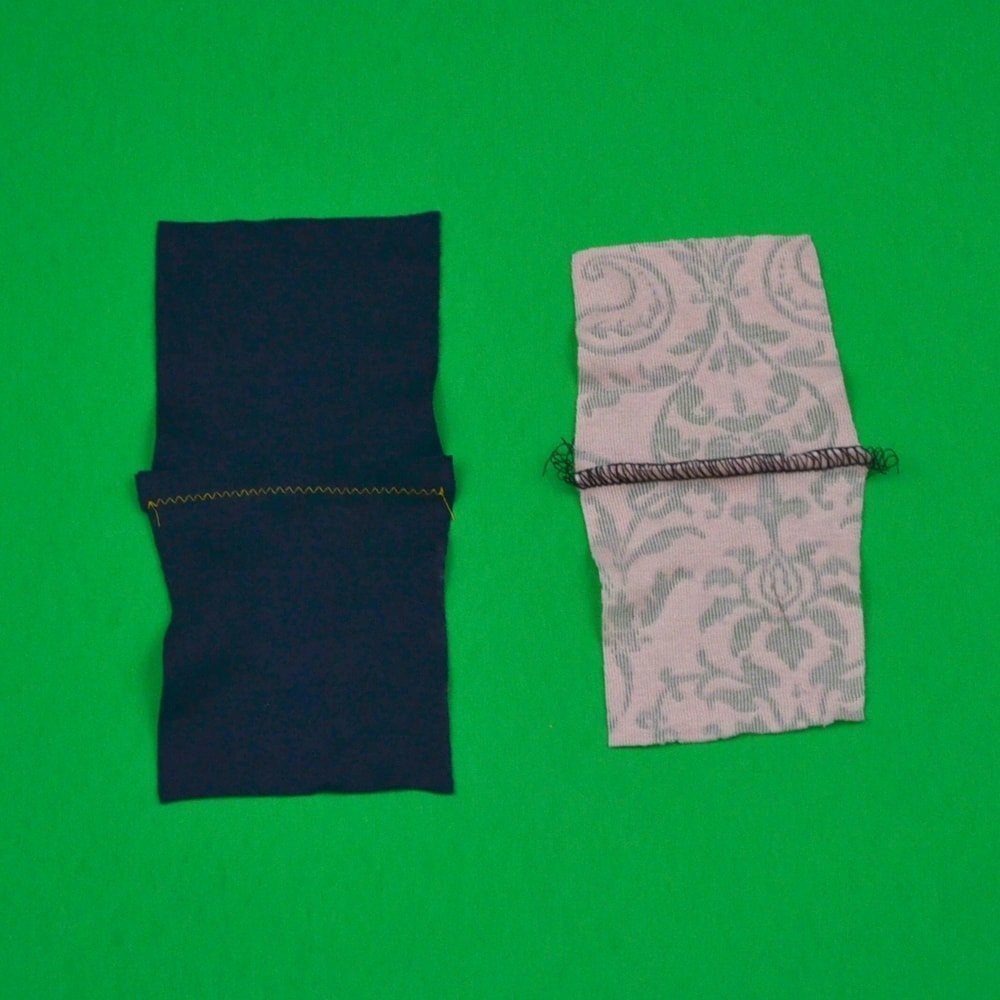 The most basic stretch stitches are a zigzag and a serger stitch. You cannot use a regular straight stitch because the thread will pop when the fabric is stretched.
You can use a zigzag on any sewing machine alone without a serger. I really want anyone without a serger to realize they can still sew knits! I have a serger, and I actually use a zigzag and a serger on every knit seam so I have double seams and don't have to mend seams later.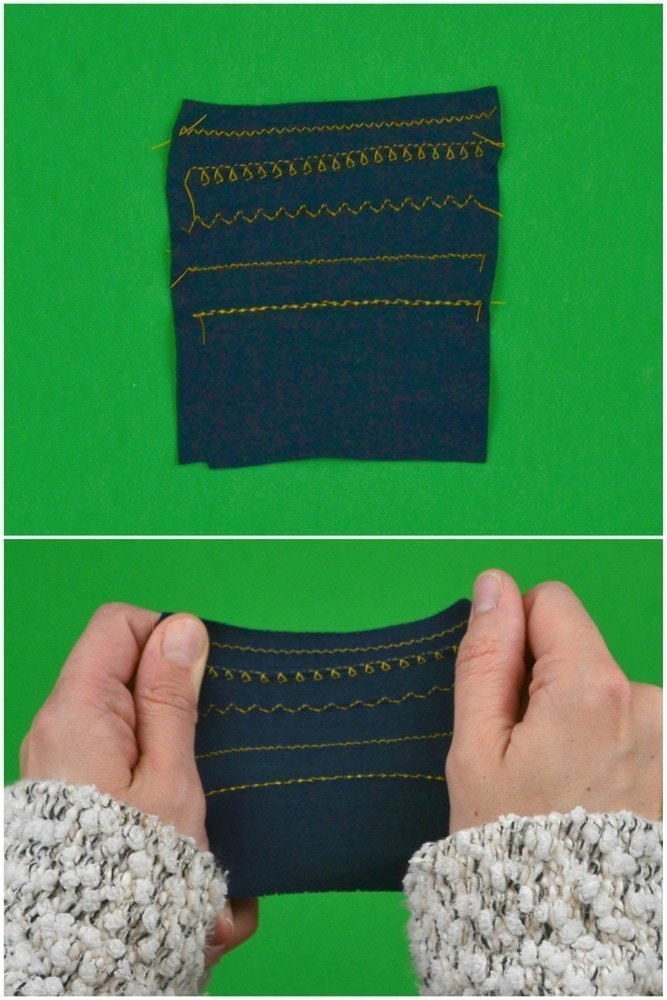 Zigzag
on almost all sewing machines, always works, has a chance of tunneling, shows thread from the outside
Ladder stitch
a slow stitch that uses a lot of thread and it looks like a straighter seam from the outside
3-step zigzag
doesn't tunnel the fabric, shows thread from the outside
Lightning stitch
the straightest looking stitch that still stretches but it's not a stitch with a large amount of stretch
Triple stitch
uses a lot of thread and a slow stitch
Use spray starch to combat rolling edges.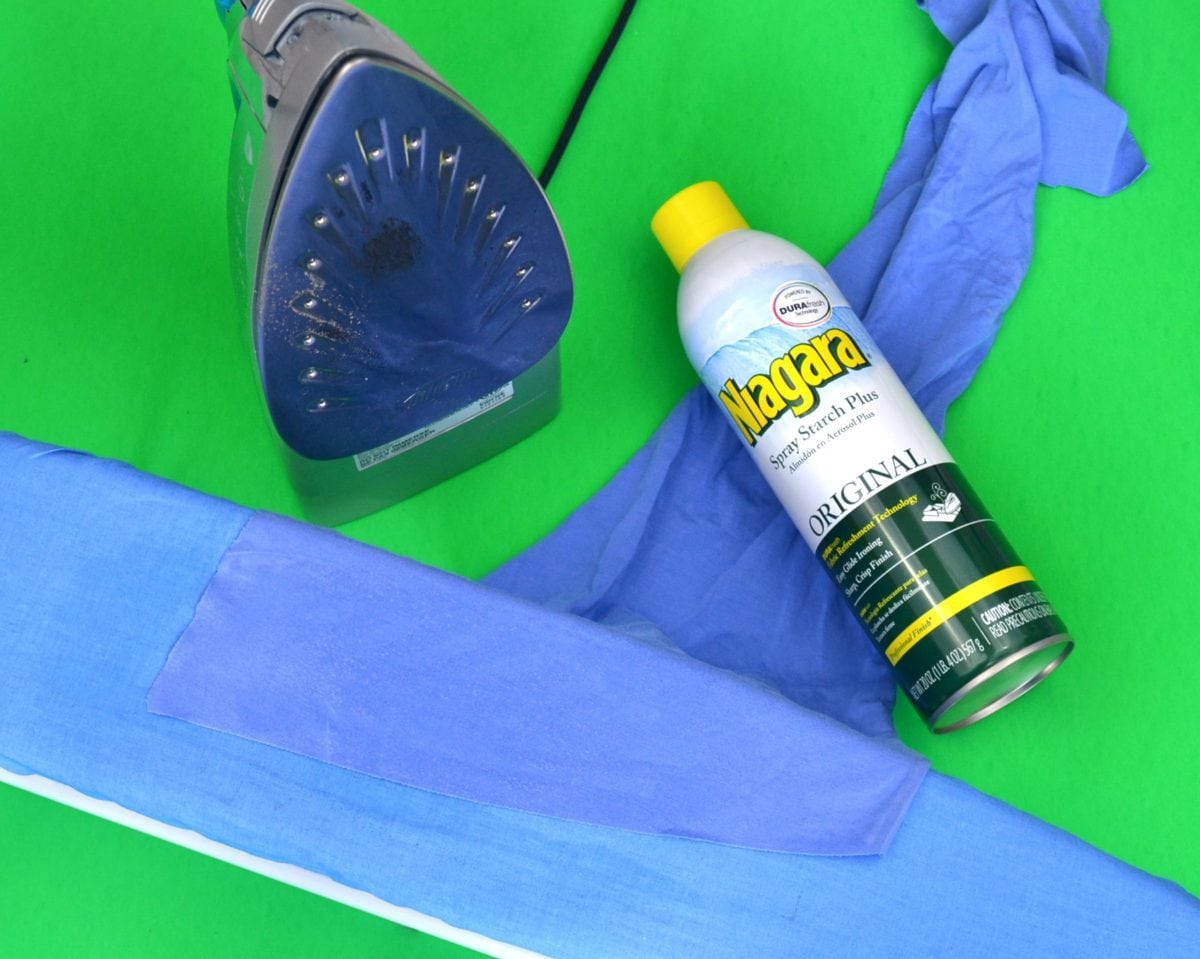 If you really struggle sewing knit fabric because the raw edges roll toward the front, use spray starch* and an iron to stiffen the edges.
I was skeptical about it working until I tried it. It really does help the edges stop rolling so much.
Reduce sewing machine foot pressure.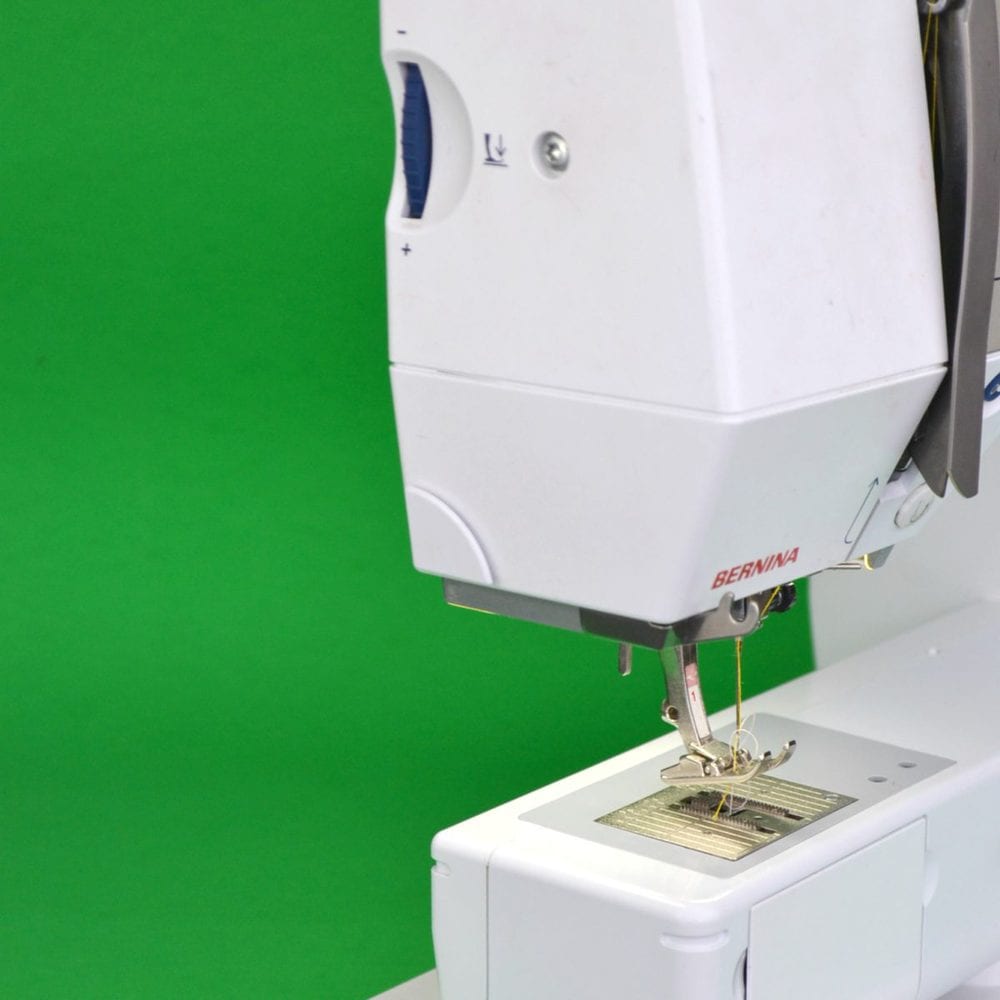 Sometimes a sewing machine foot with a lot of pressure can make a fabric stretch out and become wavy. If you reduce the pressure you can help prevent this.
Some machines have a dial on the side to adjust the pressure and some machines you adjust the pressure by loosening a screw on the sewing machine foot.
Read your sewing machine manual to figure out how to do it.
If you still have trouble – use a sewing machine walking foot.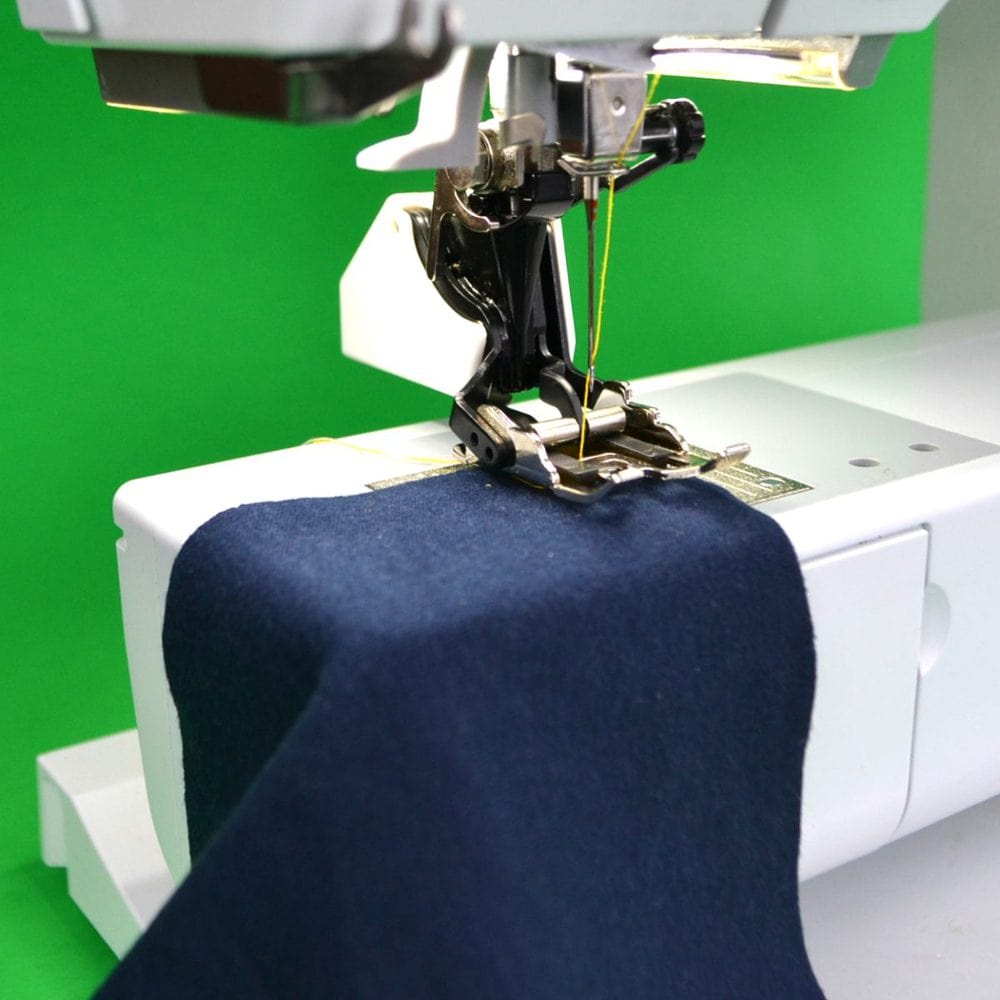 I just got mine recently so I can't give a lot of advice on this, but I've read lots and lots of posts about using a walking foot while sewing knits.
A walking foot* is basically a foot with feed dogs and go in time with the bottom feed dogs so the fabric is moved evenly through the sewing process. I think I'll use mine when sewing twin needle hems on knit fabrics.
Use the pattern's recommended fabric weight and percentage.
If a pattern recommends heavier weight fabric, then use heavier weight fabric. If the pattern recommends using a fabric with 40% stretch, then use a fabric with 40% stretch.
I think once you have enough experience with knit fabrics you can deviate a little bit, but if you are just learning you will have a higher rate of success of you follow the recommendations.
Neckbands, cuffs, and waistbands should be 75%-85% smaller than what it's being sewn to.
A neckband needs to be smaller than what it's being sewn to so that it can pull it in. When you think of the two circles of a neckband, the folded side should have a smaller circumference than the circumference of the seam.
When you start sewing hold the thread.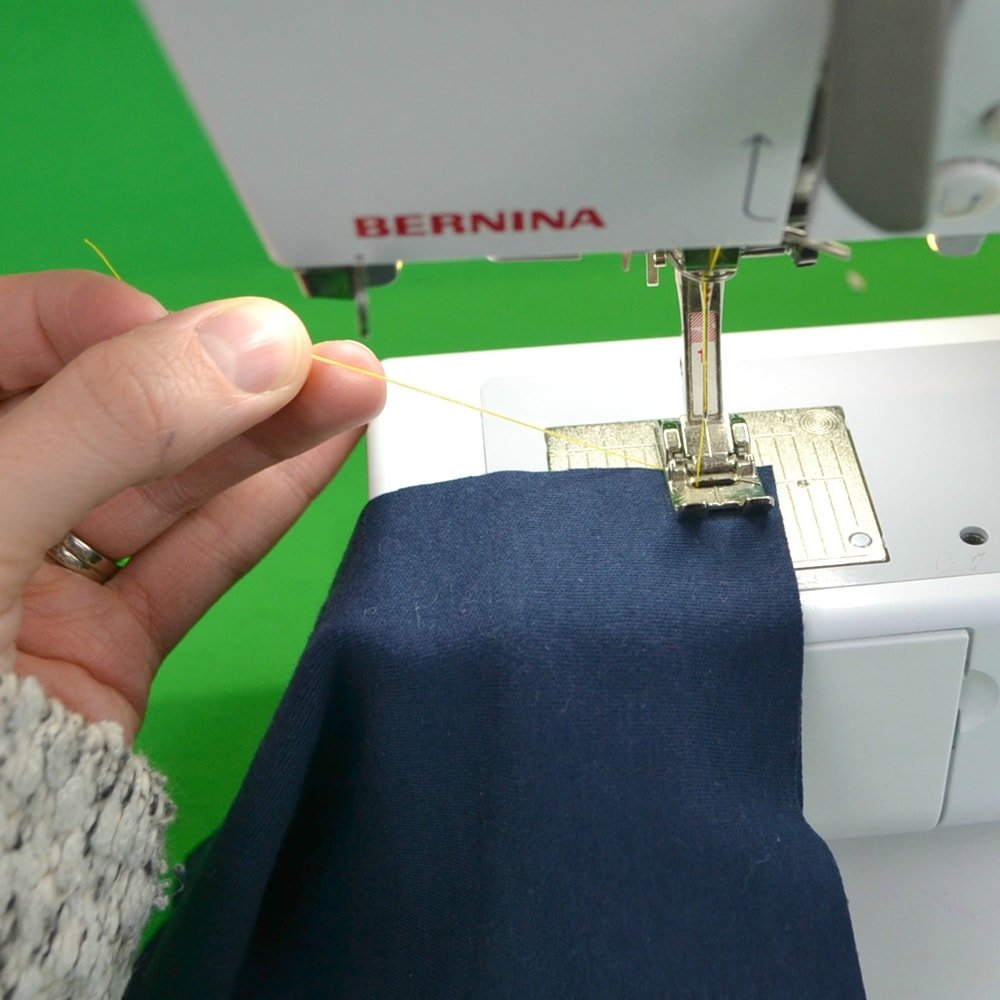 If you have trouble having your thread or fabric getting sucked down into the bobbin area, then holding the threads before and when you start sewing can solve this problem.
It prevents the threads from being pulled down, and it prevents the fabric from being sucked down in.
Don't stretch your fabric as you sew. Except when you are sewing on bands.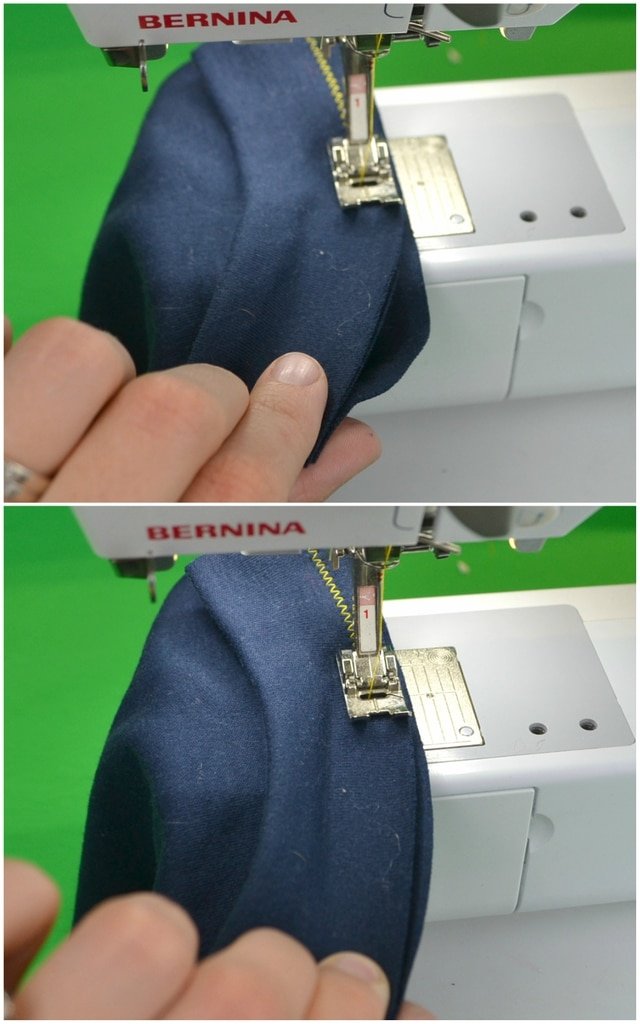 When you are sewing knit fabric you should never stretch or pull the fabric but let the machine do the work. Pulling and stretching causes the fabric to become stretched out and wavy.
Don't pull and stretch the fabric EXCEPT when sewing on bands. Don't stretch the main part of the garment, but do slightly stretch the band to fit the length of what it's being sewn to. The band will suck the stretched fabric back in.
Press while sewing.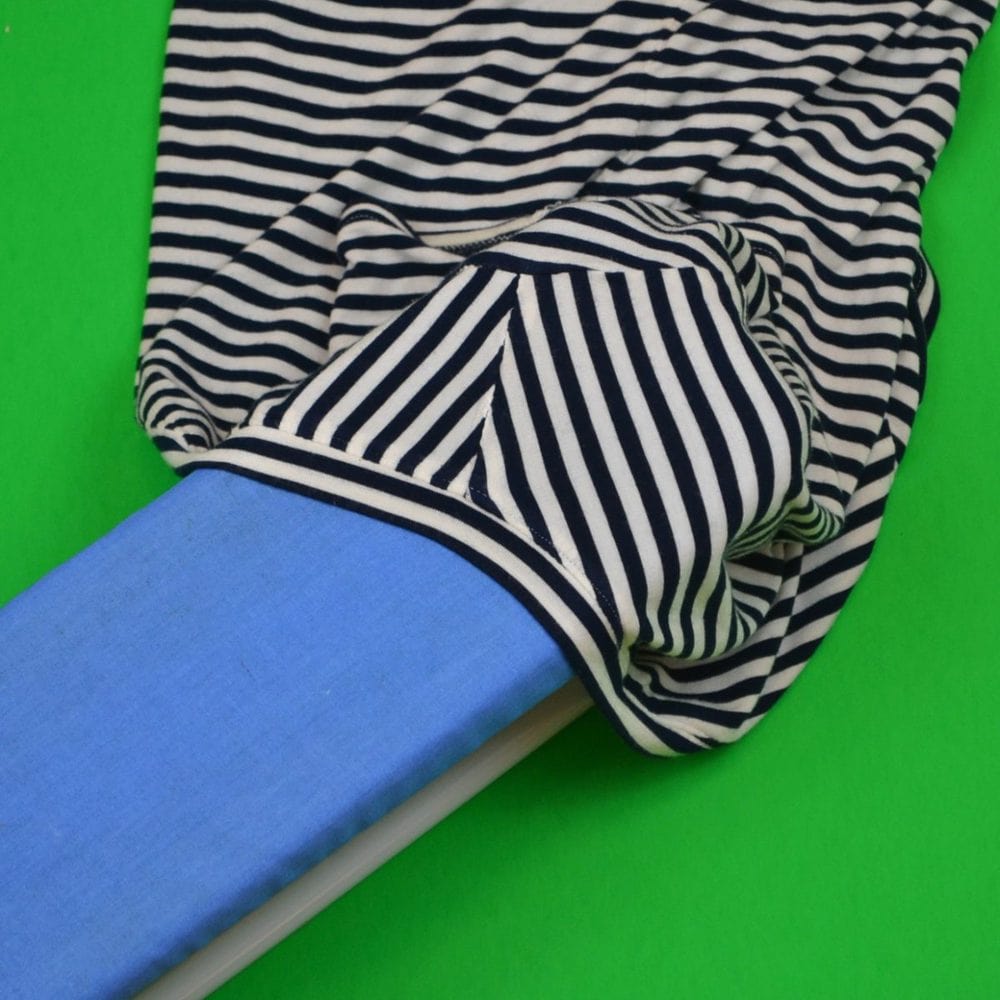 Press every seam with steam because the steam can help the fabric return to its original state. Sometimes I even have to wash it once it's finished before wearing to get it to fully return.
Use a twin needle and Soft Stretch hem tape.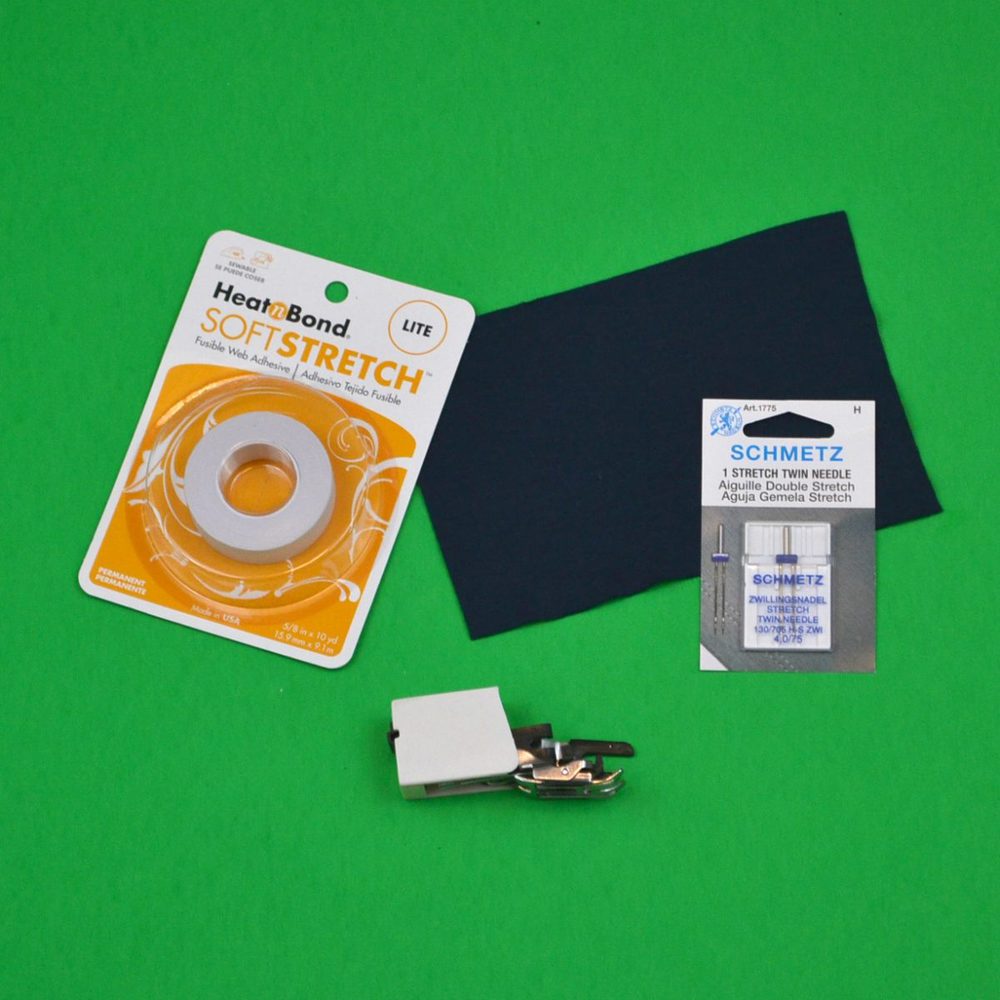 I hem knit fabrics with a twin needle. A twin needle sews a stitch that is two parallel stitches from the front and a zigzag on the back.
The only way I've been able to get a successful knit hem is by using soft stretch hem tape*. It's a lightweight hem tape that stretches; it prevents tunneling and thread pulling out. Read more about how to use a twin needle and hem tape.
Practice. Practice. Practice.
This is the best tip of all because you need to make mistakes and practice to learn and improve!
What tip helped you improve your knit fabric sewing?
If you make something using this tutorial, I'd love to see! Please share it on social media with the hashtag #heatherhandmade and tag me!