IKEA Sewing Room Ideas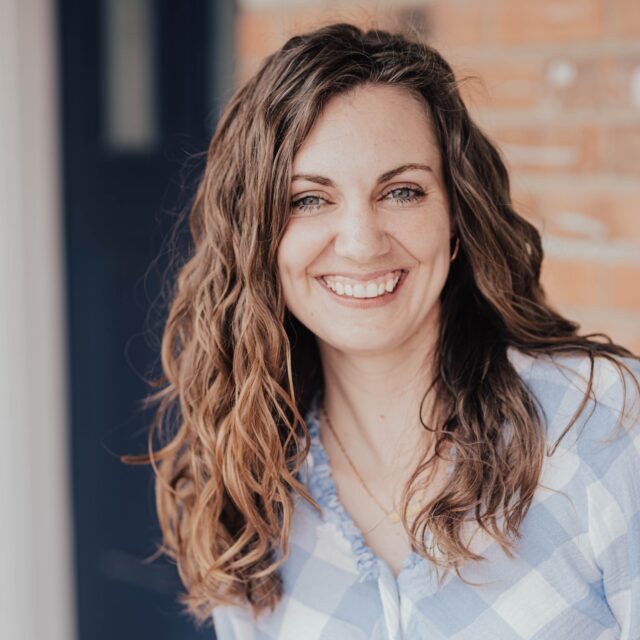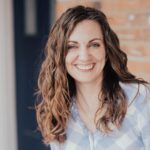 This post may contain affiliate links.
With more room for my sewing area, I was able to invest in some new furniture. Learn about my ideas for an IKEA sewing room.
Since I started sewing more regularly, I have lived in lots of different places. I have had five different sewing rooms and sewing areas over the past nine years, but I'm still learning what I like, like these sewing room hacks.
Let me show you how my sewing room is currently situated, and maybe some of these IKEA sewing room ideas will help you organize your sewing room.
My room is actually a sewing room, an office, and the kids art/homework space. I only took photos of the sewing stuff since the other side of the room isn't that interesting.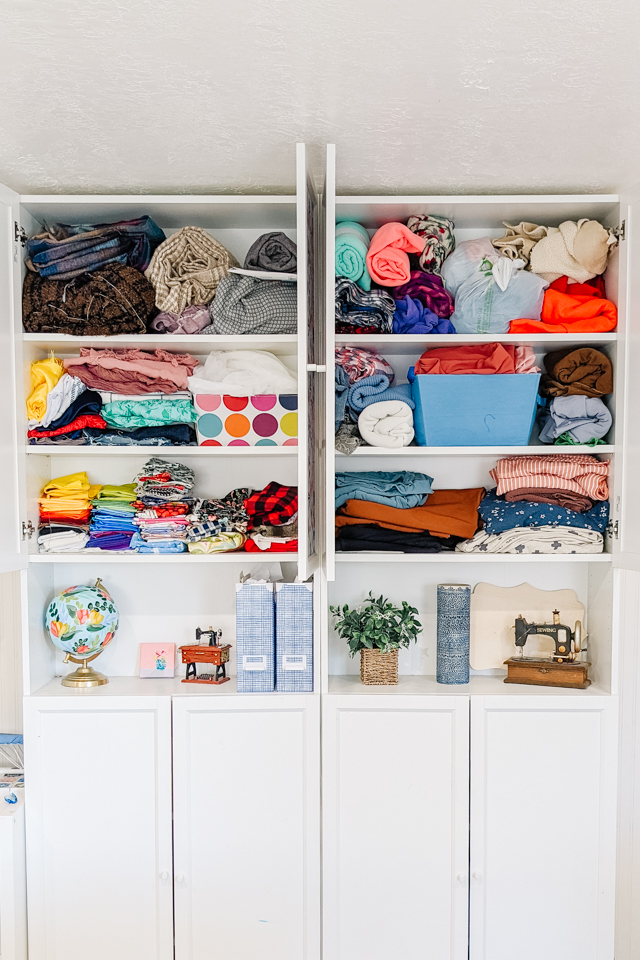 Along this wall I have my desk that has my sewing machine, serger, and coverstitch machine. There's a shelf partway up the wall so all my furniture has to be shorter than it.
The desk is the double wide Linnmon with Alex drawers on each side. I used to sew at a desk without drawers and having drawers in lifechanging!
Then I have thread on a thread rack on the wall. There's also a bulletin board of inspiration and random things up above the shelf. I also have a basket to the right for projects that I'm starting next.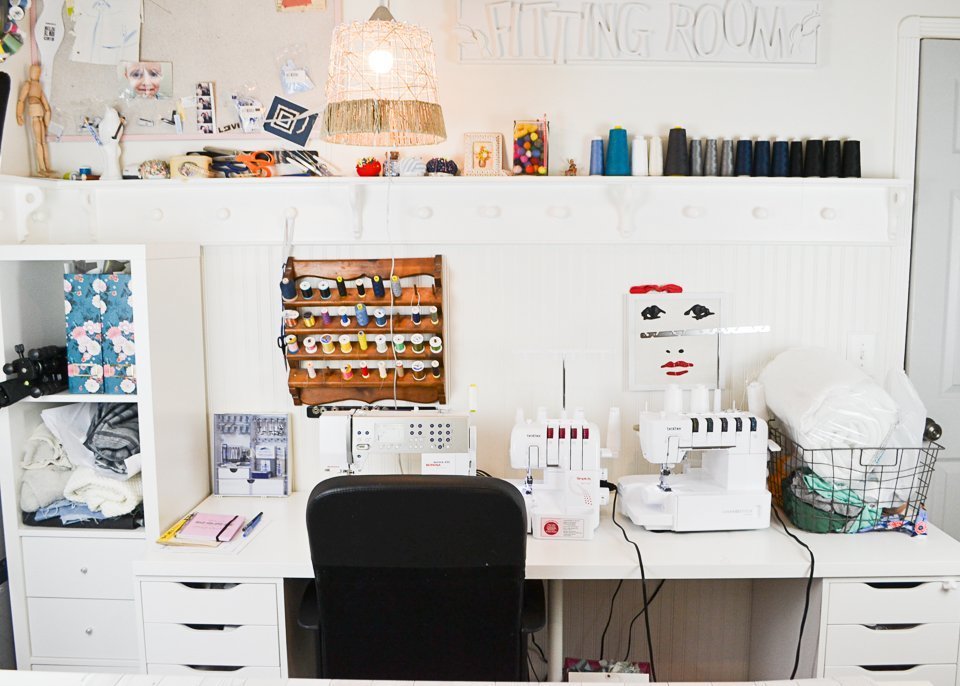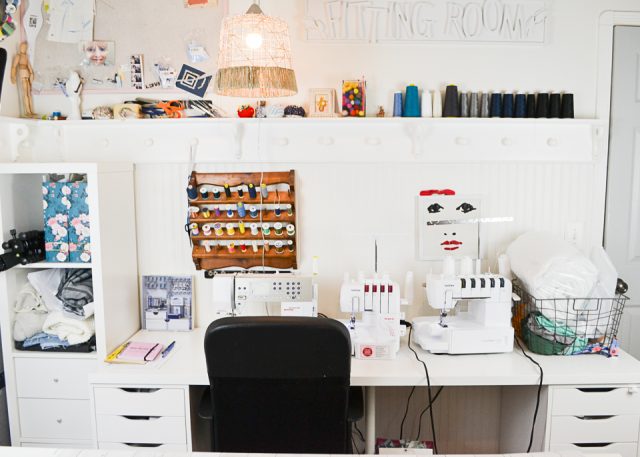 I love having a thread rack for all my thread. My husband actually gifted it to me years ago and it's very special to me. I hang my scissors on a ribbon on my thread rack for safe-keeping.
Below that I have an IKEA magnetic knife rack that holds all my metal bobbins. I having them right next to all my other thread.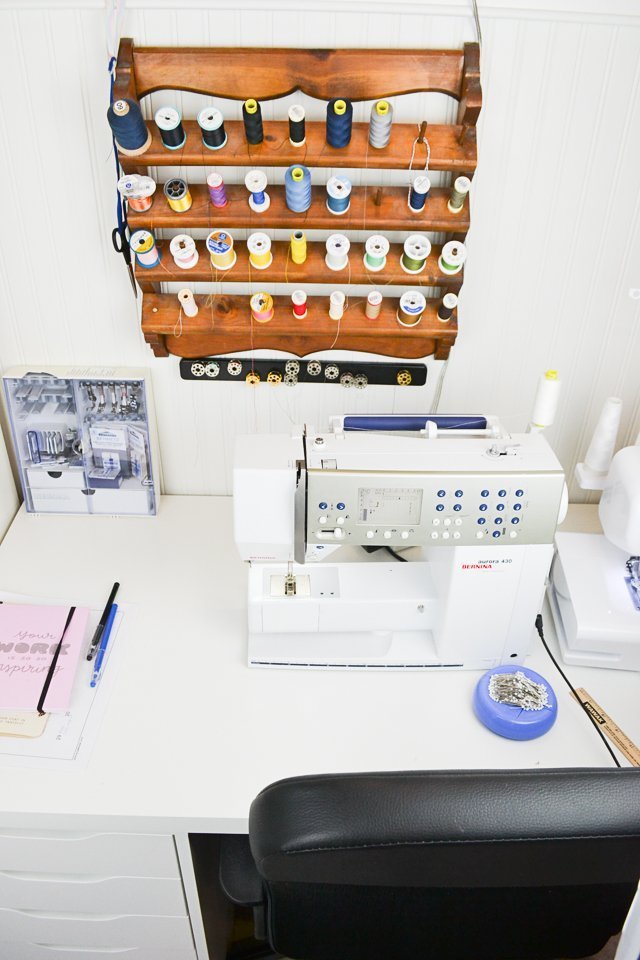 Just next to my sewing desk I have a 4×1 Kallax on the left for papers, tripods, work-in-progress projects, and drawers full of notions. It's nice having it right next to my desk for easy access.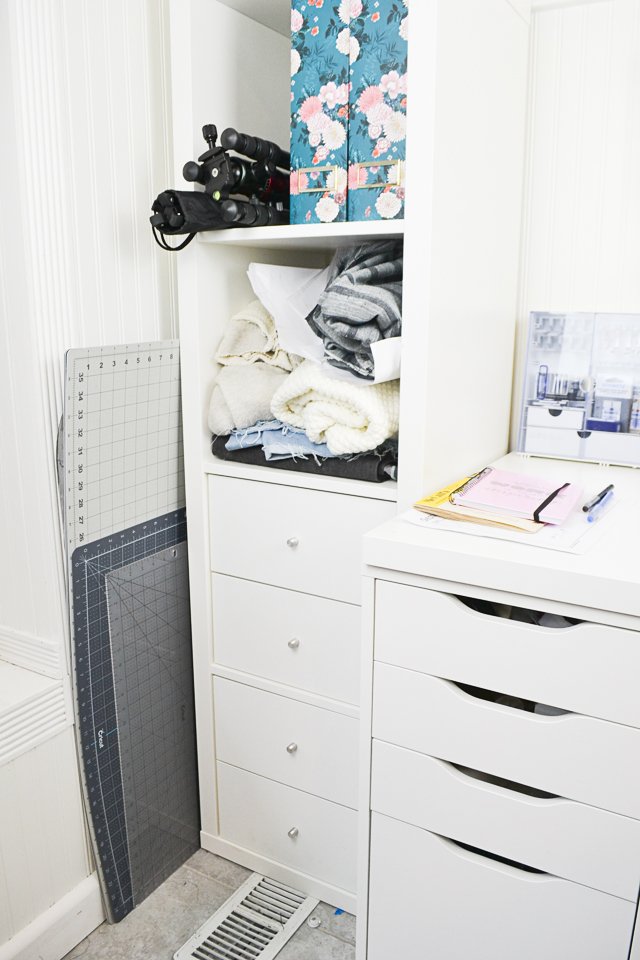 The drawers of the Kallax are full of buttons, snaps, etc. They are also full of ribbons, bias binding, lace edging, etc.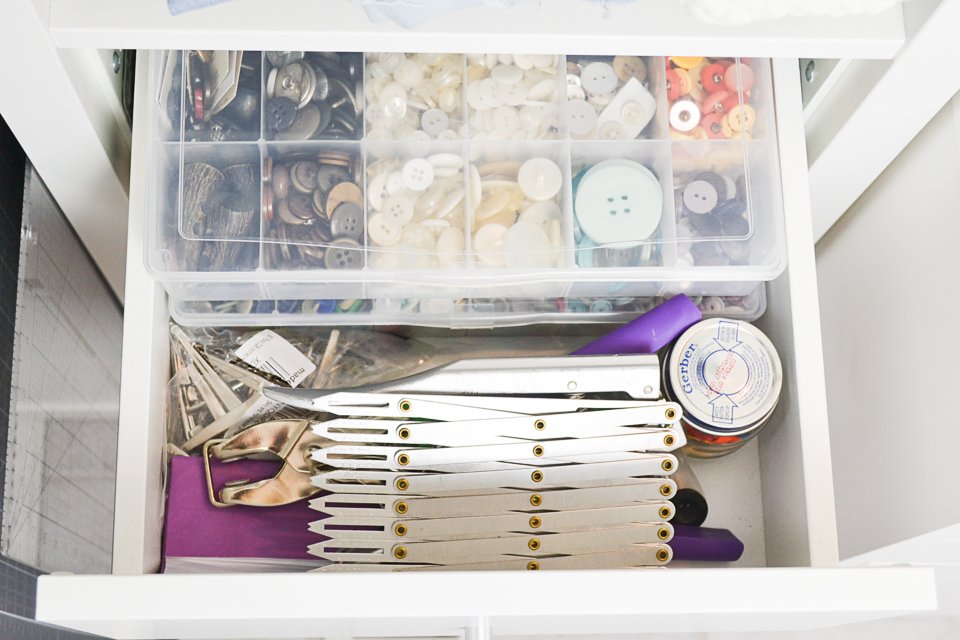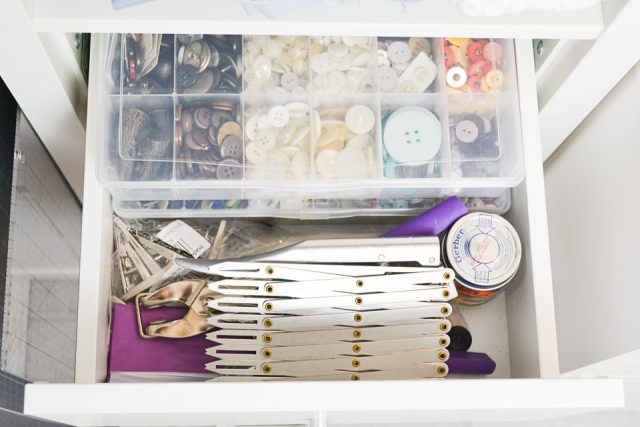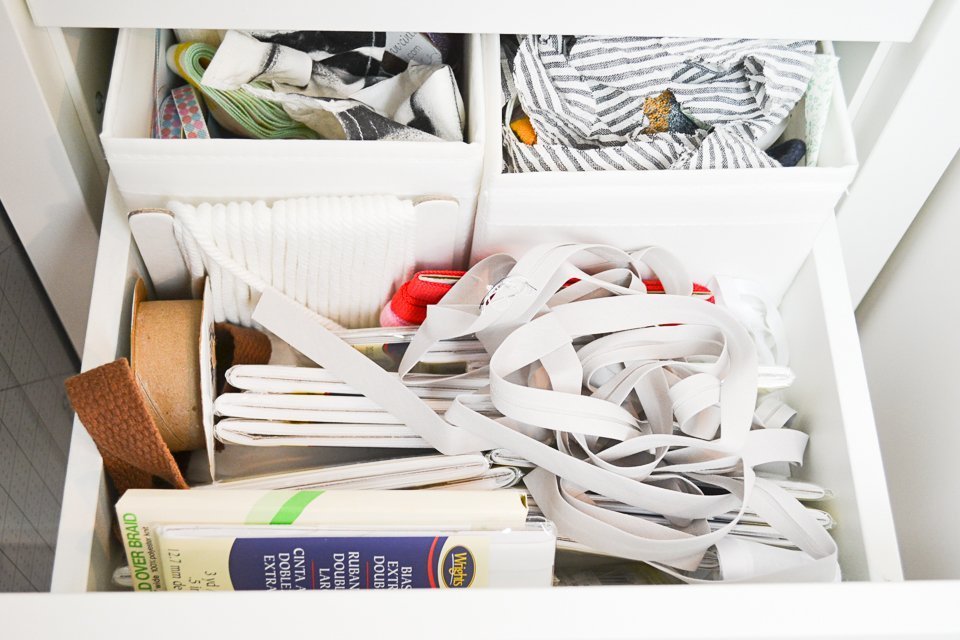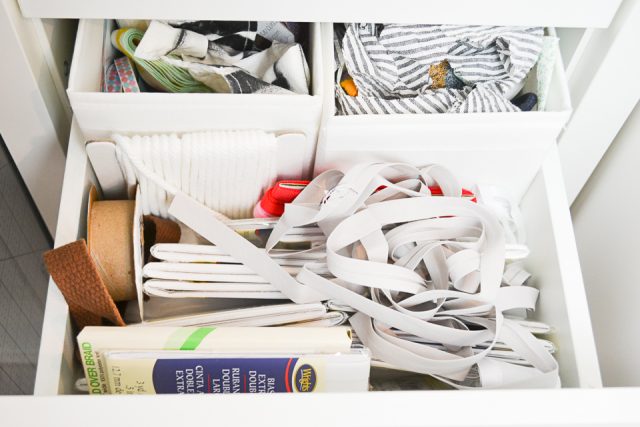 Way up above my machines I have another magnetic knife rack that holds all my scissors and other metal tools. I could put all of these in a drawer, but I like keeping them up high to keep them out of reach of my children.
I also keep my pins, clips, and clothing tags up there too. I even keep my hand needles that still have thread in them stored in the bulletin board.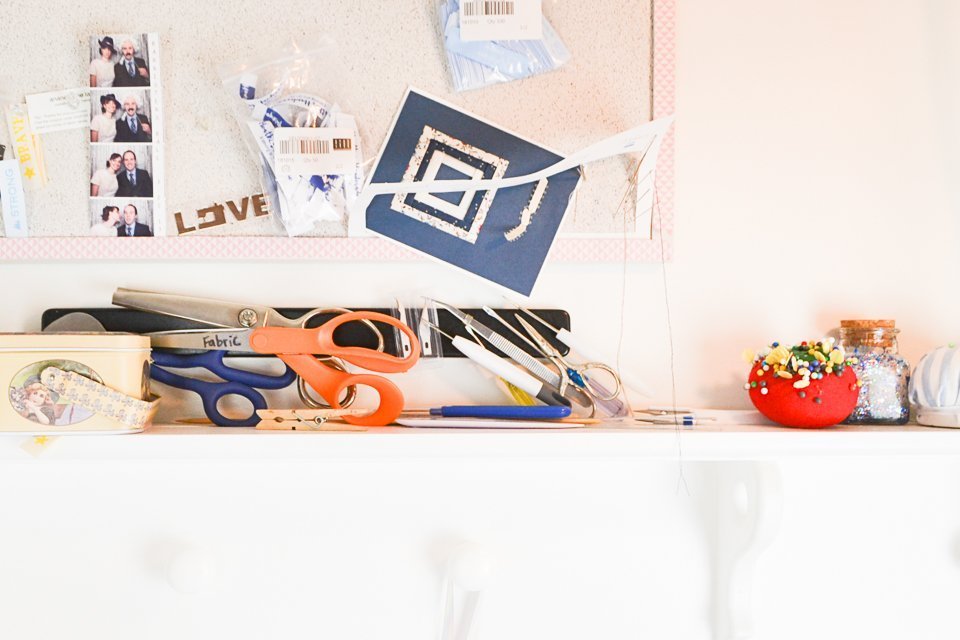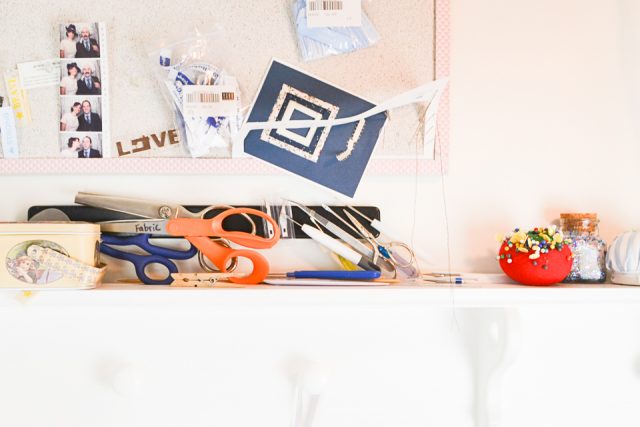 I love felt balls which I store in a clear jar. I keep pens in there with them.
Next to it I have a tiny wooden sewing figure that my grandfather bought on one of his travels, and it now sews with me in my sewing room. It's really tiny!
How do you like to decorate your sewing room? Check out these 17 sewing room decor ideas!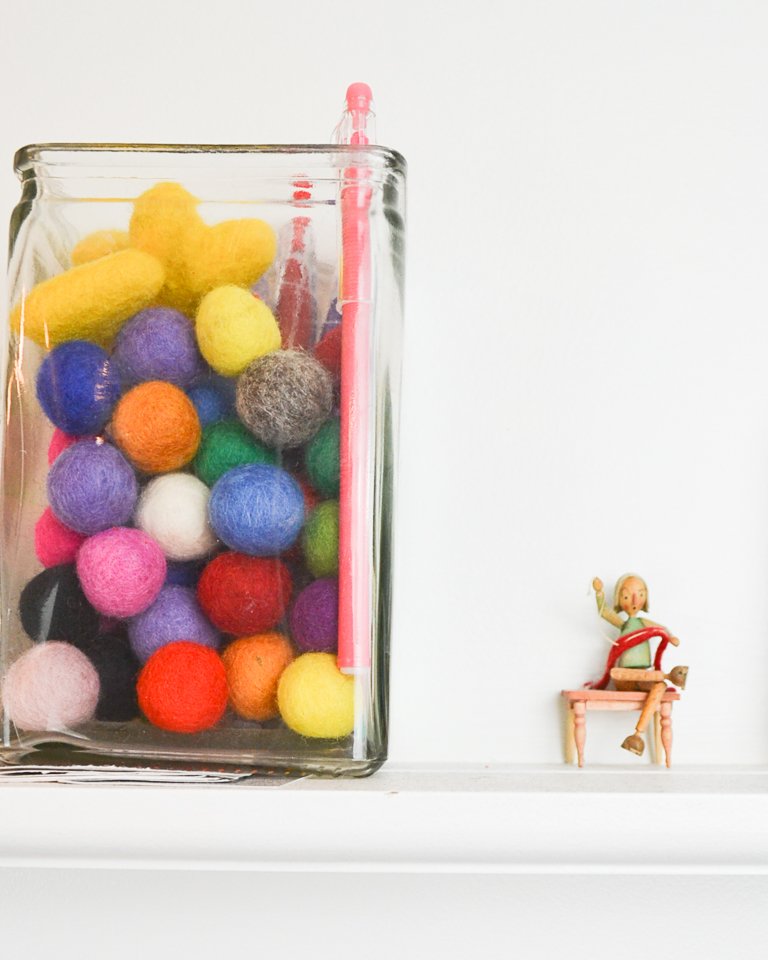 Right behind my sewing desk I have a versatile cutting table. I place my portable DIY cutting mat on top of it sometimes.
It's a large Linnmon tabletop sitting on top of two 2×2 Kallax shelves. It's a little taller than my desk which is nice for cutting when I'm standing. I also use it for filming videos.
I love having all the storage on each side since my room lacks a closet and room for storage.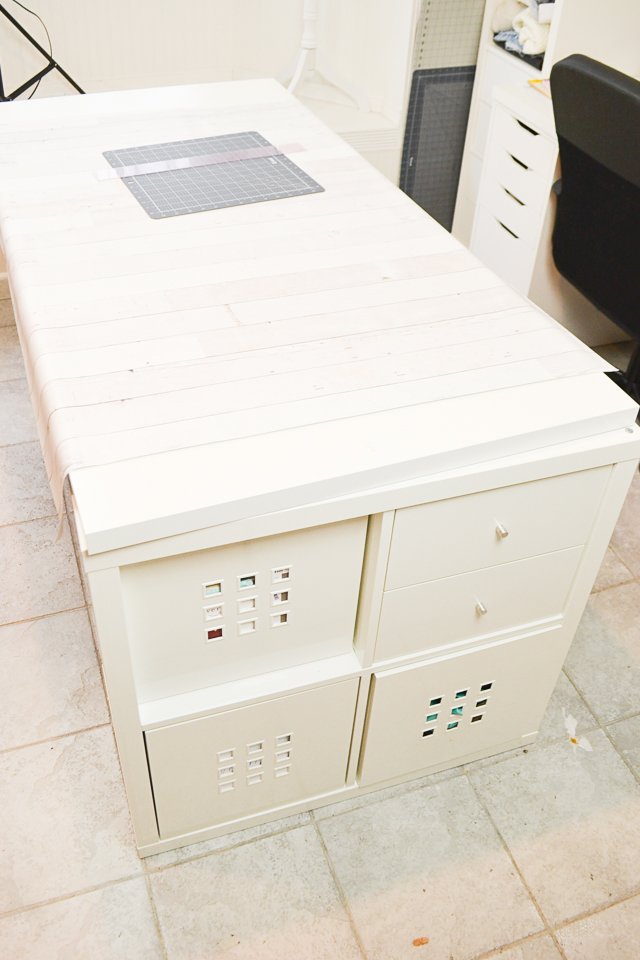 I store fabric scraps, felt, items to refashion, rotary cutters, and patterns in the two Kallax's.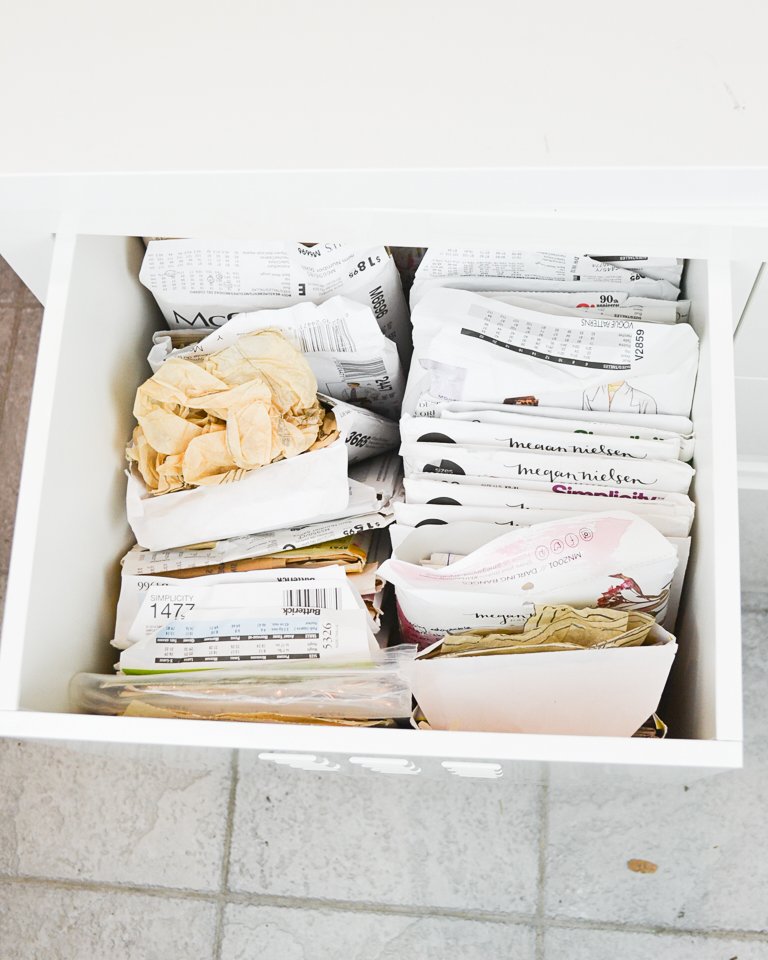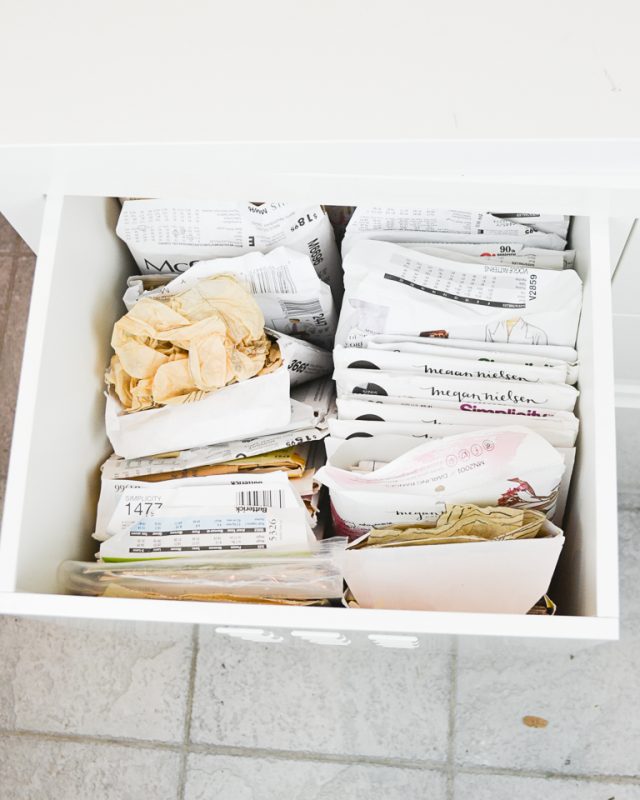 I have all my paper patterns in their original envelopes, and then all my PDF patterns that I store in large white 9×12 envelopes with the name on the front.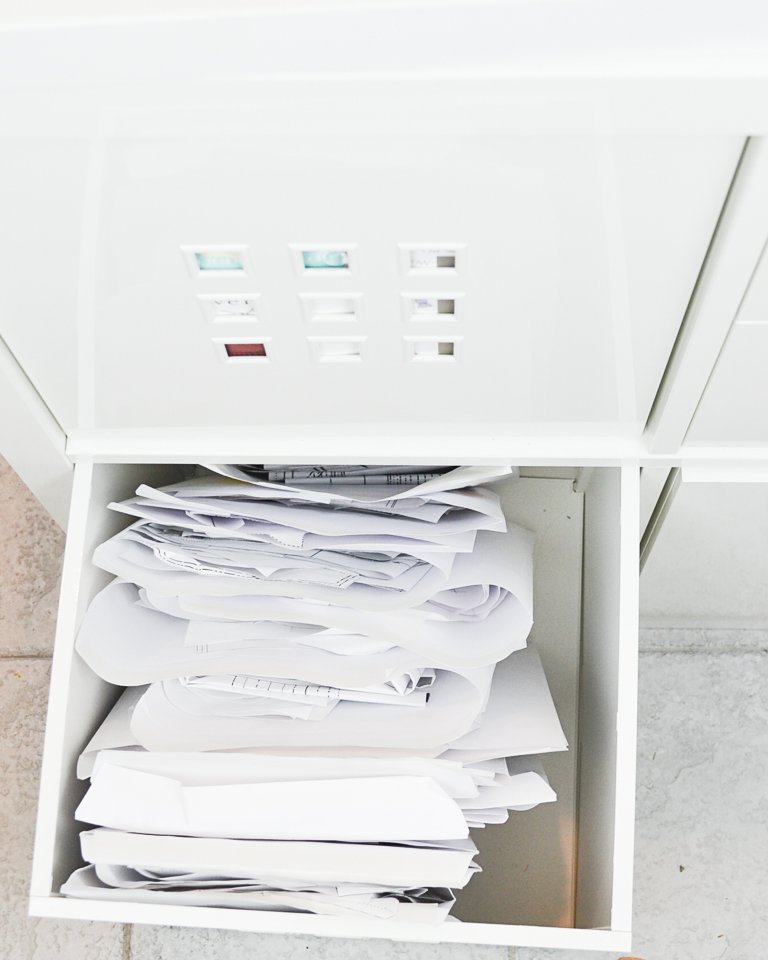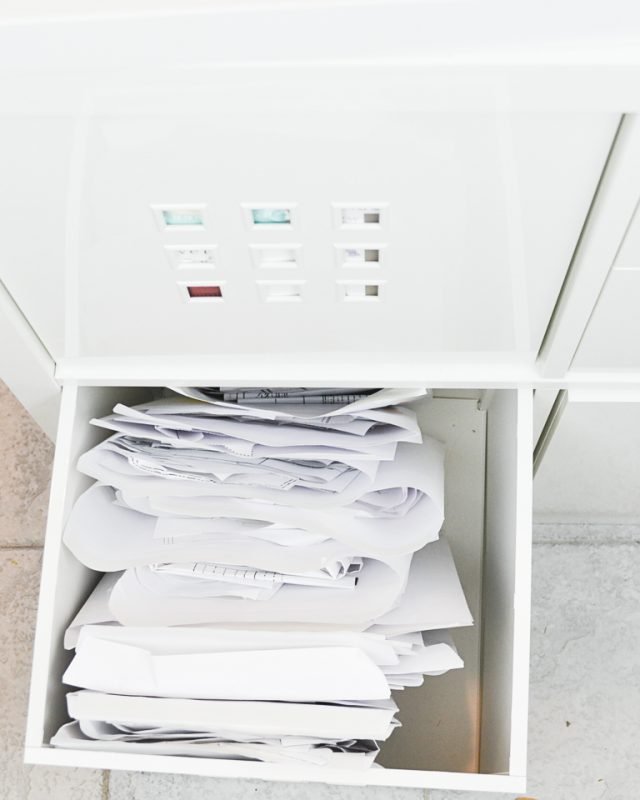 On the other wall I have a small ironing station set up with another 2×2 Kallax shelf.
I know I could just put my ironing board here, but I really needed the shelf for storage. I have my small ironing board and sleeve board on the top with my iron.
Below I have my hem gauge, a basket of different hem tapes, a teflon sheet, and a press cloth.
I have my two Easypress 2's and their mats. I also have my machine storage bags, and my old serger that I need to get rid of.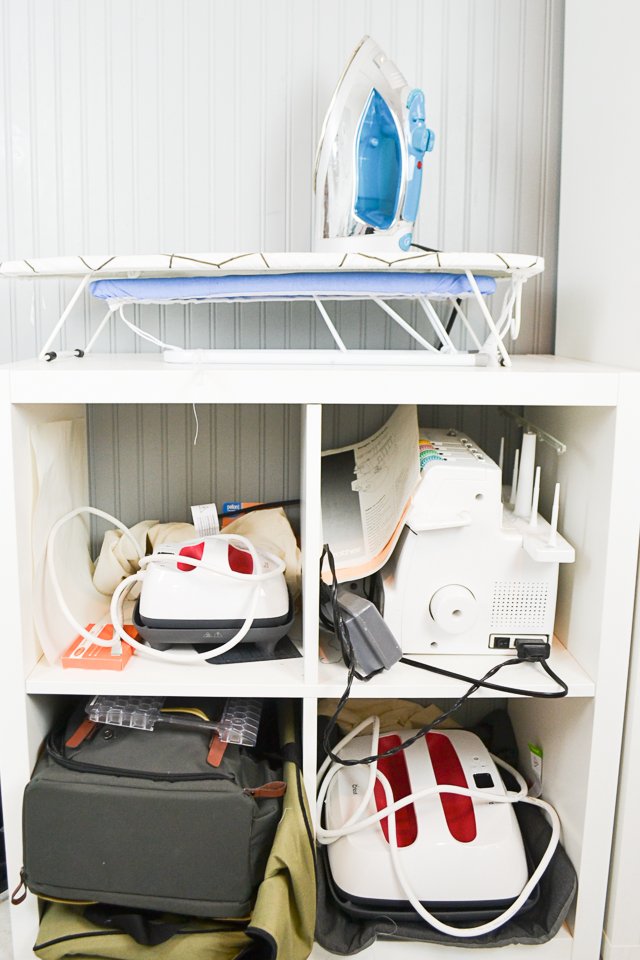 Just next to the ironing station I have a large 4×4 Kallax for storage. I keep printed PDF patterns rolled up on top that I haven't cut out yet, a basket for all the Halloween costumes I'm working on, and some fabric and leather paint.
I removed two of the top vertical separaters so I can put my Cricut Maker and my printer on the shelf. It's nice to have just two sections with wider space.
Below that I have baskets with storage, all my sewing books, and my sewing basket that my husband bought me for our first Christmas. Below that I have four more baskets for storage holding things like lace, felt, iron-on vinyl etc.
The bottom row is actually toys and art supplies for my kids. I love when they play or draw near me. It gets way messier when they are in the room with me, but I love having them with me.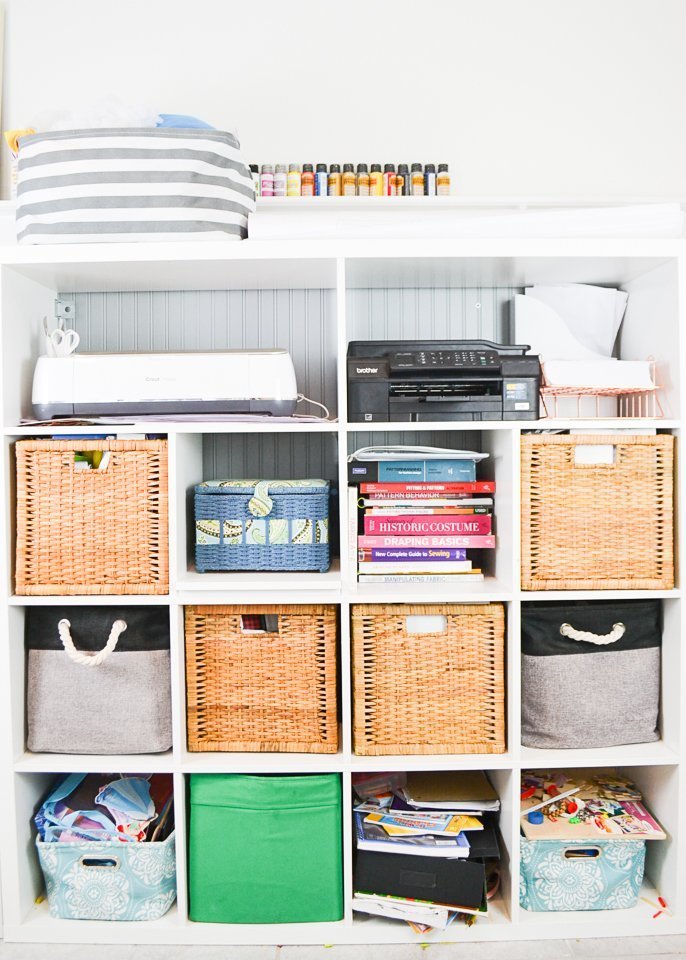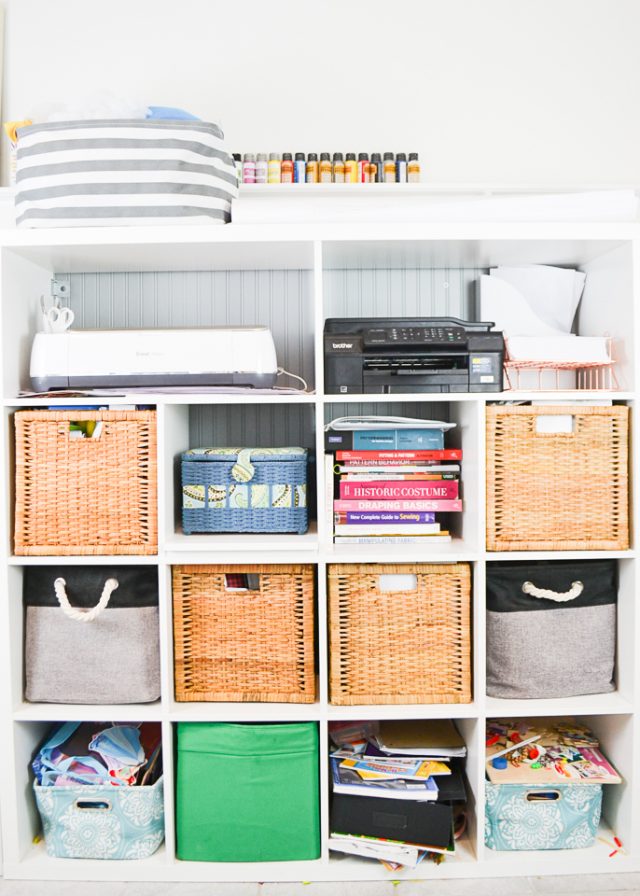 I have since updated this side of my sewing room with the same Kallax shelf for my ironing station, and I added two super tall Billy bookcases with doors to hold all my fabric, fabric scraps, and items to upcycle.
It's sort of a shallow bookcase, but it holds so much for me. It's such a great piece of storage furniture.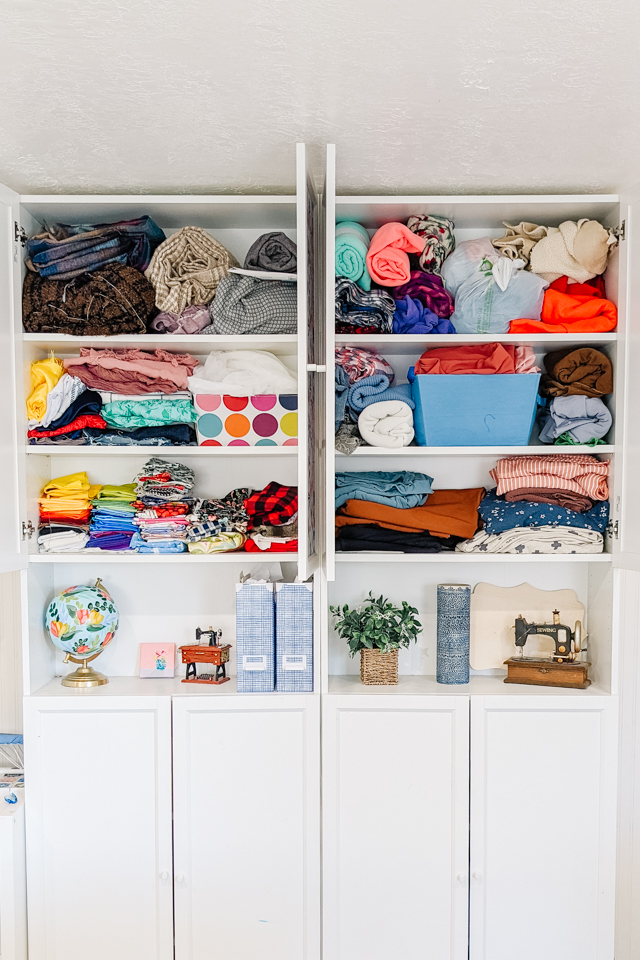 Are you interested in looking at sewing rooms? Check these one out:
I've also tried a sewing cabinet: the Sew Station, and the Dreambox in my sewing room.
Ikea Sewing Room Ideas
Get ideas for using Ikea furniture for a sewing room or craft room.
If you get an idea for an IKEA sewing room, I'd love to see! Please share it on social media with the hashtag #heatherhandmade and tag me!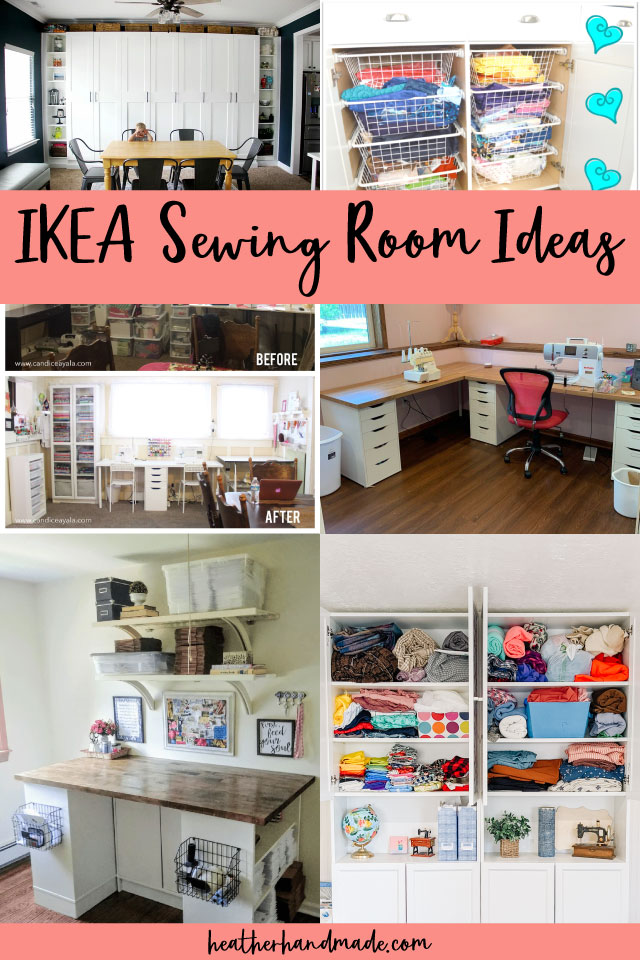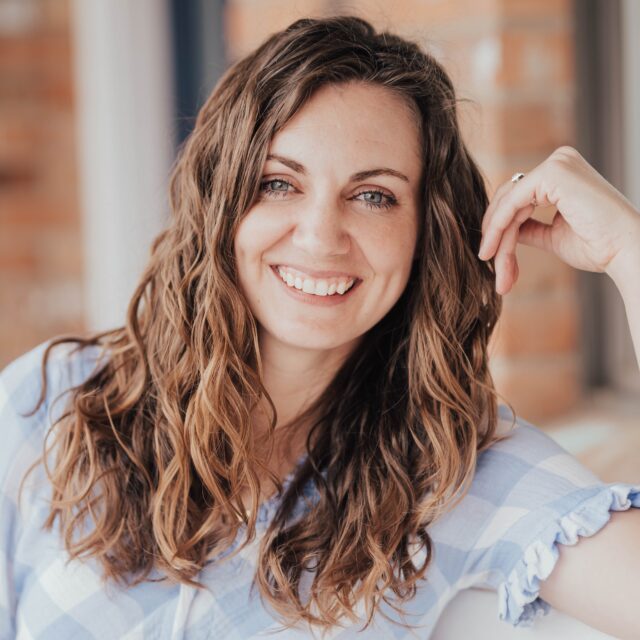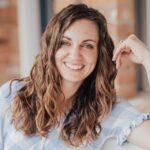 I believe small sewing moments can create great joy. Find your own "right" way to sew. -Heather