Dreambox Review for a Sewing Room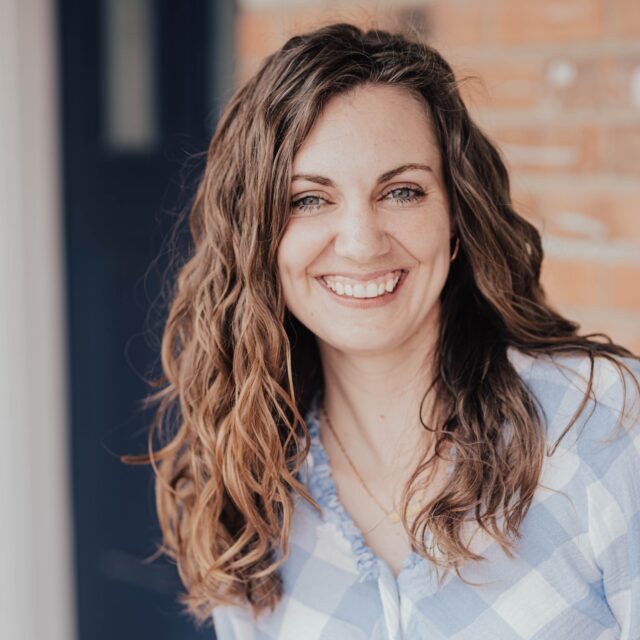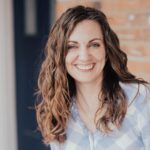 This post may contain affiliate links.
In my sewing room the dreambox has changed how I organize. With the side table and Sew Station it's the perfect set up for my sewing machines.
I finally found a solution for clutter in my sewing room. I almost always have a mess somewhere in my sewing room. I would spend time cleaning it every couple of weeks, and it would always get messy again. It's so easy to keep my sewing room clean now that I have a Dreambox* to organize everything.
Now I have the Dreambox* in my sewing room with the side table and Sew Station*, and it's so easy to keep it clean. There's a spot for everything, and I never lose it in a box somewhere.
Are you interested in looking at sewing rooms? Check these one out:
Dreambox Review
I took off the table of the Dreambox because I love sewing in an "L" shape. This set up is perfect, and I can reach almost everything while still sitting in my chair. I have my sewing machine, serger, coverstitch, and Cricut Maker all around the table area.
Use the code "HEATHERHANDMADE" to get $100 of your order. I have the Dreambox with 40 totes, the side table, and the Sew Station*. Read about my Sew Station review here.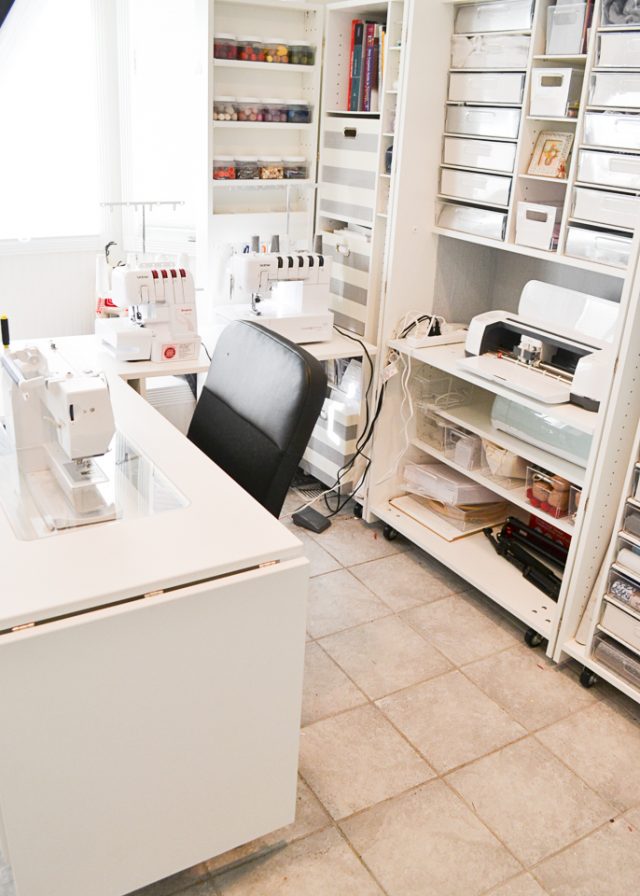 I don't have the wall space to spread my Dreambox all the way out. My sewing room is an odd room with three doors and two walkways.
I keep the left side of the Dreambox brought in at a 90 degree angle. It is right up next to the side table which makes it easy to reach things stored in the shelf.
For the first time I'm able to keep my sewing books in my sewing room. I've never had the shelf space to put them in here and had to keep them in another room. It's so nice to keep them all here in one place.
I have a place for felt balls, buttons, patches, zippers, fabric markers, patterns, lace trim, etc. I keep all of my sewing stuff in the Dreambox* except for my fabric which I will share in another post.
I'm even able to keep all of my personal craft stuff that never makes it to the blog like my laminator, cardmaking, and embroidery stuff.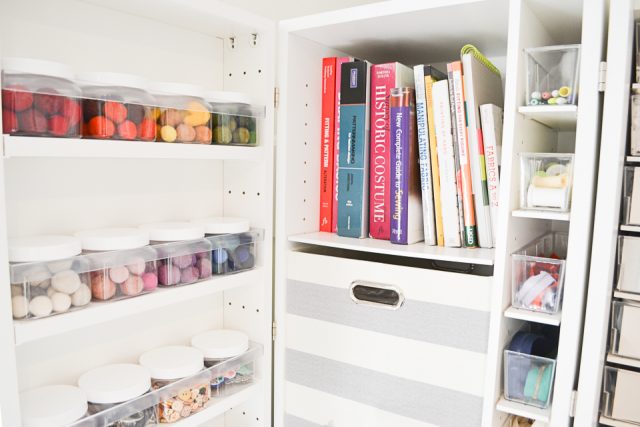 I love using felt balls for random things. I used to keep them all together and always had to dig for a color. Now they are all separated by color, and it's so easy to grab them as I need them.
I decided to line my bins with silver and white cardstock because I'm more creative in a clean white area. Pretty much everything is white in this room.
I did have fun making the gray and white in a little bit of a striped design. Stripes are one of the only prints I ever wear. I also bought a couple of white and gray striped fabric bins for my taller things like patterns and interfacing.
I added some sewing room decor in the middle. This is a painting and wooden sewing figure from my grandfather. It reminds of where I've been and where I'm going.
The area that I'm not quite happy with is the section under the Cricut Maker. I haven't decided what I'm going to put there. Right now there's a bunch of Christmas stuff that will be used up quickly.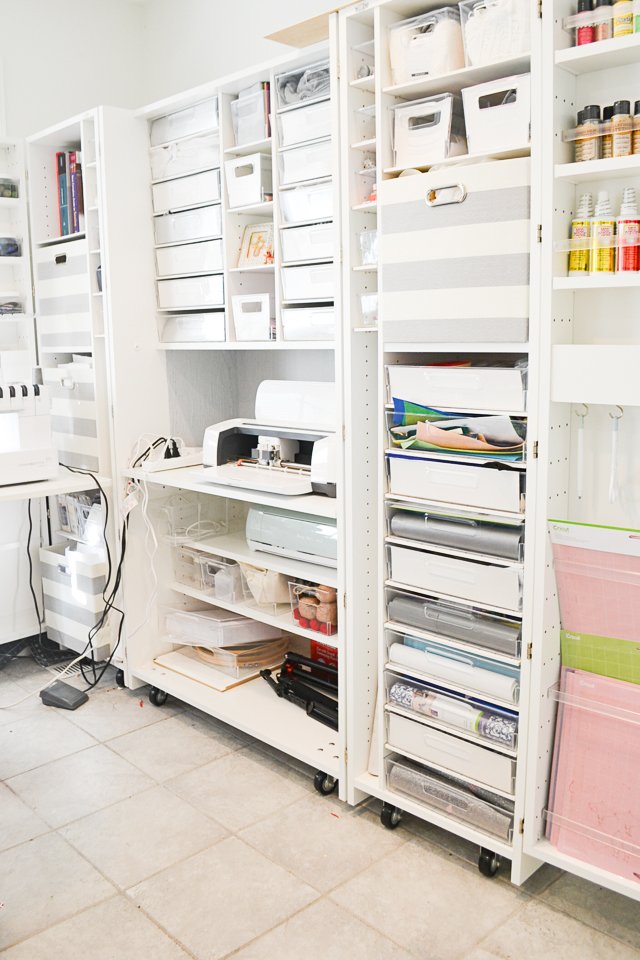 On the right side I have all my fabric paint and glue, yarn for crocheting, and interfacing. Then I have a bunch of iron-on vinyl, cutting mats, and infusible ink. I organize it by type so I can just grab the bin I need at the moment.
Even though some of these areas might look a little messy, I know where everything is and can keep everything clean. It's been so nice to have and use for the past month.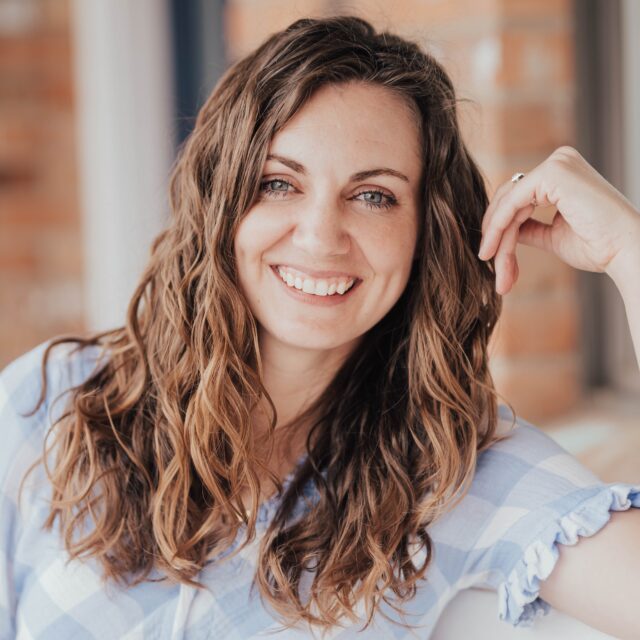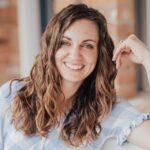 I believe small sewing moments can create great joy. Find your own "right" way to sew. -Heather