My Sewing Room + Dreambox and Sew Station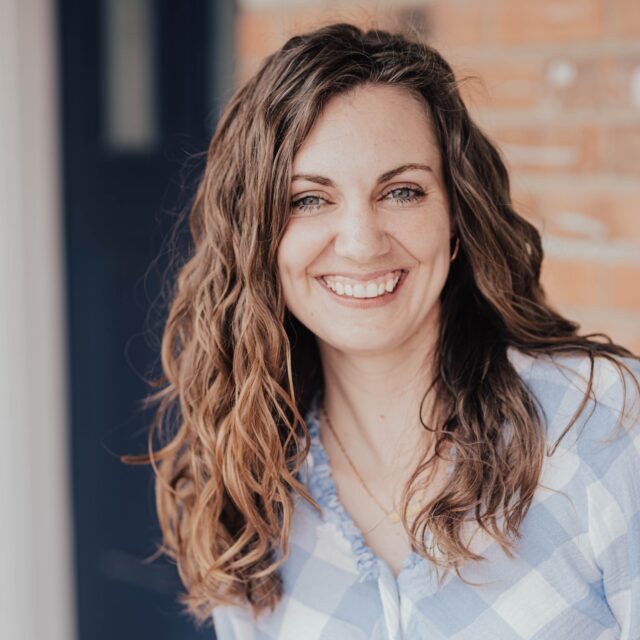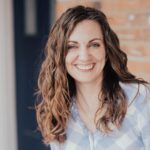 This post may contain affiliate links.
Tour my current sewing room configuration and organization that includes Ikea furniture, a cutting table, the Dreambox, and the Sew Station.
We've lived in our current home for more than five years, but my sewing room has gone through a couple of transformations since being here. I thought I'd show you what my current sewing room looks like, how it's organized, and the furniture I'm currently using.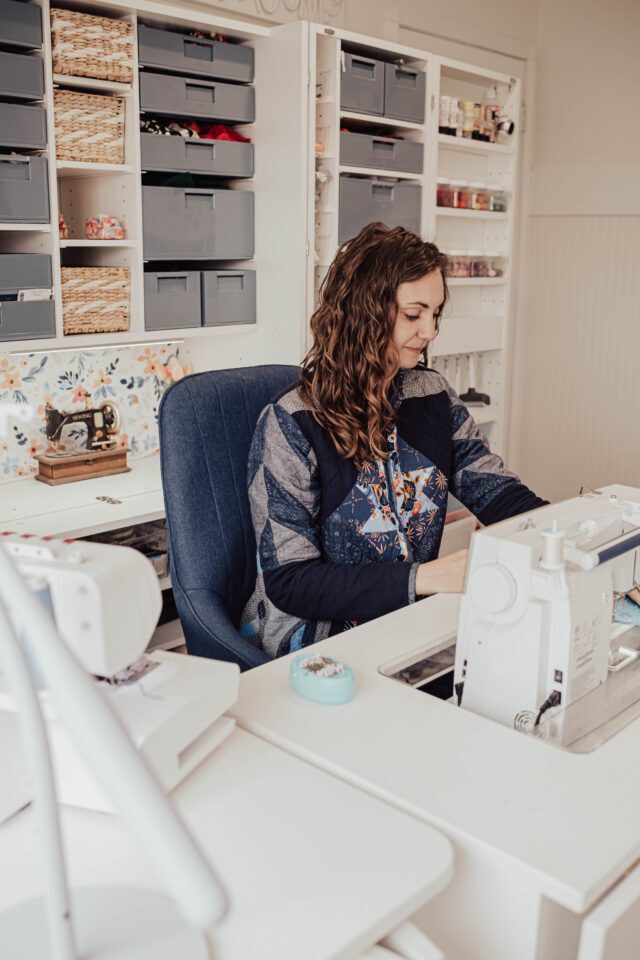 Sewing Room Organization
Fabric Organization and Ironing Station with Billy Bookcases
I have all my fabric organized by type in two bookshelves along one wall. These are the Billy bookcases from Ikea with the extensions and four doors to fit in our 8 foot ceilings.
The left side has wovens (coat weight, apparel, and quilting cotton) and the right side has knits (fleece, swim fabric, jersey, and French terry.
Down below has woven scraps and woven items to refashion on the left side and knit scraps and knit items to refashion on the right side.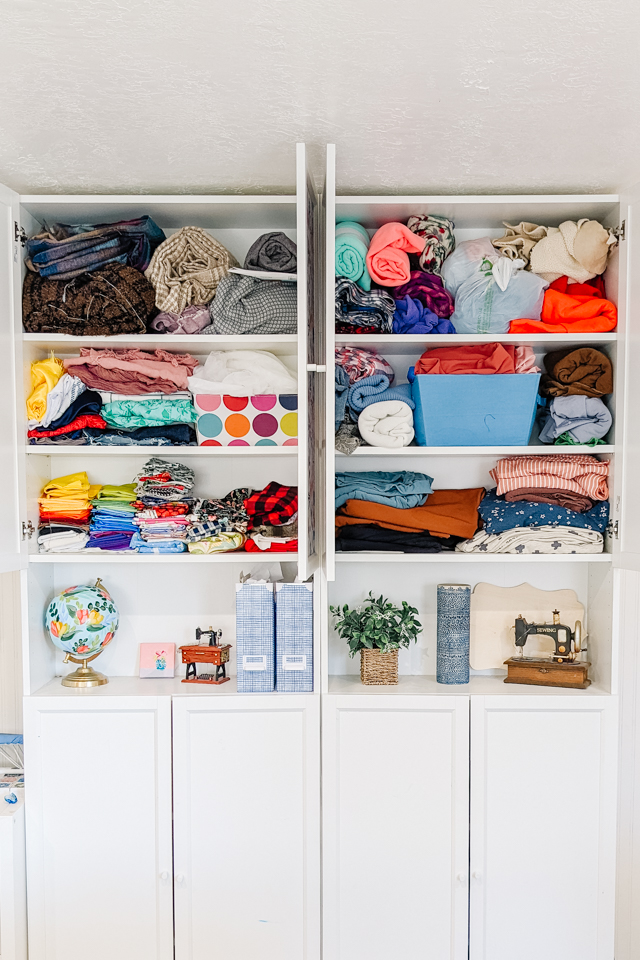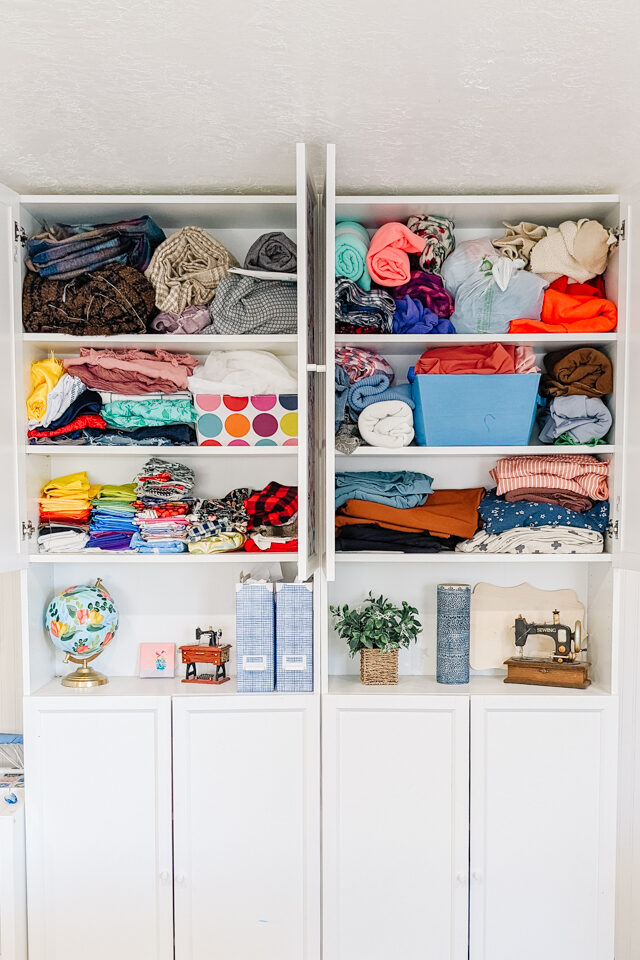 I feel like I have a little too much fabric at the moment, so I need to go through and elimate. I always get overwhelmed when there's too much fabric in my collection.
I also store my Cricut Maker 3, some decorations, and all my sewing books.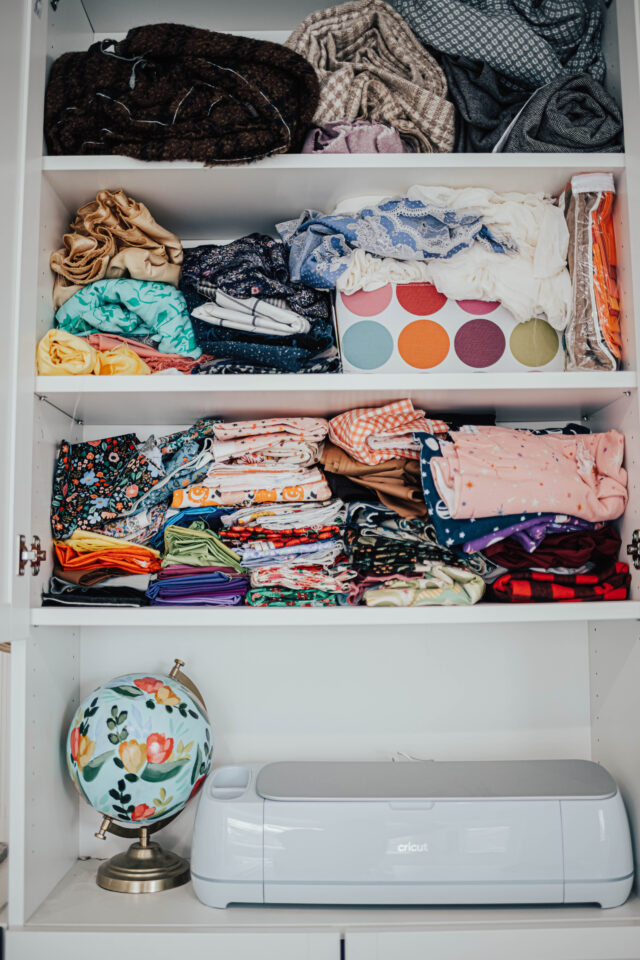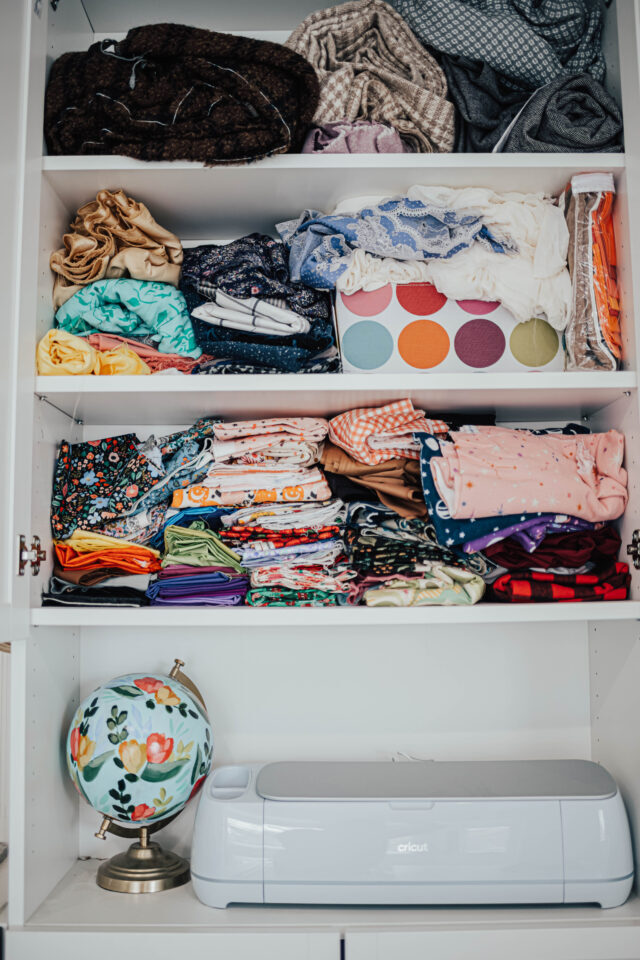 I've organized my sewing books by color since it would work too well to organize them by subject. I love having my books accessible and using them as functional decor.
Let me know if you want more details on my sewing books so I can send you links! My books stay up with sewing machine bookends*.
I also have a half height Billy bookcase which you can see behind me in this photo. White doors haven't been available for years so it has black doors, and I didn't take a picture.
The Billy bookcase has a felt ironing mat* and my iron on top. Inside the doors I store my Easypresses, ironing tools, hem tape, sleeve boards, and a couple of finished sewing projects that I use for props.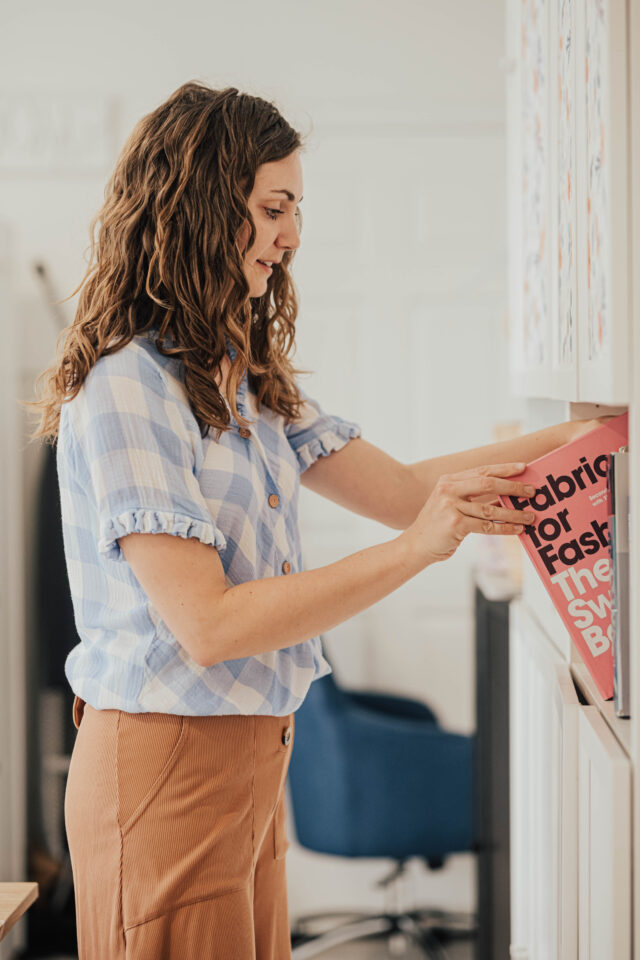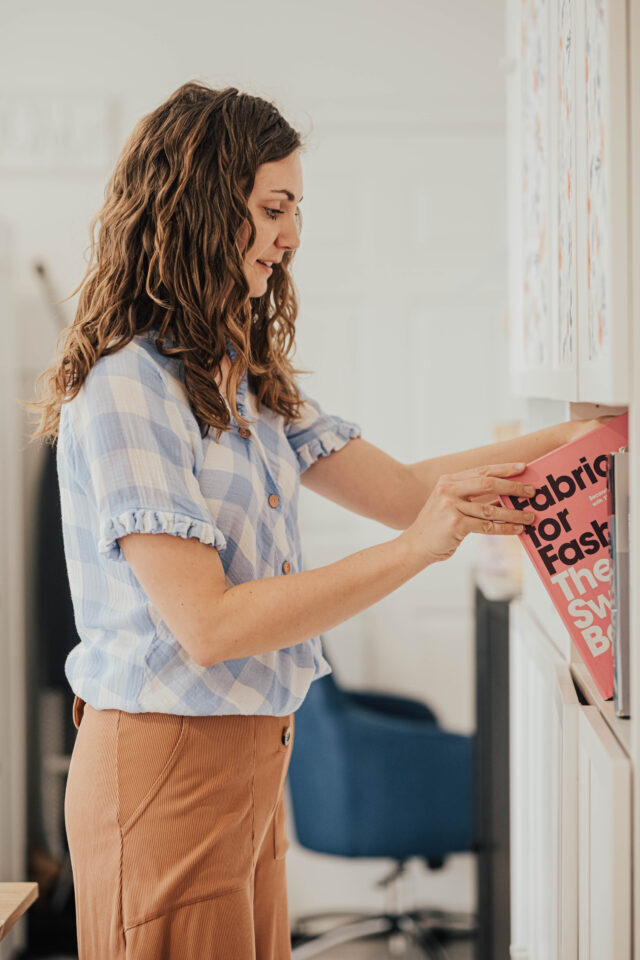 Computer and Office Desk
My desk isn't that interesting or pretty; it's just very functional. It stores all our families office stuff, a printer, pencil sharpener, and all the devices that need to be charged.
The desk is a slightly different version of the Vebjorn desk from Ikea. It's nice having drawer storage and shelf storage on the side. This is where I sit and do 75% of my work for my patterns, website, and shop. It's nice that it's still in my sewing room so that I can be inspired by my surroundings.
Cutting Table
In the middle of my room between the sewing area and the computer desk, I have an extendable dining table that we use as a cutting table. The table I have is not available anymore, but here's a similar table.
We also use it as an art table, homework table, sewing table, etc. It's a mixed use table, and it's very useful. It's also the table I use with my projector which is mounted on the ceiling right above.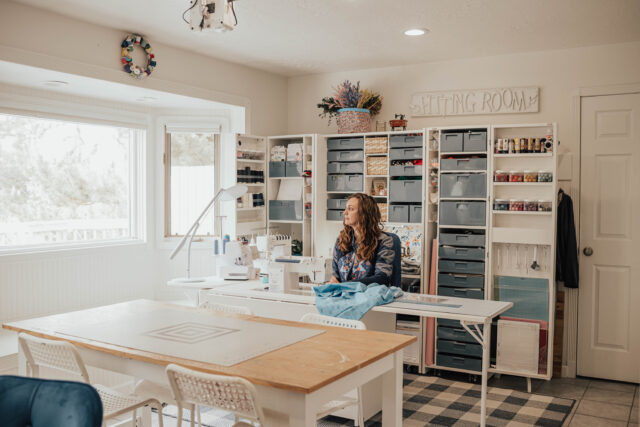 The table can fit two large cutting mats side by side with the edges slightly hanging off or one in the middle. This is the table I also use for filming and photos.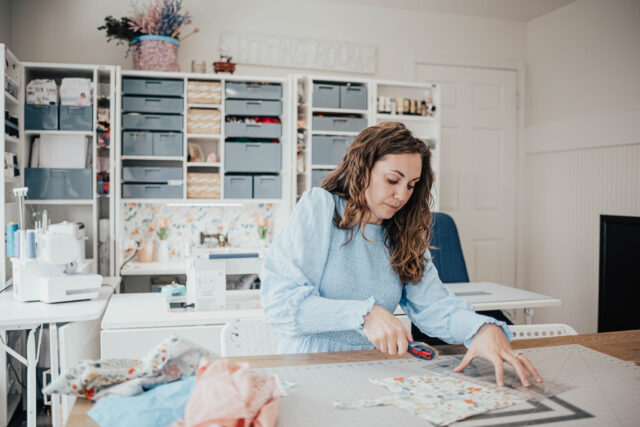 I chose a table that can extend so that when I'm cutting out bigger cuts of fabric I have more room for cutting.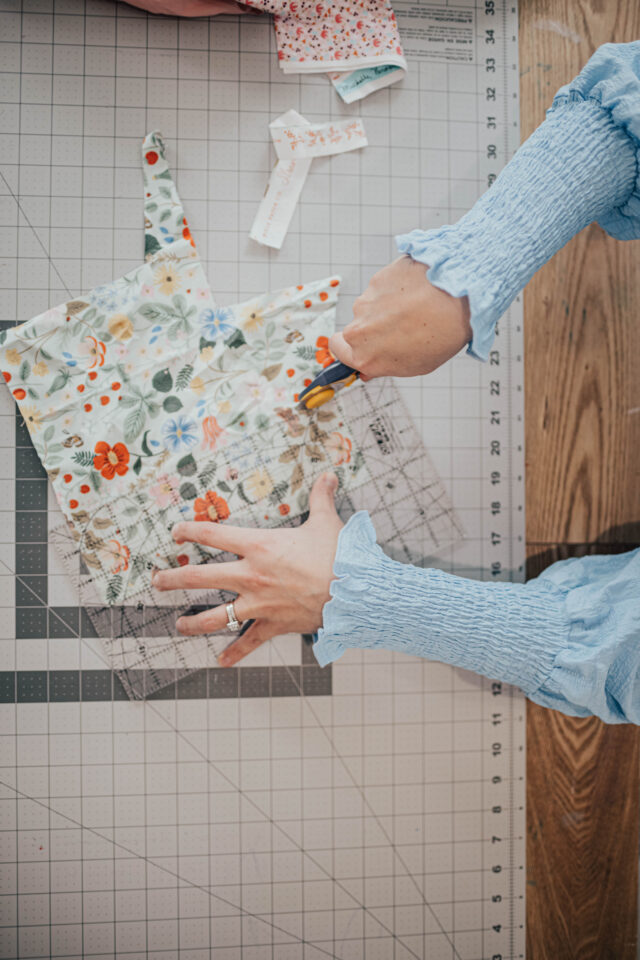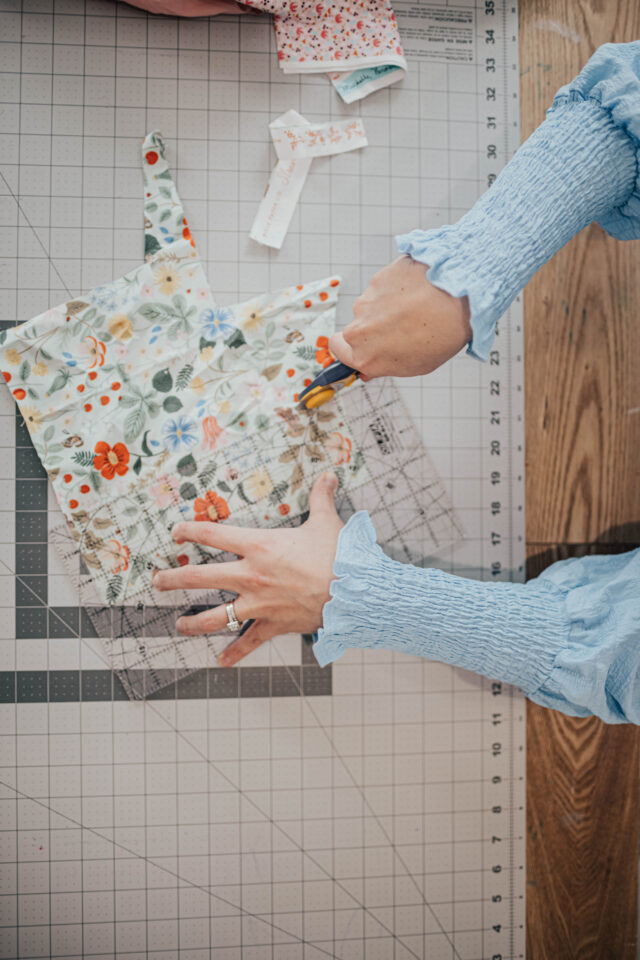 Dreambox
I have had the Dreambox for 3.5 years, so you can see how I use it after all this time. (Get more details in my Dreambox review.) It is still the main piece of furniture in my sewing room, and it stores so much. I have some Inview totes throughout, but mostly I have blue Dividrawers.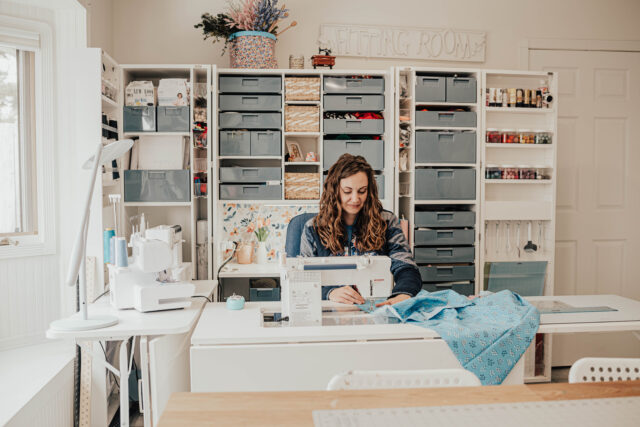 I have the Dreambox set up between a door and the opposite wall so I keep one of the sections opened at a 90 degree angle. I have removed the main center table so that I can use it the way that suits my needs. I rarely close it, but sometimes I change the configuration with the table space.
Behind me I have the power strip so that I can plug everything in in once place and turn everything on at one time.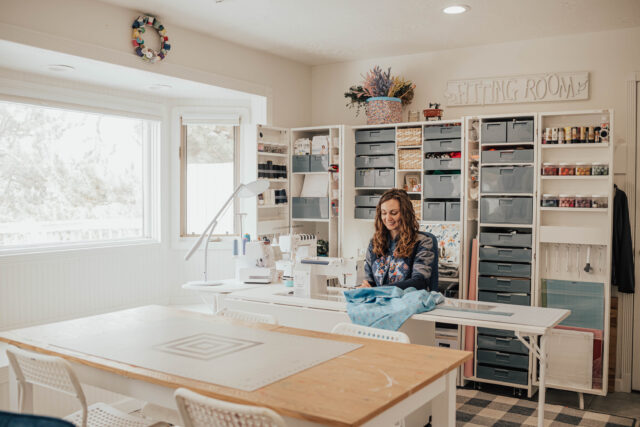 In my Dreambox I have my serger thread, clear rulers, patterns, zippers, all my trims and bias binding, buttons, snaps, felt, silk fabric, all the Cricut supplies and tools, hot glue gun, projects in process, props, and camera stuff. It stores SO much!
I have the left side table attached to the Dreambox, and it holds my serger and my coverstitch machine.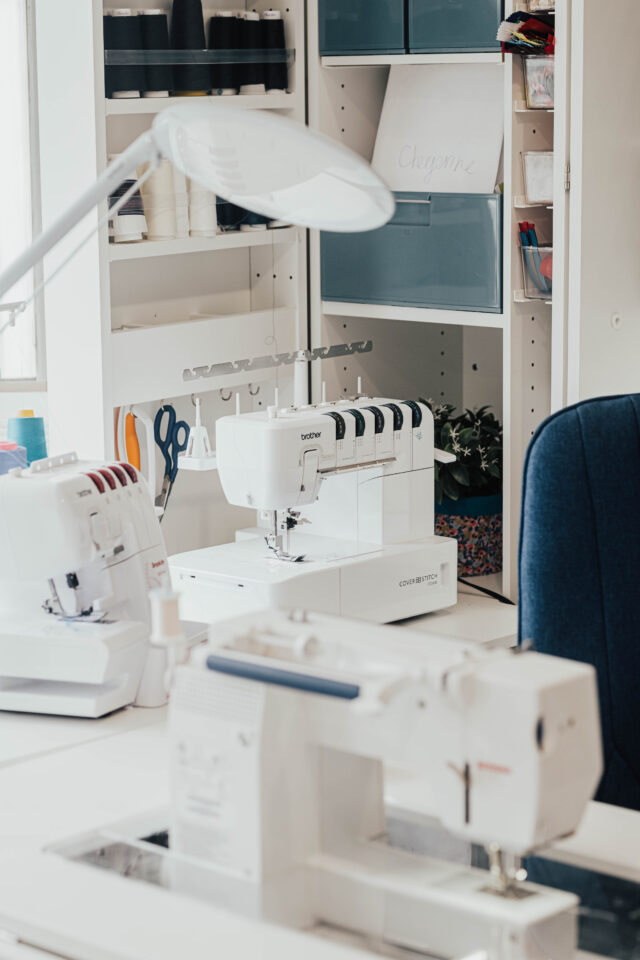 I store my felt balls and acrylic paint. I also have the speakers that fit into the top of each door. They are bluetooth speakers so that I can listen to music or audiobooks while I sew or work.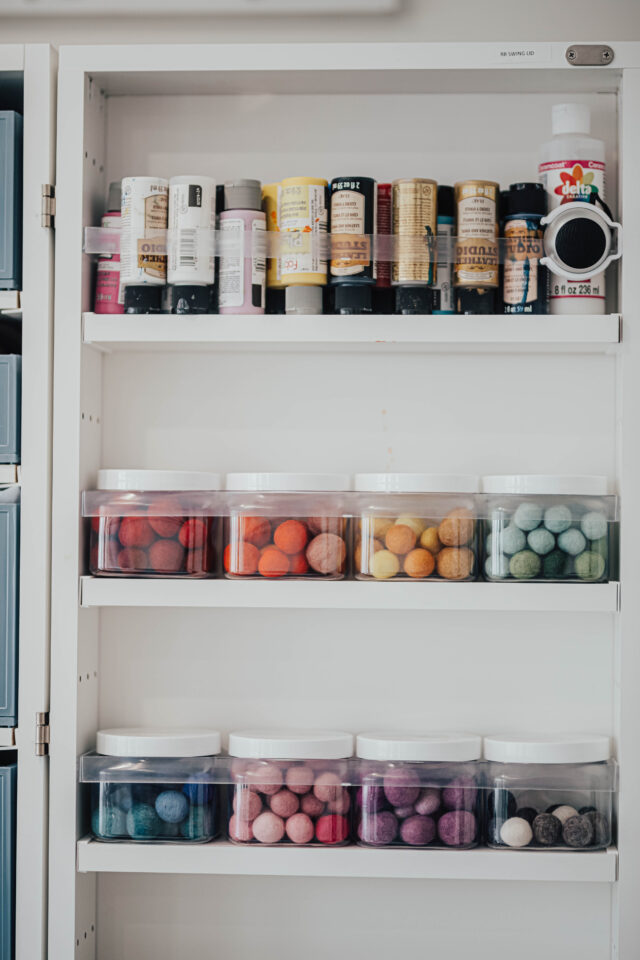 I had the Inview totes at first but it felt too busy with all the items on display, so I switched almost everything to the blue Dividrawers. I love the clean look of the blue, and the different sizes. I actually prefer the Dividrawers to the Inview totes.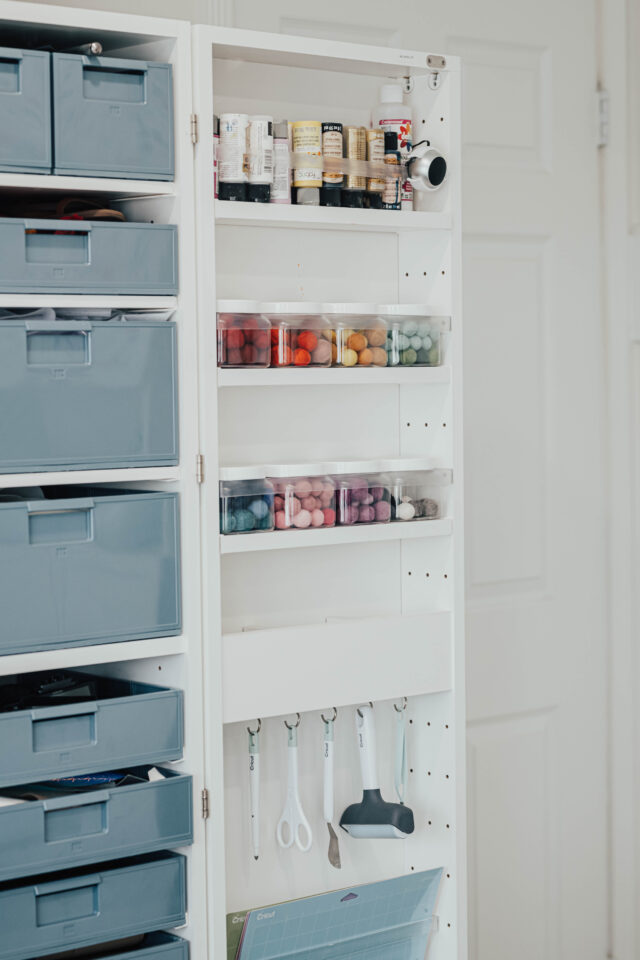 How much does a Dreambox cost?
The Dreambox with the most inexpensive options chosen is $2,500 and with the most expensive options chosen is $3,950. There's a range of cost in between depending on what options you choose.
Coupon Code for the Dreambox
Use the code "HEATHERHANDMADE100" to get $100 off the Dreambox!
Can you customize the Dreambox by removing some parts?
Yes! The best part about the Dreambox is that you can customize it. You can choose different options to purchase and different furniture to attach and add on like the Sew Station and Dreamcart.
I have removed the main center table on mine to fit in my room better, but I store it so I can add it back on whenever I need to.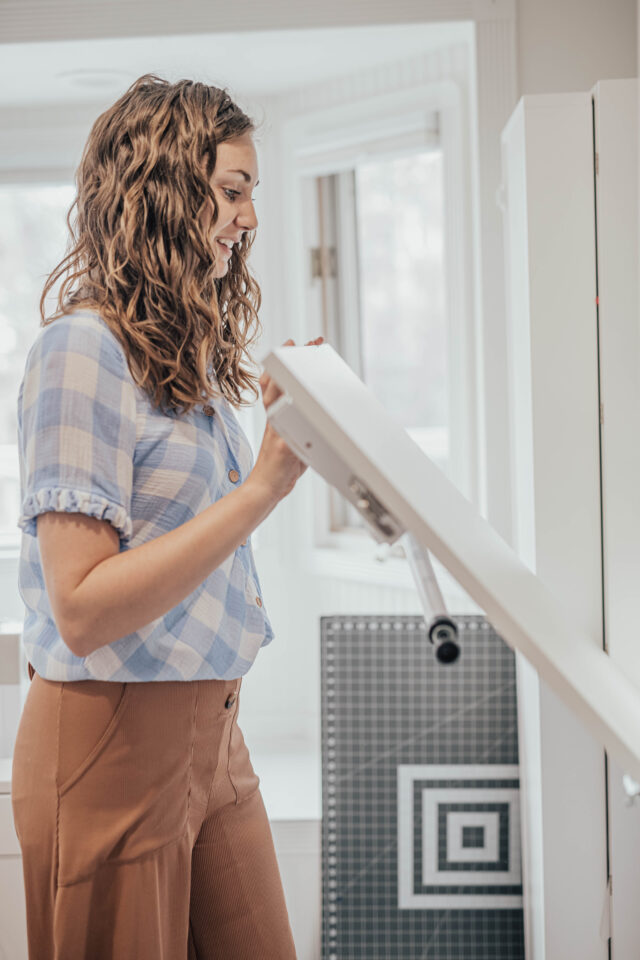 Dreambox dimensions
When the Dreambox is close it's 34 inches deep and 37 inches wide. When it's open the Dreambox is 9 feet wide and 68 inches deep (with the table).
Here's an image that gives you an idea of the size and measurements.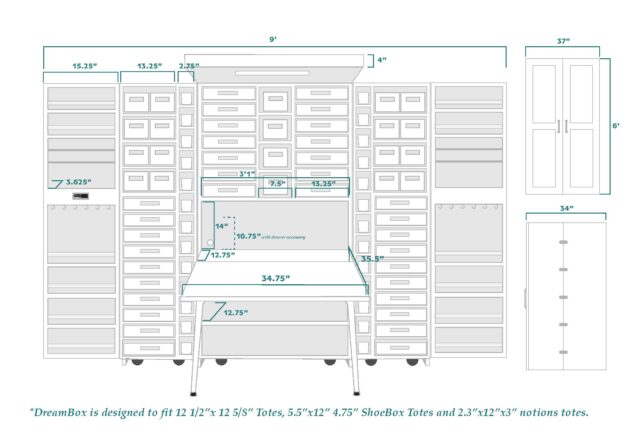 Different Dreambox Configurations
Sometimes I change the set up of my Dreambox to fit different needs.
In this configuration I attached the main center table to hold my serger and my coverstitch machine. Then I have the Sew Station on the left side. I can still swivel between my machines but I have more room behind the Sew Station for big quilts.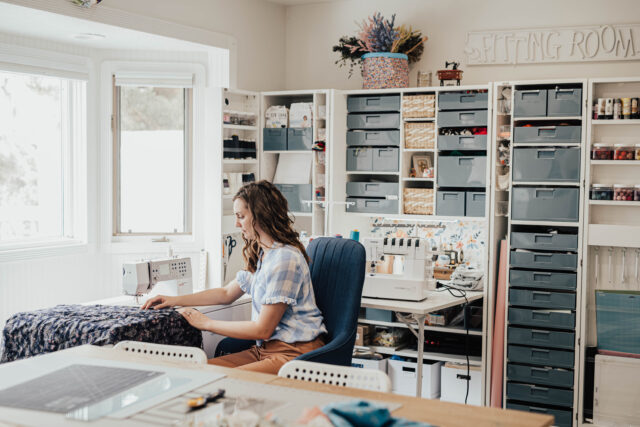 I love that the Dreambox is flexible so I can change it with my needs.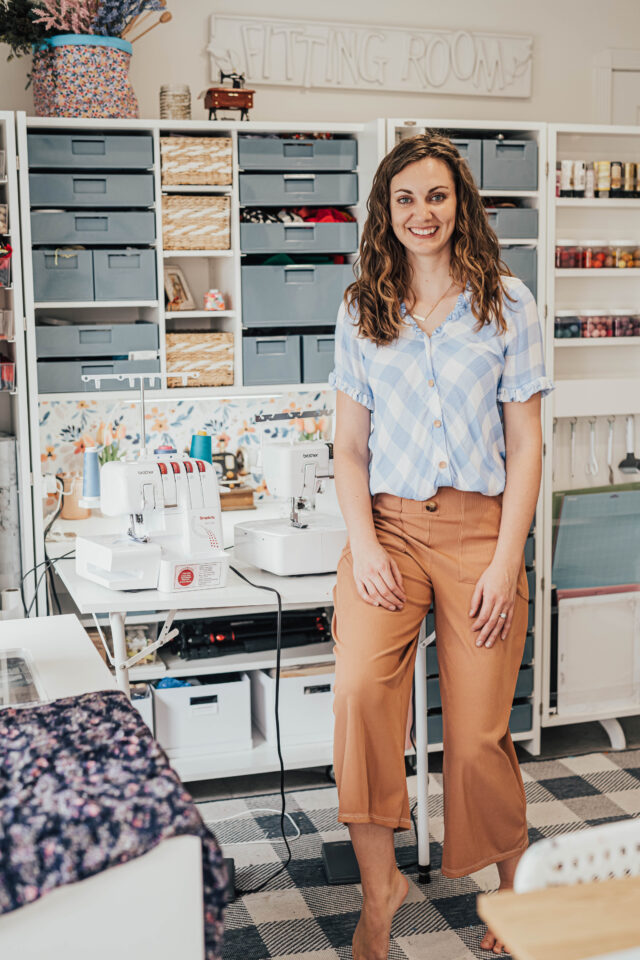 Sew Station
The Sew Station is a great sewing machine table. Get more details in my Sew Station review.
I love that I can raise the side and back of the Sew Station for more sewing space, or I can lower the tables and close the front.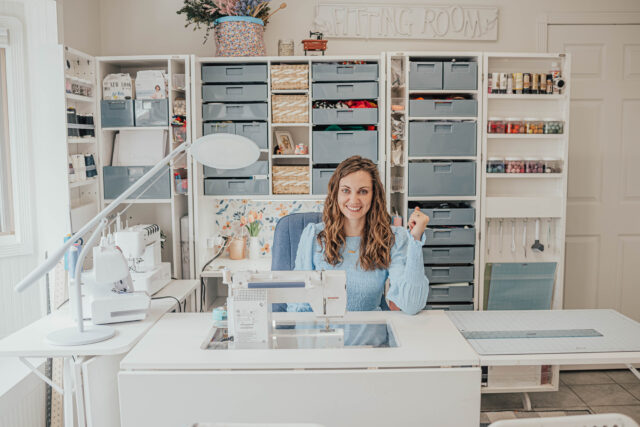 I love that my sewing machine can go up or down, and that the acrylic cover is clear so I can see my bobbin.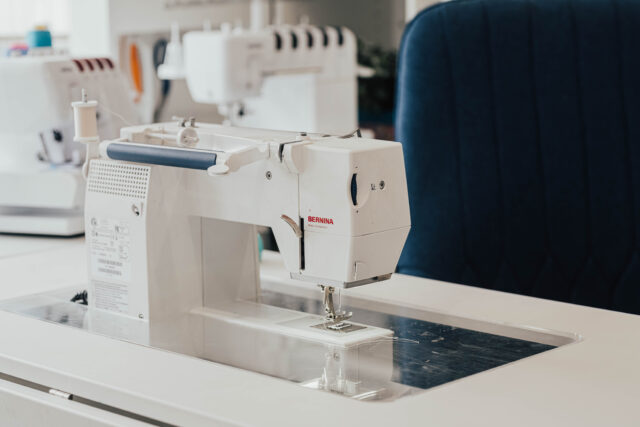 I have all my thread organized in the thread storage drawer in rainbow colors. I love being able to see all my thread at once. On the other side I have all my elastic, sewing machine feet, and tailor's chalk.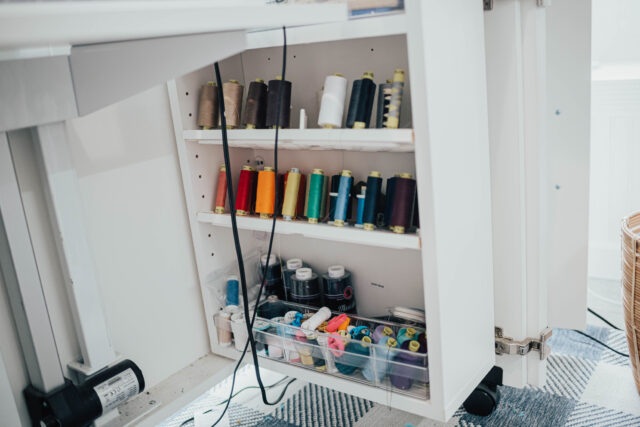 How much does the Sew Station cost?
The Sew Station costs $1750 full price, but there are often sales so you can get it cheaper!
What are the dimensions of the Sew Station?
When the Sew Station is closed its 23 inches deep and 42 inches. When it's opened and both table sections are extended its 42 inches deep and 68 inches wide.
This image gives you an idea of how big it is and how it would connect to the Dreambox.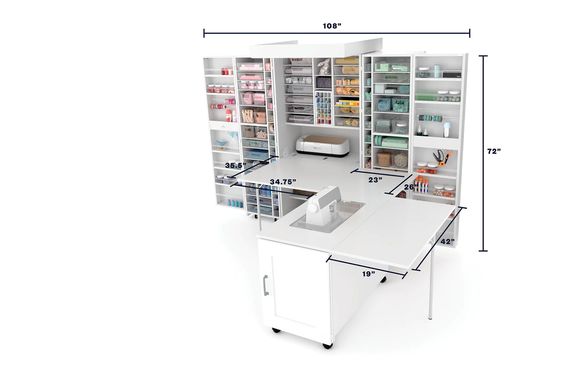 Want to see more sewing rooms?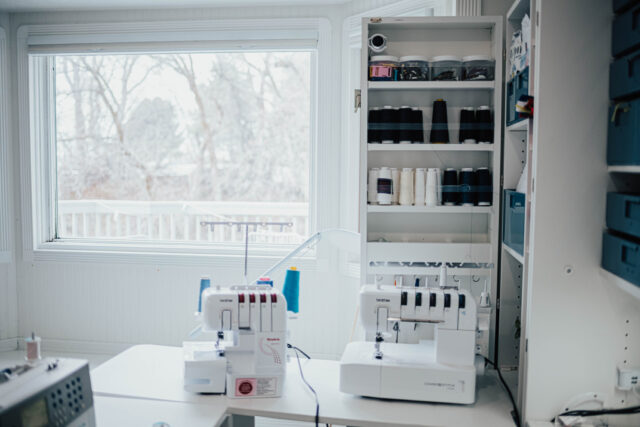 If you make something using this sewing project, I'd love to see! Please share it on social media with the hashtag #heatherhandmade and tag me!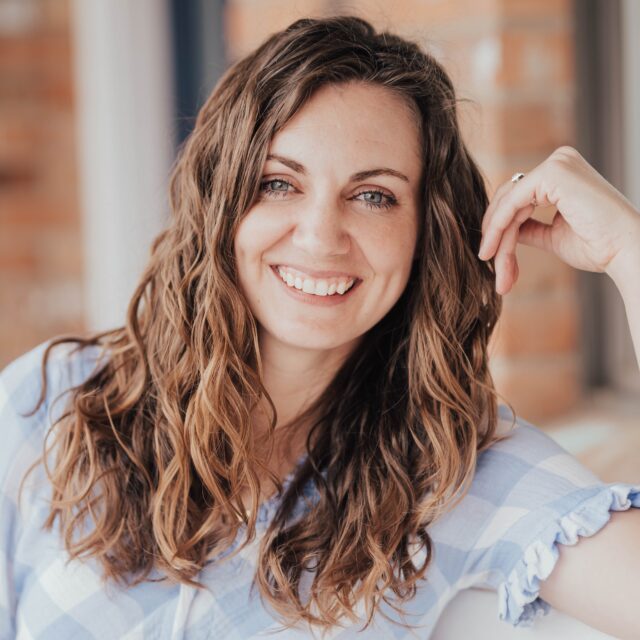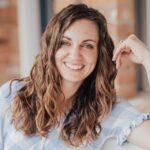 I believe small sewing moments can create great joy. Find your own "right" way to sew. -Heather