Sewing Area and Playroom
This post may contain affiliate links
In our new place we have expanded our square footage almost three times, but we don't have a an extra room with a door on it. Instead we have a bonus room between the kitchen and front room, and it has become the sewing area and playroom.
I used a built in desk in our last apartment, so when we moved I got to pick something new. I researched and researched. I decided on an L-shaped desk to have enough room for projects and have space for both of my machines.
Well, corner desks are really expensive. I didn't need a whole lot of features, just space. I found a really great desk for a really great price, but the company was so frustrating to work with (they lost my first order, didn't have a way to communicate besides email, and wouldn't ship the replacement quickly even though it was their fault!) that I can't comfortably recommend it. The desk does not have any drawers just two shelves on one end.
To the left of my machine I have a ALGOT storage rack. It has wire drawers on the bottom that have all my small scraps and some knit items to refashion. Above it I have all my upcoming projects.
It's a bit of a mess right now because I've started working on the kid's Fall/Winter collection. I pull out more than I need and slowly whittle it down. I almost purchased the MULIG valet stand to hold my upcoming projects, but it wasn't quite tall enough.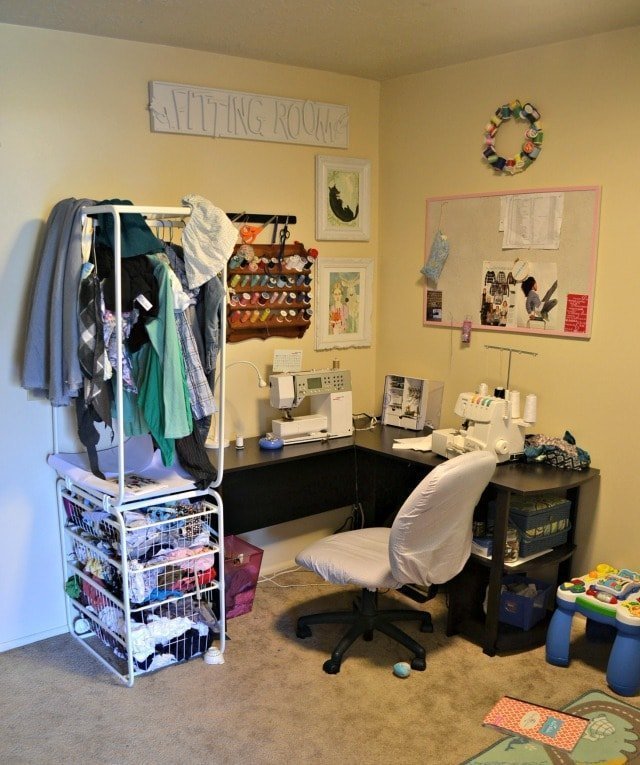 Here you can see some of the playroom on the right. It is actually great now that my kids will play happily next to me while I sew. I love sewing while still feeling included in the family stuff going on. Especially when my husband is home playing with the kids, I can sew and not feel guilty about shut off in another room.
Don't mind the BYU flag on the window; it's college football season. And notice the two rolls of trims on the window shelf. I might use the windowsill for my sewing stuff.
Not pictured are two small built in closets behind me that hold the rest of my fabric, my craft supplies, my patterns, and kid's craft supplies. Also, here are some sewing room hacks.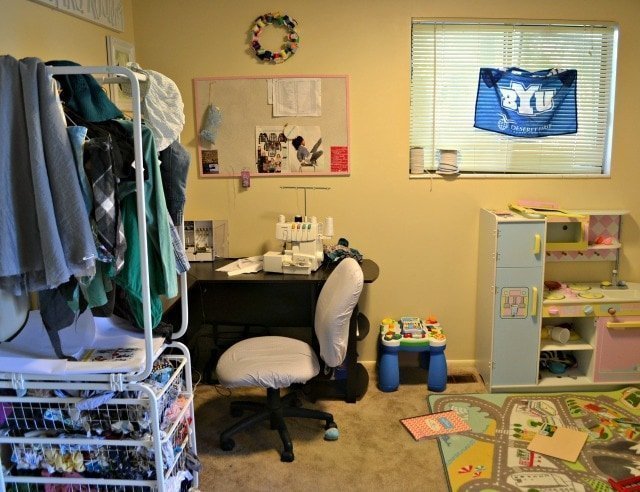 Above my sewing machine I have all my thread, sharp tools, and pictures that make me happy. The fitting room board at the top used to be lots of pastel colors, but I spray painted it white for a simpler look. Eventually I'll paint the letters, but it can wait until later.
Above my serger I have a bulletin board that I spray painted white and added washi tape to the border. Then I have a thread spool wreath above that.
Two of my paintings are from my friend Sunnie. She does amazing watercolors with a folk-tale fantasy vibe.
She has these and other prints that you can purchase in her shop. I have The Wolf and the Hare and The White Elk prints. I framed them in white to make them stand out.
(I really wish my walls were white or some other color though.) She did not pay me to say this; my opinions are my own.
Above my thread I hung the GRUNDTAL magnetic knife, and I store all my sharp tools out of the reach of small hands. I also hang my safety pins and large pins on the top of my thread rack. Besides hanging all my upcoming projects on the ALGOT stand, I have two crocheted bins that I store other tools out of the kid's way.
Down under the serger are two open shelves. For now I'm storing my sewing box, buttons, some snaps, and a bin of elastic. The bottom shelf has to stay somewhat open because my son uses it as his garage.
Are you interested in looking at sewing rooms? Check these one out: