22 Fat Quarter Projects for Clothing
This post may contain affiliate links
Make clothing with just a fat quarter or scrap fabric! These fat quarter projects use woven and knit fabric for kid and baby sewing projects!
As fun as it is to sew home decor or accessories, sewing clothing will always be what I love most. It's the most exciting and satisfying to me.
When I can make clothing out of scraps or one fat quarter, I feel like I deserve a special medal or trophy. I feel like I want to yell, "I made a shirt out of scraps!" or "I made a skirt out of a fat quarter!"
Since these sewing projects use smaller amounts of fabric, most of them are fat quarter baby sewing projects, but some are for older children and adults too.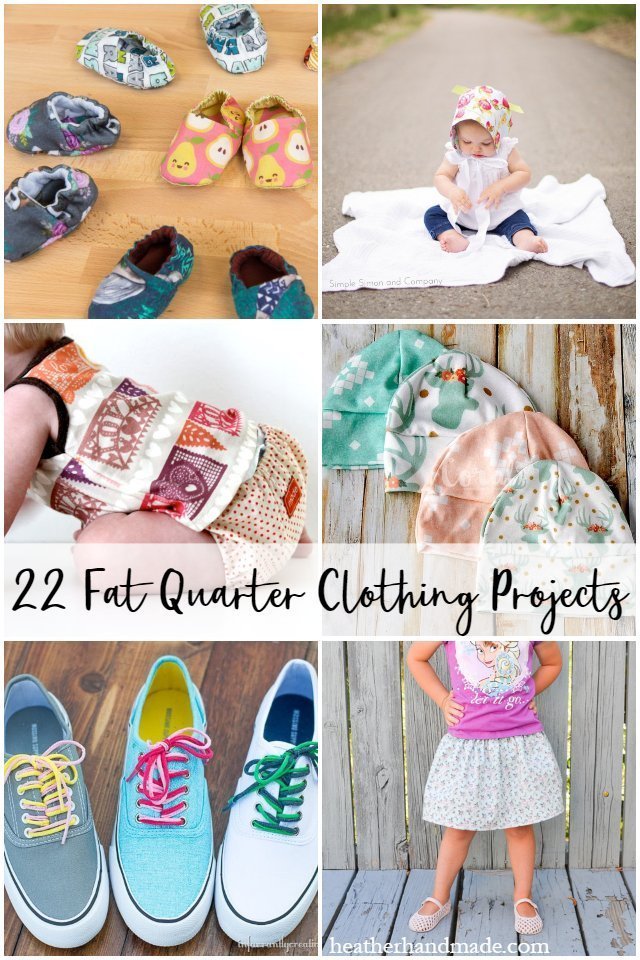 I've put together a big list of fat quarter clothing projects with both knit or woven fabric. Some are labeled as specifically working with fat quarters and some are scrap fabric projects.
The great thing about sewing is you get to choose what works for you! Do you love sewing? Check out some of these projects!
What is a fat quarter?
A fat quarter is a quarter of fabric, but instead of cutting in straight across the yardage which would be 9 inches tall by 42 inches wide, it's cut from one side creating a rectangle that is 18 inches tall and 21 inches wide.
It gives you a little more freedom in what you can create since it's taller than a regular quarter of fabric.
What is a PDF sewing pattern?
A PDF pattern is a sewing pattern designed on the computer and organized so that it can be printed on several letter or A4 size pieces of paper.
I love using PDF sewing patterns because if the pattern gets ruined or if my children or I changed sizes, I can always print it again. It'll never be destroyed since I have a digital version!
How do you use a PDF sewing pattern?
Open the PDF on a computer and click print. When printing make sure that the scaling is set to 100% or no scaling so that the pattern prints at the correct size.
Fat Quarter Clothing Projects
There are so many clothing items you can make with just a fat quarter of fabric. Some of these projects use knit fabric scraps and some of these projects use woven fabric scraps. Each project needs about the size of one fat quarter.
If you make something using this sewing project, I'd love to see! Please share it on social media with the hashtag #heatherhandmade and tag me!