Besides the typical sewing tools and fabric you find near a sewing machine, there are six things that have changed the way I sew baby clothing. As I've sewn for my baby's first year of life, (I know, I have SO much experience.) it's been a slow learning process. I have found certain things make it a incredibly easier for me. Some are cheap or free items that I have in my stash and others were purchased.
1. Old knit shirts and t-shirts
I love re-using the hems and the neckband if I can. I have made onesies and knit shirts from scratch and had to deal with finishing or hemming the edges. Knits can sometimes be a struggle to sew, so I often try to find a way to use something partly finished. I have made shortalls from t-shirts.
2. 1/2″ wide inch elastic
This one might seem like a given, and you might think I'm ridiculous for putting this. Well, I have found that I need and endless supply of 1/2″ wide elastic. It's the perfect width for baby stuff. I have used it on baby shoes, pants, diaper covers, and on the pants and shoes of Henry's blessing outfit.
3. Plastic snaps
The best decision I ever made was to buy some plastic snaps. It was a heart-stabbing buy (just like my husband says it was to buy my wedding ring and sewing machine. Expensive, but necessary.). Now that I've used them multiple times I have no regrets at all. It makes the leg opening closures way quicker than hand-sewing snaps and buttons and making buttonholes! I have used them on everything (overalls, onesies, rompers, etc.) since I bought them.
4. Men's button up shirts
Again, I like to re-use clothing so my project is halfway finished, and I finish that much quicker. I have only made one man's shirt from start to finish and a lot of work goes into them. There are tons of little details on the shirts that can be re-used like the front button placket, hems, pockets, collar, cuffs and sleeve placket. I have made baby onesies, first and second, and a baby romper.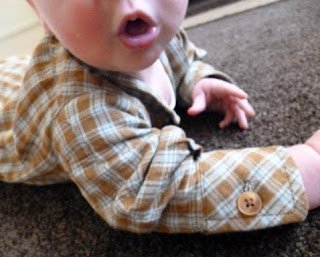 5. Used pants and shorts
I'm not trying to be a broken record, but I keep our used clothes to specifically use for my son. It's impossible to replicate the worn and frayed edges or the worn areas around the thighs, seat, and seams. Re-using the worn areas in a good way can make your babies clothing look store-bought. Besides the worn areas, pants and shorts have really great details to use again like waistbands (I really hate making waistbands.), back pockets, front pockets, cargo pockets, and hems. I have made multiple pants from pants and shorts.
6. Fold-over elastic
Even though I love sewing with knits, I still haven't perfected adding ribbing to neck bands, sleeve and leg openings, etc. Sometimes I add ribbing and it looks great, and sometimes I add ribbing and it just ruins the whole project. The product I love that I use instead of ribbing is fold-over elastic. It's simple and easy to use and always looks good. It comes it super fun colors and polka dots. I use it sort of like bias edge binding where I sew one side, then fold over the edge and sew the top down. I like to use it on the edges of a onesie, and onesies and overalls. (I've even used it on bodice edges on dresses for myself and found the elastic made the neck edge look good, but there was still enough stretch that I could pull it open for nursing access!)
What things can't you live without when it comes to making baby clothes?