Why and How to Use Interfacing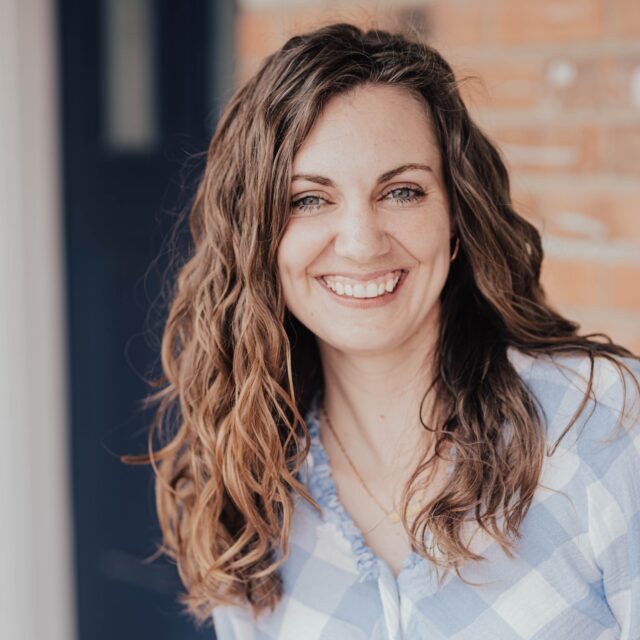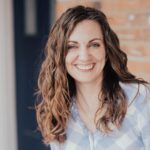 This post may contain affiliate links.
Learn all about interfacing and how to use it. It's so important for the inside of clothing and bags, and it gives strength and stability.
When I first started sewing I didn't realize how important interfacing was. I had learned about interfacing and logically I understand what it was used for, but I disliked having one more thing to buy to be able to sew clothing.
Once I saw the difference of using it and not using it, now I never sew clothing without it! Today we're going to learn what is interfacing and everything else about interfacing.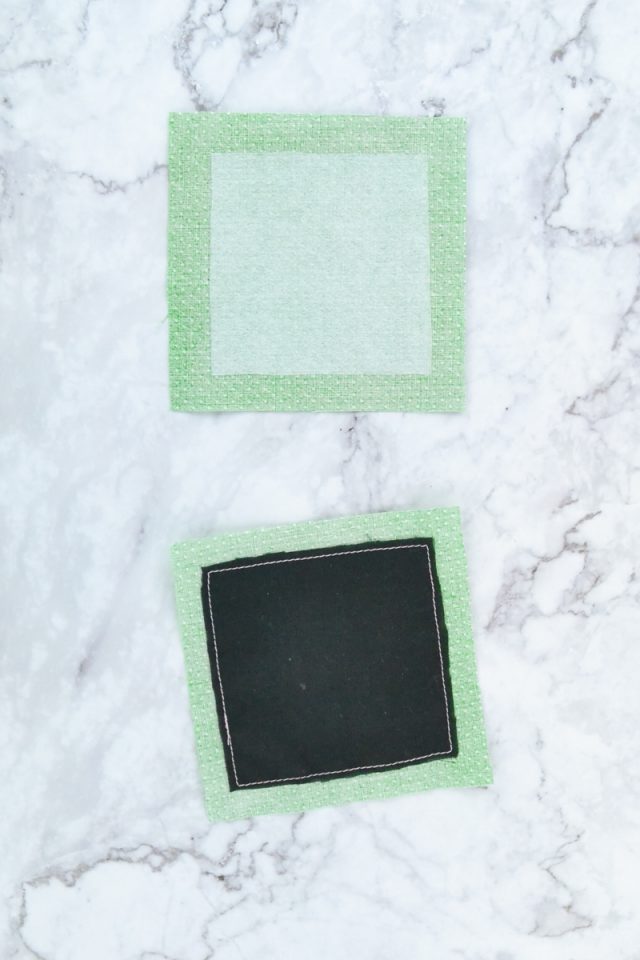 In this post I used all HeatnBond Interfacing* (fusible) and StitchnSew Interfacing* (sew-in) from Thermoweb. They have a large range of interfacings that will work for whatever sewing project you're sewing.
They also have a handy Interfacing Usage Chart to help you figure out which interfacing to use. I love using this chart to help me figure out which interfacing to use!
All About Interfacing
What is interfacing?
Interfacing is a fabric treated with stiffener and is used to stiffen pieces of fabric. Interfacing gives body, strength, and firmness to fabric.
Interfacing is essentially a stabilizer. There are lots and lots of different kinds of interfacing.
There is fusible and sew-in interfacing, and there is woven and non-woven interfacing. There are lots of different weights of interfacing like heavyweight to featherweight.
The weight of the interfacing should be matched to the weight of the fabric. The type of interfacing affects the fluidity, the drape, and the overall appearance of the garment.
Woven interfacing has a grainline that needs to match up with the grainline of the pattern pieces. Non-woven interfacing can be used in any direction.
Dark colored interfacing should be used with dark colored fabrics and light colored interfacing should be used with light colored fabrics.
If you use dark interfacing with light fabric it can change the color and light interfacing can peak through dark fabric.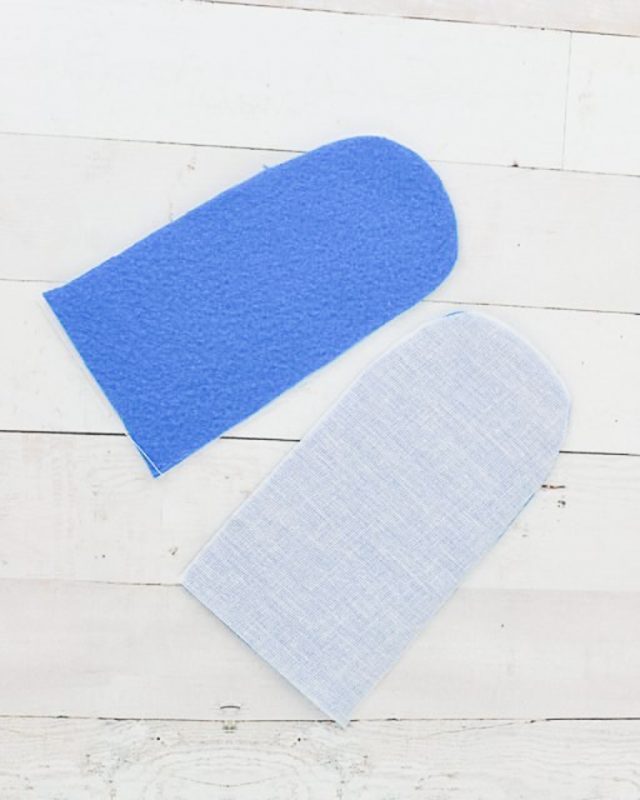 Types of Interfacing
Besides there being woven and non-woven interfacing and fusible and sew-in interfacing.
There is also weft interfacing which is more often for heavier weight fabrics and garments. I like to use weft interfacing for coats and blazers.
There is fusible tricot interfacing which is very lightweight. It works for both knit fabric and woven fabrics.
You can also use fusible fleece to create quilting details on apparel.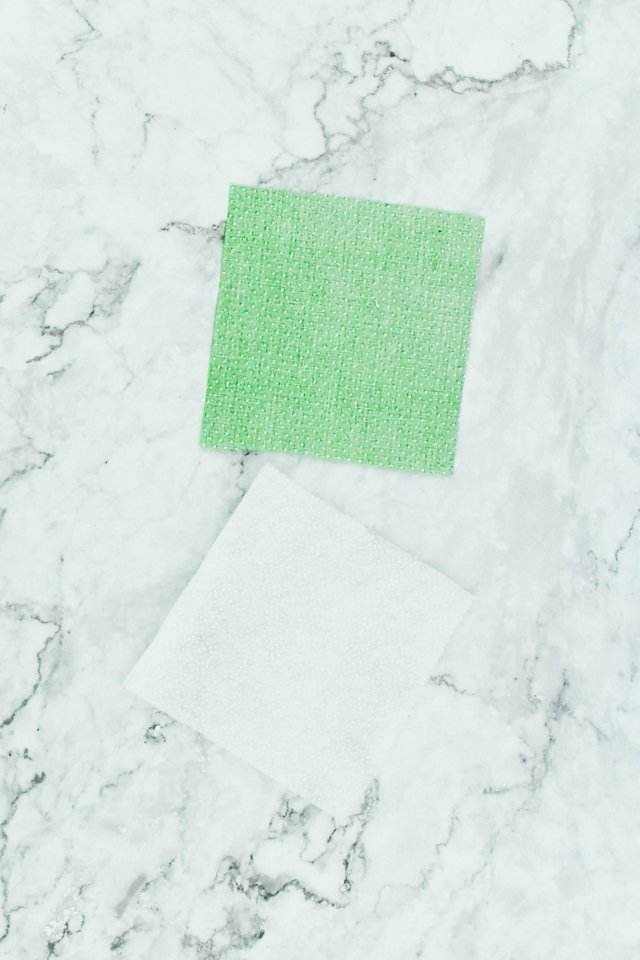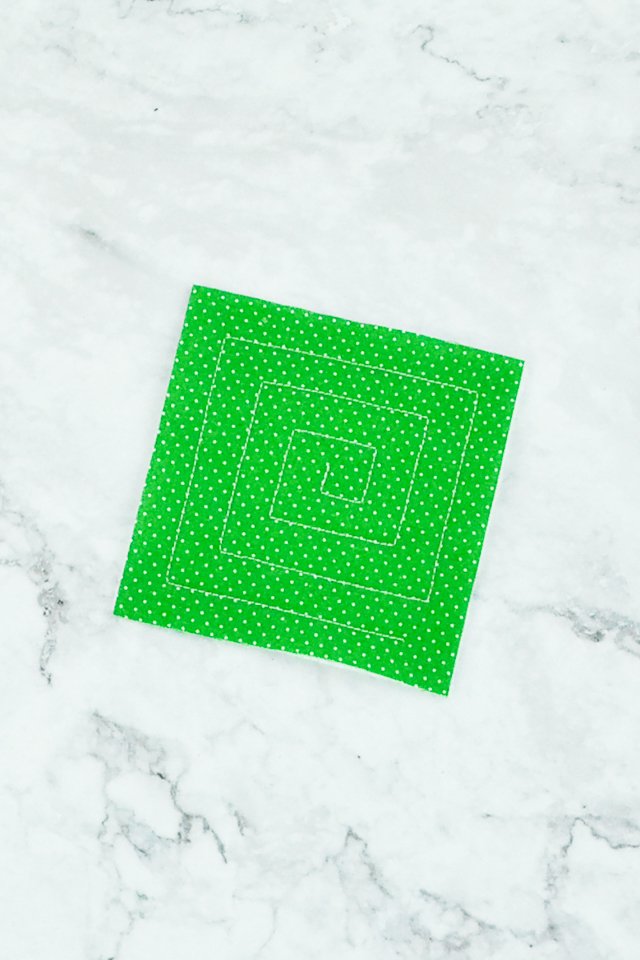 A specialty interfacing is horsehair which is used for tailoring. It creates beautiful stiff hems.
It used to be actually made out of horse or goat hair but now it's a man made material that creates those wavy hems.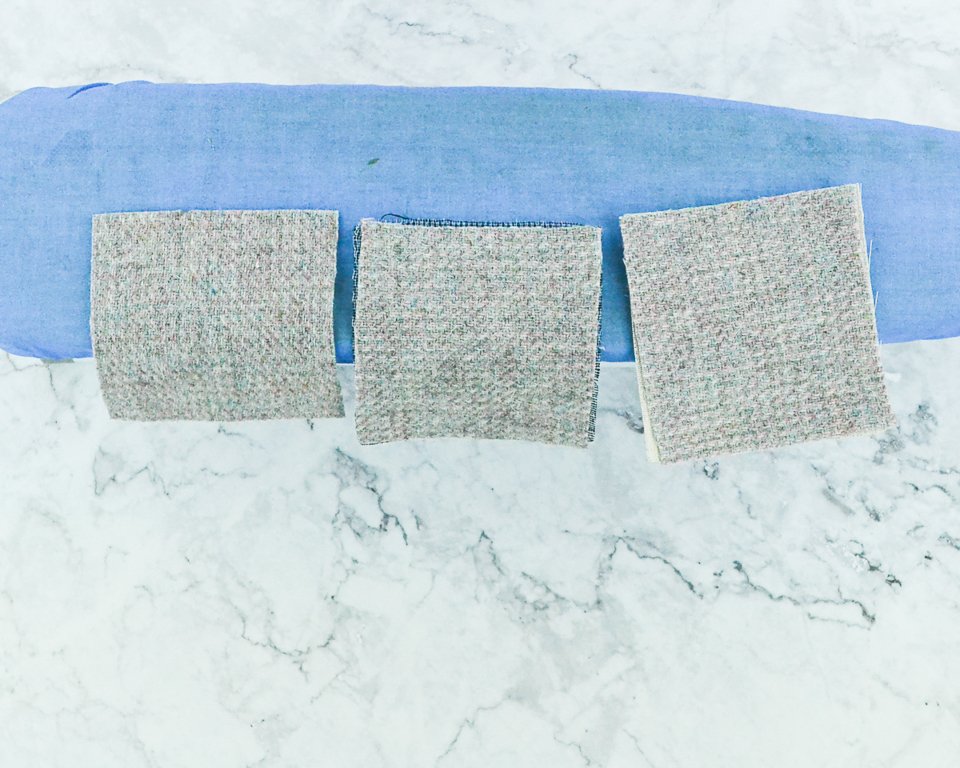 In the picture below there are four pieces of non-stretch denim.
The left one has no interfacing. The second one on the left has a heavyweight non-woven fusible interfacing.
The second one on the right has medium weight fusible weft interfacing. The one on the right has fusible hair canvas interfacing.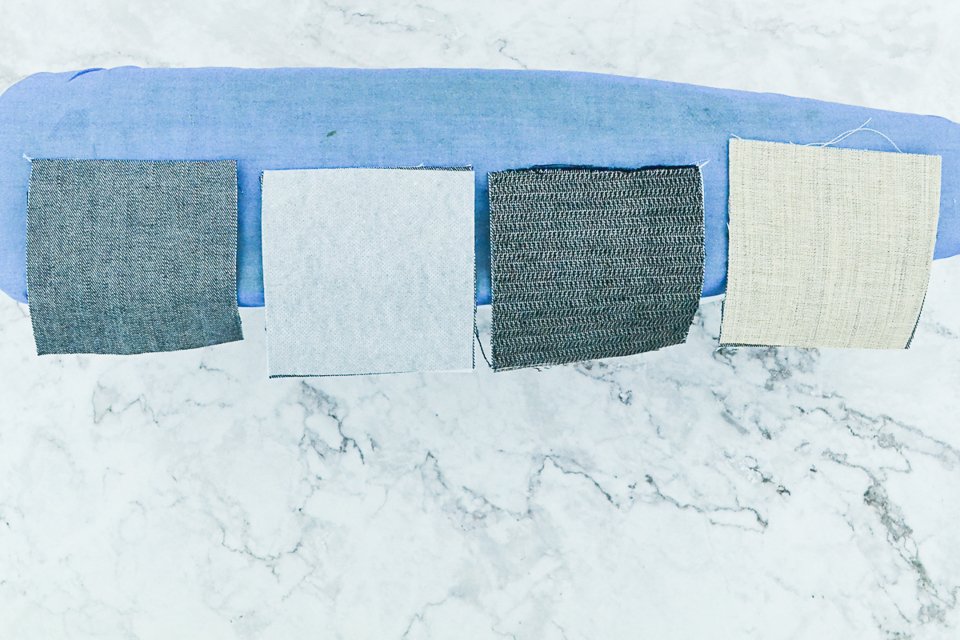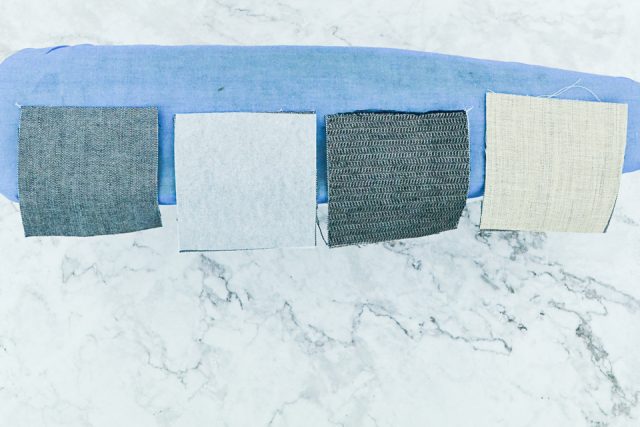 What is fusible interfacing?
Fusible interfacing is interfacing that has lots of little glue dots all over one side. To activate the glue you need heat and stem.
That's why this interfacing is often called iron-on interfacing or fusible interfacing.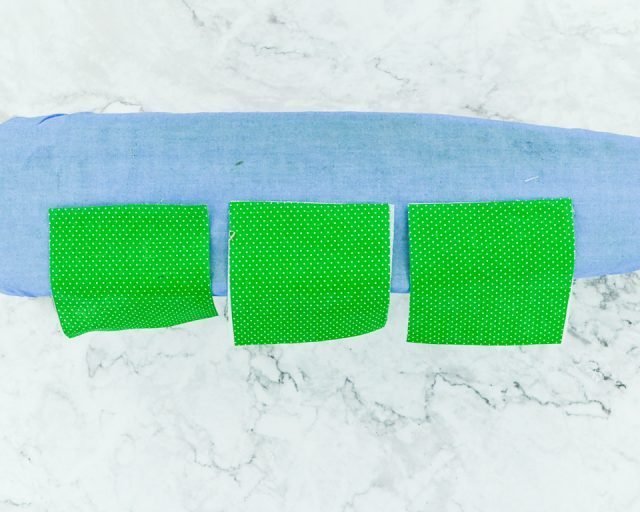 This interfacing doesn't require any sewing to attach the interfacing. Fusible interfacing doesn't work for all fabrics.
It doesn't work for fabrics that are loosely woven, fabrics that can melt, fabrics that are too delicate, seersucker, and leather.
Below is some crocheted lace that would not work with fusible interfacing.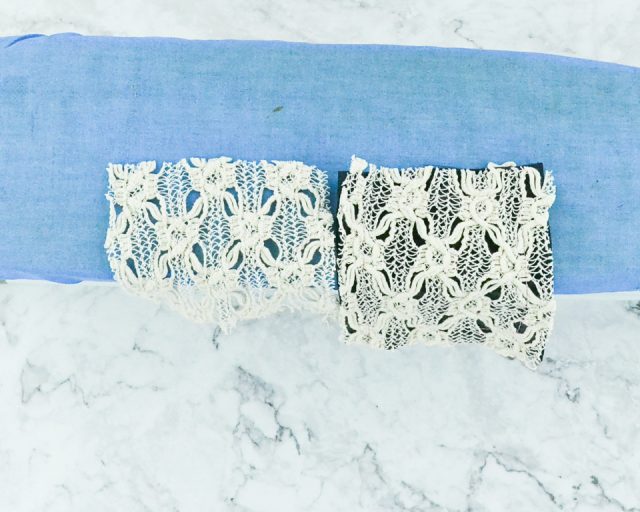 Fusible Fleece vs Fusible Interfacing
Fusible fleece is batting that has fusible glue on one or both sides. It can be lofty or thin. Fusible nterfacing is not batting but fabric with fusible glue on one or both sides.
Fusible fleece is commonly used for quilts, bags, and home decor. Fusible interfacing is used for apparel, bags, and home decor.
What is sew-in interfacing?
Sew-in interfacing is fabric treated to be stiffer, but it does not have any glue on it. It needs to be sewn to the pattern pieces to stay in between the layers.
One trick when using sew-in interfacing is to apply the interfacing to the fabric with a glue stick. The glue is easy to sew through but it will dissolve in the wash.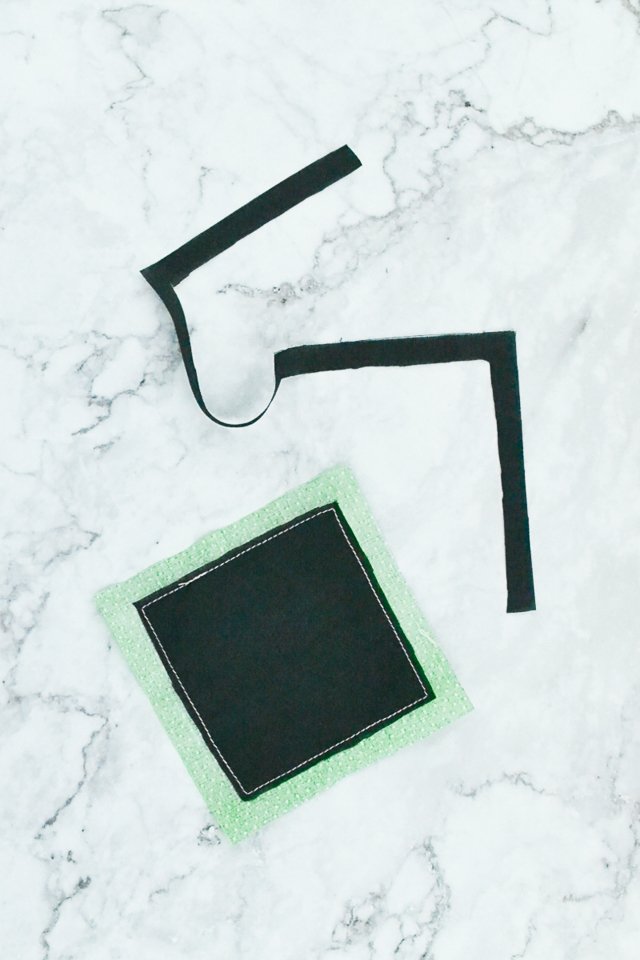 Sew-in interfacing works well when sewing a facing. Sew the outer edges of the facing fabric and the sew-in interfacing with right sides together. Trim and turn right side out.
Then sew the facing to the garment like normal. This creates a beautiful clean finish inside that you can't get with fusible interfacing.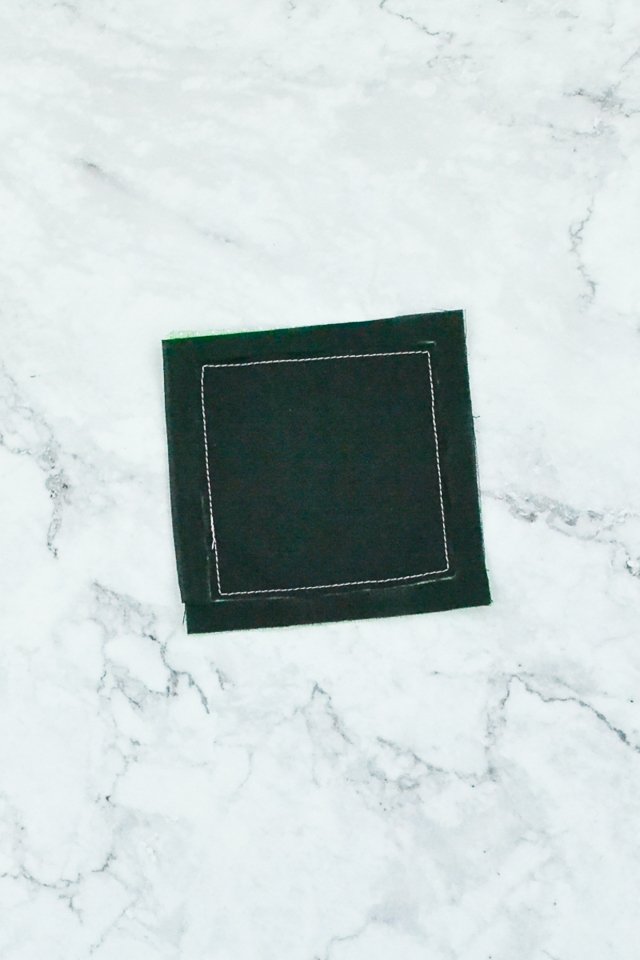 Is Sew-in Interfacing or Fusible Interfacing better?
I compared sew-in interfacing and fusible interfacing with different fabrics and different weights to see the behavior.
Below is a heavyweight sew-in interfacing on the left and a heavyweight non-woven fusible interfacing on the right. The sew-in interfacing is stiffer than the non-woven fusible interfacing.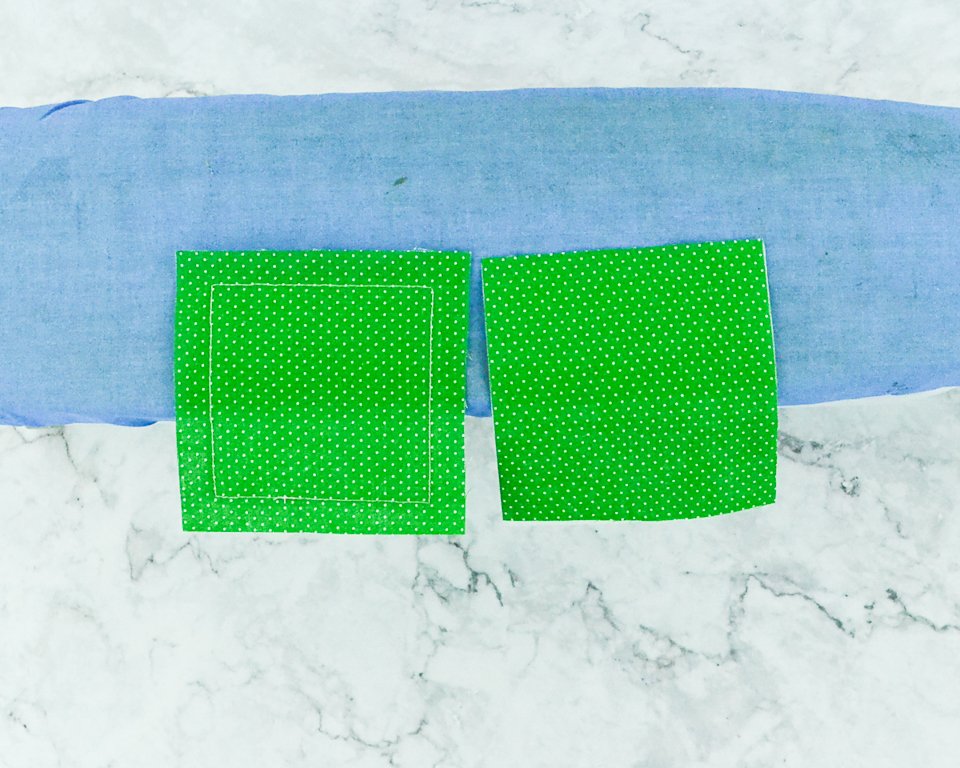 Below on the left is non-woven fusible lightweight interfacing.
On the right is sew-in lightweight interfacing. The sew-in interfacing is a much softer result than the non-woven fusible interfacing.
Below I sewed lightweight interfacings and some rayon challis. On the left is the rayon challis with no interfacing.
On the second to the left is lightweight non-woven fusible interfacing. On the second to the right is fusible tricot interfacing. On the right is lightweight sew-in interfacing.
All the the interfacing is light but the sew-in and the tricot are lighter than the non-woven fusible interfacing.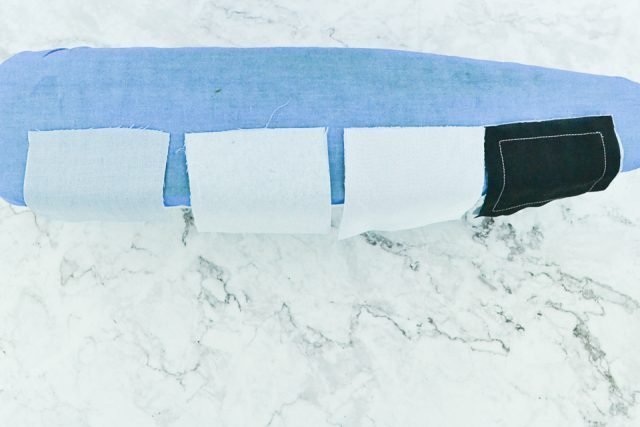 How to Use Interfacing
While researching I found recommendations to prewash and to not prewash interfacing. Personally, I never prewash interfacing and I have never had a problem. I worry that the glue will come off if I prewash fusible interfacing.
I made a video of how to apply both fusible interfacing and sew-in interfacing.
How to Cut Interfacing
Interfacing can be cut with scissors or with a rotary cutter and a mat. I almost always cut any interfacing with a rotary blade and a cutting mat. I find it the easiest way to quickly cut and have clean lines.
You should trim seam allowances off of interfacing. Fusible interfacing should be trimmed before and sew-in interfacing should be trimmed after.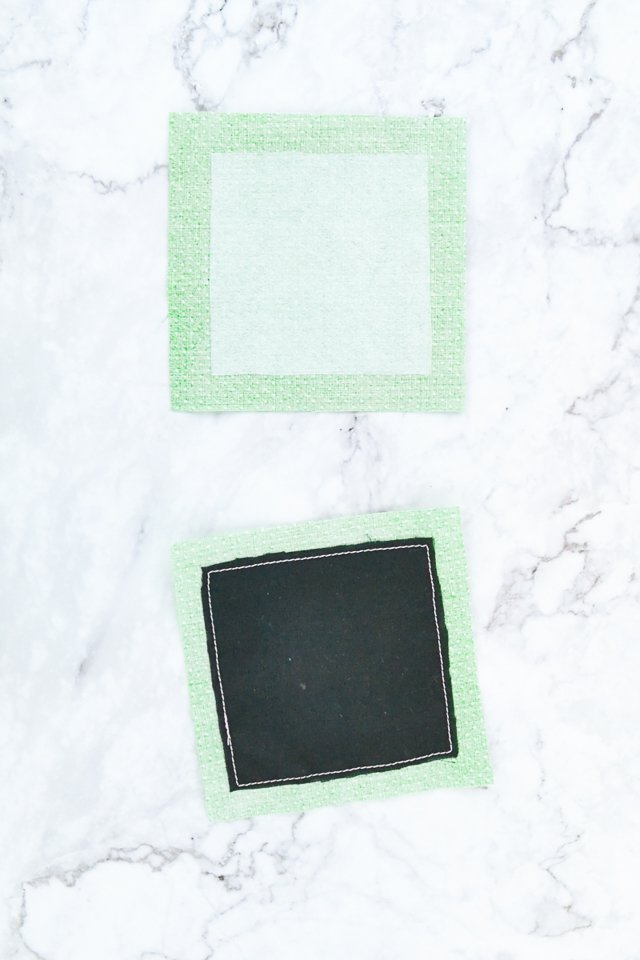 Why should I use interfacing?
Interfacing is something that sits between the layers of fabric to hold shape. Interfacing relatively adds more body. It's like invisible support inside the garment.
You want to add body to a collar or waistband. It should hold it's shape instead of falling with the rest of the garment. You add reinforcement where the fabric will be pierced like buttons, buttonholes, and embroidery. You also need to stabilized stretch fabric when using a zipper or a facing.
On the rayon challis shirt below I used extra rayon challis as interfacing in the collar and placket. My placket wrinkles easily and my collar doesn't hold it's shape. I wish I would've used some lightweight fusible interfacing to prevent wrinkles and give body.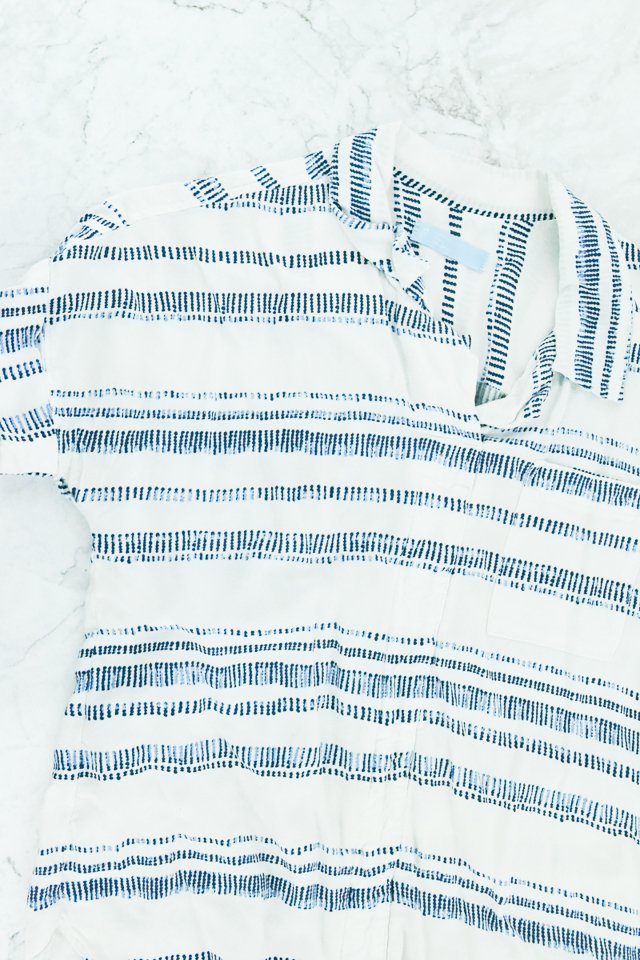 Why is interfacing important?
Interfacing makes a handmade garment look professionally made. The pattern will (should!) guide you where to add interfacing and what type of interfacing.
You also learn with time and making mistakes. If you alter a pattern and find a problem later on then you'll remember to add interfacing the next time.
My very favorite place to add interfacing is on hems. It makes the hems crisp and smooth and prevents wrinkling on really lightweight fabrics.
what is block Fuse interfacing?
A tricky thing about using fusible interfacing is that fabric pattern pieces can get stretched out so when you iron the interfacing on, they aren't the same size anymore.
A way around this is to fuse a large piece of interfacing to a large piece of fabric. Then cut out all your pattern pieces from the fused fabric. It will prevent distortion, and it saves time because you cut once instead of twice.
The only drawback is that you can't trim your interfacing down to keep it out of the seam allowances. This will make a difference if you are working with thick fabrics.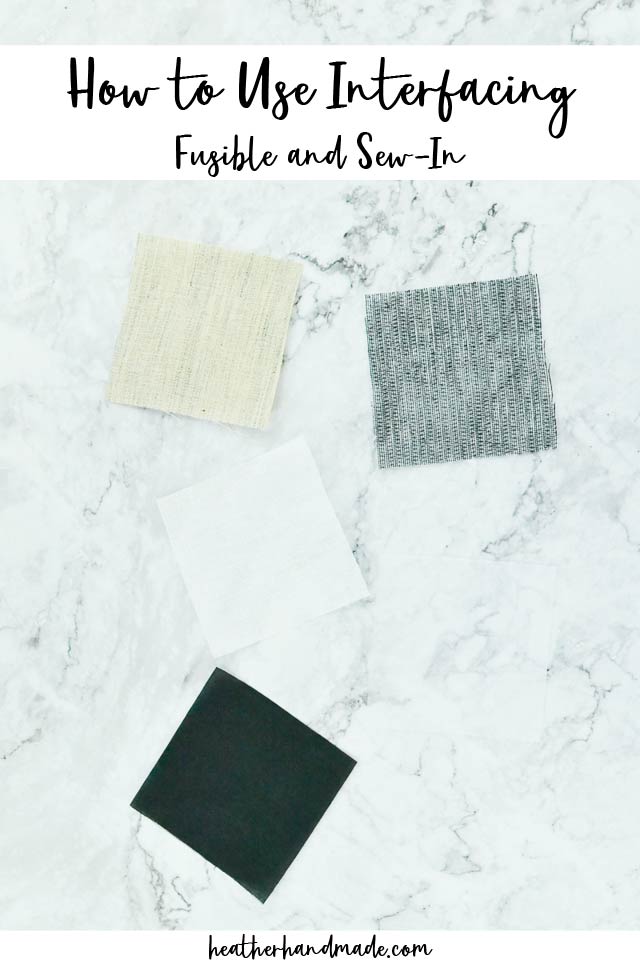 Where to buy interfacing
You can buy interfacing by the yard or some can be purchased in pre-cut packages. Interfacing often comes in much smaller widths than fabrics so keep this in mind when purchasing.
Make sure you get the instructions of how to use the interfacing when purchasing it by the yard.
I like to buy interfacing by the yard from Amazon*, from Thermoweb*, or from Wawak.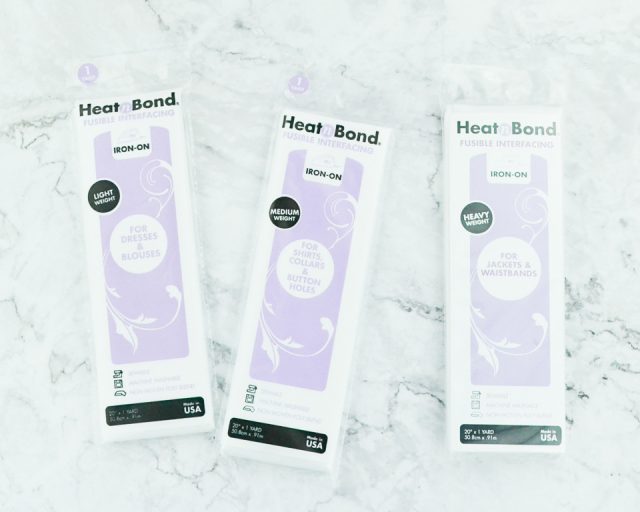 Cheap interfacing
Other options for interfacing is to use muslin, self-fabric, or sheer organza or organdy. These are great sew-in interfacing options if you want to save money.
I find that I like preventing wrinkles the best, so the cost of fusible interfacing is worth it to me.
How to Store Interfacing
I have a drawer with two bins where I store my interfacing. I roll my interfacing up with the instructions rolled around it. I find this works best for fusible interfacing.
For sew-in interfacing I fold it and put it in plastic bags with a label on them. This helps me remember what everything is. In the small bin on the right I have all my hem tapes that I keep in the package or on a dowel in a basket.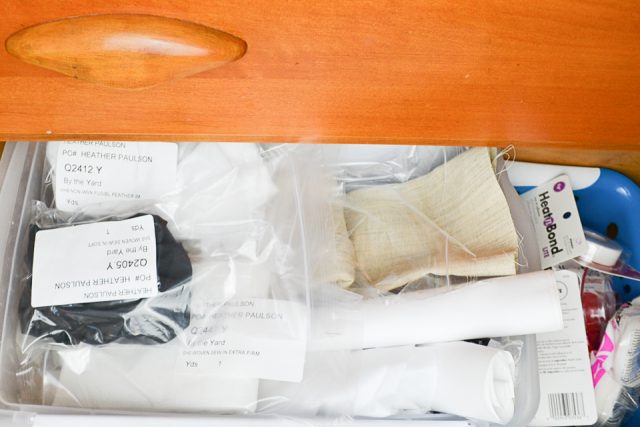 If you are learning how to sew, you can start with sewing 101 for beginners!
If you learned from this interfacing tutorial, I'd love to see! Please share it on social media with the hashtag #heatherhandmade and tag me!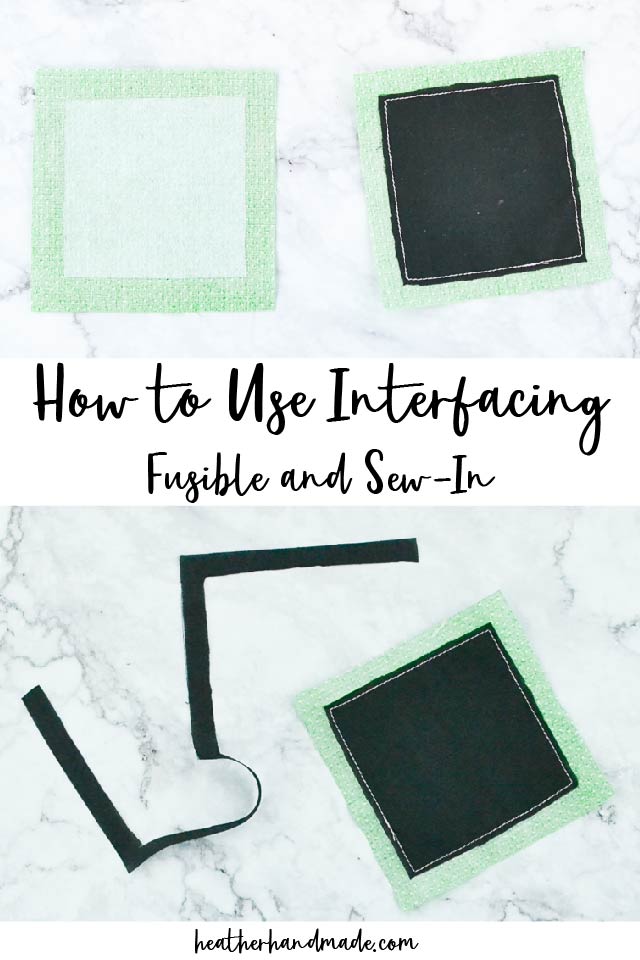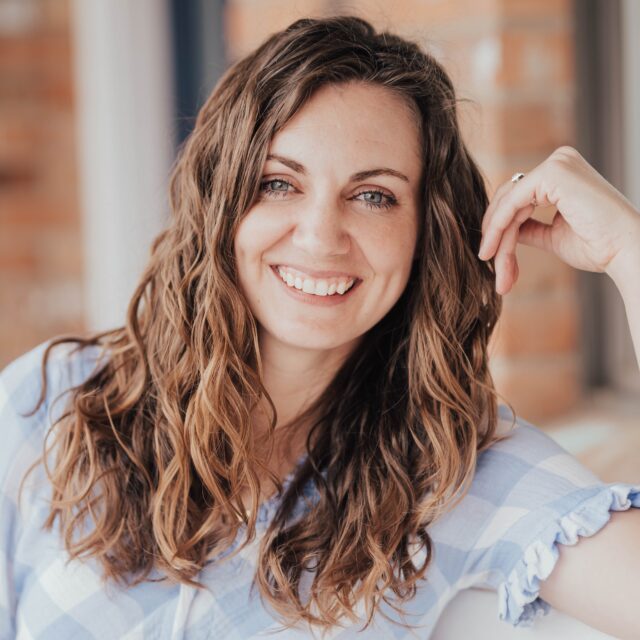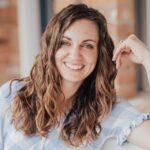 I believe small sewing moments can create great joy. Find your own "right" way to sew. -Heather