Make this easy DIY ghost costume for Halloween! There are more details than just a sheet which make it great for walking and running!
I decided to really get into my kids Halloween costumes this year since they are old enough to request and appreciate the costumes. I actually made them as easy as possible, but they look pretty complex. I loved watching their faces as they saw their Halloween costumes come to life. Learn how to make a DIY ghost costume.
There are affiliate links in this post. I only link to things I recommend. All opinions are my own.
DIY Ghost Costume
When I planned my son's ghost costume I didn't want to just make him a sheet that draped over him. I thought it would be hard to deal with in a seat belt and running around Halloween night. (He does loving around in his ghost tee made with a free ghost svg cut file!)
Instead I decided to make him an artistic, abstract "Charles Dickens" inspired ghost. I made him a white long sleeved tee combined with white mismatched sweater pieces. I also added white tulle pieces all over and hanging off.
Then I made him a pair of skinny white pants with more tulle pieces on them. I didn't want people to be able to tell if he was an old ghost or a young ghost or what time period he came from. I got him white shoes and a fake plastic chain to wrap around his neck and waist.
I painted his face white and his eyes black. Luckily, his hair is so pale I don't have to do anything to it. He's going to have to wear layers underneath and maybe a white jacket to stay warm since Halloween is often pretty chilly. He might even have to wear white gloves.
My son loves being scary for Halloween! I've also made him a DIY werewolf costume which was the easiest of all the cotumes I've made!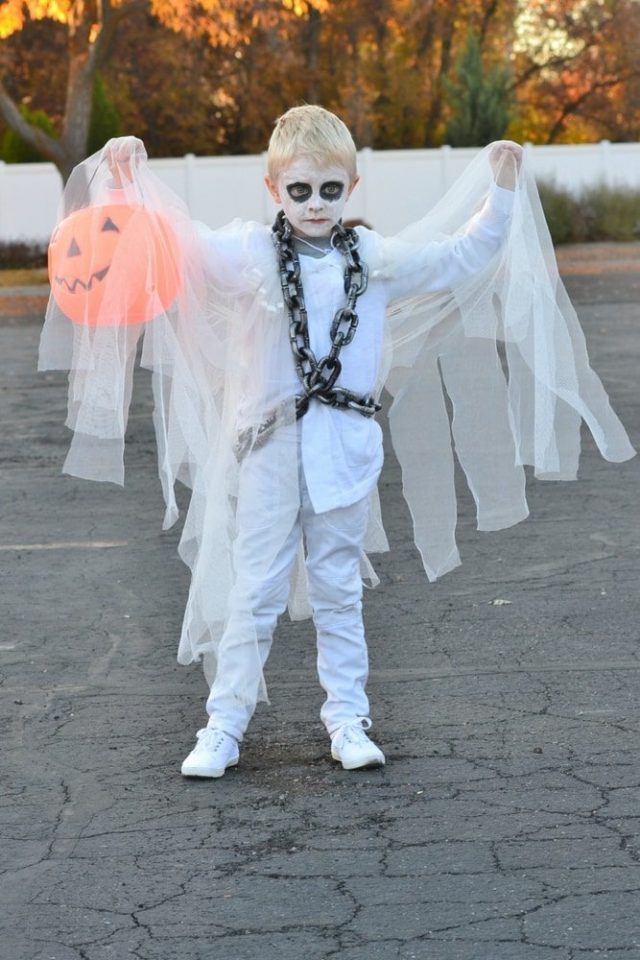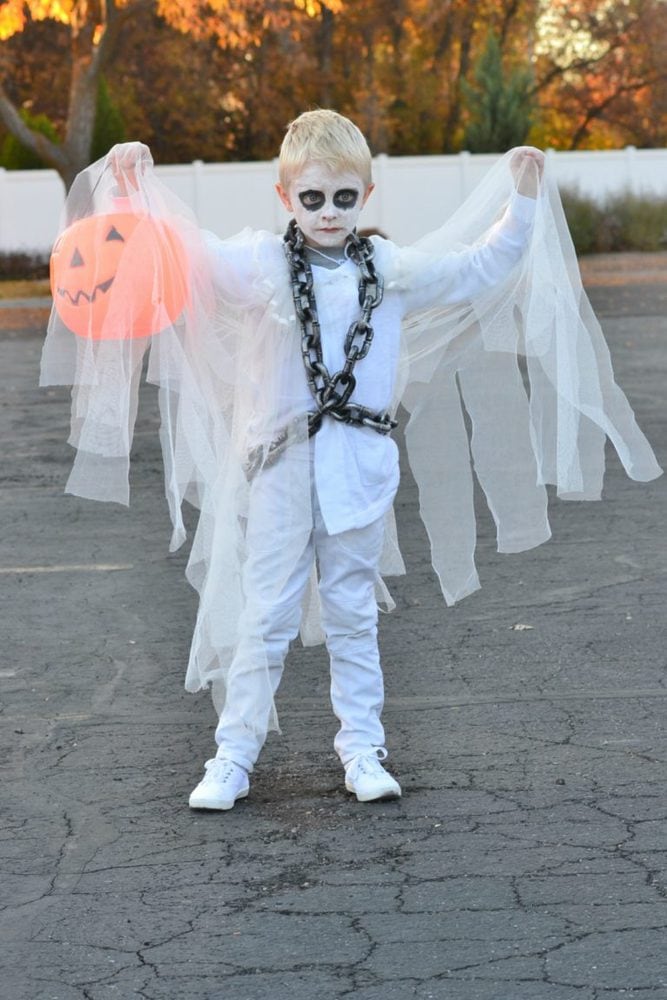 Ghost Costume Tutorial
1. Make or buy a white sweatshirt. Add strips of white tulle hanging off of different parts of the sweatshirt.
2. Make or buy white pants*. Add strips of white tulle hanging off of different parts of the pants.
3. Cut out a large rectangle from the tulle. It should be as tall as your child's shoulders and slightly wider than your child.
4. Sew a white ribbon onto the top to tie around your child's neck like a cap.
5. Cut the bottom half of the white cape into strips.
6. Add white shoes*, a fake chain*, and some ghost makeup.
If you make something using this tutorial, I'd love to see! Please share it on social media with the hashtag #heatherhandmade and tag me!