Easy DIY Werewolf Costume
Make an DIY werewolf costume with this easy sewing tutorial. Create a few werewolf accessories and pair them with clothing your child already wears.
This DIY werewolf costume is easy and fun. Sometimes it's fun to be scary. It's a great kid costume!
You just need a couple of supplies for this last minute Halloween costume The faux fur is great for a cold Halloween night of trick-or-treating.
There are affiliate links in this post.
The best part of this werewolf costume is that you don't have to sew any clothing. You can use clothing that your child already wears and then add some werewolf costume accessories.
I love it when an easy costume comes together with stuff you already have!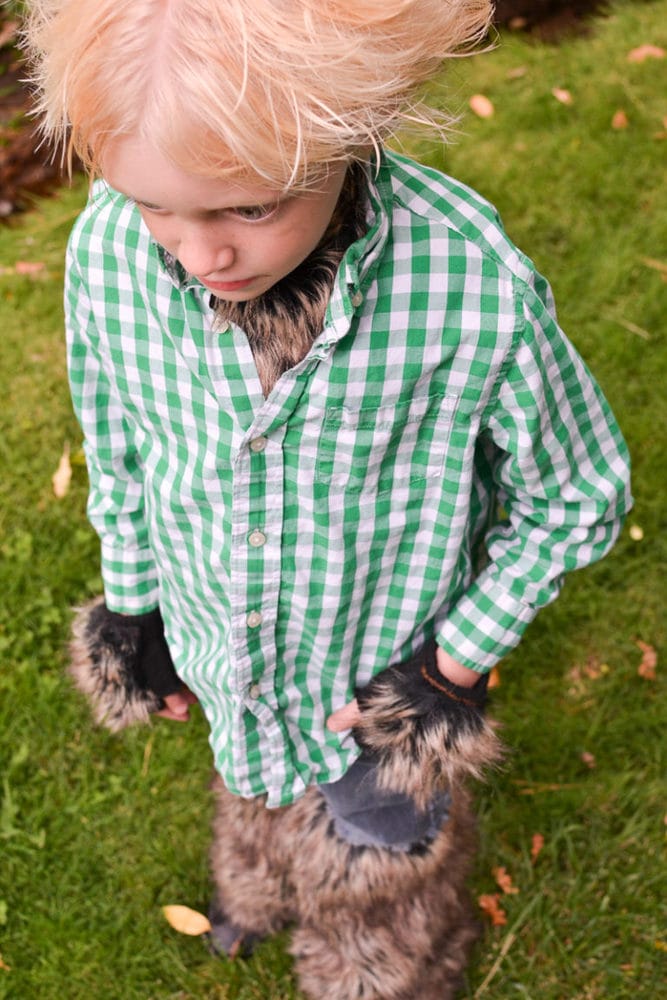 My son loves being something scary for Halloween. He's been a vampire, a pirate, and a Charles Dickens ghost in years past. We didn't add face makeup for these pictures, but we will add the makeup for Halloween parties and Halloween night.​​​​​​​
Do you love making costumes? Check out some of these ideas:
My favorite part of the werewolf costume is the furry hands. I just sewed the fur onto the gloves and cut off the fingers. It keeps his hands warm and makes his hands look furry!
DIY Werewolf Costume
Supplies
Watch the video for the sewing tutorial.
1. Cut out a curved collar shape from the faux fur and from the lining fabric. With right sides together sew the lining to the faux fur. Turn it right side out. Zigzag the unfinished edges and add snaps. This flat collar will sit under the button up shirt for a furry chest.
2. Chop the fingers off of the gloves. Cut out a square of faux fur and zigzag all the raw edges. Sew or glue faux fur onto the back of the now fingerless gloves. I handsewed the fur on because I'm sure I'll have to wash the gloves.
3. Cut out two faux fur rectangles and two pieces of lining size 16 inches by 16 inches. Sew the two fur rectangles into separate tubes and then line with soft fabric. One side of the tubes will be unfinished sew zigzag the edge. Then tack the fur tubes onto the hem of a pair of shorts. I used a pair of cut-off shorts because I liked the ripped look.
4. Add crazy hair and some werewolf makeup.

If you make a DIY werewolf costume using this tutorial, I'd love to see! Please share it on social media with the hashtag #heatherhandmade and tag me!