Summer is coming! Are you ready to sew a swimsuit?
I remember taking a swimsuit sewing class in college, and I was completely amazed at how easy it was to sew a swimsuit and how little fabric it required. It was one of my very favorite classes, and after that class I wanted to sew ALL the swimsuits. I have sewn plenty of swimsuits, and I love making one every time I get the chance.
Since I took the class AND have sewn lots of swimsuits, I've learned lots of tips for successful swimsuit sewing that want to teach you today! There is a video showing ten tips to sew a swimsuit and how the fabrics stretch at the end of the post.
There are affiliate links in this post.
Tips to Sew a Swimsuit
1. Use a stretch needle* and stretch twin needle*. This is very important since it will work the best with fabrics with lots of stretch. These needles have a rounded point so they don't break the fibers, and they have a deeper shank in the back for more space to catch the thread.
2. Cut with a cutting mat, rotary cutter*, and pattern weights. Swimsuit fabric and lining is stretchy and slippery and really hard to cut. This is the easiest way to get the most accurate cut.
3. Use clear elastic* or treated elastic. Chlorine and salt water is really hard on elastic and over time it'll remove the elasticity. I prefer clear elastic because it's thin and change even when sewn on.
4. Learn about the different swimsuit fabrics and linings. There are multiple kinds of fabric and linings so you need to learn about each other them.
Polyester Spandex* – more expensive, less stretch, better returnability, longer-lasting, less available
Nylon Spandex* – less expensive, most stretch, loses shape over time, easily snags and runs, easy to find, and most common.
Swimsuit Lining* – The cheapest and most available swimsuit lining.
Power Knit* – Not recommended to use everywhere, but it works well for a little bit of shaping.
5. When sewing elastic into a circle, overlap the ends and pin parallel to the edge. This is the easiest way to keep the ends together while sewing. It's tricky to sew something so slow. I use a zigzag stitch multiple times to sew my ends together.
6. Use a lining. I don't know about you, but I prefer complete coverage and no sneak peaks. The best way to insure this is to use a lining. It also helps your swimsuit last longer.
7. Make a muslin out of your swimsuit lining. You want to have a swimsuit that fits perfectly, but you'll need to make a muslin to test the fit. When you make a muslin out of swimsuit lining it's much cheaper than your swimsuit fabric.
8. Learn about different stretch stitches and when to use them. Test which stretch stitch you like the best. I prefer a tight zigzag for seams, a serged edge to finish all the edges, and a 3-step zigzag to attach elastic.
9. Your swimsuit should have negative ease. There isn't a formula for this (at least I've never found one), but you want a fitted swimsuit since it will stretch out a little in the water.
10. Practice practice practice – make samples to practice sewing with fabric. Make a sample with stretch stitches and your swimsuit fabric with the lining. Make a sample by pinning the elastic to the edge.
Make a sample with your swimsuit fabric and lining and attach some elastic. I like to use a 3-step zigzag to "baste" it on and then I serge the edge of the fabric and elastic.
Make a sample with your elastic attached to your swimsuit fabric. Fold the elastic over and secure with a twin needle.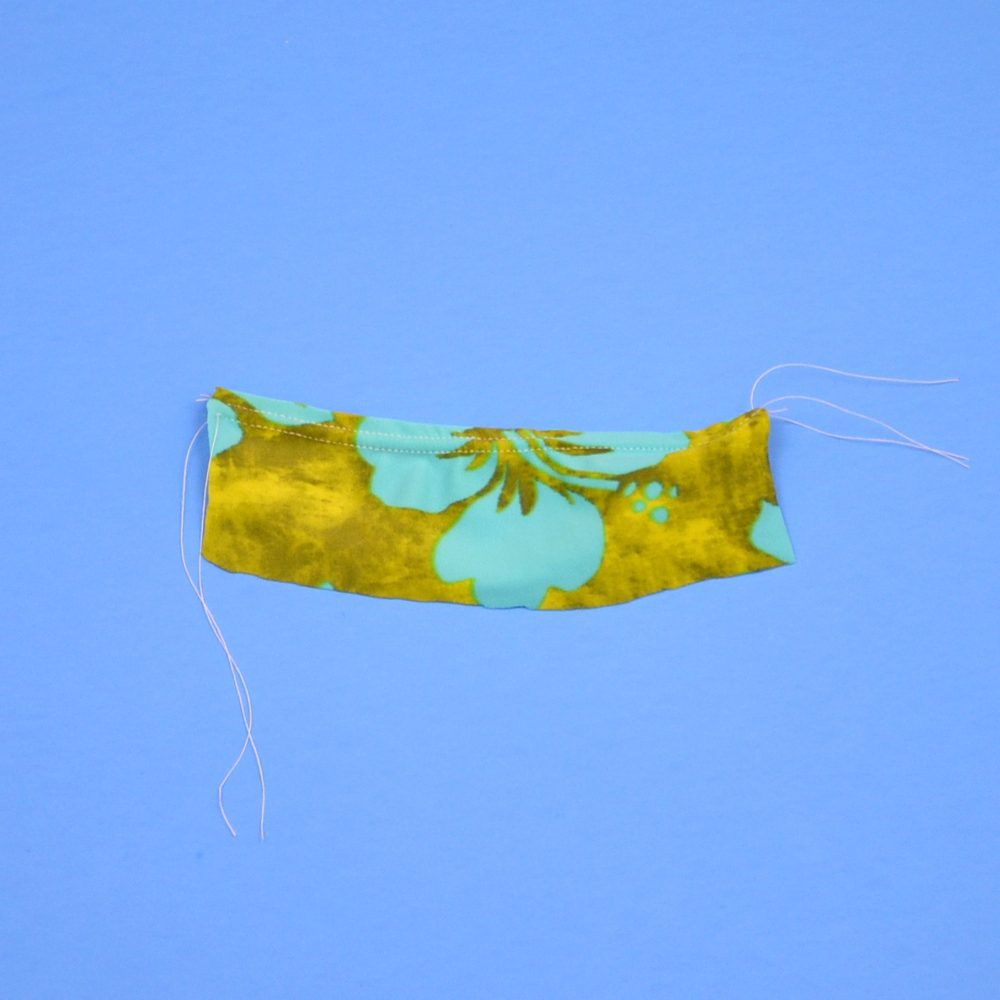 11. All straps should have elastic hidden inside to give it strength and returability. Trust me, I tried making straps without elastic and it didn't keep up my swimsuit!
12. Add swim foam cups* as late as possible so you can try it and get the right placement. I like to add my cups right before I close the edges with elastic. This is the latest possible time to add them.
13. Once the swim foam cups* are attached to the lining, cut out the swimsuit lining in the area of the cups to prevent flattening. Can you see the raw edges of the lining on the edge of the cups? I cut out the lining that was within the edges of the cups. If you leave lining in it'll flatten you chest and make the cups obsolete.
14. If hemming the edge, use Soft Stretch for a perfect hem. I only use it on swim shorts, a tankini hem, or a swim skirt. I don't use it on the edges where I attach elastic. Soft Stretch prevents tunneling and creates a crisp hem.
A great place to start out sewing swimsuits is with the Kwik Sew's Swim and Actionwear* because it comes with all the basic patterns you need. Once you learn what alterations you need to make and the basics of sewing swimsuit fabric, you can alter the pattern as much as you want to get your dream swimsuit!
What tips would you give to sew a swimsuit? If you make something using this tutorial, I'd love to see! Please share it on social media with the hashtag #heatherhandmade and tag me!