How to Finish Knit Fabric Edges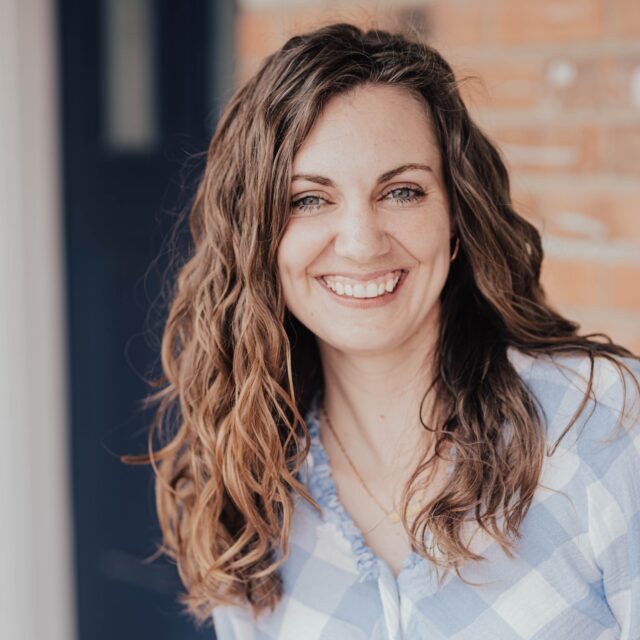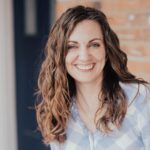 This post may contain affiliate links.
Learn how to finish knit fabric edges to keep the seams looking nice. Choose from four different options to fit your project and machine.
I have always loved sewing knit fabric. I love sewing any and all fabrics, but knit fabric has always been a special favorite. Sewing sweatshirts and swimsuits are my two absolute favorites. That's why I sew apparel more than anything else.
I've sewn knit fabric on just a sewing machine, just a serger, and a combination of a sewing machine, serger, and a coverstitch machine. I've left seams raw, and I've finished knit seams. After washing and wearing, I've come up with several different ways to finish knit fabric edges.
What is knit fabric?
Knit fabric is yarns or threads looped around each other. When the fabric is pulled the the loops pull against each other. The space in between creates space for the fabric to move and stretch.
Knit fabric comes in all weights and stretches. It can be made from lots of different fibers and fiber blends. Since it can be knitted in different ways, there are so many possibilities. Read more about types of knit fabric.
Do knit fabric edges fray?
Knit fabric cut edges will not fray like the cut edges of woven fabrics. They do not have a bunch of strings to get pulled.
Knit fabric edges can roll or run depending on the type of knit fabric. The loops can come unlooped at the edge, but this is a different problem then fraying.
Do I have to finish the edge of knit fabric?
For the majority of knit fabrics, you do not have to finish the cut edge. Most knit fabrics, especially the ones you can purchase, can have a raw edge without any problems. Some knit fabrics might roll or run, and those you do need to finish the edge.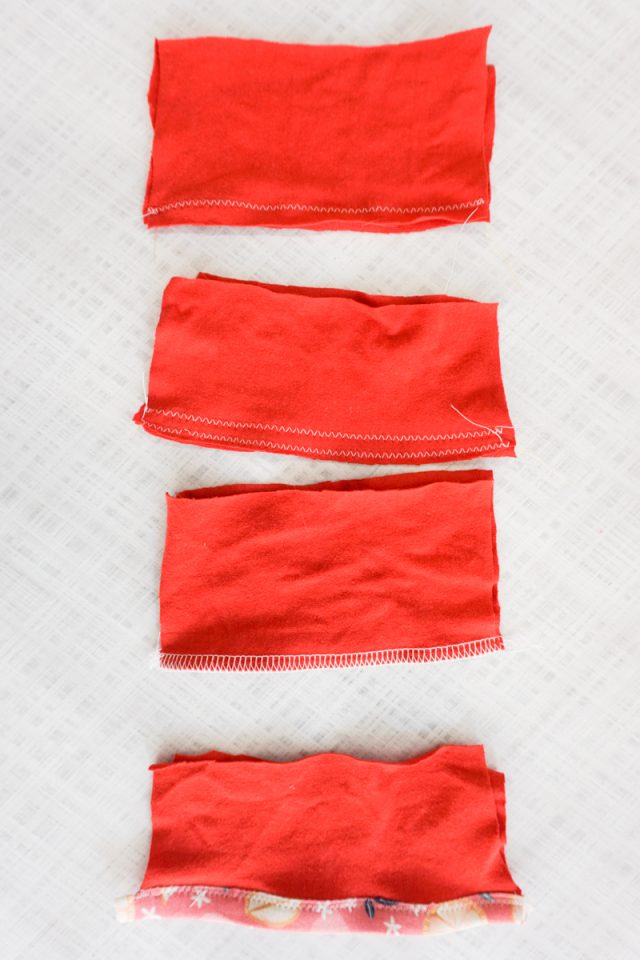 Do you love to sew? Try one of these sewing projects:
How to Finish Knit Fabric Edges
Leave Raw
For stables knit fabrics like sweatshirt fleece, polar fleece, and French terry or tightly knitted fabrics like jersey, you can leave the raw edge of the seam allowance unfinished. I did this a lot when I first started sewing knit fabric.
You can see in this example with cotton spandex jersey below that I sewed a zigzag stitch for the seam, and then left the seam allowance unfinished. This is just fine for this fabric, but it's not super pretty on the inside if you care about that.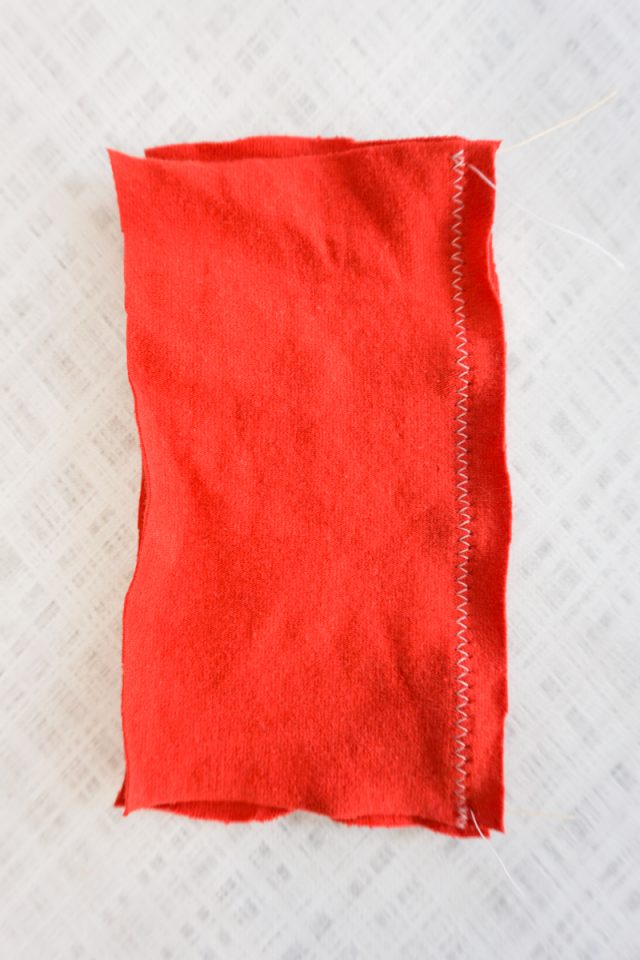 Two Rows of Zigzag Stitch
If you have just a sewing machine, the best way to finish the edge of the seam allowance is to add another row of zigzag stitches. You would first sew the seam with a zigzag stitch. Then you would come back and sew another zigzag stitch at the edge of the seam allowance.
This will finish the seam allowance and keep the fabric together. This is great for knit fabrics that need something to hold it together. It looks better than the first edge finish, but it's still not the prettiest.
You can see that the seam started to stretch out since I sewed another row of stitching. After pressing and washing, almost all of this stretching would go away.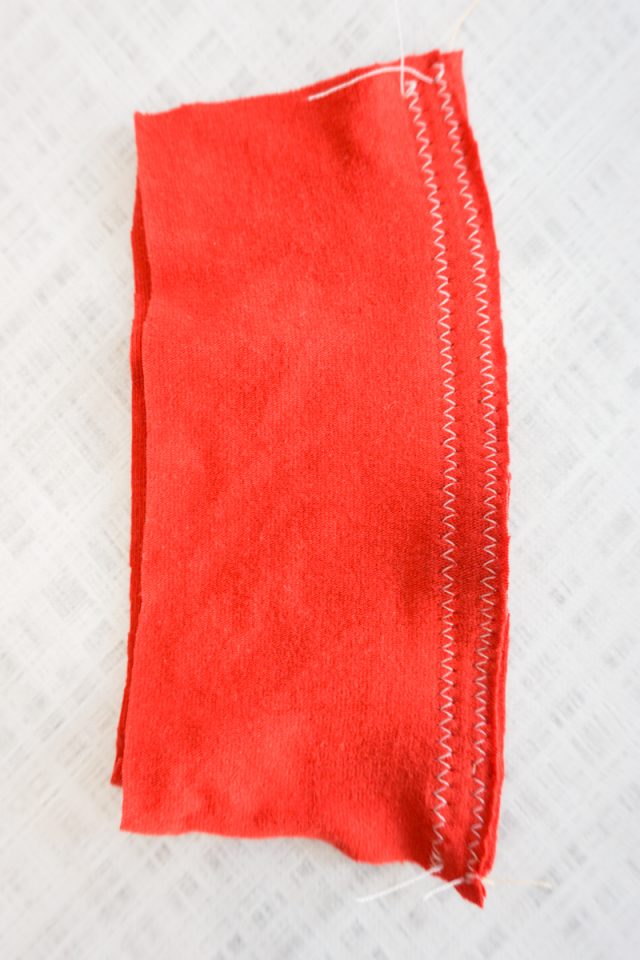 Serged
The preferred way to finish the seam allowances of knit fabric is to serge the seam. The serger sews the seam, cuts the edge of the fabric for a clean line, and wraps the edges of the fabric with thread to keep it together. The serging stitch is a stretch stitch and can stretch with the knit fabric.
Serging is fast, easy, and it looks great. The biggest drawback is that you need to buy another machine that isn't as versatile as a domestic sewing machine.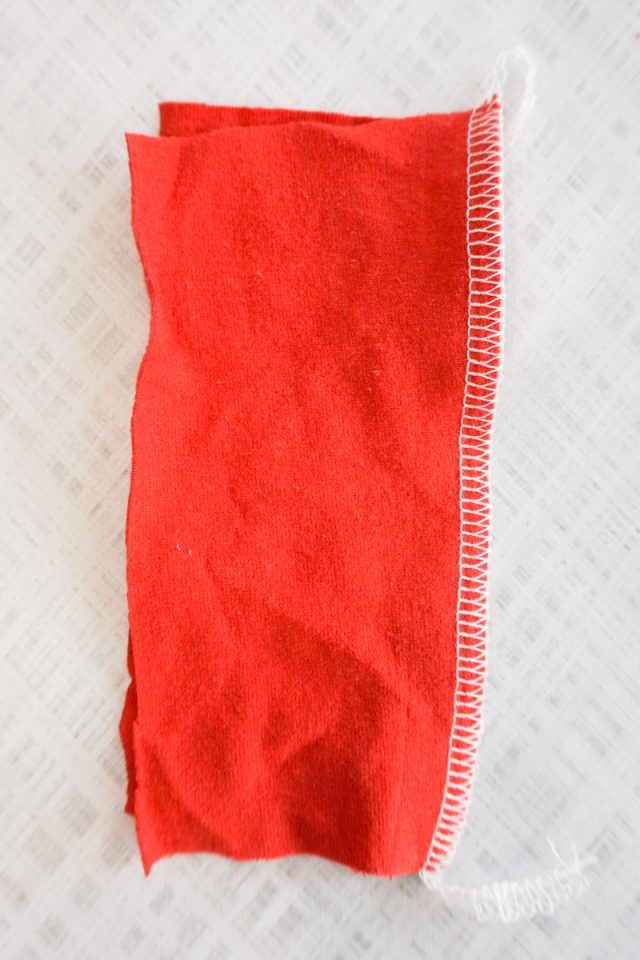 Knit Binding
A unique way to finish knit fabric is to actually bind it with knit fabric. This is not commonly done on seam allowances except for on seams of an unlined knit jacket. It creates a nice look, but it can get bulky and it's time consuming.
It is common to see a knit binding on necklines and on armholes, but you have to do it right so that the edge doesn't get stretched out and doesn't get too bulky. It's great for sleeveless tops or dresses since it's a beautiful look inside and outside.
Neckband, Cuffs, or Waistband
When finishing the edge of knit fabric that isn't seam allowance, like a neckline, end of a sleeve, or the waist, then a knit band is the easiest way to finish. A neckband, cuff, or waistband are the easiest ways to finish the edge of fabric.
It's a seam that connects a folded tube (band) to the edge of knit fabric so that the fold is the new edge. Sewing on a neckband, cuff, or waistband is the fastest way to "hem" knit fabric.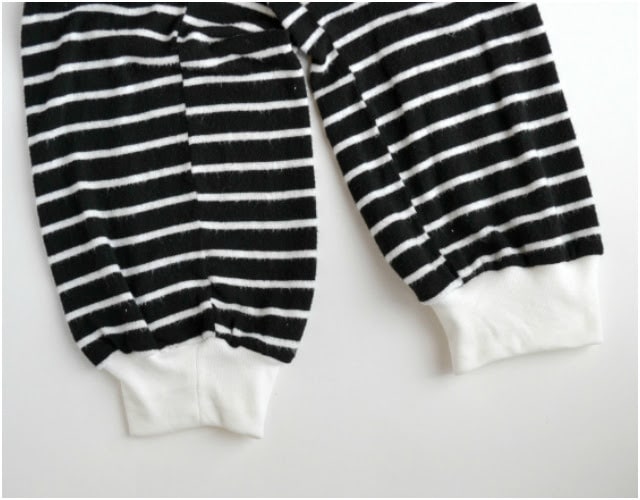 Fold Over Elastic
I don't often use this method, but there is a special type of elastic that is created with a natural fold in the center. It is made to fold around the cut edge of fabric and still be stable and stretchy. It's commonly used on underwear and cloth diapers.
Hem with a Twin Needle
If you want to sew a regular hem on knit fabric but you don't have a coverstitch machine, then you can hem with a twin needle.
It's two rows of stitching with a zigzag in the back. The zigzag lets the stitch stretch with the stretch of the fabric. Learn how to use a twin needle.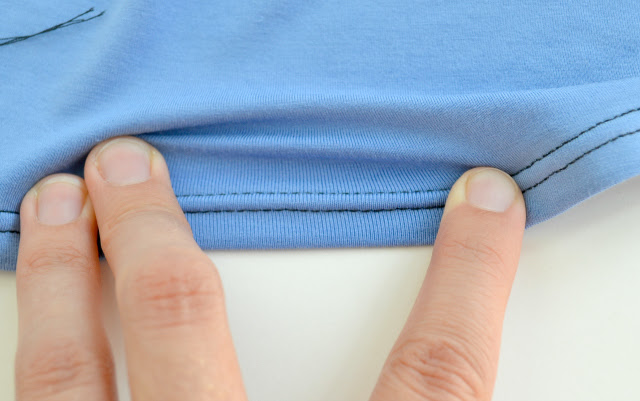 Elastic and Hem
For athletic wear, swimwear, and dancewear the fabrics stretch so much that elastic is needed to finish all the edges to keep it stable to make it comfortable.
The fabric is zigzagged or serged to the inside edge of the knit fabric. Then fold the edge of the fabric over to the wrong side so that the elastic is sandwiched between both layers of knit fabric. Keep it in place with a zigzag or twin needle.
If you make something using this sewing project, I'd love to see! Please share it on social media with the hashtag #heatherhandmade and tag me!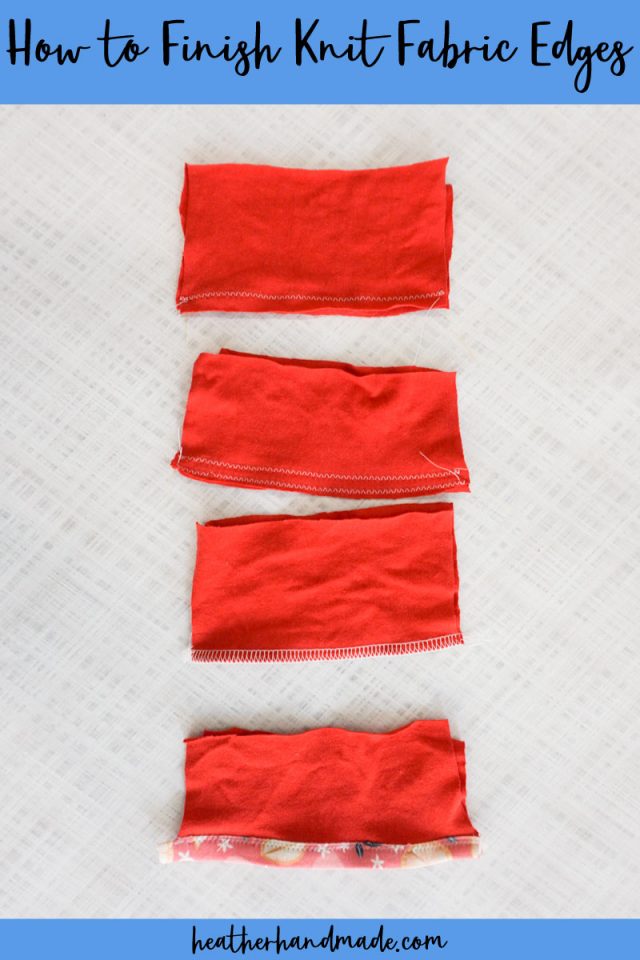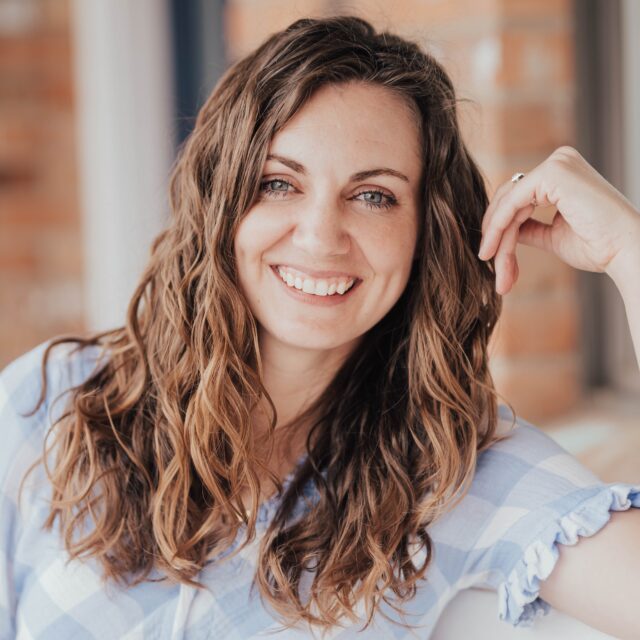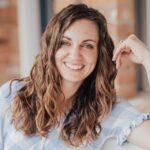 I believe small sewing moments can create great joy. Find your own "right" way to sew. -Heather