Leather Wrapped Infinity Scarf Tutorial
This post may contain affiliate links
Learn how to make an infinity scarf with a leather wrapped detail to hide the seam. This beginner sewing project is perfect for winter!
I thought I was done with my son's fall/winter collection, but sneaking in at the end I made him a dapper holiday outfit. Along with his great outfit, I made a masculine infinity scarf with leather details and I made a tutorial for you!
First, let's talk about the blazer I made: the Berkshire Blazer designed by Melissa from Blank Slate Patterns. I was inspired to make a fair isle sweater blazer I saw on Pinterest and decided to try to replicate it.
After talking to the pattern designer and doing a lot of thinking, I decided to find a fair isle sweater and interface it well enough to turn it into a woven fabric. I searched thrift stores until I found the perfect sweater. I didn't want it to be too busy, and it needed to be huge to have enough fabric to work with.
The Berkshire Blazer pattern is a really good pattern. I love that it's a blazer for thicker fabrics. I mean, I used a thick sweater, and it still looks good! I think it's warm enough for my son to wear as a dressy coat.
This is the first pattern I've sewn of Blank Slate Patterns, and the construction is explained really well. I did have to play with the fit a little bit, but that's because my son is tiny for his age.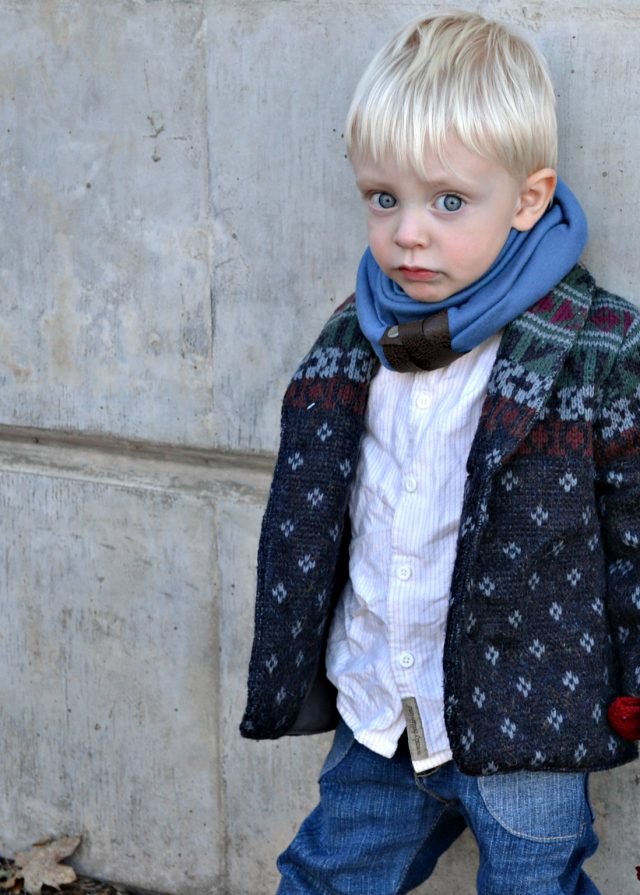 I would recommend using fabric recommended in the pattern if you have never put a jacket together to make it easier on yourself. I would definitely recommend this blazer to anyone wanting to make a nice jacket!
I also made the jeans using Titchy Thread's Small Fry Skinny Jeans, and I made the bow tie using Delia's crocheted bow tie tutorial.
Do you love to sew? Try one of these sewing projects: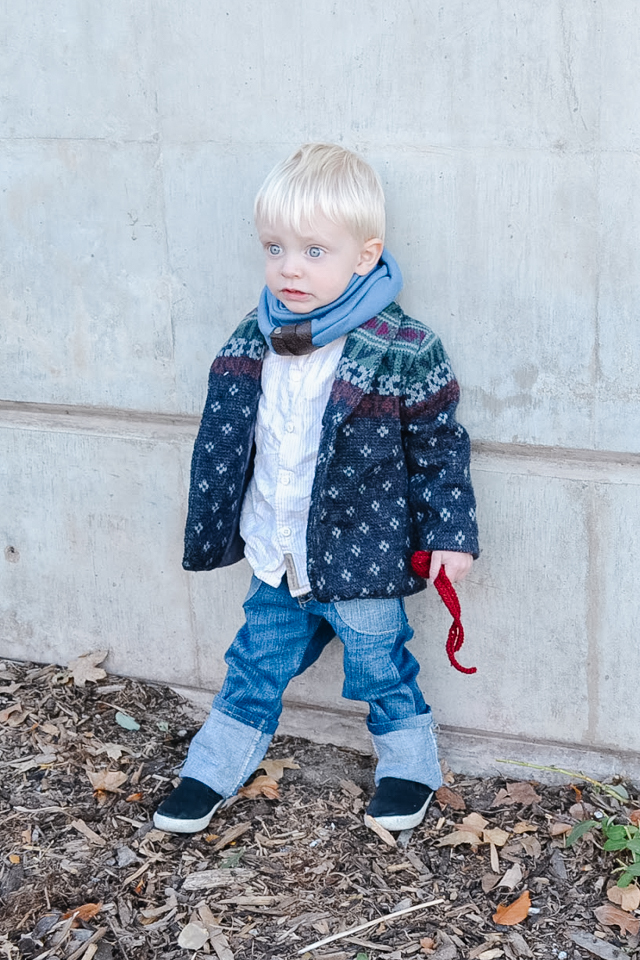 Leather Wrapped Infinity Scarf Tutorial
Supplies
1/2 yard knit fabric for kids or 1 yard of knit fabric for adults

I love using cotton spandex jersey or double brushed polyester jersey for scarves

Leather scraps
Cut out your scarf rectangle piece. For kids cut it 18 inches tall and 50 inches wide. For adults cut it 36 inches tall and 50 inches wide.
Fold the fabric matching the long edges and right sides together. Sew along the long side with either a zigzag stitch or a serger.
Turn the tube right side out.
Line up the two short edges with the seam in the center.
Sew them together with either a zigzag stitch or a serger.
Cut a long strip of leather 1 inch wide.
Roll up the seam enclosing the raw edges inside.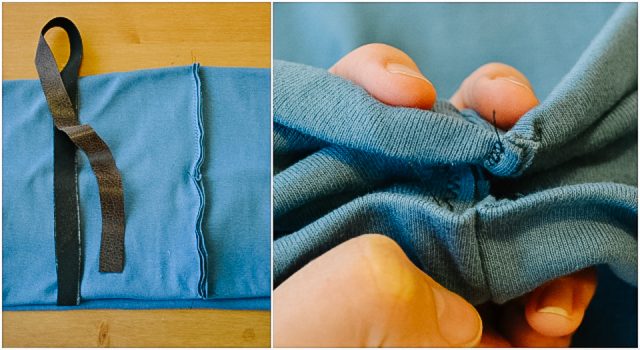 Wrap the leather around the seam enclosing it all.
Sew the ends together or attach a snap to secure.
I love how the leather makes the scarf so easy to finish, dresses it up, and makes it masculine looking. It looks so great with his fair isle blazer!
If you make something using this sewing project, I'd love to see! Please share it on social media with the hashtag #heatherhandmade and tag me!