Incredible Sewing Planners for Sewing Projects
This post may contain affiliate links
Learn about all of these different sewing planners for sewing projects with ideas for every budget. Keep all your sewing plans organized!
I love January for planning, organizing, and cleaning out. January feels fresh and exciting. I love looking back on sewing projects from the year before and planning sewing projects for the current year.
I am in desperate need of organizing my sewing projects and planning, and a sewing planner is just the thing to get me started. I reviewed a bunch of different sewing planners that I tried, and I link to a couple of free ones at the end of the post!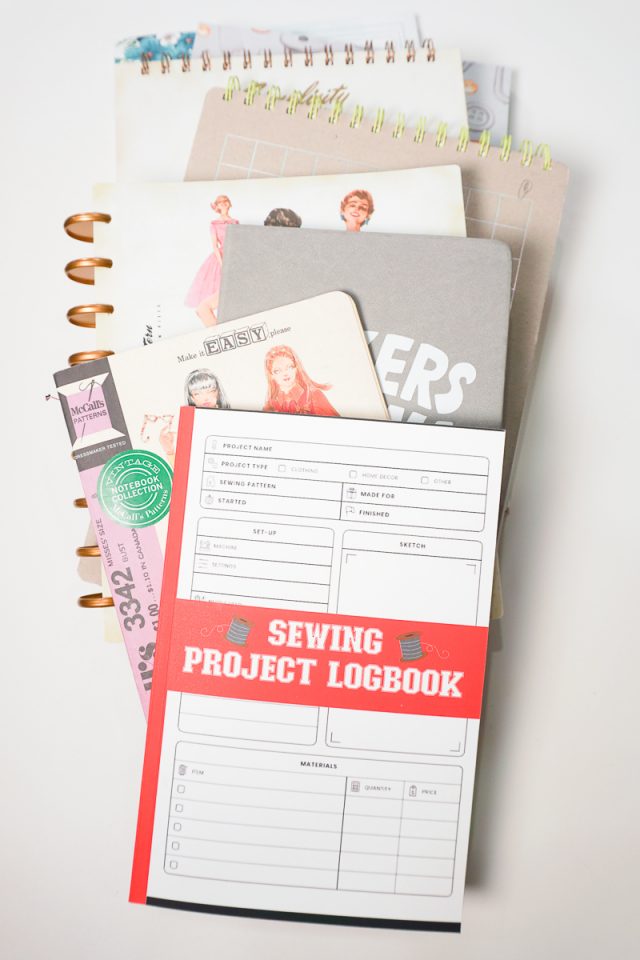 Some of these planners or notebooks I've already had and have been using, and some of these I bought to try out for the post and video.
I found it was hard to get an idea of what was in each planner because the shopping websites wouldn't show you what was inside. Sometimes I was guessing as to what I was getting, and I ended up getting a couple of similar planners because of this.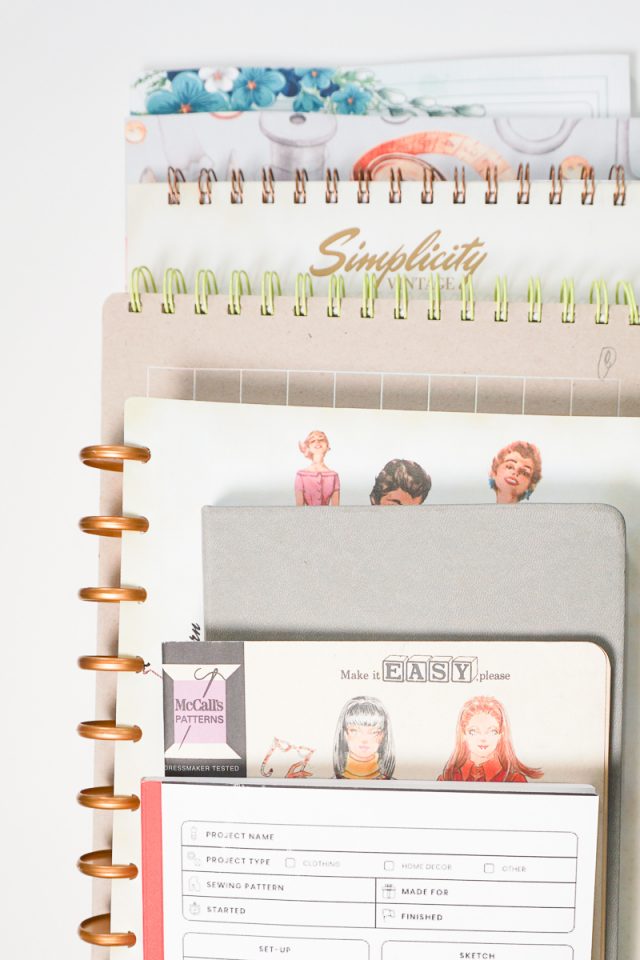 When you look through all these planners, decide whether you like writing out plans and projects or drawing plans and projects. Some of the planners are much better for drawing and visualizing, and some of the planners are much better for writing everything and taking lots of notes.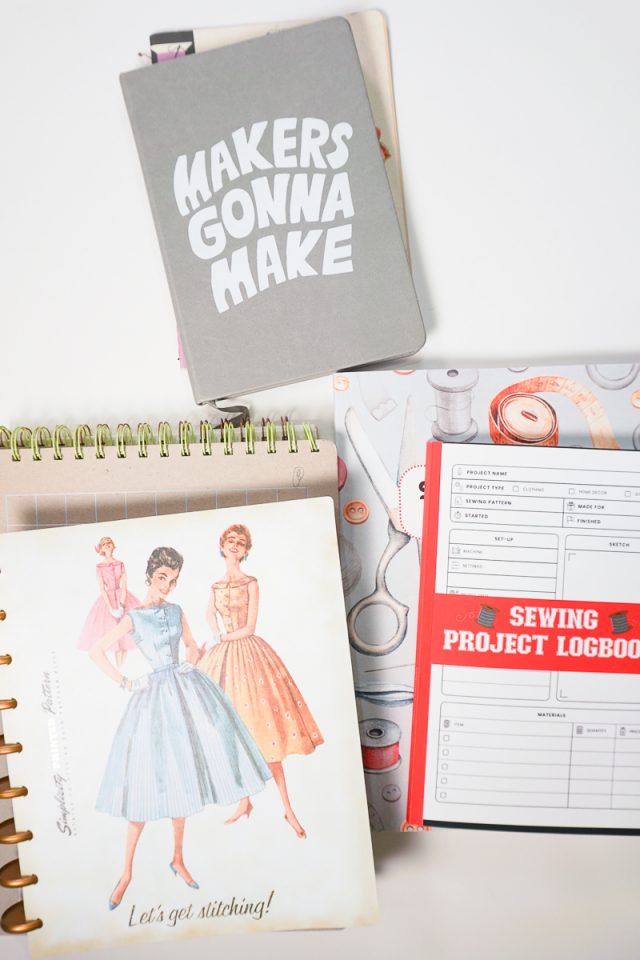 Do you love to sew? Try some of these great ideas: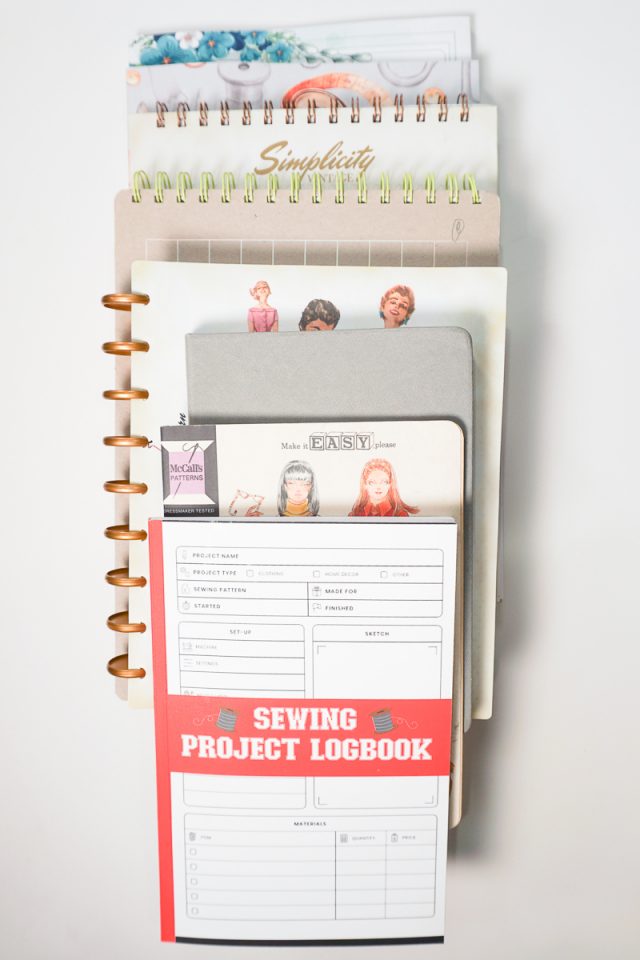 Sewing Planners for Sewing Projects
Small Notebook
The most inexpensive sewing planner is to just use a regular notebook. I have been doing this for years, and it might be my preferred method. I could not find this exact notebook since my son bought it for me a couple of years ago. I did find a similar "makers gonna make" notebook* though!
I like the ability to either write on the lines, or draw out pictures. I write out list of projects, post ideas, measurements when I'm working on a sewing pattern, to-do lists, etc. I draw projects I want to make and even color them.
My favorite feature is the attached ribbon I can use as a bookmark so I never lose my place. It's a small notebook that will easily fit in a purse or backpack.
McCall's Pattern Notebook
A couple of years ago one of my sewing friends gave me two notebooks that have vintage pattern pictures on the front, and it's a regular notebook inside. I found the McCall's pattern notebook bundle* that my friend originally gave me. You get two cute notebooks!
I love this notebook and use it similarly to the notebook above. I have so many notes and drawings inside. I've used up one notebook, and I'm more than halfway through the second one!
These are small notebooks that will easily fit in a purse or backpack.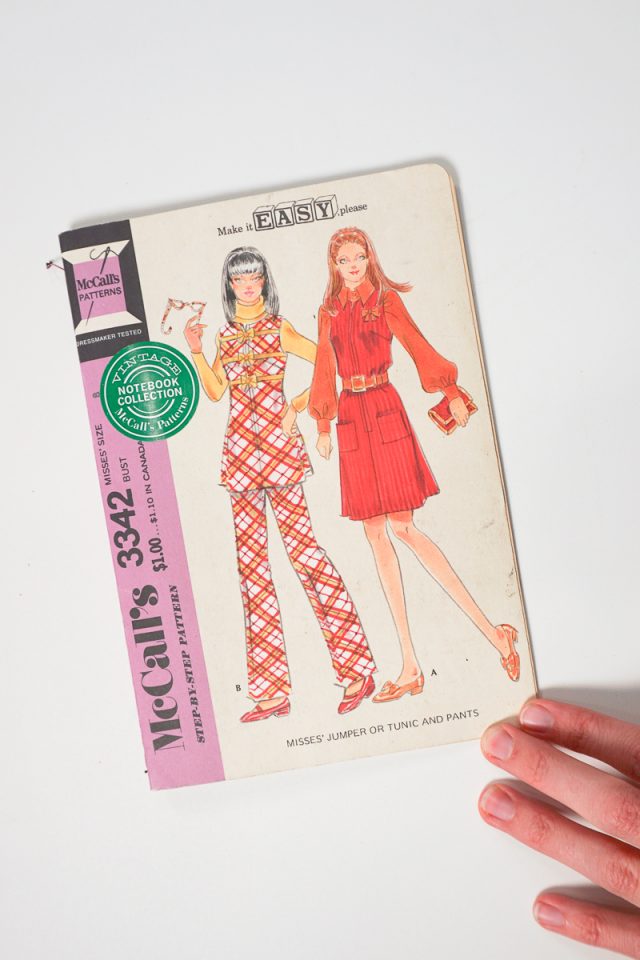 Sewing Project Logbook
I purchased this sewing project logbook* to try out. I liked that it was a smaller size to make it easier to keep with me when I leave the house, but each page has so many prompts for details.
It is geared toward lots of different sewing projects, it has space for filling in all the details, and it has a place for a sketch. There's a place for measurements and notions too.
This sewing planner seemed the most detail-oriented of all the sewing planners except for the biggest and most expensive one.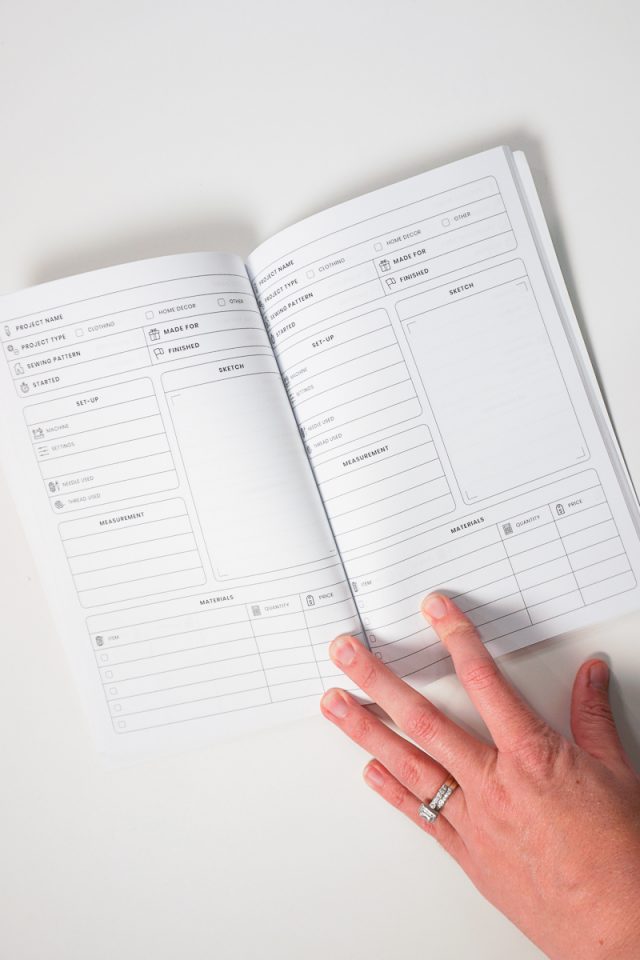 Sewing Project Planner #1
I couldn't see what was inside this sewing project planner* so it's actually very similar to the next sewing planner. It's a large book, closer to letter paper size, and it has cute sewing art on the front.
It has space inside for lots of different details, but it seems geared more towards apparel sewing. I liked that it had a measurement area, fabric swatch area, fitting notes, and notions. I wish it has a place for sketching though.
Sewing Project Planner #2
I picked this sewing project planner* because I thought the front was so pretty. It's a book that's also close to letter paper size.
Inside it will work for lots of different types of sewing projects with a place for a sketch and a fabric swatch. It has a notion area and notes area, but it doesn't have the details for apparel sewing that I would like to see.
This sewing planner seemed the least detailed of all the sewing planners (besides blank notebooks).
Pantone Sketchbook
I have had this Pantone sketchbook* for a couple of years, but I included it because I love using it to sketch out pattern hacks or designs.
It's more of a fashion notebook since it has croquis, or body outlines, where you sketch the clothing. It is about a letter paper size and every page is double sided.
This would be great for visualizing and sketching clothing ideas when you aren't copying a pattern. It has so many body outlines in different positions and facing different ways, so you can really get an idea of the design.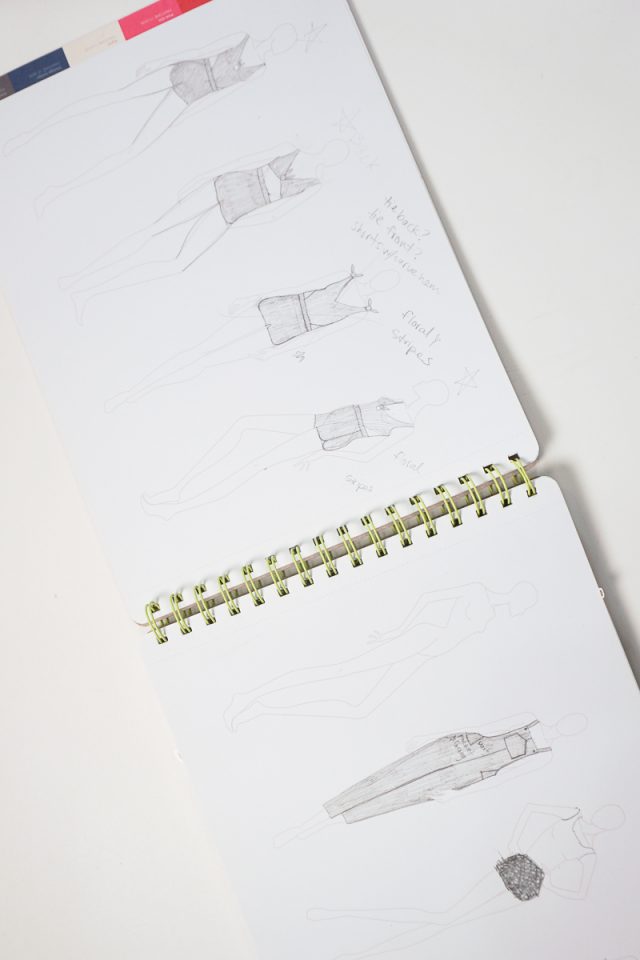 Simplicity Pattern Sketchbook
I can't remember when or where I bought this Simplicity pattern sketchbook, but I love it. It's larger than letter sized paper, and it's set up like a sketchbook with the spiral binding along the top. The papers flip over the top to the back.
Since I couldn't find the original (I looked and looked and looked), I'm just linking to a different but cute sketchbook*.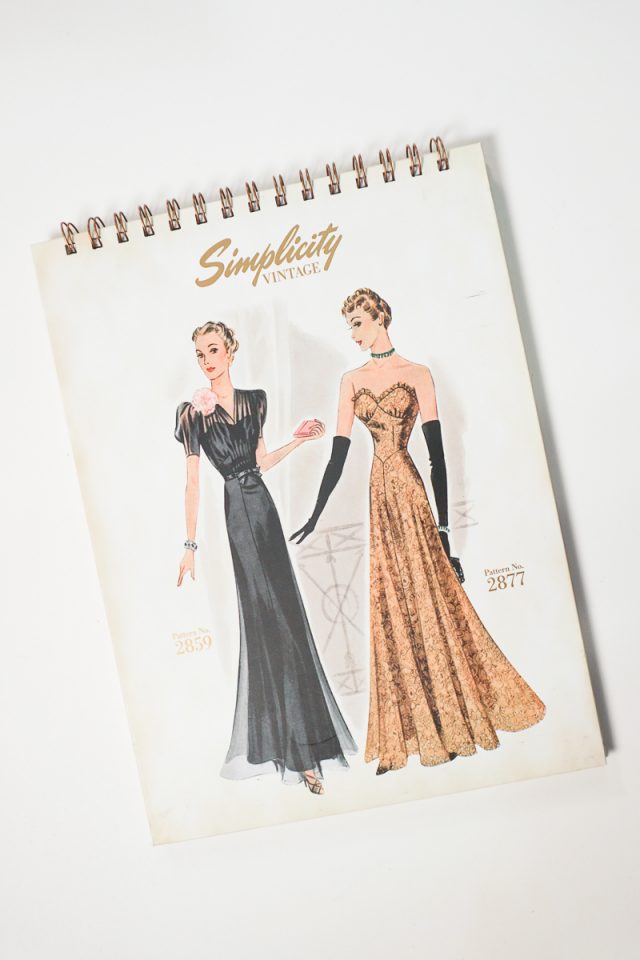 I love sketching in this book with lots of details. I sketched my quilt coat patches and quilt lines on one page. I also sketched out my quilt patch jeans since I had so much to visualize and measure. It doesn't have very many papers so it will not last me very long.
Simplicity Planner
The most expensive sewing planner is the Simplicity planner*, but it is the most organized, involved, and detailed planner of them all. You could probably have your life plans, work plans, and sewing plans all in this one sewing planner.
The dates are not printed into the planner, so you can use it any year. The only thing that bugged me is that the spiral binding was a little clunky, and the pages didn't turn very easily.
It has a sewing project section with areas for a to-do list, fabric swatches, measurements, notes, and notions. There are lots of different sheets for this so you can have lots of different projects all written out. There's even grid sheets so you can draw things out.
Then there's the calendar section for each month where you put birthdays, purchases, goals, projects, holidays, etc. It's super detailed and super organized.
Free Printable Sewing Planners
If you make something using one of these sewing planners, I'd love to see! Please share it on social media with the hashtag #heatherhandmade and tag me!