DIY Pokemon Trainer Costume
This post may contain affiliate links
Learn how to make a DIY Pokemon trainer costume with clothes in your closet. Use a free ball sewing pattern and a Cricut for the extra details.
My son loves everything Pokemon, and he wanted to design his own Pokemon trainer costume for Halloween this year. He drew out the character and all the details with labels for each color. Then it was up to me to make his design come to life.
Luckily, I used clothes from his closet and only hacked a couple of the items to make them look right. He loves his Pokemon trainer outfit!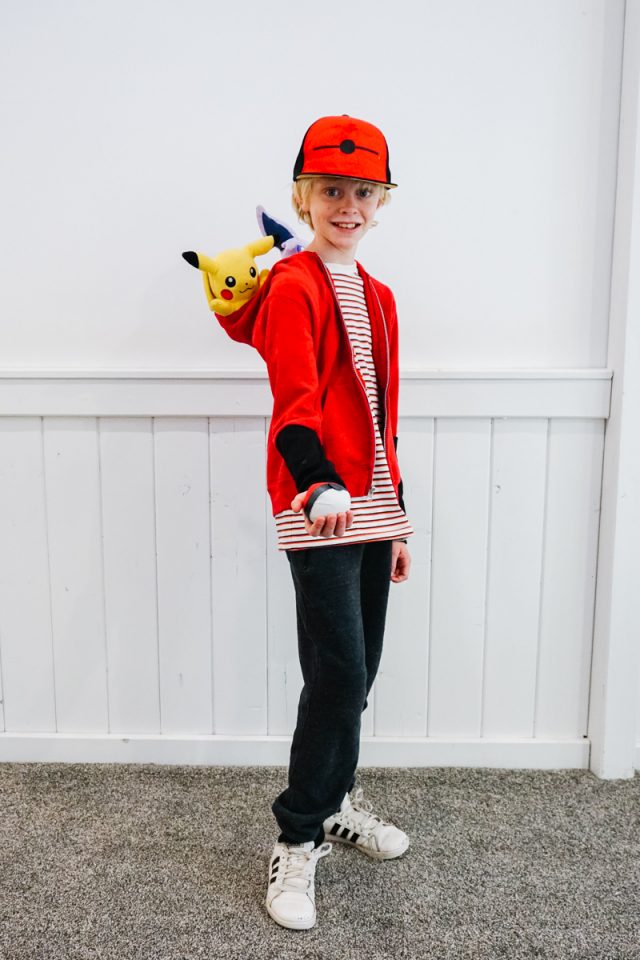 My first thought was to make the pokeball using my free ball sewing pattern. It worked great and fits perfectly in his hand and pocket.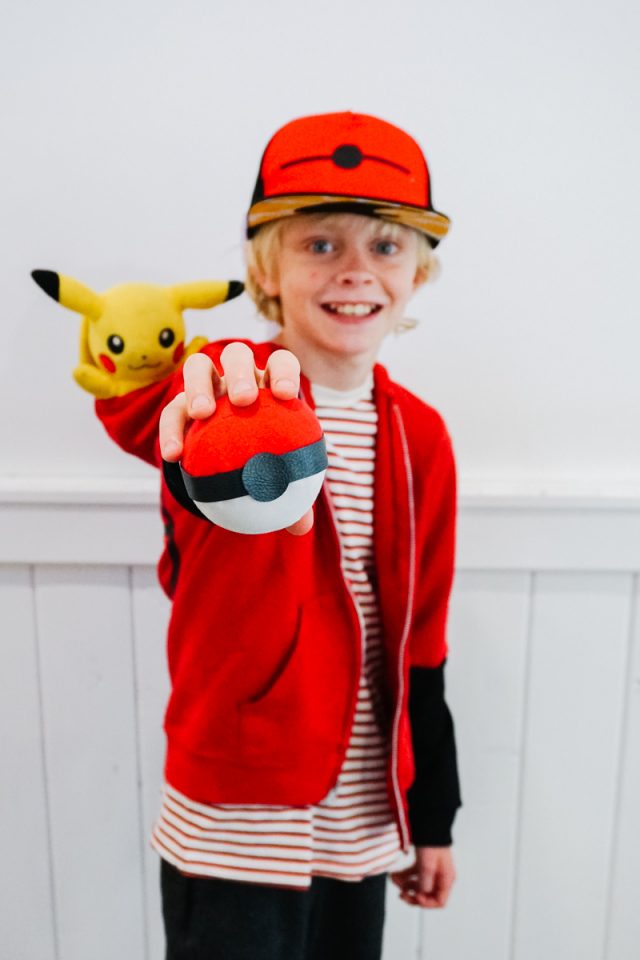 We have two stuffed pokemon characters that we stuck in his hood for pictures. I'm still trying to figure out how to secure them for Halloween and trick-or-treating.
Do you love to sew? Try one of these sewing projects: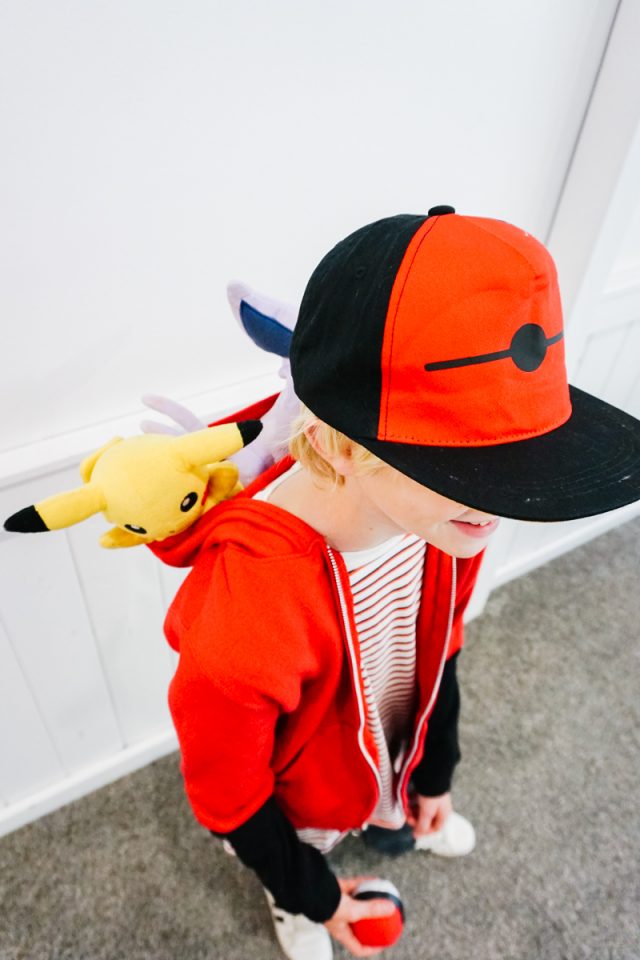 DIY Pokemon Trainer Costume
Supplies
Zip up jacket
Scraps of sweatshirt fleece
Baseball hat
Iron on vinyl
Cutting machine like the Cricut Maker
T-shirt, jeans or joggers, and sneakers
Stuffed Pokemon characters
Free ball sewing pattern with white and red fabric and black felt or faux leather
My favorite part about this costume is that I was about to donate this zip up jacket. The sleeve cuffs were stained and the sleeves were a little too short for my son. In his design he wanted colorblocked sleeves, so this jacket was the perfect base.
I cut the sleeves off just below his elbow. Then I used the cut off sections to cut new sleeve ends and cuffs. I just made the sleeve section and cuff section a little bit longer.
Sew the new sleeves and the new cuffs onto the jacket.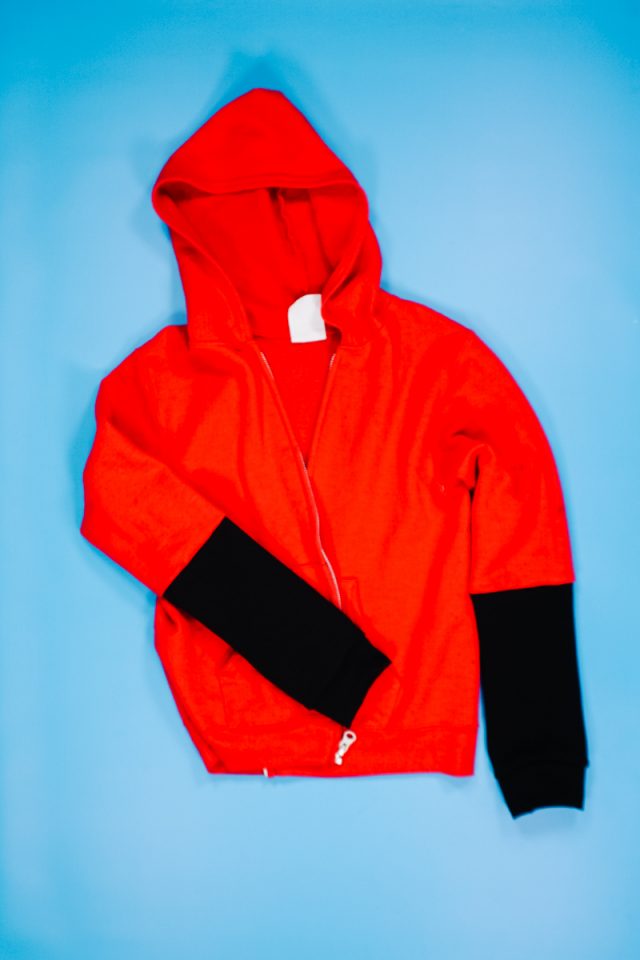 I found a red and black baseball hat for my son, but it had a different design on it. I seam ripped it off so we could put our own details on.
I created my son's designs in Illustrator and then uploaded them as SVGs to Design Space.
Use the Cricut Maker to cut out the large back design and the small hat design from black iron-on vinyl.
I weeded the designs and then used the Easypress to fuse the back design onto the center back of the jacket. It was nice and big.
I used the tiny Easpress to apply the hat design to the center front of the hat.
Use the ball sewing pattern instructions to make a red and white hand sized ball.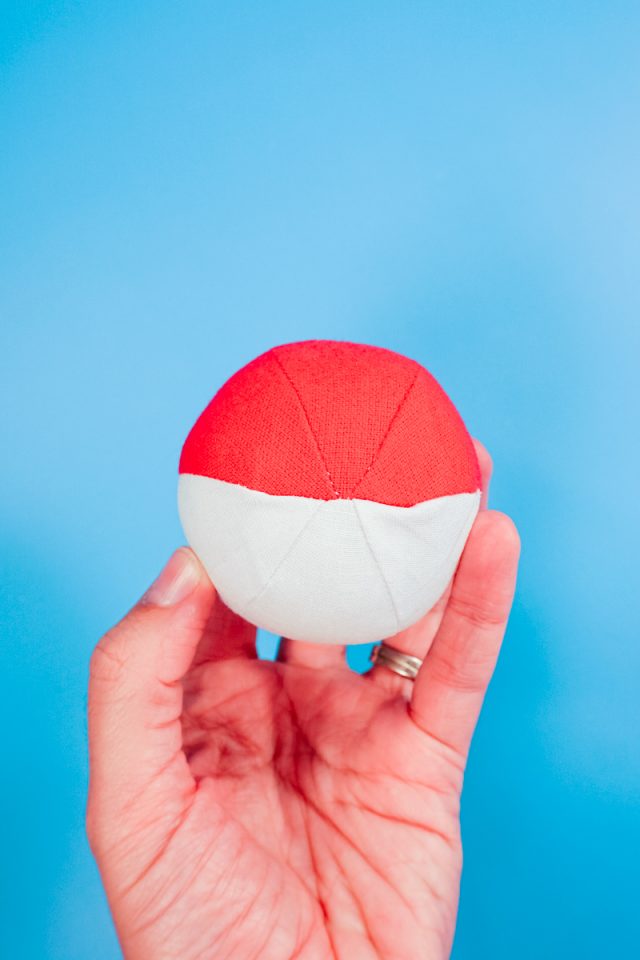 Instead of trying to sew on the black details or add it to the sewing pattern, I just cut out the design from black faux leather. I hot glued the designs onto the ball.
There's always a chance that it will come off since it's not sewn on, but I was aiming for quick and easy instead of accurate and strong.
Hand stitch the stuffed Pokemon into the hood or onto the shoulders. I'm still trying different ideas to see what I like best.
Put the whole outfit togethere with all the different details. You finished!
If you make something using this sewing project, I'd love to see! Please share it on social media with the hashtag #heatherhandmade and tag me!