Make this easy DIY mermaid costume for Halloween! It looks like a mermaid but the special "tail" skirt makes it easy to walk and run!
I decided to really get into my kids DIY Halloween costumes this year since they are old enough to request and appreciate the costumes. I actually made them as easy as possible, but they look pretty complex. I loved watching their faces as they saw their Halloween costumes come to life.
I just love the magic and intrigue of mermaids! Learn how to make a DIY mermaid costume!
Do you love sewing mermaid projects? Check out these:
DIY Mermaid Costume
My daughter went through 50 ideas of what she wanted to be for Halloween (like a DIY rainbow unicorn) before I made her choose just one. But once she saw the fish scale fabric and the coordinating sequin fabric she was able to decide. She sounds like me, letting the fabric guide my decision.
She wanted to be just like Ariel, but I knew it'd be cold so she needed more coverage. I made a sequin tee with a tiny tulle edge on the hem.
Then I made a fish scale skirt with a puffy, tulle mermaid tail. The top of the skirt is a fitted pencil skirt and the tail poofs out at the bottom.
The front of the skirt is long to mimic the tale, but the back of the skirt is cut up above her knees so she can still run.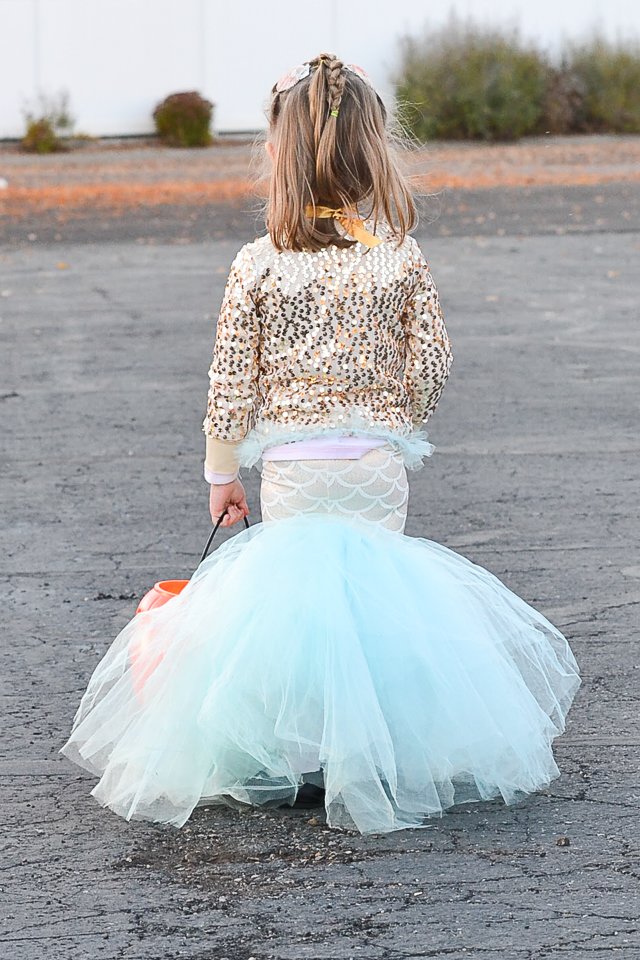 She'll have to wear layers underneath to stay warm and maybe even a jacket over top. I love that the skirt hides her shoes and she can wear any warm shoes underneath.
I hot glued shells to clips for her hair, and I glued shells around a battery tea light with a ribbon attached so it looks like her voice is glowing inside.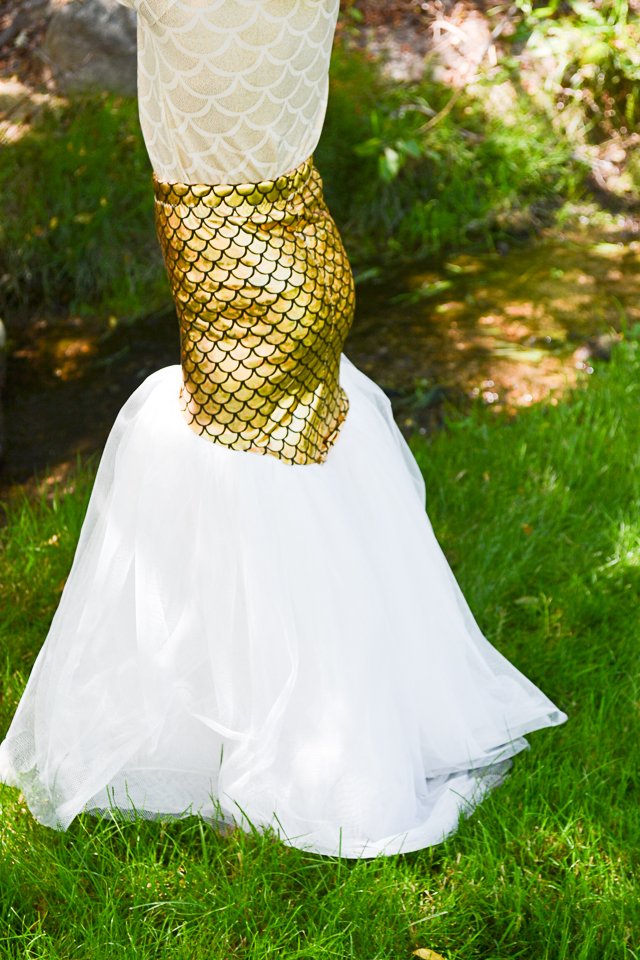 Do you love mermaid projects? Check out these:
DIY Mermaid Costume Tutorial
1. Make or buy a sequin tee shirt*. Sew on a piece of tulle to the hem.
2. Sew a some stretchy scale fabric* into a tube that is the circumference of your child's hips. Add elastic that measures two inches smaller than the waist to the top so that it will stay up on the waist. (Here are some ideas for finding elastic to reuse.)
3. Cut the hem into a slight "V" shape with the point going down at the center front and the point going up at the center back.
4. Gather a bunch of tulle and sew it onto the bottom of the skirt. Trim the hem so it hits the floor in the same place all the way around the skirt. The back can be longer than the front.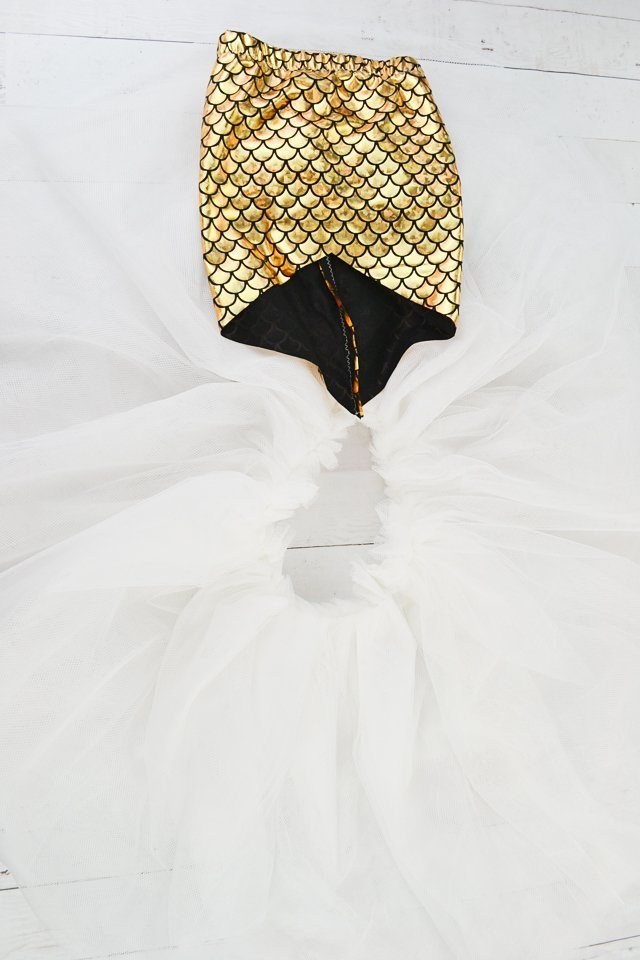 5. Glue some shells onto a clip or a headband for a mermaid hair piece. Do simple mermaid makeup.
If you make a mermaid costume using this tutorial, I'd love to see! Please share it on social media with the hashtag #heatherhandmade and tag me!