How to Make a Rainbow Unicorn Costume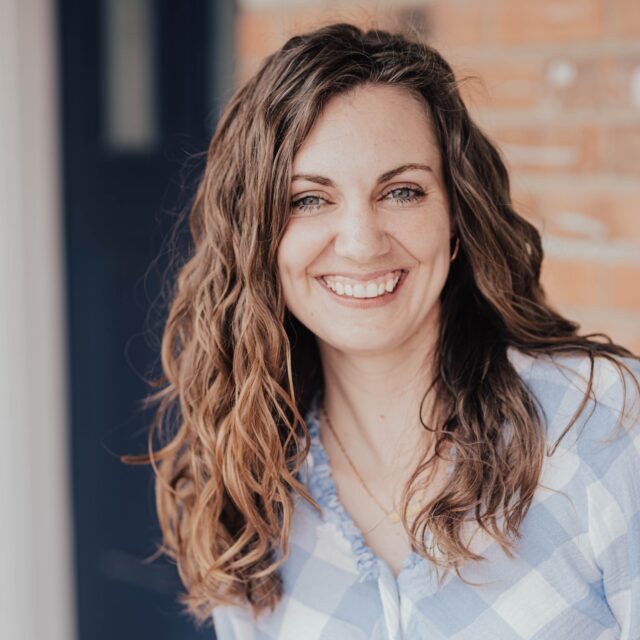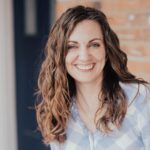 This post may contain affiliate links.
Learn how to make a Rainbow unicorn costume for Halloween with colorful fleece and sweatshirt and pants. Use free patterns for the horn, ears, and wings.
For Halloween my daughter asked to be a pink and rainbow unicorn Pegasus. I'm always willing to make them a costume. I was very excited to make such a unique Halloween costume, and I want to teach you how to make a rainbow unicorn costume with this sewing tutorial.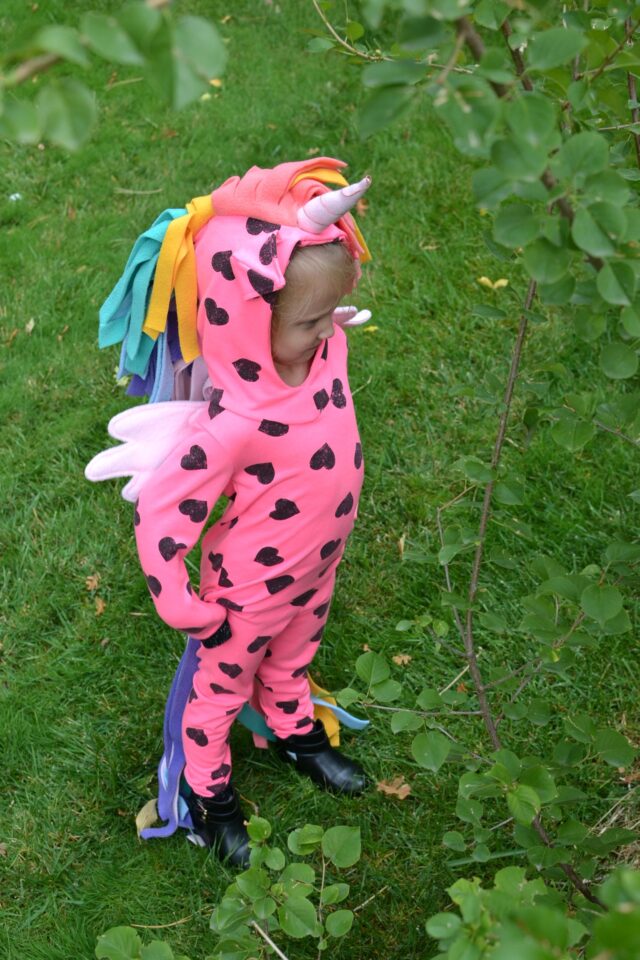 I love how kids can be so creative with their Halloween costumes. I was really excited to make such a unique costume, but I knew it would be important to make her vision happen. Last year she wore a fabulous mermaid costume and loved it!
When she told me what she wanted to be, we first went to my fabric stash to see what I had. I'm determined to sew through my fabric stash, and I had this fabric waiting to make something for my girls. I didn't have any other pink fabric so, luckily, my daughter was happy with this heart fabric.
She does look a little bit like a Dalmatian heart spotted unicorn, but I kind of like the bold look. It just makes it hard to see what she is at first glance.
The pink fabric is a French terry (learn how to sew French Terry fabric) and the mane and tail are all fleece. It's a warm costume because we often have a cold Halloween day. She can even layer clothing underneath if she needs to.​​​​​​​
Do you like making costumes? Try some of these ideas:
Her favorite part is the horn and the wings. It makes the whole costume come alive. She always wants to crawl around on her hands and knees when she's wearing it!
I love unicorns just like my daughers! I even made them a unicorn ornament for the Christmas tree so we can enjoy unicorns during the holidays!
I had a lot of fun picking out the colors for the rainbow hair. My daughter was at school so I got to choose the colors I wanted which means they coordinate better than if she chose them.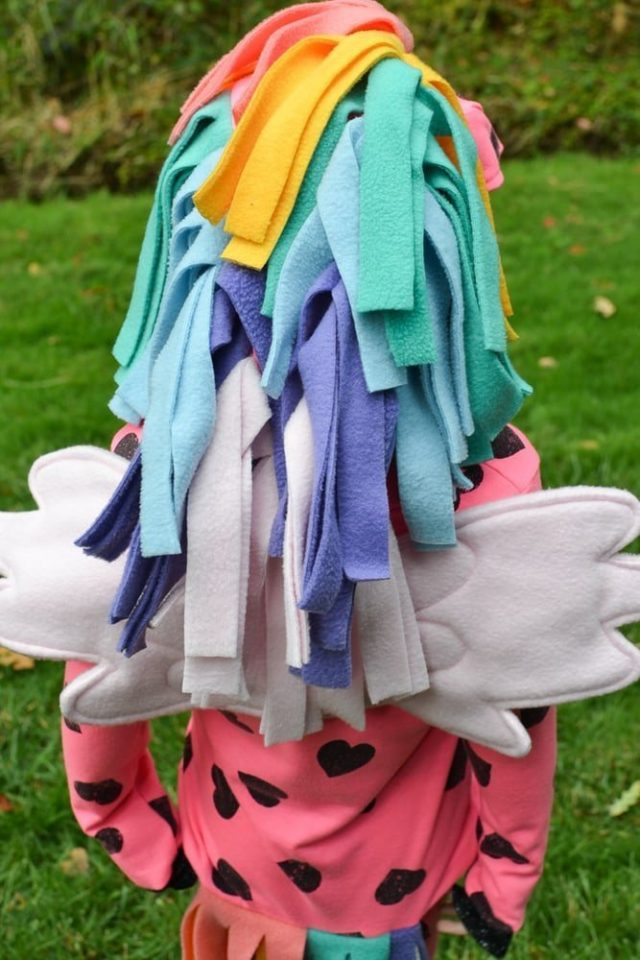 How to Make a Rainbow Unicorn Costume
Supplies
Hoodie pattern with a three piece hood – I used the BIMAA sweater sewing pattern*
Matching leggings or legging pattern – I made leggings but purchasing would be easier
Pink jersey* or pink French terry*
1/4 yard polar fleece in six different colors – add 1/4 yard to the color that will become the wings and horn
Free unicorn horn sewing pattern
Free Pegasus wings sewing pattern
Free pony ears sewing pattern

Watch the video below and then read the tutorial below for extra details.
1. In this tutorial I use a three piece hood. I had two rows of hair for the mane. If you have a two piece hood you can eliminate one row of hair.
Cut out your pattern pieces.
2. Cut our four rectangles of each color of fleece measuring 4 inches wide by 7 inches tall. Cut 1 inch hair slits into each piece but leave it connected on one side.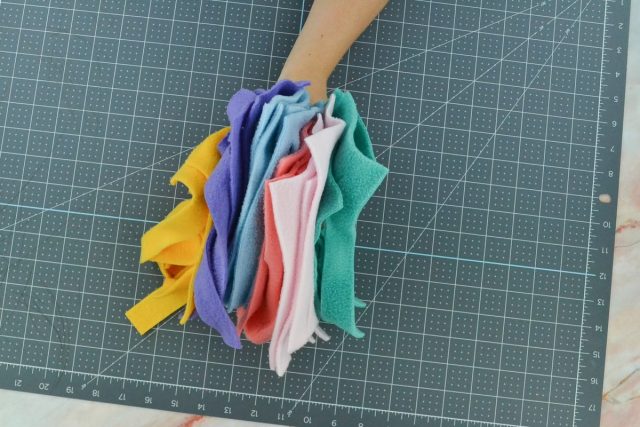 3. Layer two pieces of each color around the curve of the hood overlapping each color about halfway with another color. You should never have more than four layers of fleece at a time.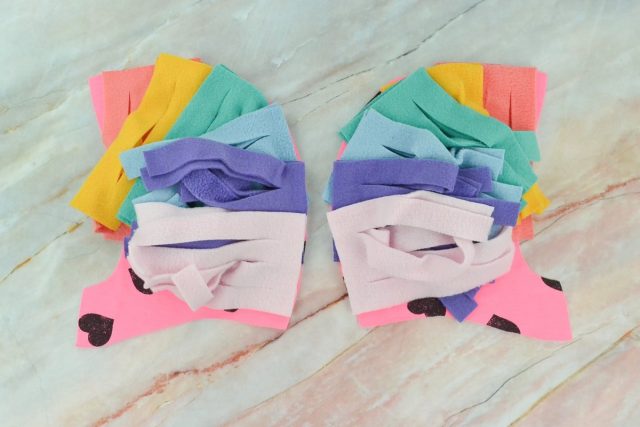 4. Pin the center hood piece over the fleece mane and sew it together. Then sew the center hood piece to the other side.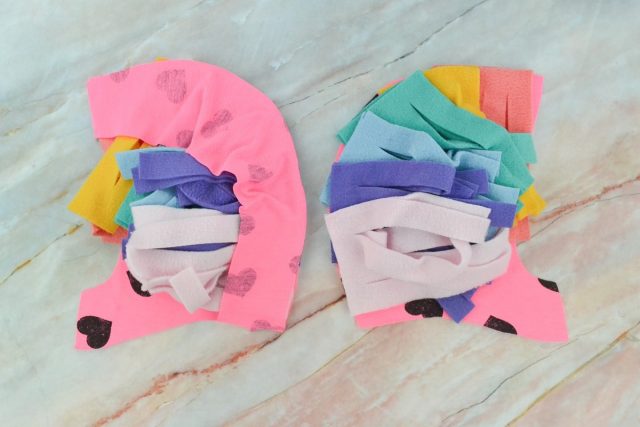 5. Finish the hood as recommended by the pattern. Then add the ears and the unicorn horn. Sew the hood onto the sweatshirt.
6. Cut long rectangles for the tail measuring 4 inches wide by 18 inches tall.
7. Cut 1 inch hair into the tail pieces but leave it connected on one side.
8. Layer three colors onto three other colors and overlap them by half.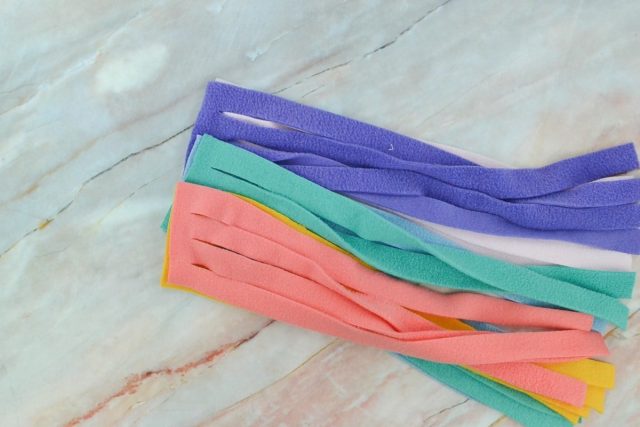 9. Pin the tail onto the sweatshirt hem and sew. My pattern has a waistband so I sewed the tail into the waistband, but you can also just sew it onto the hem.
10. Finish the sweatshirt. Add the Pegasus wings to the back of the sweatshirt.
If you make a rainbow unicorn costume, I'd love to see! Please share it on social media with the hashtag #heatherhandmade and tag me!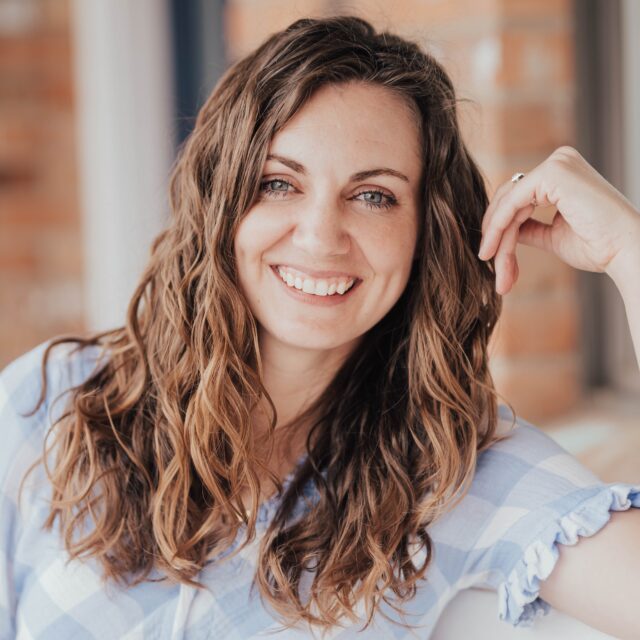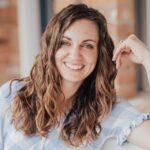 I believe small sewing moments can create great joy. Find your own "right" way to sew. -Heather