DIY Fleece Tree Skirt
This post may contain affiliate links
Learn how to make a DIY fleece tree skirt for your Christmas tree. It's a quick and easy sewing project that is perfect for the holidays!
A couple of years ago we started putting up a fake tree and buying a real tree. We wanted a nice, themed tree and happy, sentimental tree so that we could enjoy both purchased ornaments and ornaments that the kids make.
One year I just threw together a fleece tree skirt to put under our real tree. I had some fleece on hand, and I had some tassel trim on hand. I love the way it turned out, and we've been decorating with it ever since. It was so fast to sew!
I love buffalo plaid at Christmas time. Plaid is a print I've always loved, but red and black is extra special for the holidays. The added touch of the tassels is the perfect detail. I love tassels, but you can also do rick rack or pompoms.
Fleece is such a great fabric to work with beginner sewing projects because it's so easy to find and easy to sew. It'll last for several years!
Do you love to sew? Try one of these fun sewing projects:
DIY Fleece Tree Skirt
supplies
2 yards of fleece fabric
6 yards of trim like tassels, pompoms, or rick rack
Cut your fleece into a 60 inch by 60 inch square. Fold it in half one way and then fold it in half the other way. There should be a fold on two sides.
Cut a quarter circle through all four layers from fold to fold. Cut another small quarter circle from fold to fold in the center.
Open up the large donut shape. Cut a straight line from the outer circle to the inner circle to create an opening.
Clip or pin the trim on the right side of the fleece all the way around the circle. Start at one opening and go all the way around to the other side of the opening.
Sew the trim onto the fleece with a wide zigzag stitch all the way around.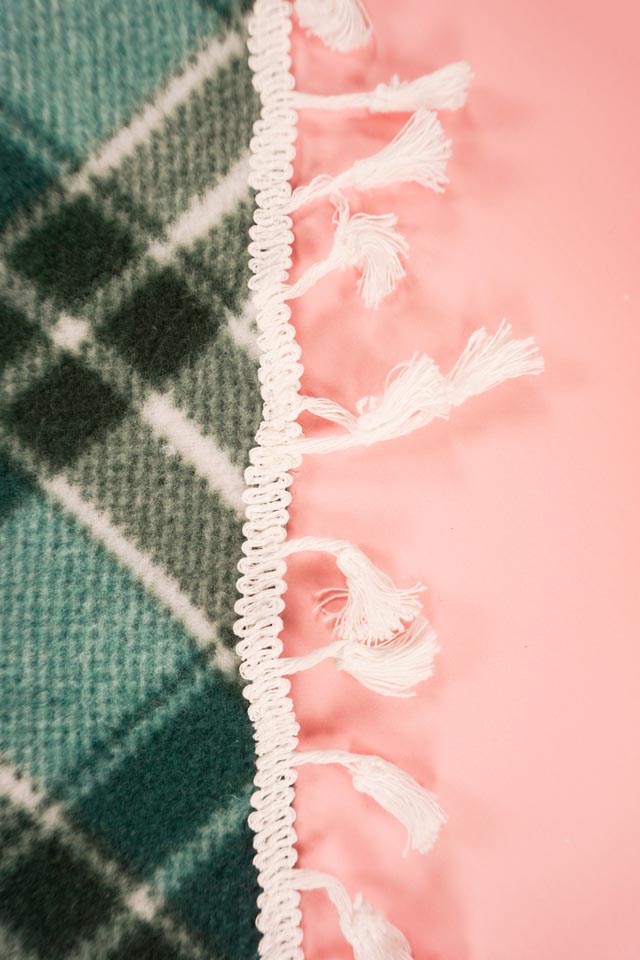 Place the fleece Christmas tree skirt uner your tree and smooth it out flat.
If you make something using this sewing project, I'd love to see! Please share it on social media with the hashtag #heatherhandmade and tag me!