Make a quilted tree skirt with a gorgeous fair isle design! The design looks hard but it's actually half square triangles. Use the free quilt tutorial to make your own!
For the first time in our married life, we got a real tree Christmas tree. Up until now we used a teeny, tiny artificial tree because we lived in such a small apartment.
We finally have a little more space, so I decided to make a really fun Christmas tree skirt. I've had this idea for a couple of years, and I was finally able to make it.
I love the fair isle motif and made a giant motif for the whole skirt. I used two quilting cottons for the top and a flannel for the backing.
The ivory with gold shimmer was found in the remnant bin. I got the red with gold dots at Joann. I love the bold contrast and the touch of shine. It's so fun to see, and it'll be soon covered with gifts.
I'm not great at quilting, but I get inspired every once in awhile and just go for it. I always get into it and then wonder why I started. Make these other free quilt tutorials!
There are definitely imperfections and tucks on the back of the tree skirt, but it looks great from the front and covers what it needs to. I'm hoping that it'll last a long time, and I'm so excited to start the holiday season! My kids love playing with these kid-friendly Christmas ornaments, and they'll hang beautifully above a tree skirt.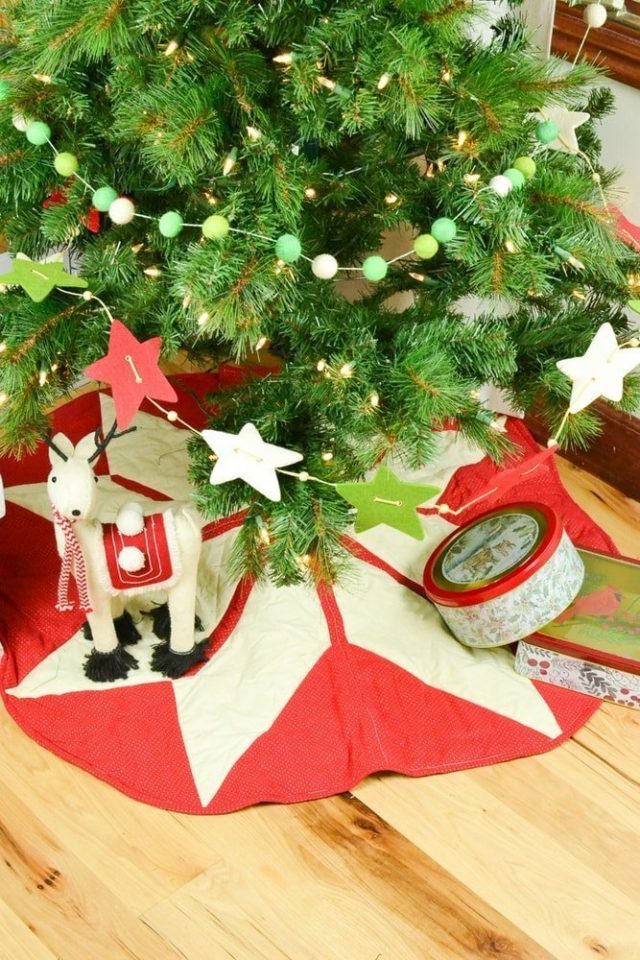 Supplies
3/4 yard Red fabric
3/4 yard White fabric
Batting (40 inches wide by 40 inches long)
1.25 yard Flannel for back
4.25 yard Red bias tape
Fair Isle Quilted Tree Skirt Tutorial
1. Make eight half square triangle quilt blocks with red and white fabric. The blocks should be cut to 9.5 inches by 9.5 inches. Square the blocks.
2. Cut four half square triangles from red fabric. The short edges should measure 9.5 inches.
3. Make four white quilt blocks with a red strip from one corner to the opposite corner. The red strip is 1.5 inches wide by 12 inches long. The white block should be cut 9.5 inches by 9.5 inches.
4. Sew two of the triangle quilt blocks, one quilt block with a strip, and one red triangle. This is one corner of the tree skirt. Assemble one corner of the tree skirt as the picture shows above.
5. Sew the larger blocks together with a red strip in between three corners. The red strip should measure 1.5 inches wide by 17.5 inches long. Leave one side separate and open.
6. Trim the outside to be a nice, smooth curve.
7. Layer the quilt top, batting, and flannel backing and trim. Quilt around the design. Finish all the edges with red bias tape.
If you make something using this quilted tree skirt tutorial, I'd love to see! Please share it on social media with the hashtag #heatherhandmade and tag me!