Upcycled Baby Shoes: FREE Sewing Pattern!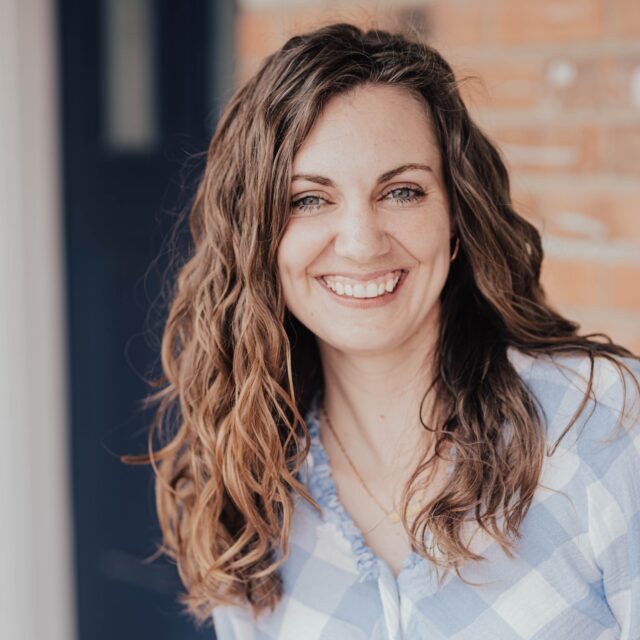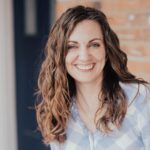 This post may contain affiliate links.
Learn how to make upcycled baby shoes with a free sewing pattern. It's a great way to reuse and recycle denim for durable fabric shoes!
I love making baby shoes. They're fast and cute, and my babies walk holes into them so quickly. My favorite baby shoes are upcycled baby shoes with this free baby shoes pattern, and the best part is that it comes in THREE different sizes!
I made so many for my own babies, and I still make them as baby gifts! I love using denim since it's soft and durable. It protects the little baby toes from getting scratched. Sometimes I even use leather for the soles for something extra.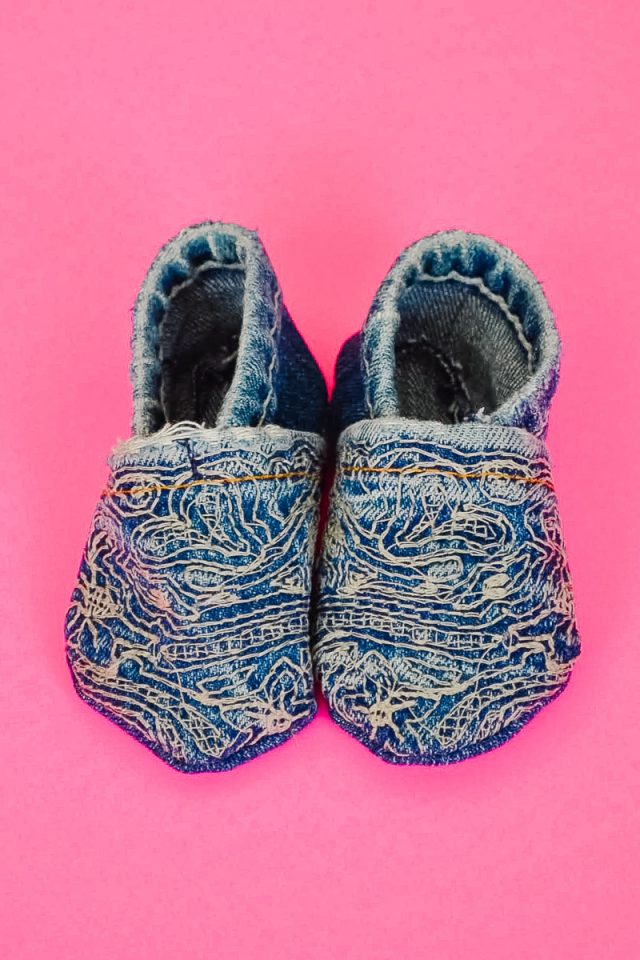 Upcycling makes these shoes fast to sew since you can reuse the hems of pants as casings. This makes them a half hour or less sewing project! Use the most durable fabric you can find or even use vinyl or leather for the bottom piece.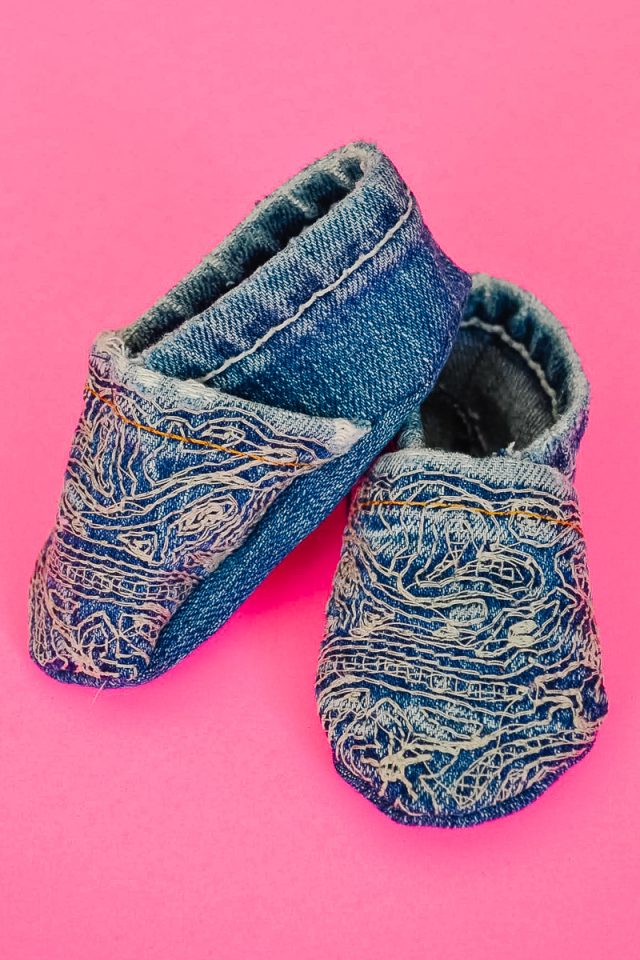 What is upcycling?
Upcycling is to reuse material to create something better than the original. I usually use this to describe when I'm sewing adult clothing into clothing for children or I'm sewing clothing into an accessory or house item.
I love upcycling because it saves time, money, memories, and the environment. It saves times since you can reuse details. It saves money since you are using what you already have. It saves memories because you can do something with a loved ones clothing. It saves the environment by keeping fabric out of landfills.
Do you love to sew and upcycle? Try some of these projects: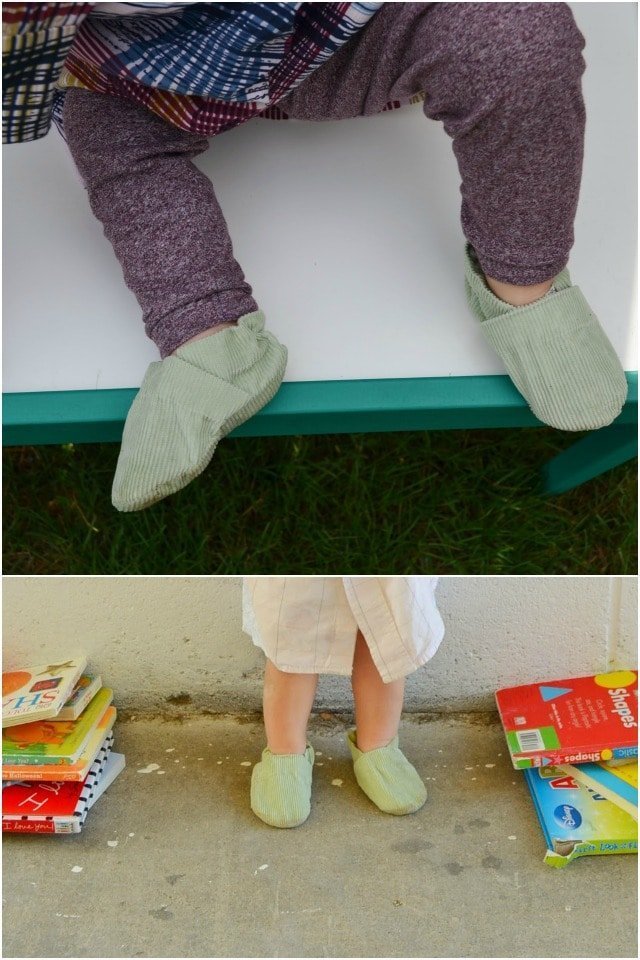 What is a PDF sewing pattern?
A PDF pattern is a sewing pattern designed on the computer and organized so that it can be printed on several letter or A4 size pieces of paper.
I love using PDF sewing patterns because if the pattern gets ruined or if my children or I changed sizes, I can always print it again. It'll never be destroyed since I have a digital version!
How do you use a PDF sewing pattern?
Open the PDF on a computer and click print. When printing make sure that the scaling is set to 100% or no scaling so that the pattern prints at the correct size.
Once the pattern is printed it can be taped together to get the full size. Then the pattern can be cut for each pattern piece size or individual sizes can be traced so that the pattern can be used again and again. Learn how to use PDF sewing patterns.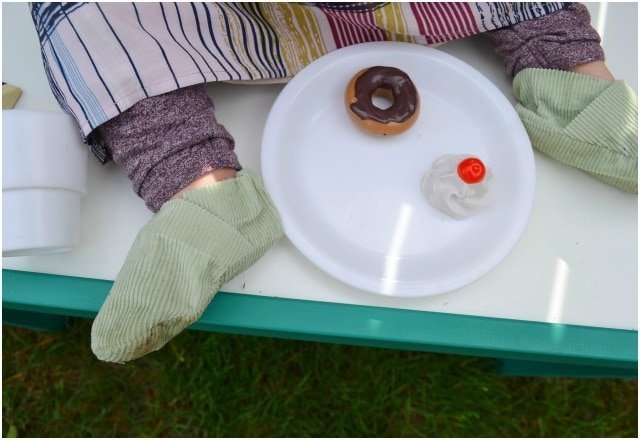 Upcycled Baby Shoes: FREE Pattern
Supplies
Hems of pants – the more durable the fabric the better
12″ of 1/4″ elastic* – here are some ideas for finding elastic to reuse
Free baby shoe pattern in three baby sizes- Get it at the end of the post!
Do you just want the pattern and tutorial as a PDF? Get the pattern and photo tutorial for just $3. You won't need to access the internet every time you want to make it. Or get the Pattern Bundle with ALL the PDF tutorials!
Instructions
Cut out pieces along the hem. Transfer markings to the fabric.
Cut two slits for elastic on hem allowance of the top piece.
Tack the cut ends of the hem stitching to keep it from coming undone.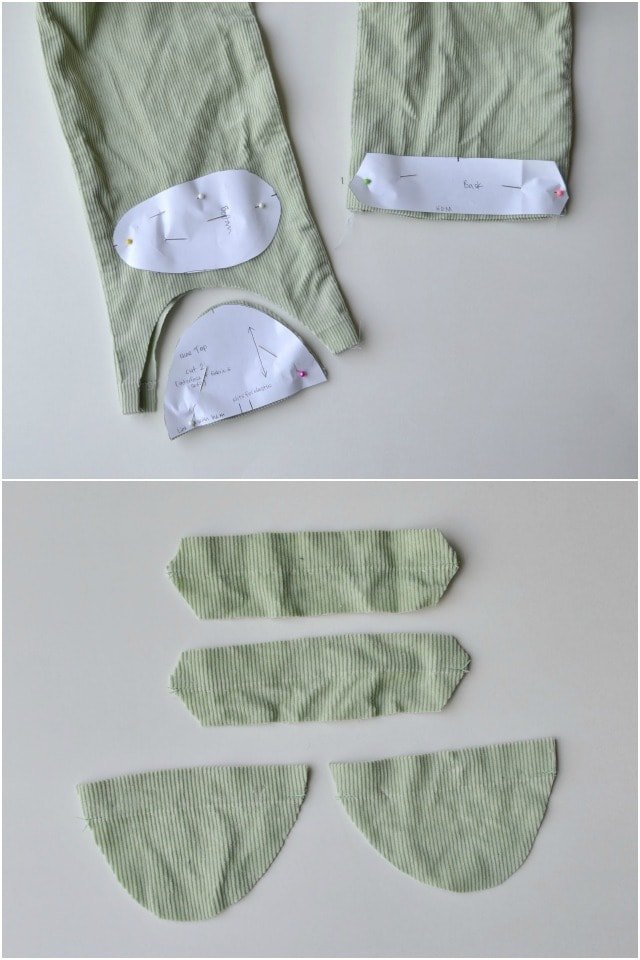 Pin top piece to the bottom piece lining up the notches. Then pin the back piece to the bottom piece over the top lining up the notches.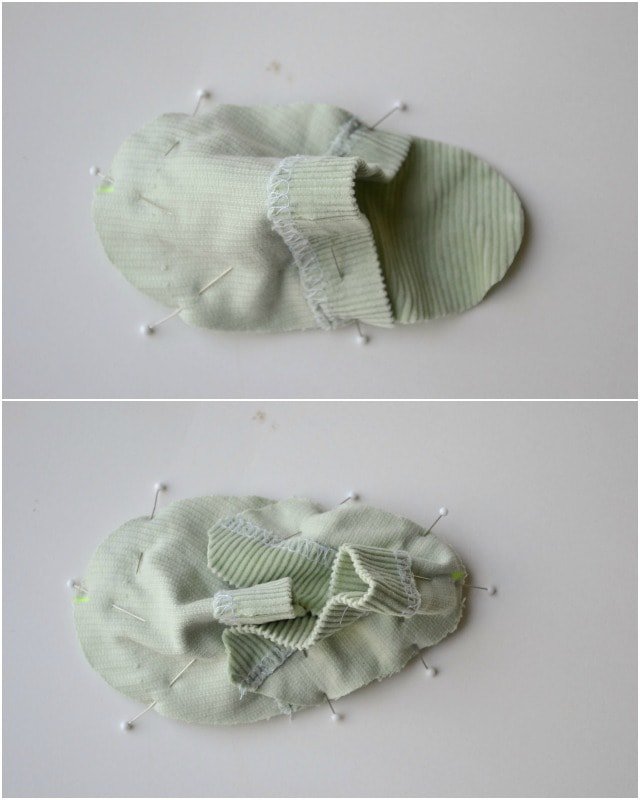 Sew with a 1/8″ all around the shoe. I sewed with a straight stitch and then with a zigzag stitch. Turn right side out.
Cut a 6″ piece of elastic.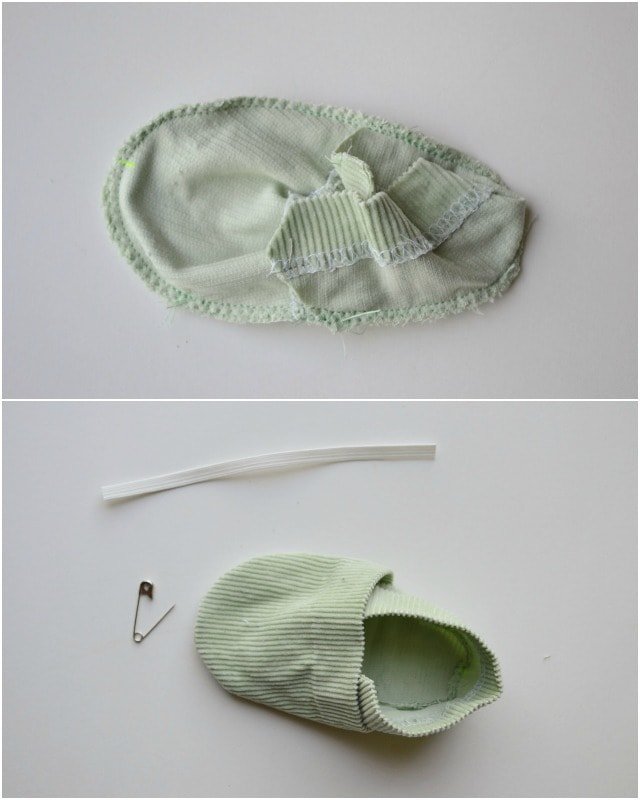 Use a safety pin to insert elastic through the back hem and up through the front two slits.
Sew the elastic together overlapping it about 1/2″.
Do the same with the other shoe.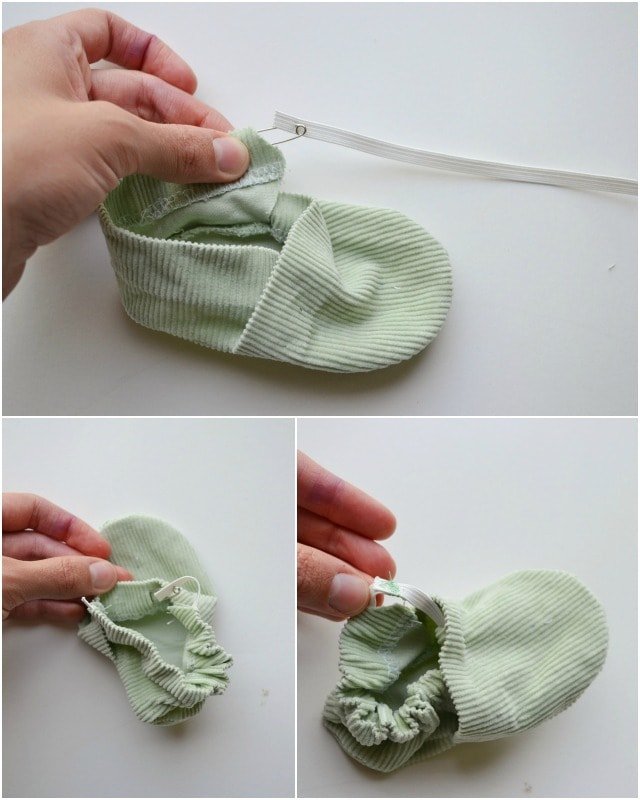 These shoes fit about a 8-12 mos old baby. My babies have really, really small fit so they are even older before they fit into these shoes!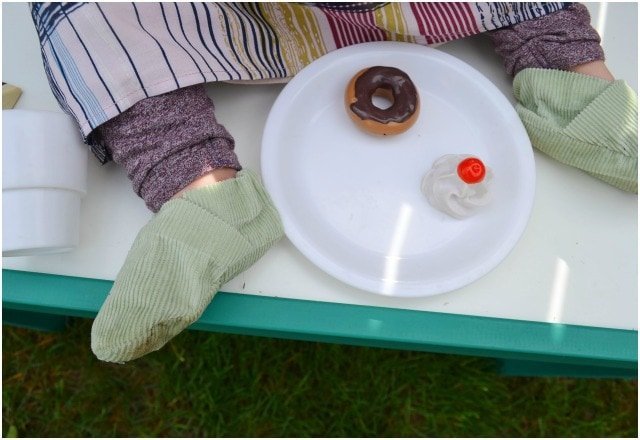 Find the big list of all the upcycling tutorials I've created! And share any upcycle inspired projects for your children with the hashtag #upcycledkid!
Get the Free Sewing Pattern here!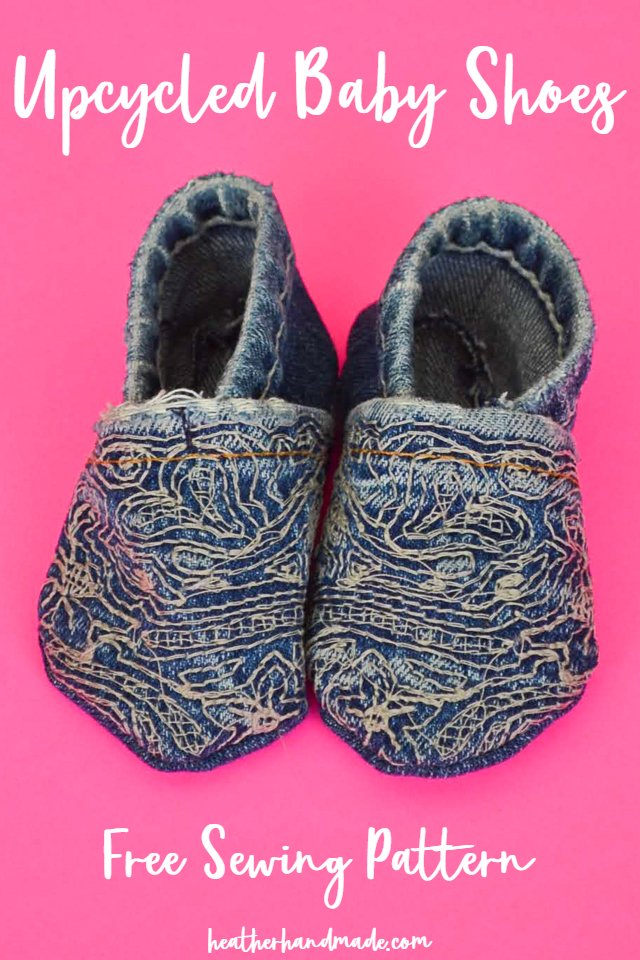 If you make something using this sewing project, I'd love to see! Please share it on social media with the hashtag #heatherhandmade and tag me!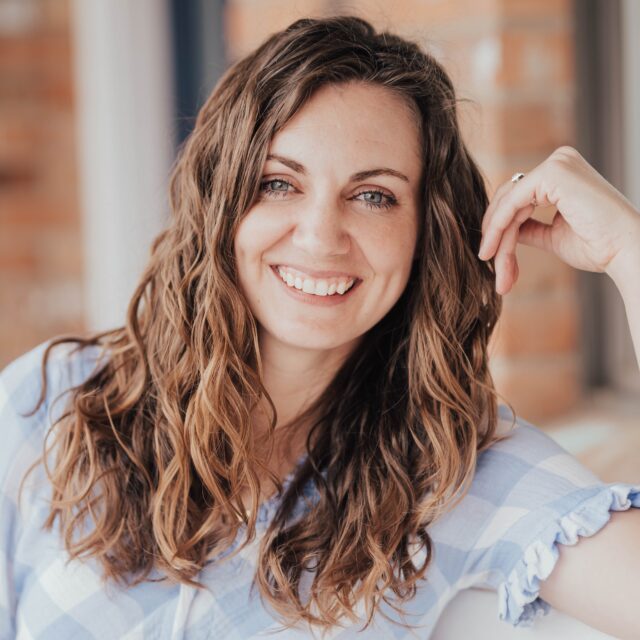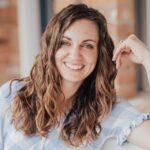 I believe small sewing moments can create great joy. Find your own "right" way to sew. -Heather