DIY Spider Web Skirt: Easy Halloween Skirt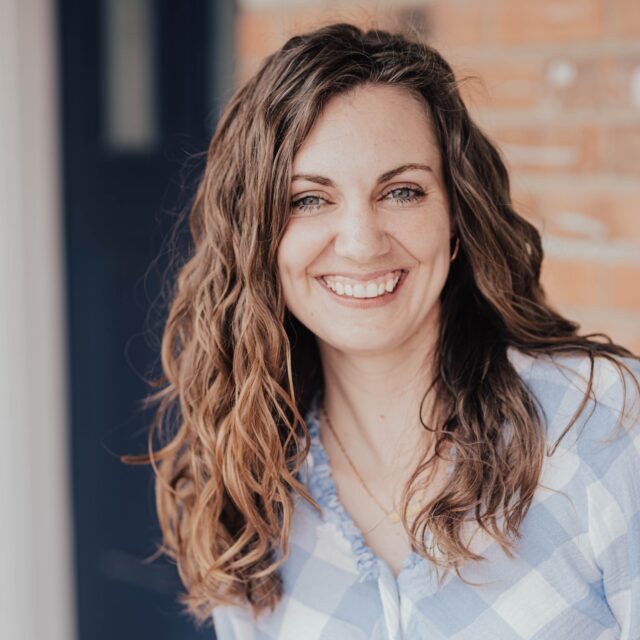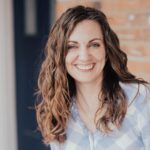 This post may contain affiliate links.
Learn how to make an easy Halloween skirt with this DIY spider web skirt tutorial. It's made out of felt so its easy to sew and wear!
Do you want to festively dress up for Halloween without having to work too hard? You want to just wear a regular outfit? Make this easy Halloween skirt that looks like a spider web to wear to all the festive Halloween parties and activities!
Since it's made out of felt, there's so seam finishes and it's really quick to sew! This DIY spider web skirt tutorial even comes with a free circle skirt sewing pattern!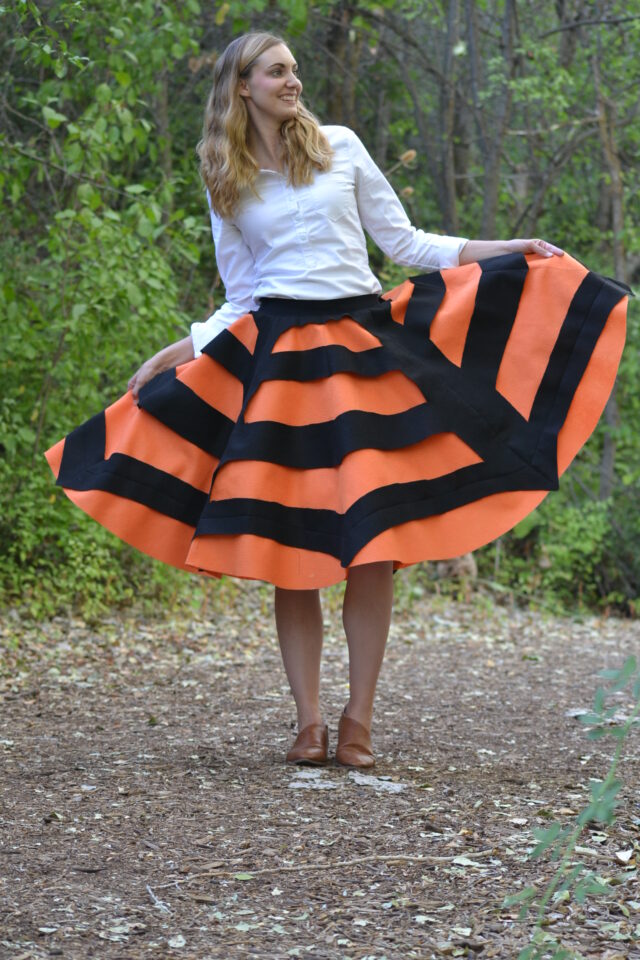 This easy Halloween skirt would work for a spider lady, a witch, a pumpkin lady, or even a cat lady. It would be that perfect basic Halloween skirt that changes to fit the costume as you need.​​​​​​​​​​​​​​​​​​​​​
I'm wearing a small petticoat underneath that I have in the costumes for special occasions. It helps give the skirt a little bit of body, but you can wear this Halloween skirt even without a petticoat.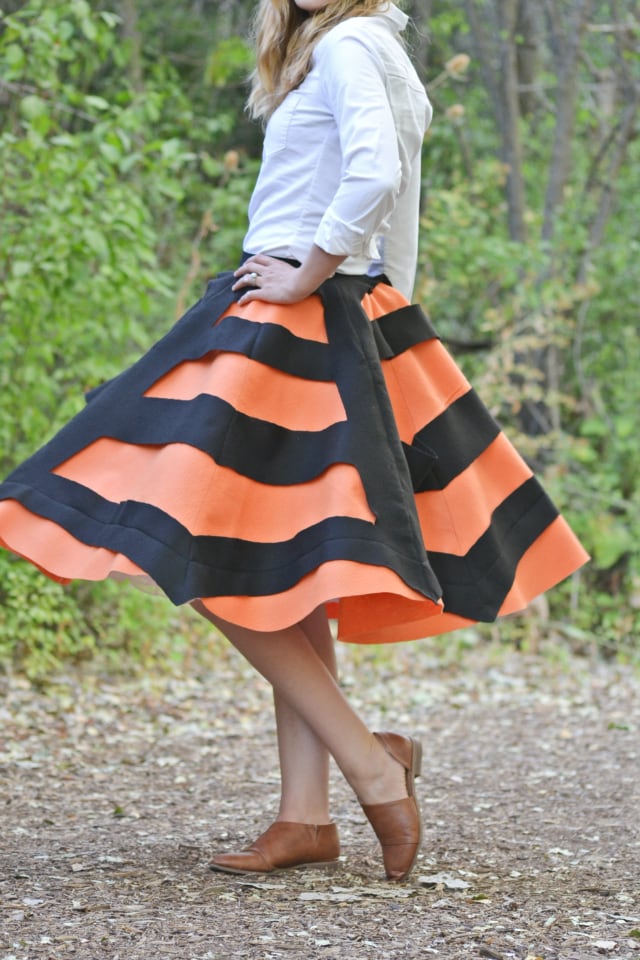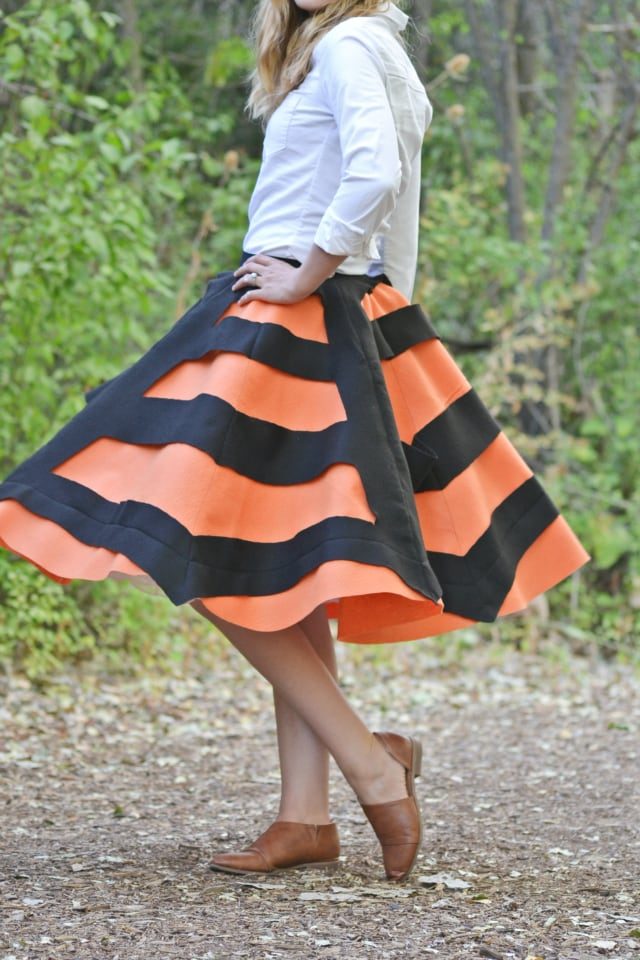 What fabric should I use to make a Halloween spider web skirt?
This skirt is made out of acrylic felt so it's not washable, but you could spot clean it as needed. Felt is such a great fabric for a project like this. It's easy to cut out, it's easy to sew, the edges don't need to be finished, and it comes it lots of bright colors. Felt holds it shape so it's a great option for circle skirts.
I added a black web on top of an orange skirt, but you could do white on black. You could also sew orange pumpkins on a purple skirt, or black bats on yellow, or white ghosts on green.
This skirt is really a costume that's meant to be worn a couple of times a year and then stored for next year. I love the 50's vibe it gives off, and it really makes me want to attend a festive Halloween party!
Do you like to sew costumes and Halloween projects? Check out some of these: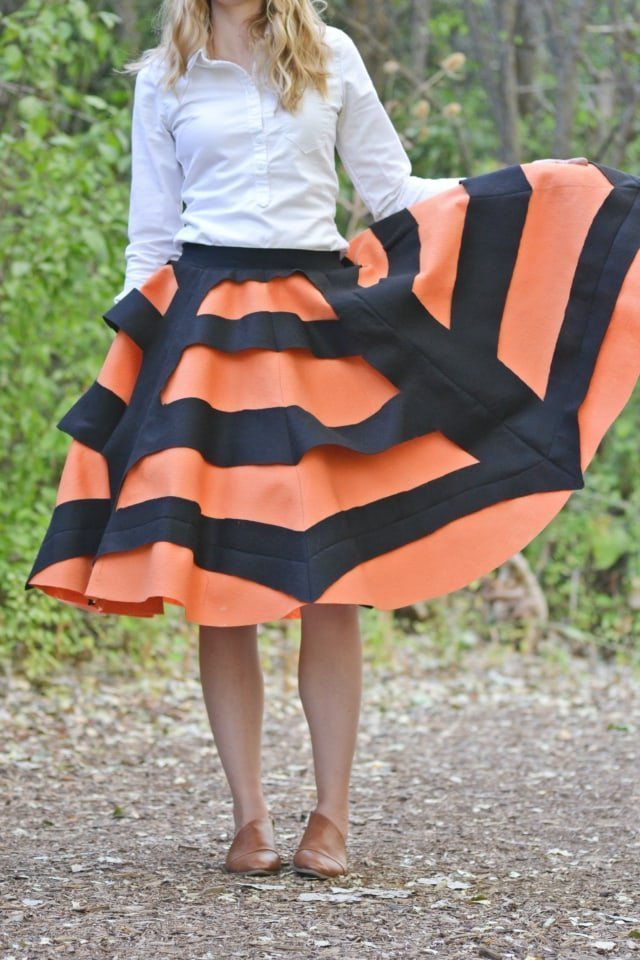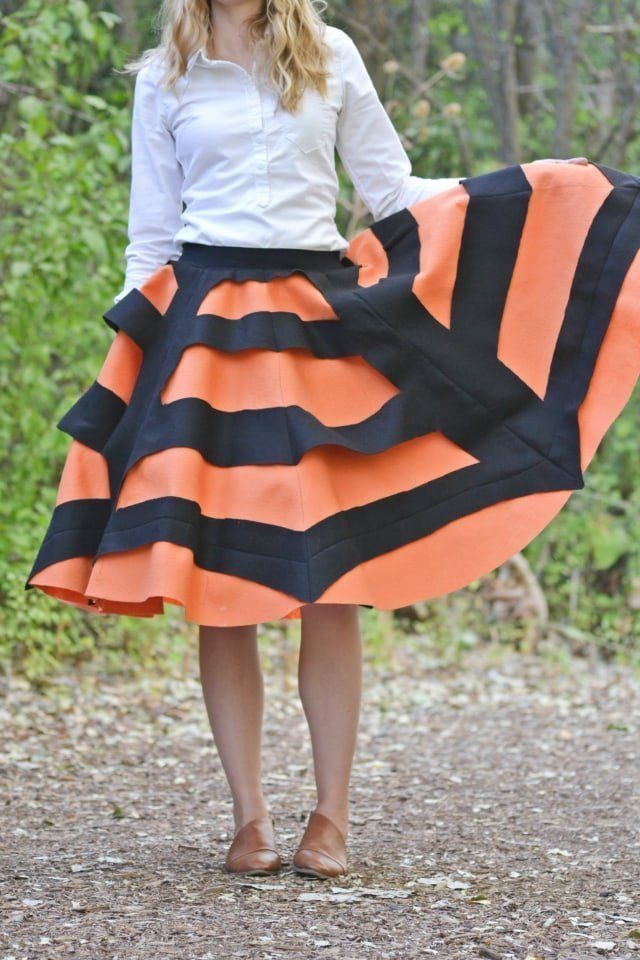 How to Make a DIY Spider Web Skirt: Easy Halloween Skirt
Supplies
2 yards black craft felt
2 yards orange craft felt
black 2 inch wide elastic
scissors
measuring tape
1. Cut out an orange felt skirt using your measurements and radius. Put the skirt aside. (The fabric is different in this image, but it's the same idea.)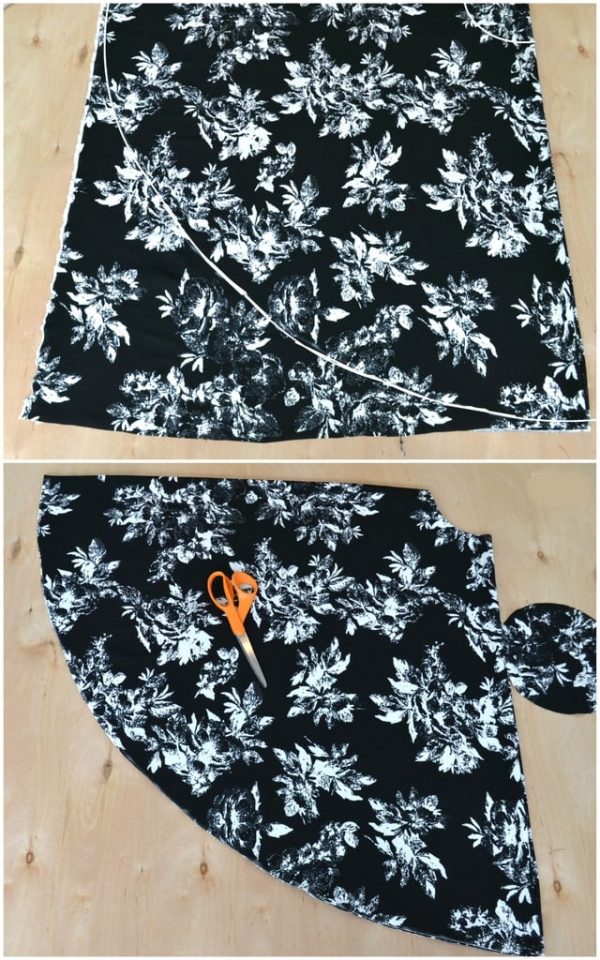 2. Cut out a black felt skirt using your measurements and radius. The black skirt once cut out is folded twice. Fold it one more time so there are 8 layers of fabric.
3. Cut an upward curve on the hem for a great spider web scallop look.
4. Cut three curved rectangles out of the middle of the skirt.
5. Lay the black spider web skirt on top of the orange skirt. Smooth them both out so all the fabric is flat with no wrinkles.
6. Pin the black skirt onto the orange skirt in increments.
7. Sew the black felt to the orange felt with straight lines.
*I found it easiest to start sewing at the hem and sew up towards the waist. Sew four lines of stitching on the black vertical lines. Then sew four more lines of stitching in between the black vertical lines. You'll sew eight lines total.
8. Cut your elastic to length. Sew the ends of the elastic together. Sew the seam allowance open.
9. Divide the elastic into four sections with pins. Divide the skirt opening into four sections with pins.
10. Match up the four sections and pin. Sew the elastic to the waist of the skirt.
You finished!
Who would you dress up if you had this Halloween skirt? Happy Halloween!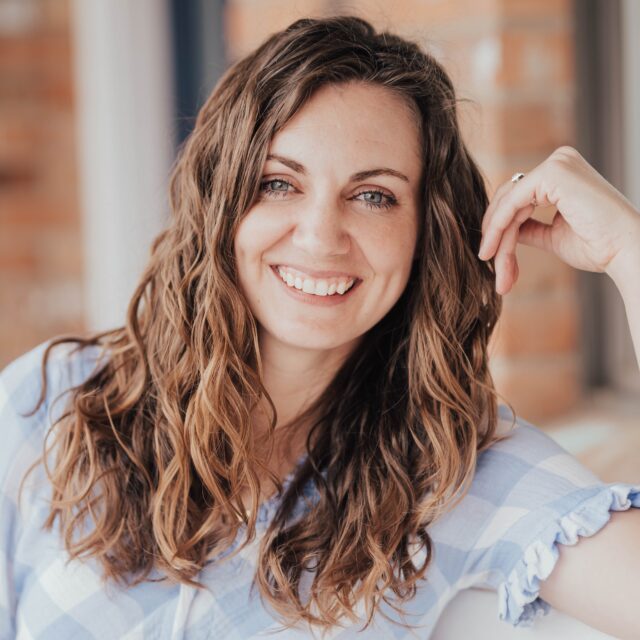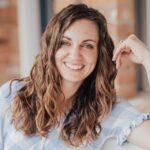 I believe small sewing moments can create great joy. Find your own "right" way to sew. -Heather