Easy DIY Pumpkin Costume for Adults
This post may contain affiliate links
Learn how to make an easy DIY pumpkin costume perfect for adults! Add HTV to an orange sweatshirt and top it off with a handmade pumpkin hat!
What's more classic than a pumpkin or a jack-o-lantern at Halloween? The best thing about this costume is that it is a great last minute costume.
It's so easy to make, and it's really comfortable to wear. It works for both men or women. I wore it to a Halloween party this week, and felt good the whole time.
I chose to do a classic happy face for the pumpkin, but you can do a silly or a scary face instead. It's great when you make it nice and big and noticable.
I did my face with iron-on vinyl and a Cricut Maker, but if you don't have a cutting machine you can sew a felt or fleece face onto the front instead.
What fabric works best for a pumpkin costume?
The best fabric to use for a pumpkin costume is felt. I love using felt for costumes because it is easy to sew, and it doesn't fray. The fabric doesn't need to be finished!
Do you love to sew? Try one of these sewing projects:
Easy DIY Pumpkin Costume
Supplies
Orange sweatshirt
Black iron-on vinyl
Cricut Maker and tools
Easypress 2
Scrap of orange felt
Scrap of green felt
1/2 yard of 1/2 inch double fold green bias binding
1 yard of brown 2 inch wide ribbon
Hot glue gun and glue
Alligator hair clip
Cut the face out of the iron-on vinyl with a cutting machine like the Cricut Maker.
Weed the face design.
Apply the iron-on vinyl to the front of the sweatshirt with an Easypress 2.
If you don't have a cutting machine, you can cut out a jack-o-lantern face from black felt or fleece. Sew the face pieces onto the front of the sweatshirt.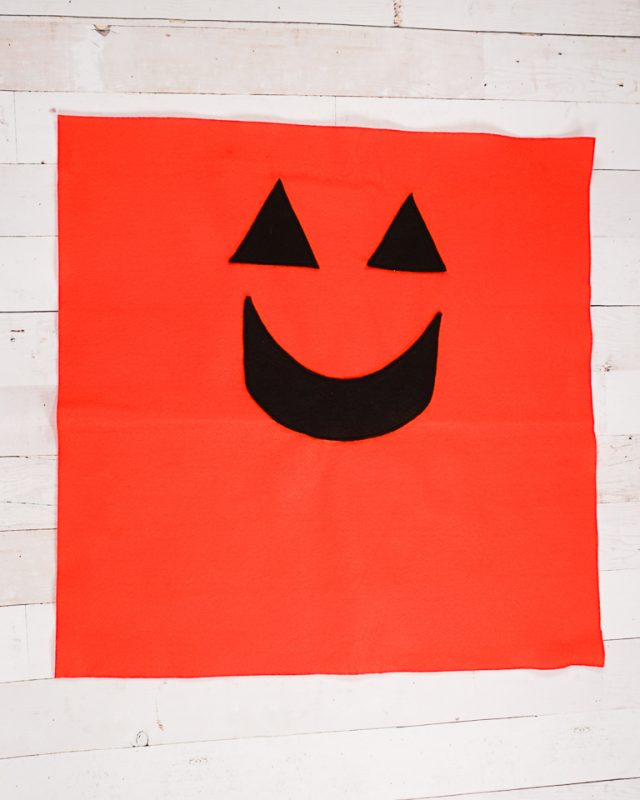 Layer the two orange circles on top of each other. Sew an "X" through the layers. Sew around the circles to close the edges.
Sew the bias binding closed and cut two pieces that are 9 inches long.
Sew some vein details on each green leaf.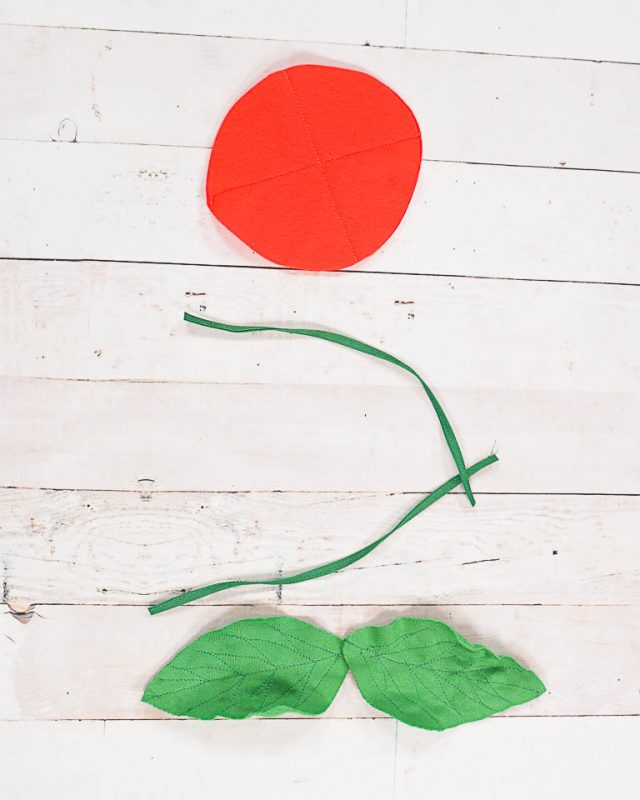 Layer the vines and then the leaves on the pumpkin top and tack in place.
Start rolling the ribbon until it creates a tube. Glue it in place.
Glue the stem onto the pumpkin top right over the tacked stitches.
Glue the clip onto the bottom of the pumpkin top.
Put the costume together with black leggings or jeans. You finished!
If you make something using this sewing project, I'd love to see! Please share it on social media with the hashtag #heatherhandmade and tag me!