Learn how to make placemats with a 1/2 yard of fabric!. This is a great beginner sewing project and can use the prettiest fabric!
My kids love having little jobs to do to help me while I make dinner. Sometimes they help me with the food prep and cooking, and sometimes they help setting the table.
It's always easier to get them to set the table when they can add placemats. They feel extra fancy and set everything out so nicely. I love that the placemats catch any little spills to make dinner clean up just a little bit easier. I'll teach you how to make simple and easy placemats with just a 1/2 yard of fabric!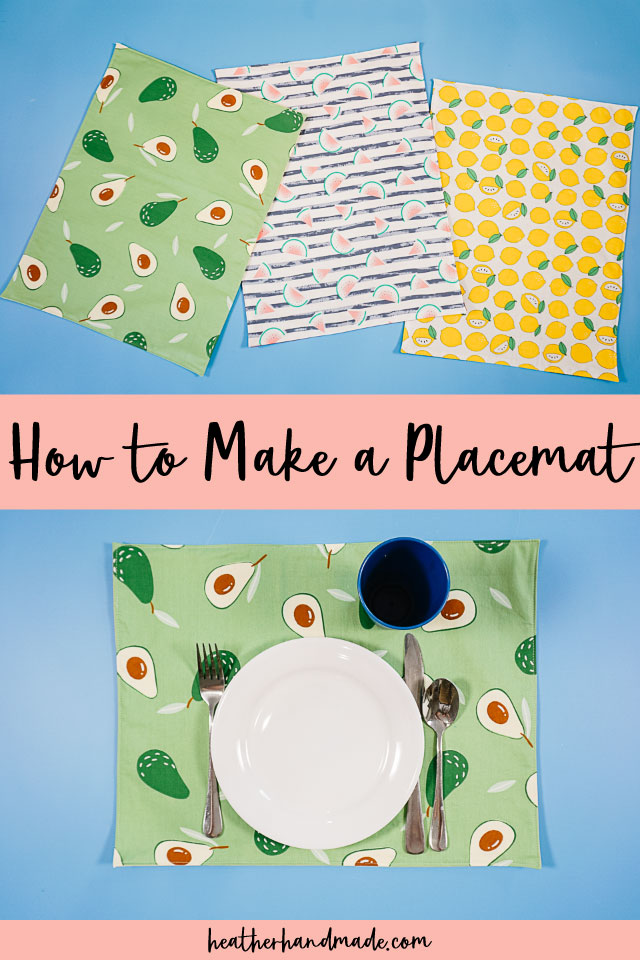 I went through my stash and picked out some of my food themed fabric since the placemats would be getting food on them all the time. I had so much fun picking the brightly colored fabrics!
What fabric should I use to make placemats?
Use a light to medium weight cotton fabric, like quilting cotton, since it absorbs spills and it's easy to wash. It also comes in every print and color imaginable.
Another tip is to use cotton fabrics that are medium to dark colors to help hide stains. You can always use any color you want, but you'll have to do more stain treatment if you want them to last longer.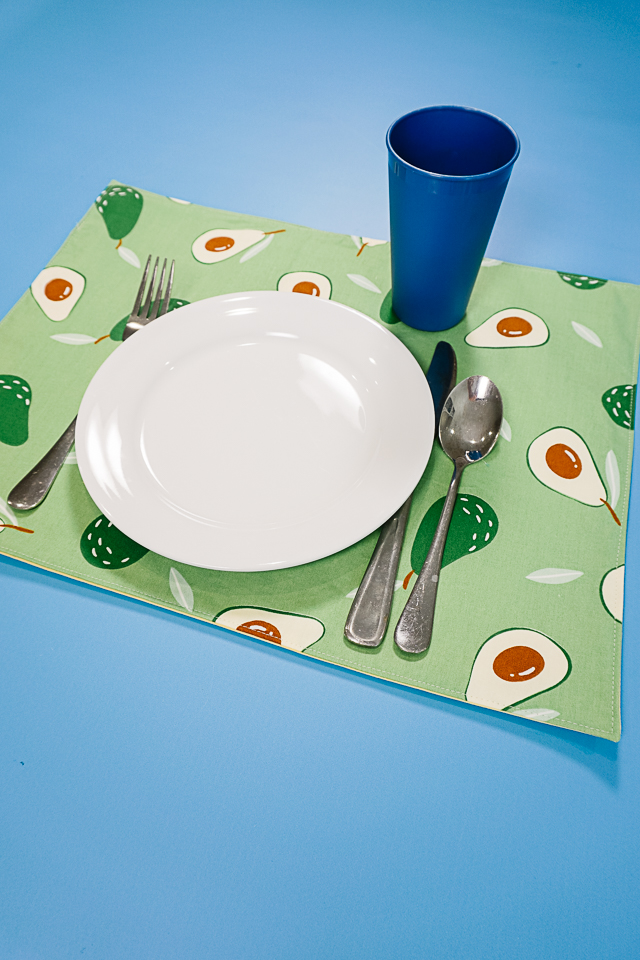 Do you love to sew? Try one of these sewing projects: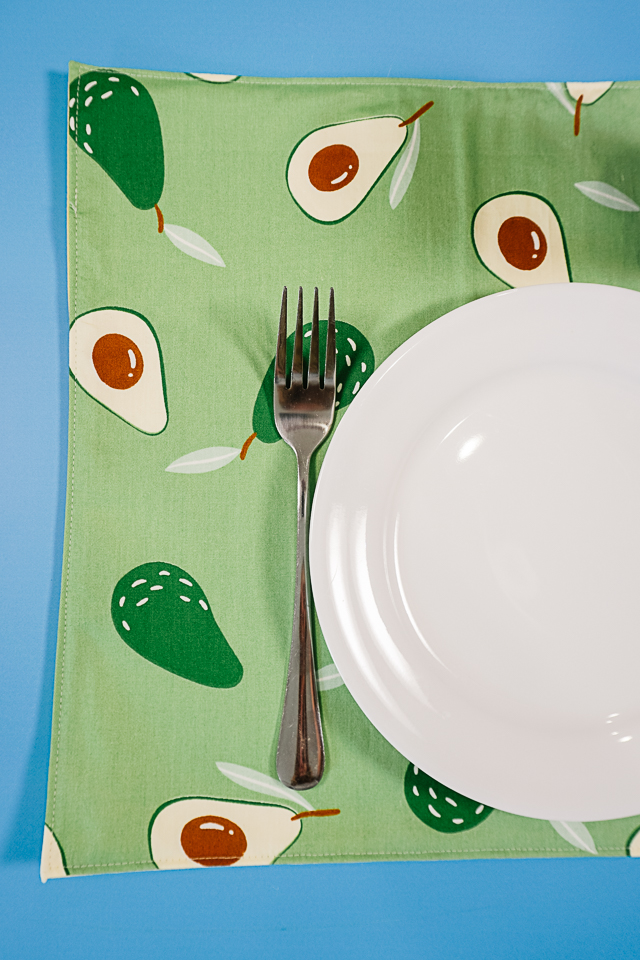 How to Make Placemats
Supplies
For one placemat: 1/2 yard of fabric for a placemat that matches front to back OR two fat quarters of coordinating fabric
1 yard of interfacing
Each of these six fabrics are fat quarters and I ended up making 3 placemats for my 3 kids: avocado front with pale yellow back, striped watermelon front with pink back, lemon front with dark green back.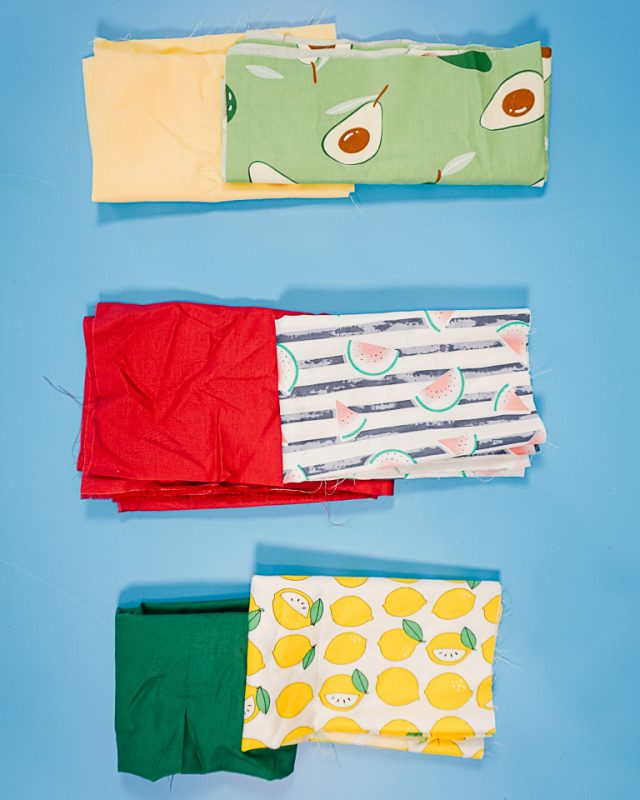 Cut the fabric to be 18.5 inches wide and 14.5 inches tall. Cut two for each placemat.
Cut the interfacing to be 18.5 inches wide and 14.5 inches tall. Cut two for each placemat.
Fuse the interfacing pieces to the back of the fabric pieces.
Optional: add a couple of stitches through the fabric and interfacing to keep them together and to give it a slightly quilted look. Since there's no batting or fusible fleece it won't be a lofty quilted look.
Place the two pieces of fabric right sides together and pin around the edges.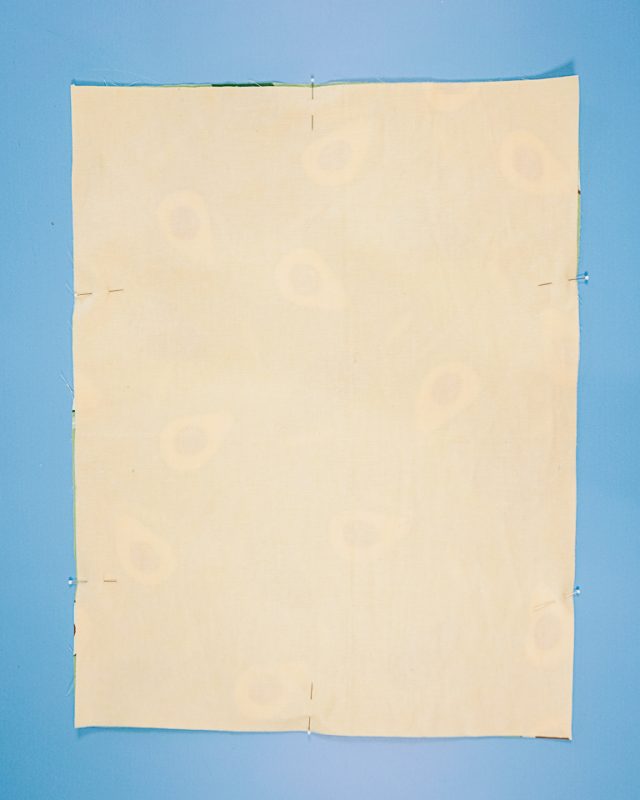 Sew around the edges and corners with a 1/4 inch seam allowance. Leave a 3 inch hole for turning. Backstitch when you start and when you stop.
Trim the corners to reduce bulk.
Turn the placemat right sides out. Use a point turner to poke out the corners. Be careful not to poke a hole through the corners.
Press the placemat flat to get nice crisp edges.
Edgestitch around the placemats 1/8 inch from the edge. Edgestitch over the hole to close it.
If you make something using this sewing project, I'd love to see! Please share it on social media with the hashtag #heatherhandmade and tag me!