How to Refashion a Dress into a Skirt
This post may contain affiliate links
Today is the first tutorial of Refashion Your Summer Wardrobe! It's a beginner dress refashion tutorial to get you started for the week! All of my tutorials this week have some sewing because I enjoy sewing that much, but there are even simpler refashions like dyeing, bleaching, ironing on patches, iron on vinyl, and embroidery, etc.
Don't forget to check out Kali's DIY Bow Sleeve Refashion too!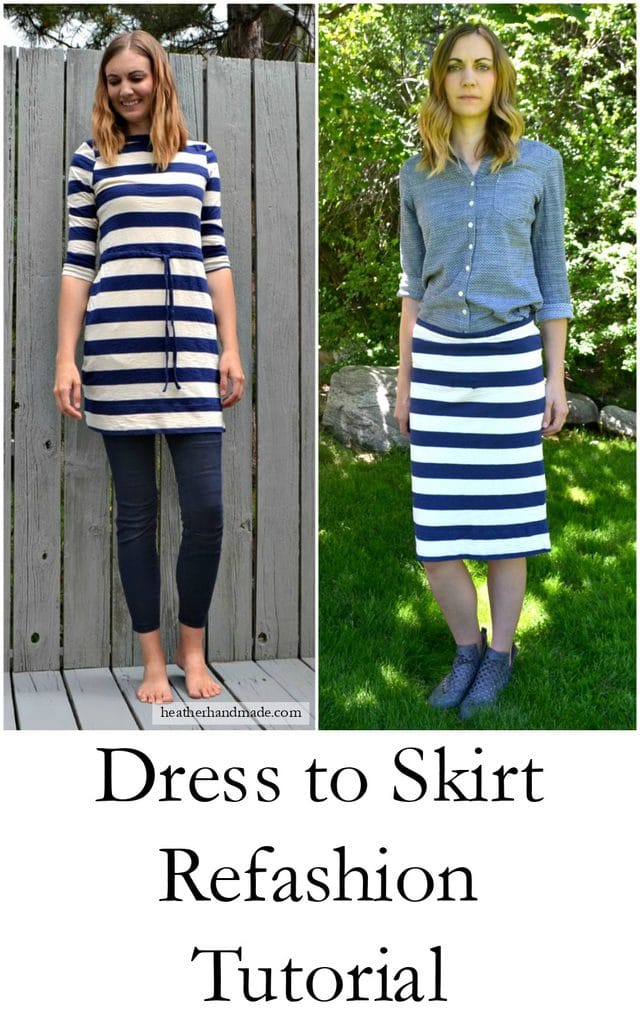 I was immediately drawn to this striped dress when I saw it at the thrift store, and I bought it for $6.99. I love the colors and the bold stripes. The fabric was thick so it's not transparent, but it's soft and perfect for hot summer days.
It was my usual size, and I actually thought it would work without any alterations. The first time I tried it on, I realized I was too tall for it. The boat neck cut into my neck. The armpit and the waist casing were too high.
Everything was just riding up, and it looked off and felt uncomfortable. So I chopped it and made it into a skirt!
Don't miss all these other dress refashions!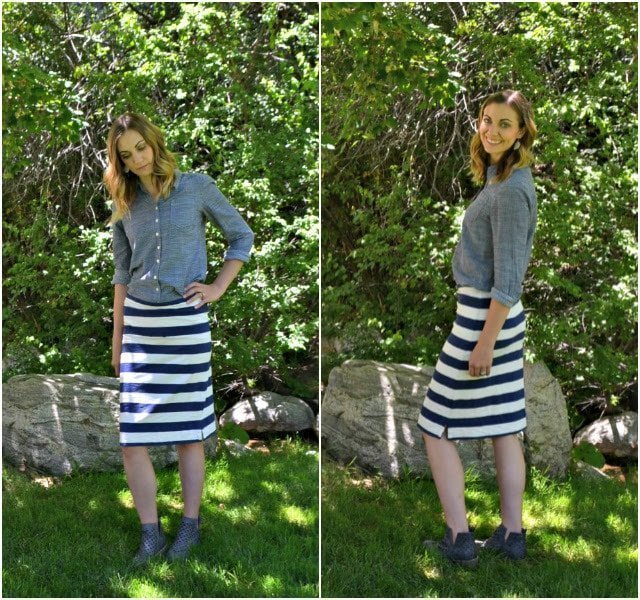 How to Refashion a Dress into a Skirt
SUPPLIES
dress without a waist seam
(length of your waist)
DIRECTIONS
Get your dress. Cut the dress right under the armpits. If you are working with a maxi dress, then cut the length that you want.
Take off details as needed. I removed the casing and ties, and I mended the two buttonholes on the front.
If you dress had any shaping, straighten the sides from original waist up to the cut edge.
Create a 1.25″ casing along the cut edge. Leave a 3″ hole to add elastic. (Here are some ideas for finding elastic to reuse.)
Insert elastic with a safety pin or bodkin. Close the hole. Finished!
Here's a giant list of free skirt patterns so that you can make something you'll love!
If you make something using this sewing project, I'd love to see! Please share it on social media with the hashtag #heatherhandmade and tag me!