Gift Basket for a Sewer with the Cricut Maker
This post may contain affiliate links
Sew a fabric basket and then fill it with lots of sewing gifts. Enjoy giving this gift basket for a sewer, sewist, seamstress, or sewing lover!
This is a sponsored conversation written by me on behalf of Cricut. The opinions and text are all mine.
I love the idea of handmade gifts, but I don't always take the time to make something. This gift basket is simple and easy because only the basket is sewn, and it's filled with sewing tools that any sewer would love to recieve.
This gift basket is personalized for someone who loves to sew, but you could use the same ideas for a baker, crafter, quilter, tailor, music lover, hand letterer, or artist.
I filled this basket with fat quarters, sewing tools with special details, custom tags they can put in items they sew, and custom buttons. I also thought about adding a treat, hand lotion, and a scented candle. It's really up to you what you add to the basket!
This basket would be perfect someone just learning to sew. I plan on giving it to my daughter who begs me to teach her how to sew. It would be so fun and special for her to open this basket and realize it means that she gets to sew with me!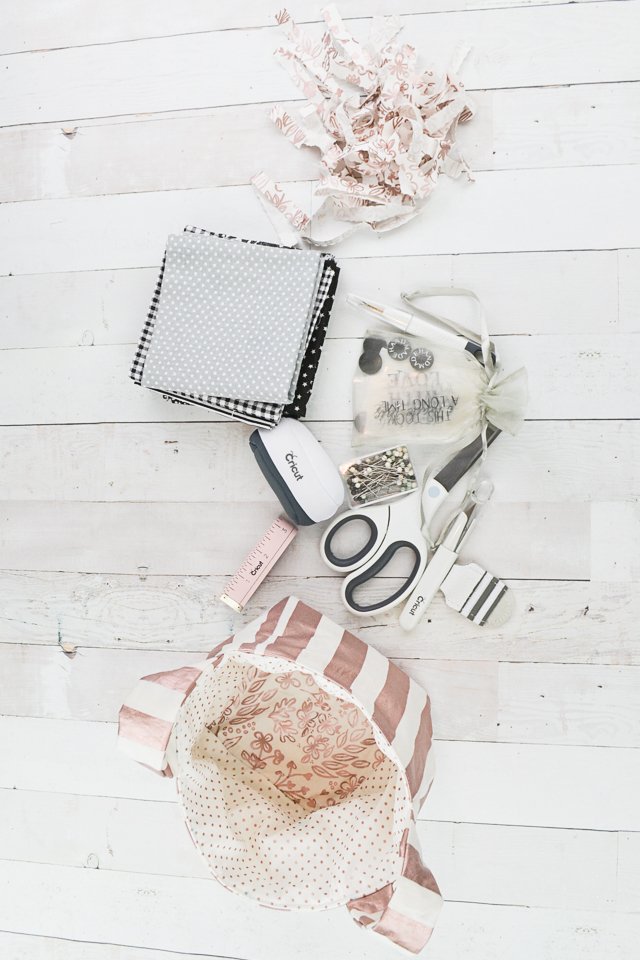 I made fabric filler using up a bunch of my fabric scraps. I used the new wavy rotary blade in the cricut maker, and had it cut out a bunch of rectangles. The result was rectangles with a wavy edge that doesn't fray. It's a nice use for scraps, and it looks so cute.
It's such a great filler for a gift basket! I love making gift baskets because they make easy gifts!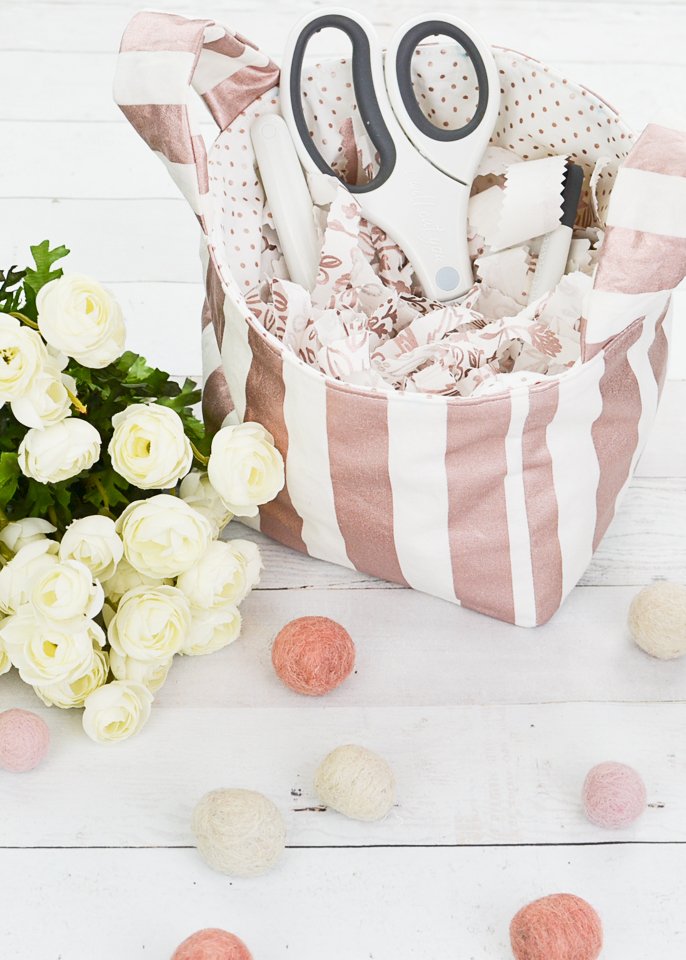 I would love to receive this gift of sewing goodies. You could add some of these seamstress gift ideas or one of these sewist gift ideas. I really love the gorgeous fabric basket. Even if some of the items might be a cheaper version than what they are used to, who doesn't love using a fresh seam ripper or a new pair of scissors?
Don't miss this big list of Cricut Maker projects to sew for gifts! I love a fun and easy Cricut Maker sewing project, and it's perfect for beginners!
gift basket for a Sewer
supplies
Cricut Maker* with rotary blade
Cut mats – pink and green
Wavy rotary blade
Transfer tape
Fabric- 1.5 yard
Interfacing – 1 yard
Fusible Fleece – 1 yard
New sewing tools
Flat top shank buttons
Small storage bag
Design Space project with phrases for tags, buttons, scissors, and seam rippers
Using the Cricut Maker cut out the permanent vinyl for the buttons, scissors, and seam ripper. Cut out the iron-on vinyl for the personalized tags. Cut the fabric pieces for the small fabric basket.
Cut all the different phrases and pieces separately. Carefully weed each one.
Transfer the permanent vinyl onto the transfer tape. I chose to do white on white for a really subtle look, but you can choose a bolder color.
Apply the permanent vinyl to the seam ripper. I did the phrase "second chance" for a good reminder that it's okay to rip out a seam and try again.
Apply the permanent vinyl to the fabric scissors. I did the phrase "i will cut you" to hopefully protect your scissors from paper and unknowing users.
Apply the permanent vinyl to the buttons. I've actually done a full tutorial on how to make custom buttons with premium vinyl if you need some help!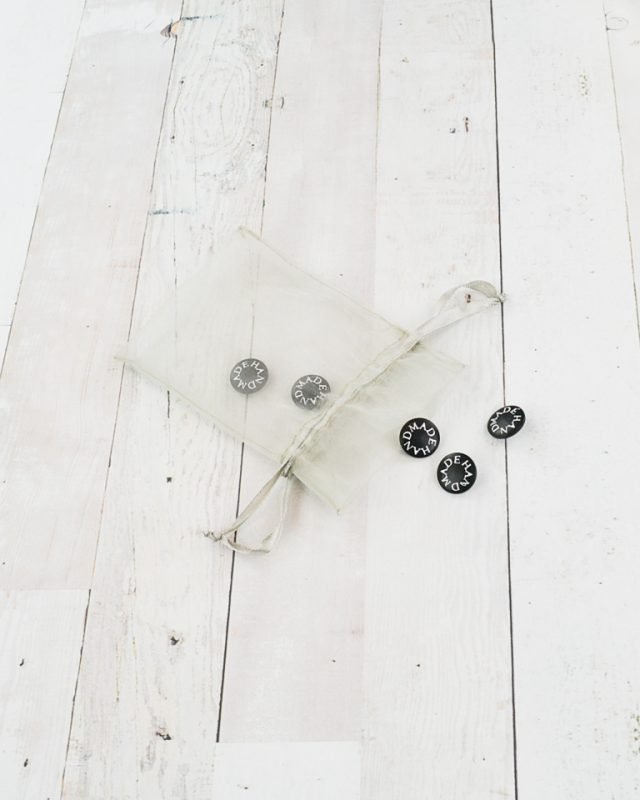 Weed the iron-on vinyl for each tag. I love all these funny, sweet, and silly sayings.
Stick each iron-on vinyl on a piece of wax paper to protect it. Give it as tags ready to be ironed on handmade clothing.
Alternatively, you can apply the iron-on vinyl to scraps of fabric. Cut a large area around each phrase and give the tags this way so they can be sewn into a handmade item.
Put all the small items in a fabric bag so they don't get lost in the basket. I put the custom buttons, fabric tags, and unused tags in the bag together.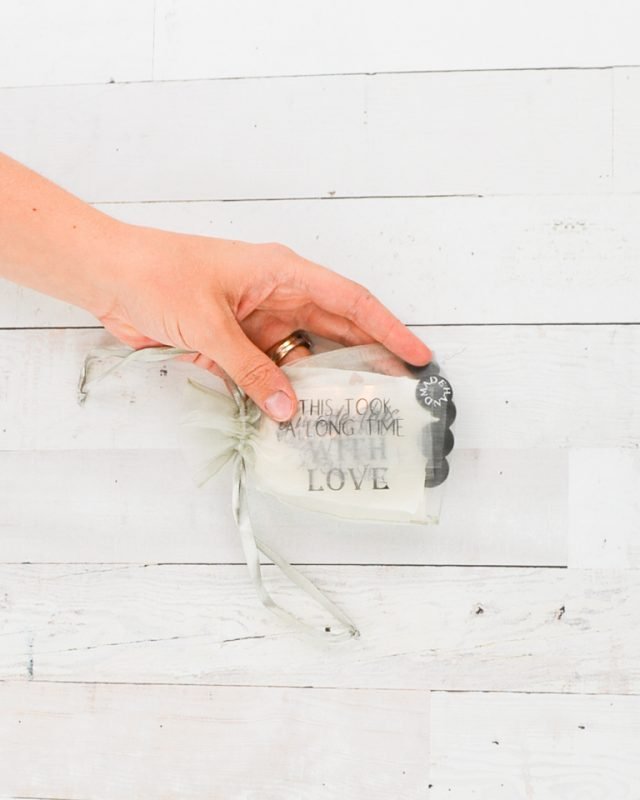 Stick scrap pieces of fabric 12 inches by 12 inches onto a fabric mat. Use the wavy rotary blade to cut wavy rectangles. Cut multiple mats of fabric this way to create your fabric filler for the gift basket.
Fuse the interfacing to the outer fabric basket pattern pieces.
Sew the basket as directed in the Simplicity pattern instructions. The only changes I made were to add fusible fleece to the lining pieces to make the fabric basket a little more sturdy.
If you make a gift basket for a sewer using this tutorial, I'd love to see! Please share it on social media with the hashtag #heatherhandmade and tag me!