Free Cloak Sewing Pattern
This post may contain affiliate links
Learn how to make a cloak with a free sewing pattern. I used this pattern to make a DIY Little Red Riding Hood costume.
I've always loved the classic fairytale story characters, and I've always wanted to create them. We have a big gray dog who would make the perfect "Big Bad Wolf", so I made my littlest daughter a DIY little red riding hood costume with a free cloak sewing pattern.
They look so cute together, and they are actually the best of friends! Now my daughter wants to wear this cloak for everything and everywhere which is fine by me!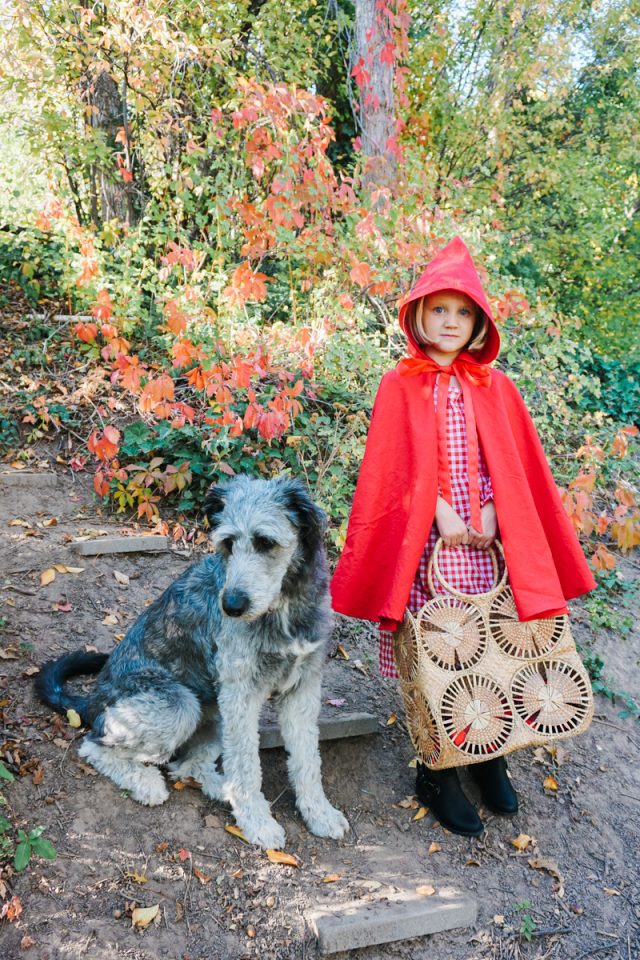 What fabric should I use to make a cloak?
This pattern is made for woven fabric like quilting cotton, chambray, linen, satin, canvas (if you want a really stiff cloak), etc. Look at your character you are creating and choose the fabric based on that.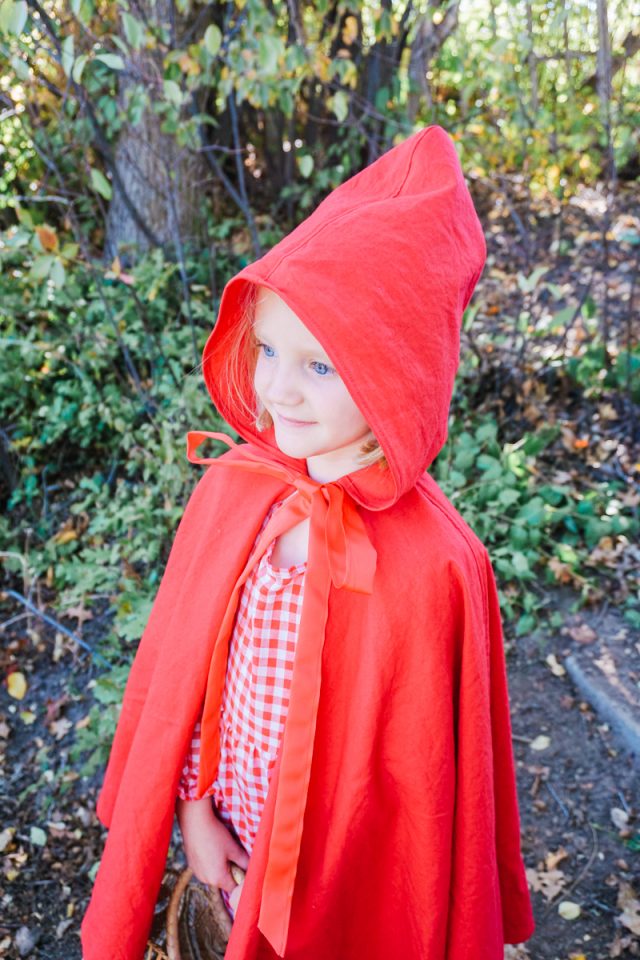 What sizes does the pattern come in?
The pattern comes in children sizes 3/4, 5/6, 7/8, and 9/10. This pattern doesn't really require much fitting so I combined some of the sizes. The pattern comes with two hood versions, pointed and curved, and it comes in two lengths, waist length, and knee length.
This DIY little red riding hood version has a curved hood and a knee length in size 7/8.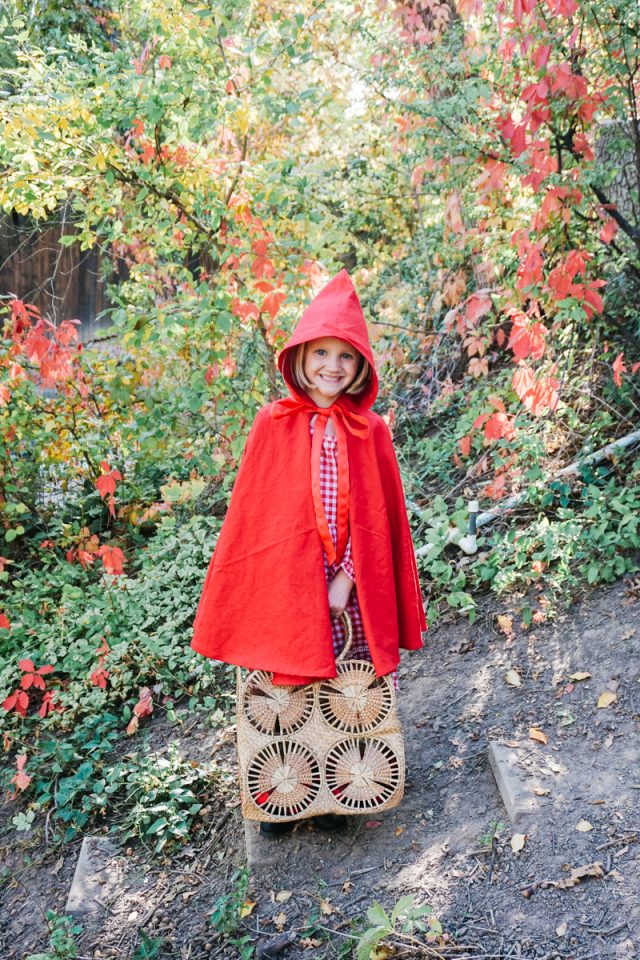 Can I make the cloak lined or unlined?
I show how to make the cloak unlined. It uses a fair amount of fabric for just the unlined version, but there is a lot of seam finishing.
If you want to line the cloak, cut double of everything and instead of hemming the edges sew the two cloaks with right sides together all the way around the edge. Leave a hole, turn right side out, and then close the hole.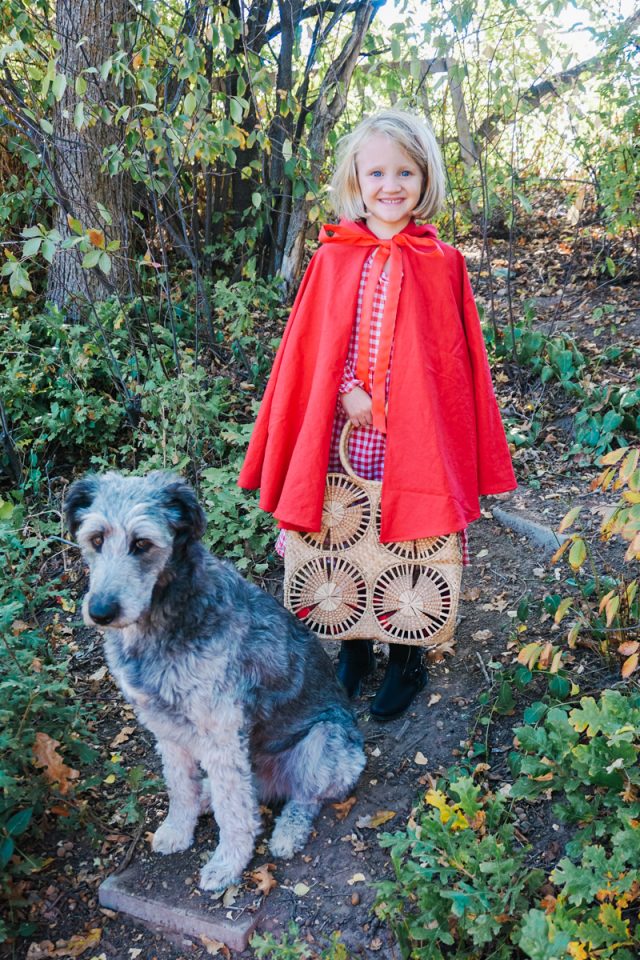 What is a PDF sewing pattern?
A PDF pattern is a sewing pattern designed on the computer and organized so that it can be printed on several letter or A4 size pieces of paper.
I love using PDF sewing patterns because if the pattern gets ruined or if my children or I changed sizes, I can always print it again. It'll never be destroyed since I have a digital version!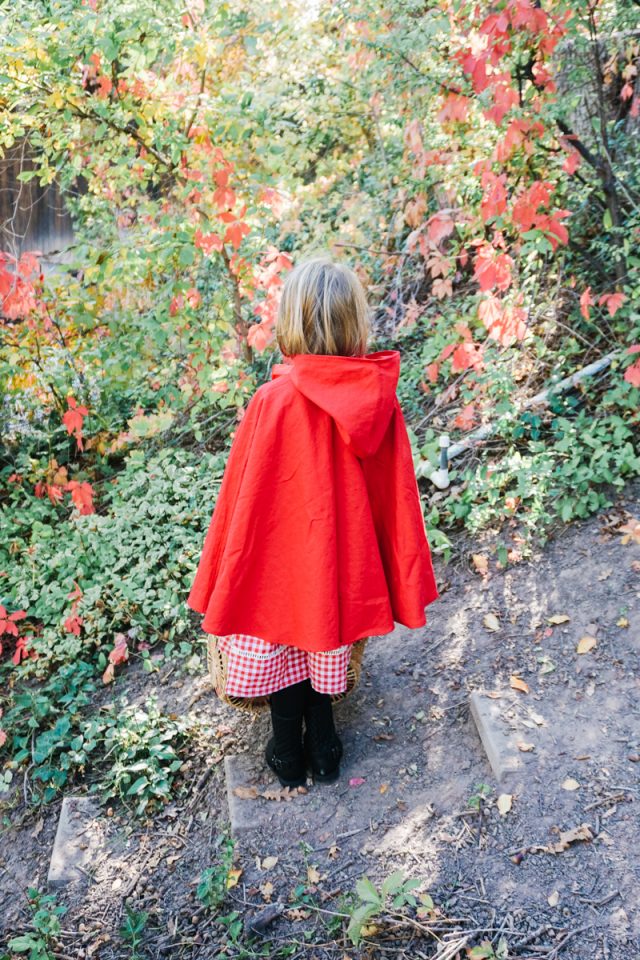 How do you use a PDF sewing pattern?
Open the PDF on a computer and click print. When printing make sure that the scaling is set to 100% or no scaling so that the pattern prints at the correct size.
Once the pattern is printed it can be taped together to get the full size. Then the pattern can be cut for each pattern piece size or individual sizes can be traced so that the pattern can be used again and again.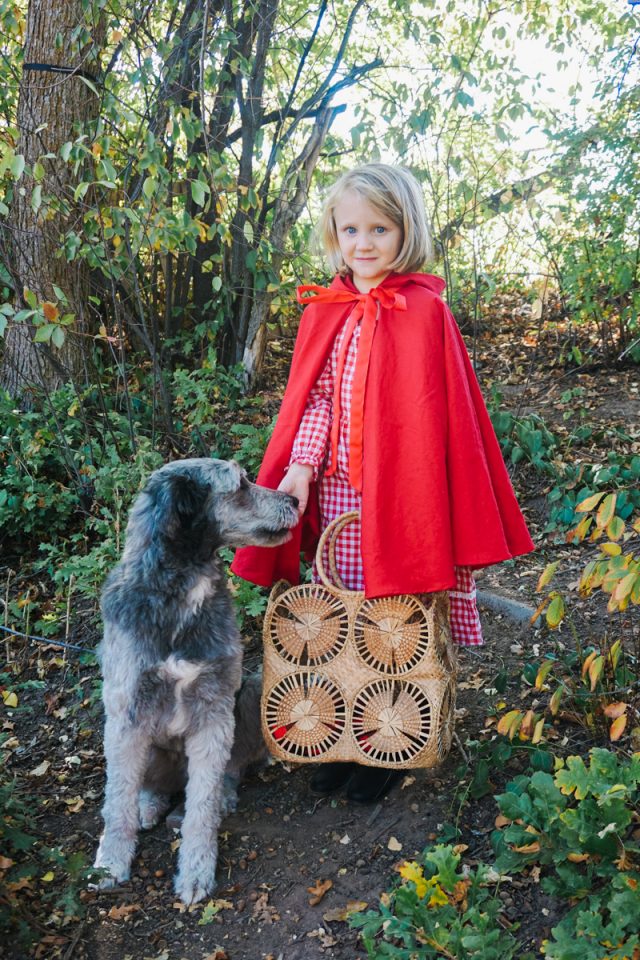 Do you love to sew? Try one of these sewing projects: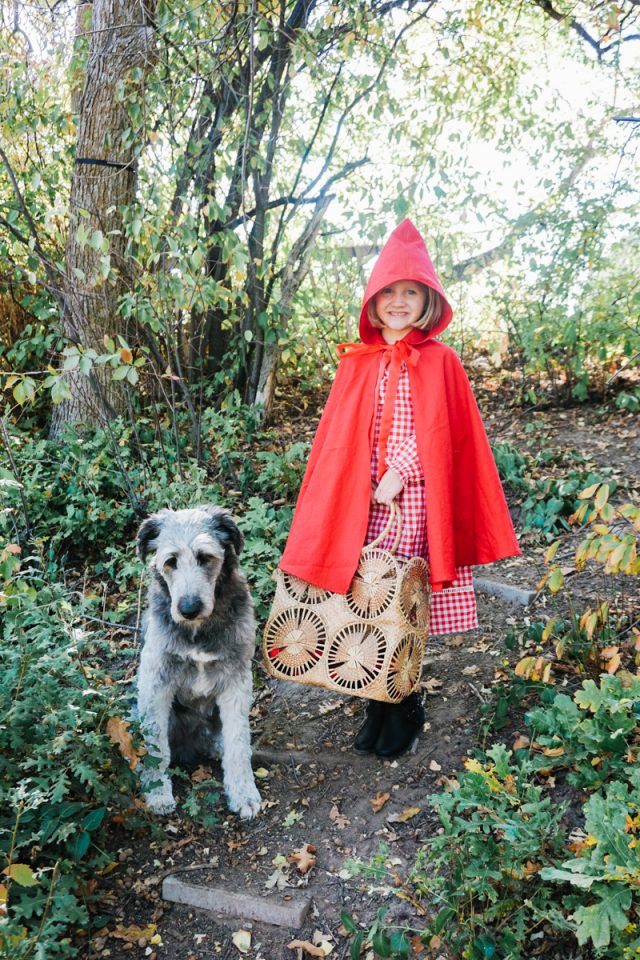 How to Make a Cloak
Supplies
Free cloak sewing pattern – get it at the end of the post behind the locked content box
2-4 yards of woven fabric – 2 yards for the smaller sizes and for wider apparel fabrics, 4 yards for thinner quilting cotton fabrics
Matching ribbon or button and elastic loop
Do you just want the pattern and tutorial as a PDF? Get the pattern and tutorial for just $4. You won't need to access the internet every time you want to make it. Or get the Pattern Bundle with ALL the PDF tutorials!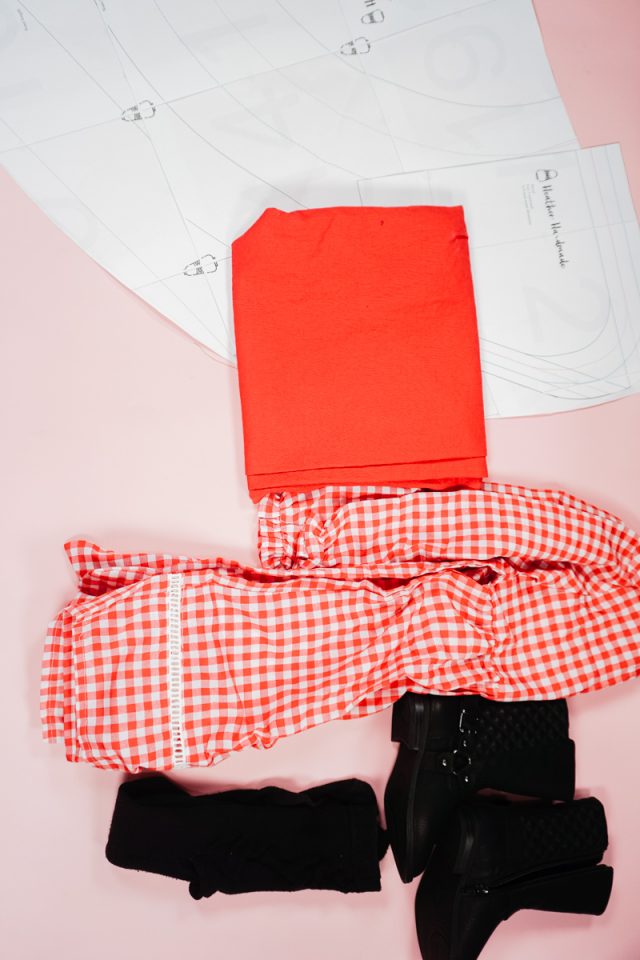 Cut out two hood pieces mirrored and two cloak pieces on the fold.
If your fabric is not quite big enough you can cut one of the cloak pieces not on the fold creating two quarter circle pieces and one half circle piece. Sew two side seams instead of one center back seam.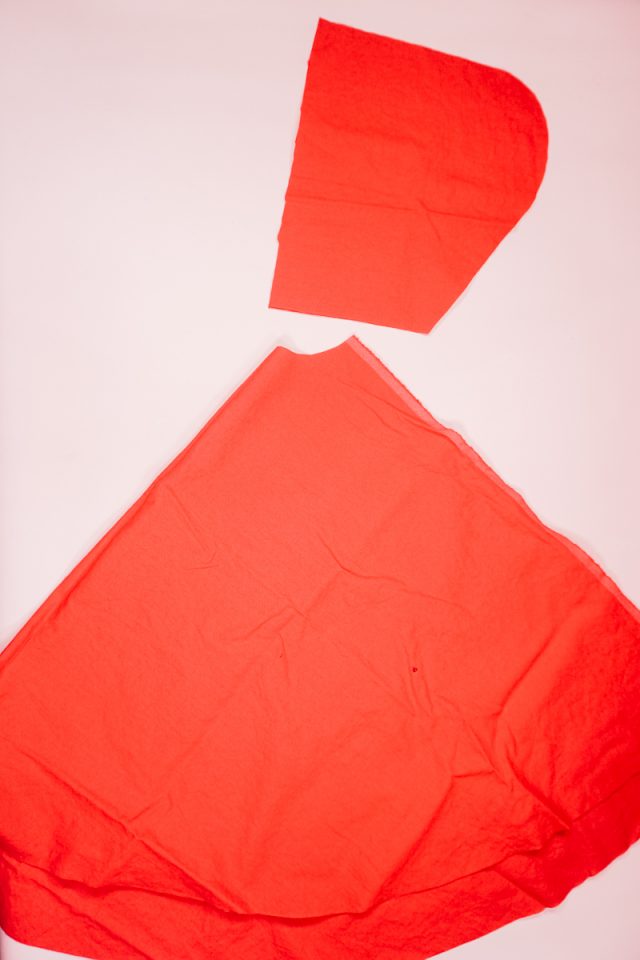 Match up the top and back edges of the hood. Sew right sides together and backstitch when you start and when you stop. Finish the edge.
Match up the center back straight edges of the cloak pieces. Sew right sides together and backstitch when you start and when you stop. Finish the edge.
I didn't have enough fabric and cut out three cloak pieces (like I explained above) and had two sides seams.
Match the hood to the cloak neckline with right sides together. Sew the seam and backstitch when you start and when you stop. Finish the edge.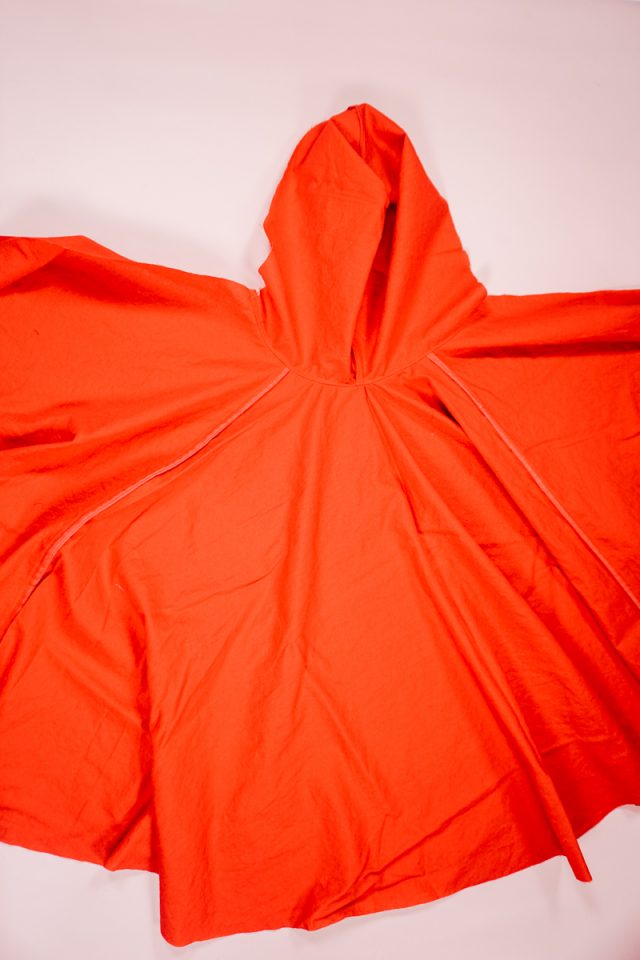 Hem the center front of the cloak and hood with a 1/4 inch double fold hem. Hem the bottom of the cloak with a 1/4 inch double fold hem.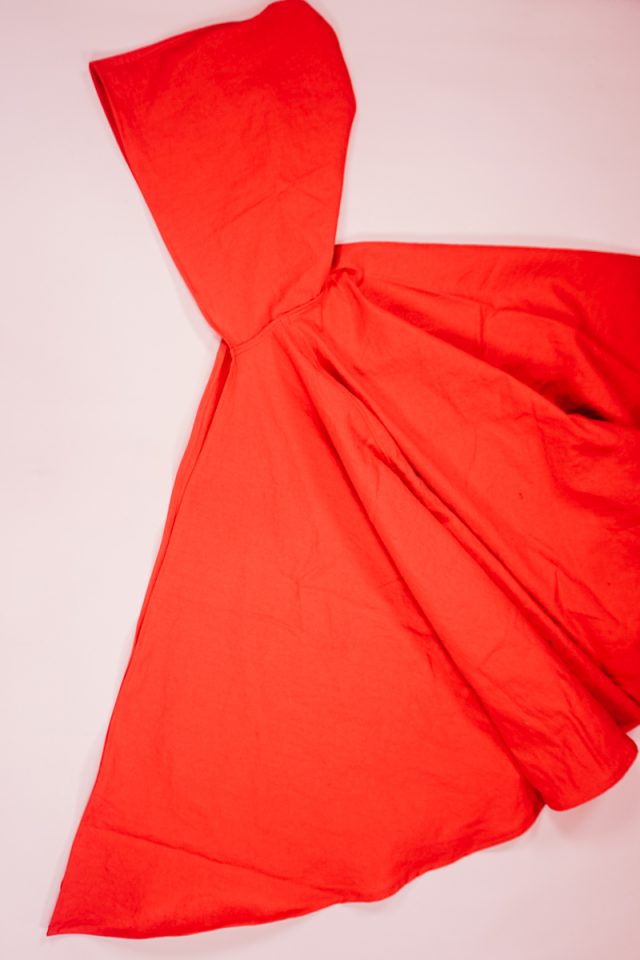 Sew a ribbon around the neck to tie the cloak on or add a button and elastic loop closure. Put the whole costume together!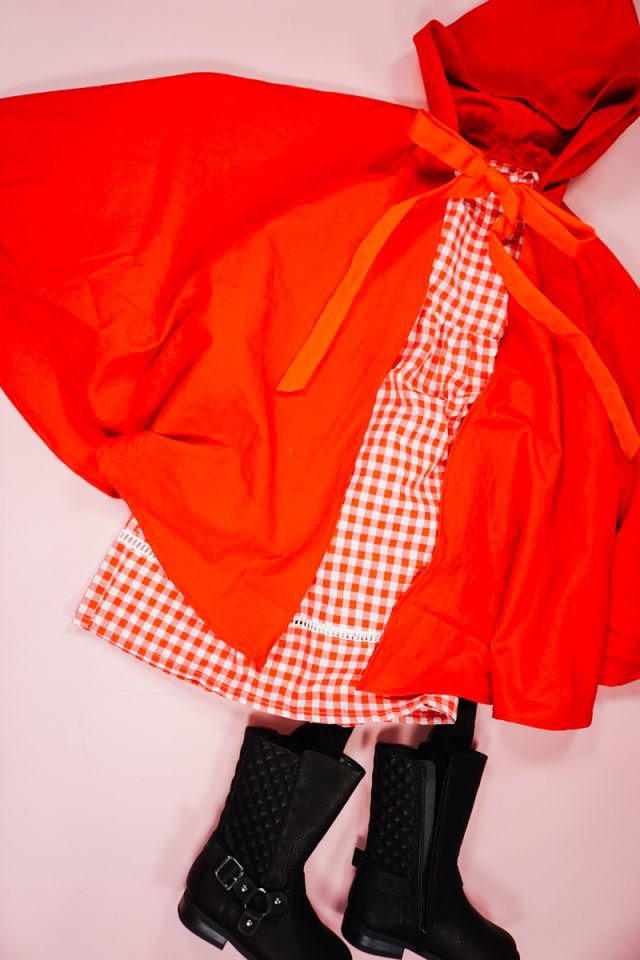 Get the Free Sewing Pattern here!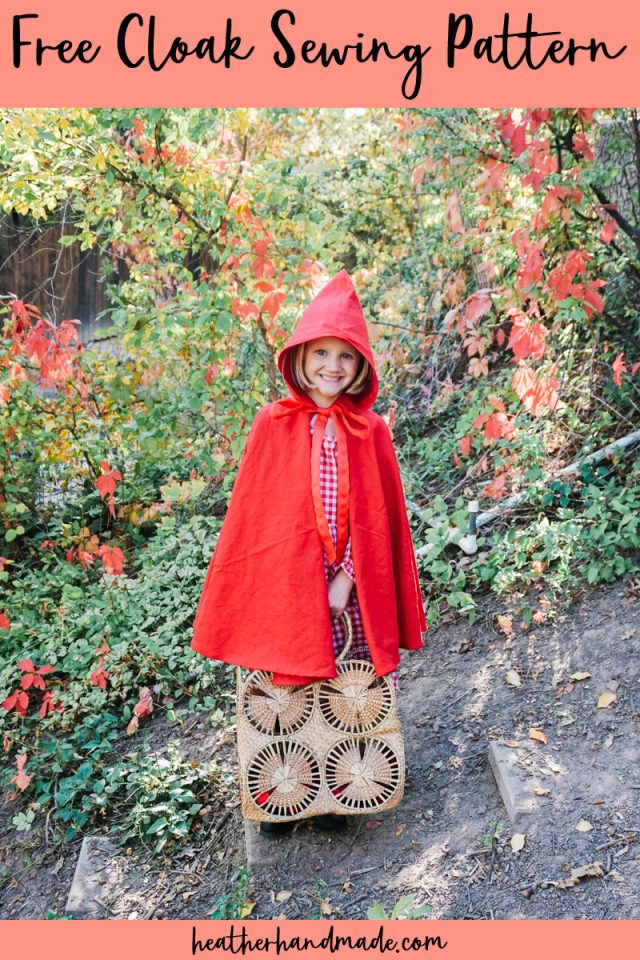 If you make something using this sewing project, I'd love to see! Please share it on social media with the hashtag #heatherhandmade and tag me!