DIY Professor Trelawney Costume
This post may contain affiliate links
Learn how to make a DIY Professor Trelawney inspired costume with a green dress, accessories, and a upcycled sweater vest.
My husband picked a Harry Potter character costume this year, so I wanted to pick character that would go with it. He picked Professor Quirrell since he's bald, and I chose Professor Trelawney since I have wavy hair.
I didn't comb and frizz out my hair for these pictures since it was wash day (iykyk), but I plan on doing that when it's really Halloween. My wavy hair still worked for these pictures, it's just not quite as accurate.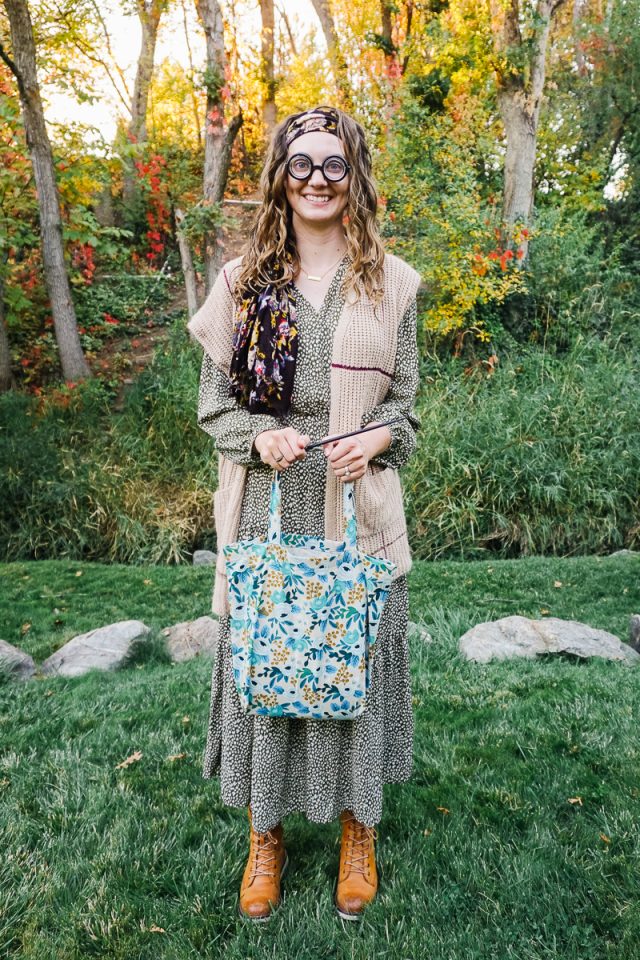 The best part of this costume is that I could use a green dress and brown boots that I already had. I thrifted a large, cozy cardigan and turned it into a vest.
I thrifted the head scarf and bought the glasses, and I just used my floral tote bag that I made using my free tote bag sewing pattern. Then my kids let me use one of their toy wands to finish the outfit.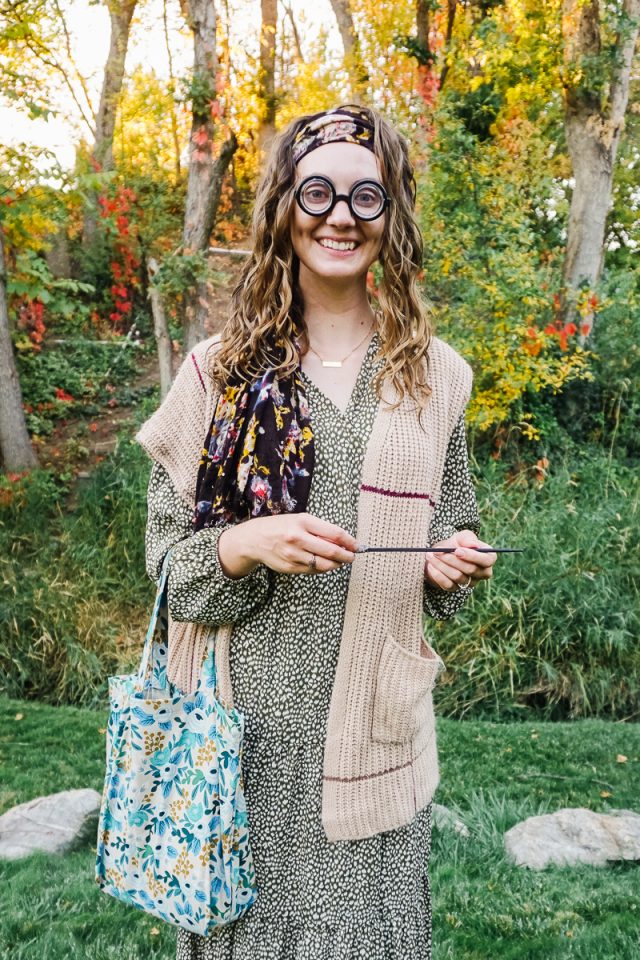 I love being able to use what I have to make a costume, and then buy or thrift a couple of the pieces. All of these things will get used again and again.
I am worried about being cold on Halloween since we have had really cold evenings in the past so I might have to wear a wool coat over top.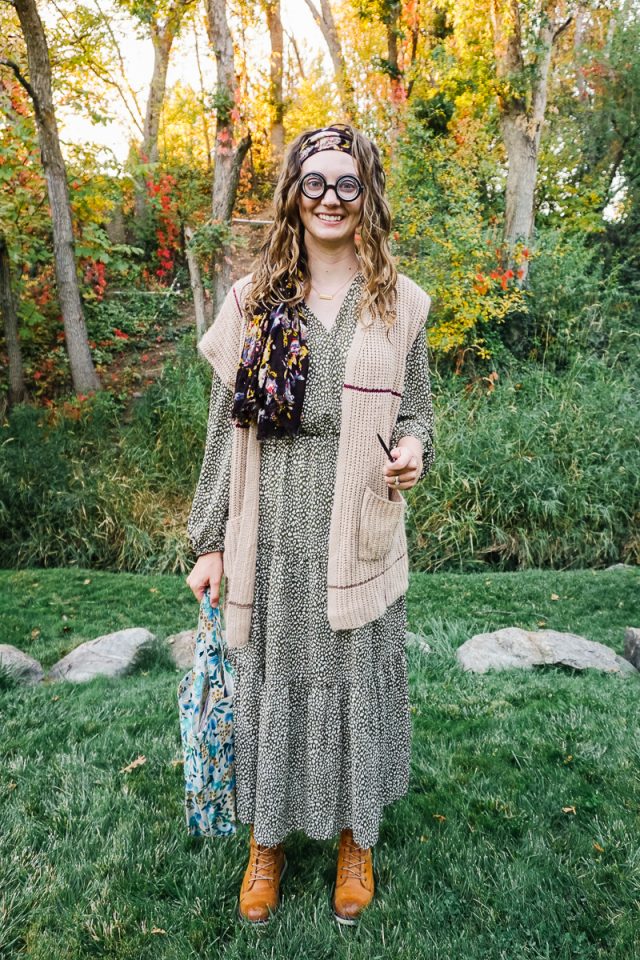 Why Make DIY Costumes?
I love to make DIY costumes for my kids for lots of different reasons. I love that I can make something unique that they want and that they'll love. We live in a cold area so I always have to plan costumes to be warm so that they don't have to wear a jacket or coat over it.
I almost always save money by reusing fabric and clothing from my stash and around our home, and I have found that reusing clothing saves me time.
Homemade DIY costumes use stronger and more durable fabric that will last through months and years of dress up and play time. I love that the costumes will last longer than one night of trick-or-treating.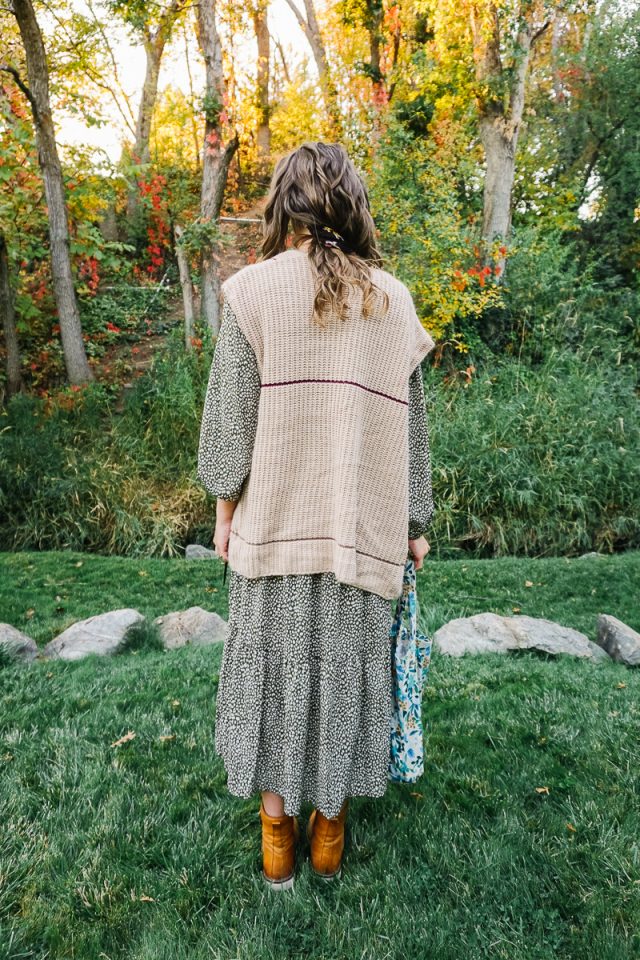 Do you love to sew? Try one of these ideas: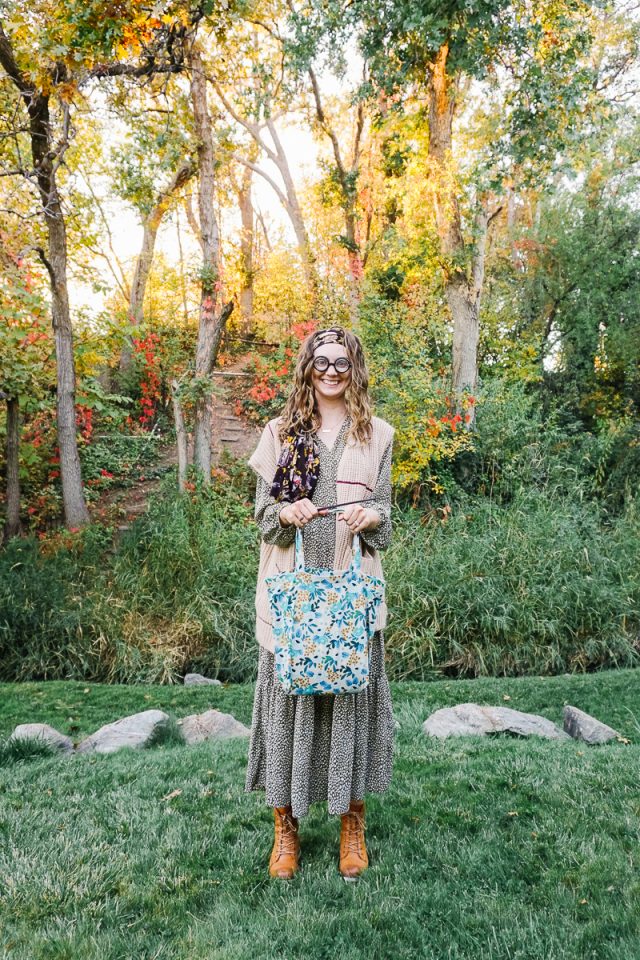 DIY Professor Trelawney Costume
Supplies
Green dress – she wears a green shirt dress in the movie, but I had a hard time finding one
Soft patterned scarf to wear as a headband
Large, cozy cardigan that will have the sleeves removed
Big round glasses
Wand
Brown boots
Colorful tote bag or carpet bag
Cut the sleeves off of the cardigan at the sleeve/shoulder seam.
Fold the raw edges of the armhole over 1/2 inch. Zigzag around the armhole to keep the edges in place and to finish the edges.
You finished and you can put the whole costume together!
If you make something using this sewing project, I'd love to see! Please share it on social media with the hashtag #heatherhandmade and tag me!