DIY Mandalorian Inspired Costume for Kids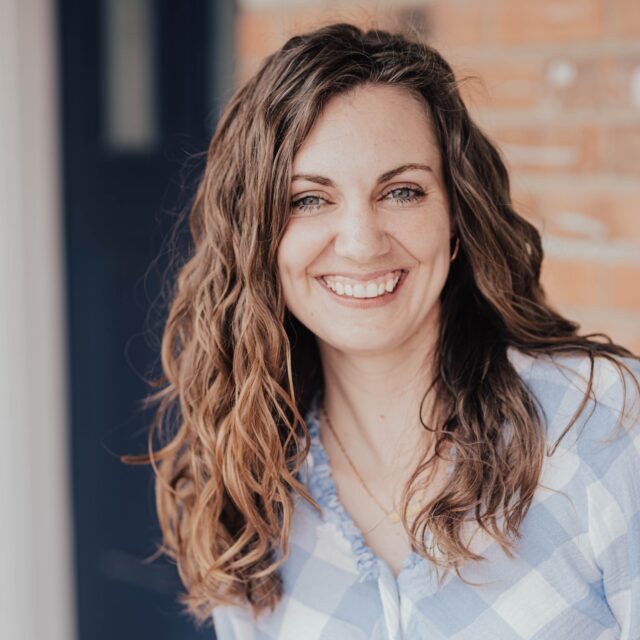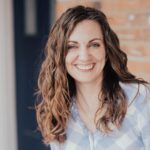 This post may contain affiliate links.
Learn how I made a DIY Mandalorian Inspired costume for my son using fabric, EVA foam, and faux leather. I show my process and link to some free patterns.
Last year we watched the Mandalorian episodes with my son, and we all loved it. We've shown him some of the Star Wars movies, and he really enjoys it.
I knew once he saw the show that he would want to be Mando for Halloween. I was kind of dreading it because I knew it would be a really hard costume to make. It was worth it to see my son's face light up, but I hope I don't have to make a costume like this anytime soon.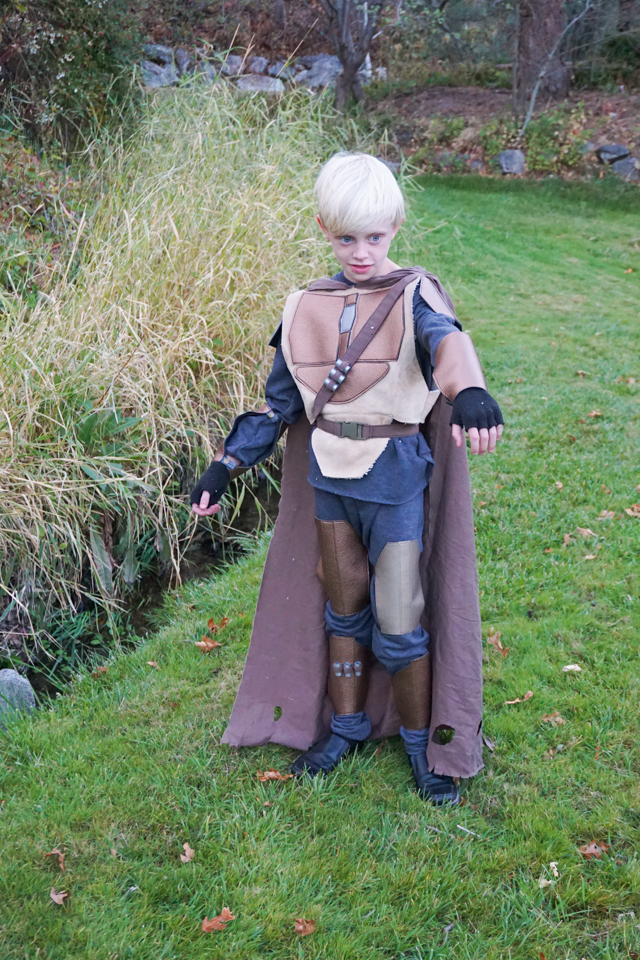 Now this costume I created is far from accurate. That is why I called it inspired because the colors and feeling is the same, but I left off a majority of the details. I did create lots and lots of accessories that I will explain.
I tried making a helmet two different ways and neither of them looked good, so I'm still researching what to do. Since he can't wear helmets at school, I'm going to have him wear a Mandalorian fabric face mask instead.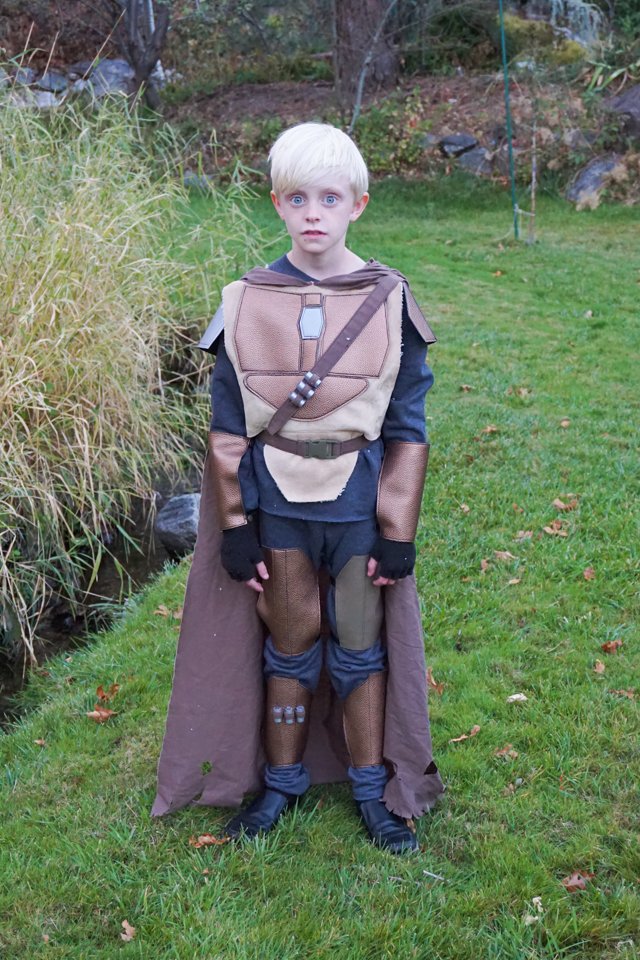 I created a "leather" looking chest base made out of tan sherpa. I attached the cape, chest armor, and shoulder armor to this piece. All of the armor is faux leather glued and sewn to thin EVA foam.
I couldn't find a Mandalorian armor template that was from the show, but I did find Mandalorian armor patterned after both Boba Fett and Jango Fett. I used both for different parts of the costume, and did a lot of altering to make it how I wanted it.
I created a belt that has a shoulder strap and I added a couple of faux bullets. The bullets are faux leather rolled up and glued.
The cape is a piece of a brown sheet cut and sewn onto the chest piece. All of the edges are raw, and I cut and shredded the hem for the right look.
There are four leg armor pieces and two arm armor pieces. They are all faux leather in different colors sewn to EVA foam with straps to put them on and take them off.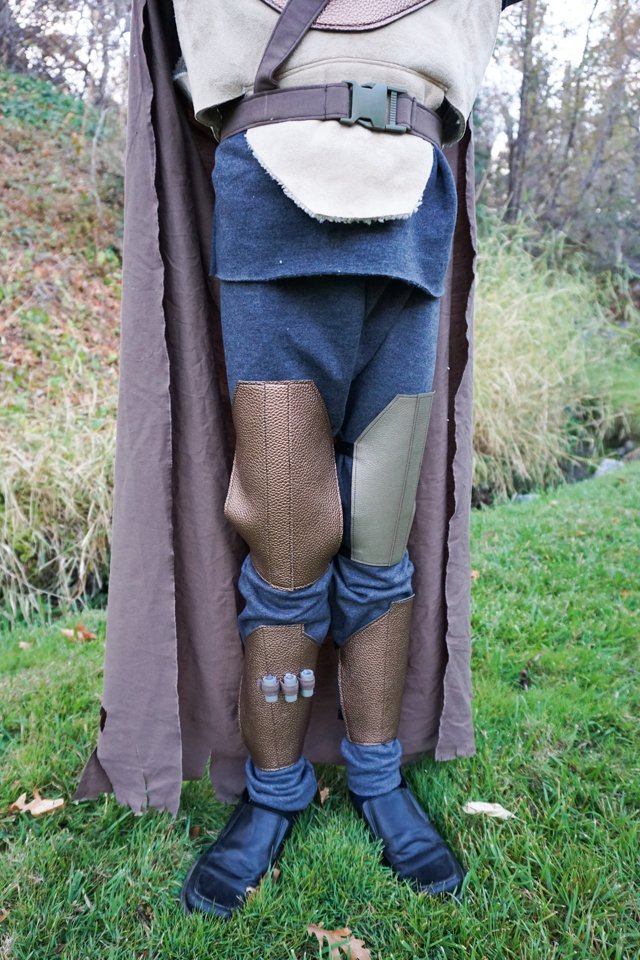 I added a couple of bullets to one of his shin armor pieces. The two shin pieces are actually shaped differently so this helps him remember which one goes on which leg.
Do you love to make costumes? Try some of these ideas:
diy mandalorian inspired costume
supplies
gray or brown sweatshirt and pants for the base
brown fabric for the cape and belt
faux leather in maroon, tan, black, and silver – I used this kind *and Cricut faux leather*, and the Cricut faux leather looks more like armor.
Free Mandalorian armor templates – I did a mix of Jango Fett and Boba Fett (the one I chose came in multiple sizes so I chose the size closest to my son's height)
sherpa
gloves with the fingers cut off
gluestick
1 buckle
Start with your sweatshirt and sweatpants base. Fit is as needed. I cut off the hem band for a more rugged look, and I cut off the ankle bands and thinned the legs a lot. I might go back and cut off the sleeve bands.
I used one of the armor templates to cut essentially a big vest out of sherpa. I did the smooth, tan side on the outside to look like Mando's armor base.
I sewed the brown cape right onto the neckline of the vest. I even sewed the cape onto the shoulders (all gahtered up) so that it would stay behind my son's shoulders.
I used the free armor template and cut out all the EVA foam pieces. I would glue the paper pattern onto the foam and then cut it out.
Then I used the templates to cut out the faux leather in all the right colors.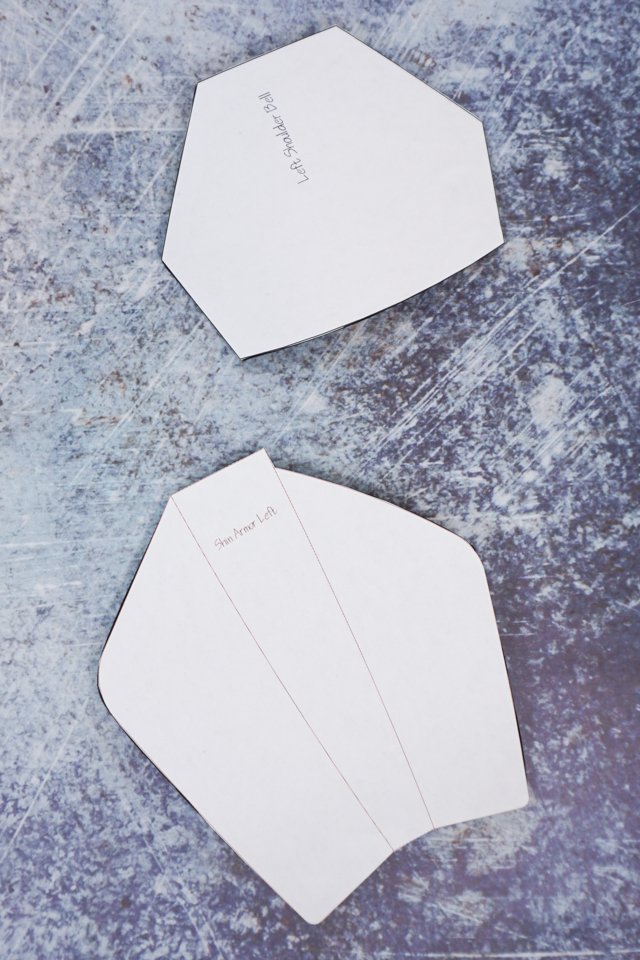 I layered the faux leather on top of the foam and then sew around the edges. Some of the armor pieces I added stitching details or sewed an extra strip of faux leather down the center.
I added straps and plastic snaps to the backs of the forearms, thighs, and shins so that my son could put them on over his clothes. I wanted to keep them separate from his clothes so he can wear them after Halloween.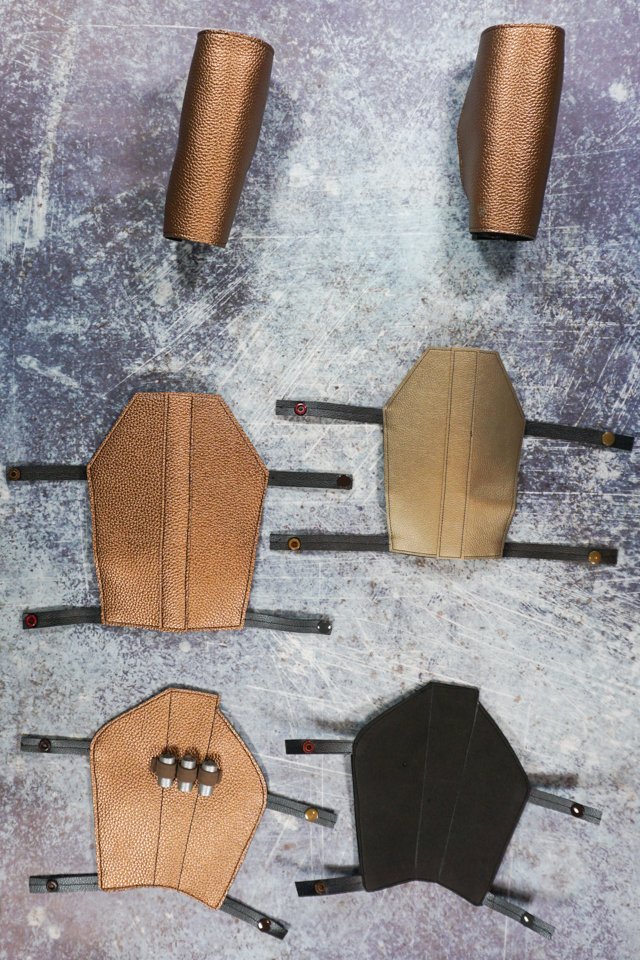 I sewed the chest armor pieces and the shoulder armor pieces right onto the sherpa. That makes it easier to put the top part of the costume on all in one piece.
I made a belt and shoulder strap with brown fabric and interfacing. I added a buckle in the front so my son and take it on and off.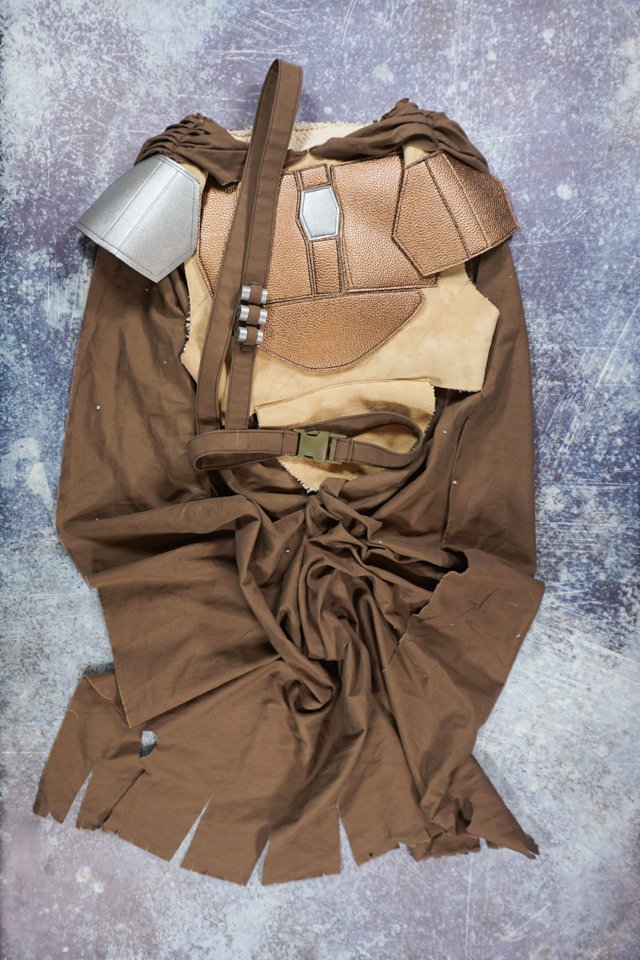 Put all the pieces together to make the DIY Mandalorian inspired costume for kids. All the accessories made it time consuming to make, but it's worth it to be able to separate it as needed.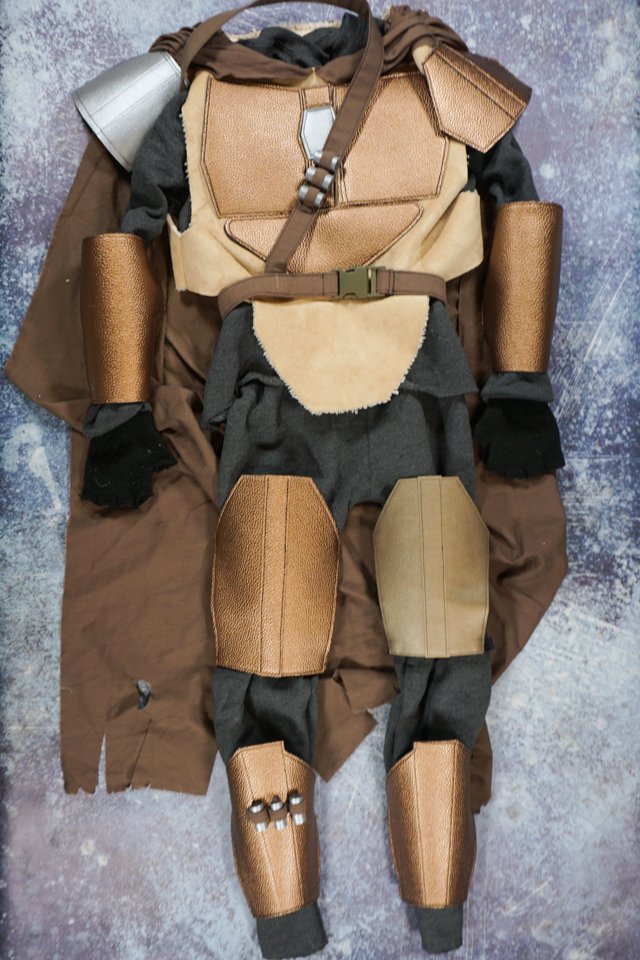 If you make something using this sewing project, I'd love to see! Please share it on social media with the hashtag #heatherhandmade and tag me!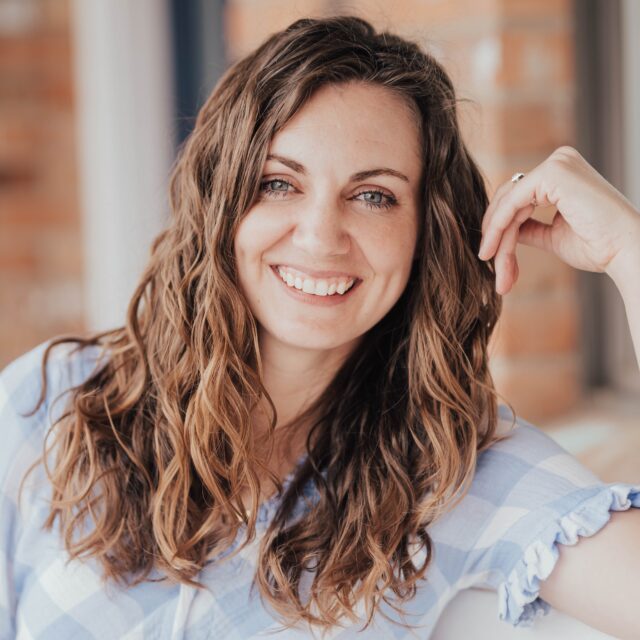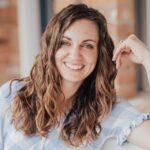 I believe small sewing moments can create great joy. Find your own "right" way to sew. -Heather