DIY Felt Stocking with a Free Sewing Pattern
This post may contain affiliate links
Learn how to make a DIY felt stocking with a free sewing pattern. Felt makes appliques and designs on the Christmas stockings easy!
A couple of years ago I made some beautiful DIY felt Christmas stockings that I hang up on our fireplace and you can see right when you walk in our front door. I love the look of felt contrasted with the bias binding. It looks handmade and beautiful, but it's also sophisticated in a cozy way.
I finally went back and created a sewing pattern and instructions so that you can make them too! I even digitized the five different applique details to personalize the stockings.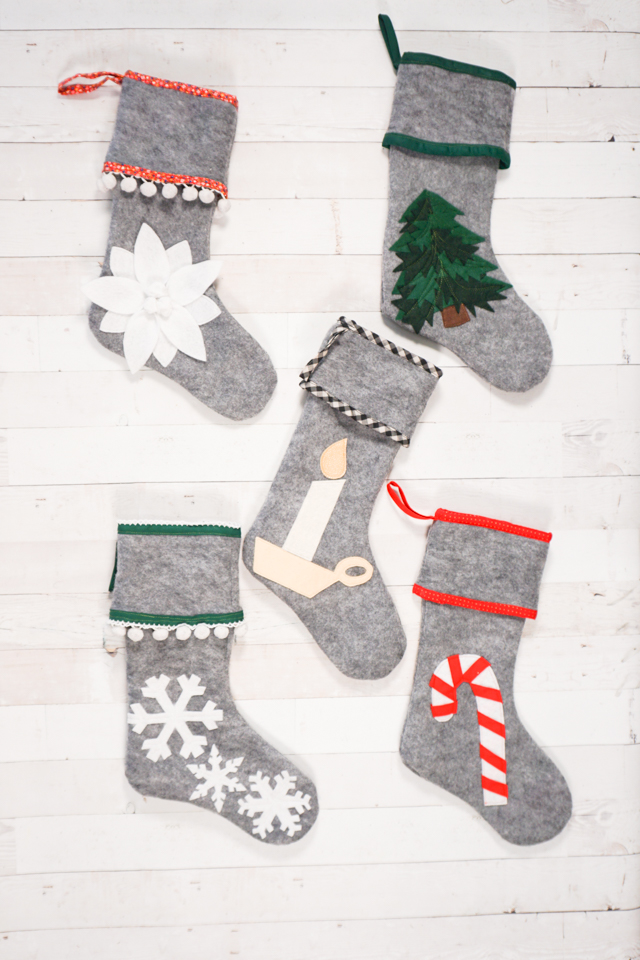 I found a big cut of gray felt at Savers and bought it to make stockings. I like how the gray unifies the stockings even though they have their own details.
Everything else used for these stockings I had in my stash, so it was a very inexpensive project for me. All the stockings are lined with holiday quilting cotton that I had in my stash and finished with bias binding.
Do you love to sew? Try one of these sewing projects:
This is my husband's stocking, and he picked a candle. I made a white candle with a yellow stand, and I used gold leather for the fire.
I love the way the gold leather catches the light like a fire. I finished the edges with a black and white gingham which feels Christmassy and masculine at the same time.
My stocking has a white poinsettia. I love the look of the winter plant and picked it for myself. I sewed a white flower shape onto the stocking and then glued pleated petals and felt balls onto the middle.
It's a great 3D look. I finished the edges with a red floral bias tape that I had in my stash. I also had a little bit of pompom trim to add to the cuff. Learn how to make and use bias tape.
For my son I made a candy cane stocking. I cut a white felt candy cane shape and then wrapped it with red bias tape.
Then I ironed it onto the stocking and stitched around it. I finished the edges with a red and gold dotted bias binding I had in my stash.
I did snowflakes for my older daughter since she has a little obsession with the movie Frozen. It was fun to create snowflake shapes for her stocking with white felt. I have had this green bias binding with a lace edge for years and finally used it up on this stocking.
It's so pretty and feminine and definitely has a winter vibe. I also added some pompom trim to her cuff which looks great next to the lace.
Last of all is my baby's stocking with a beautiful evergreen tree. I used two different colors of green to get the branch effect and didn't some interesting topstitching.
I love how simple and textural it is. I used a matching green bias binding to finish the edges. I love all the stockings, but I really love the look of the tree.
DIY Felt Stocking with a Free Sewing Pattern
Supplies
Free felt stocking sewing pattern with design templates – get it at the end of the post behind the locked content box
3/4 yard of felt (outer fabric)
3/4 yard of quilting cotton (lining fabric)
1 1/2 yard of bias binding
Scraps of felt for detail
Do you just want the pattern and tutorial as a PDF? Get the pattern and photo tutorial for just $3. You won't need to access the internet every time you want to make it. Or get the Pattern Bundle with ALL the PDF tutorials!
Pattern pieces to cut out:
2 stockings from felt
2 cuffs from felt
2 lining stocking pieces from cotton
Add details to the felt stocking front. Get extra instructions for each design above.
Place the felt stocking pieces right sides together. Sew around the edges. Turn the stocking right side out.
Place the cotton stocking pieces right sides together. Sew around the edges.
Slide the lining stocking inside the felt stocking with wrong sides together. Match up the top edges.
Baste the top edges together.
Place the cuffs right sides together. Sew each side. Backstitch when you start and when you stop.
Finish the bottom edge of the cuff with bias binding.
Slide the cuff over the stocking and line up the top edges. Baste the top edges together.
Cut a piece of bias binding 6 inches long. Keep it folded as pressed and sew down each side to enclose the raw edges.
Fold the bias binding in half lining up the short ends. Place the short end at the top back of the stocking. Baste in place.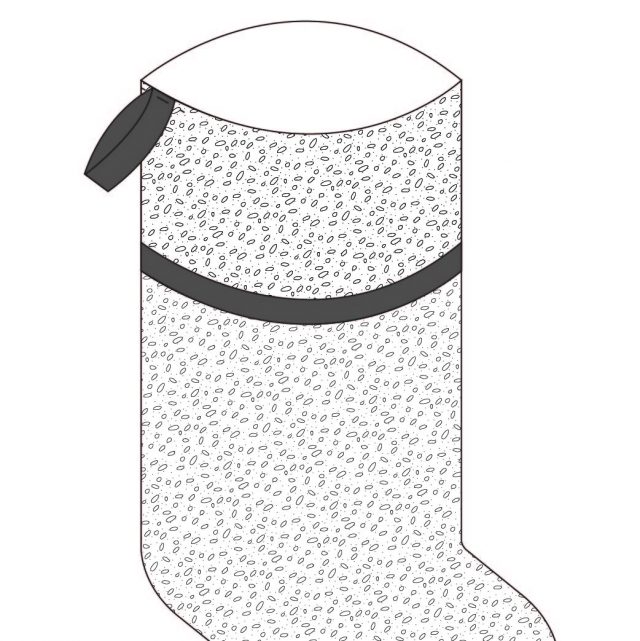 Finish the top edge with bias binding.
You finished!
Get the Free Sewing Pattern here!
If you make something using this sewing project, I'd love to see! Please share it on social media with the hashtag #heatherhandmade and tag me!