I really love the 4th of July; it's one of my very favorite holidays. I love the summer, food, and the inspiration of Independence day. Last week I saw a flag rag quilt floating around on pinterest and was immediately inspired. I have actually never made a blanket or a quilt, and this was my first experience making. Which means if I can make this quilt, anyone can make this quilt! I hope the quilters out there don't cringe too badly at how I put it together. I figured out the measurements of a real 3'x5′ flag so that I could make a full-size one myself, and I shared a free quilt pattern of this flag rag quilt. There are affiliate links in this post.
Supplies
50″ or 1 1/2 yards red flannel

30″x25″ or 2/3 yards blue flannel

90″x50″ or 2 yards white flannel

60″36″ or 1 2/3 yards flannel center

60″x36″ or 1 2/3 yards back fabric

white thread
Free Quilt Pattern
Instructions
The seam allowance is 1/2″ everywhere.
Cut out the pieces and then lay them out in the right shape and order. Start by sewing the short stripes together. Since I'm a beginner quilter, I need to see it all lined up, to be able to get all the pieces in the right place.
Sew wrong sides together of the red and white stripes so that the seam allowance shows on top. *Tip* Start sewing from the same side of the quilt so that anything uneven ends up on the other side. You'll only have to straighten the edges of one side of the quilt.
Sew the shorter striped piece to the blue union piece. Sew the long stripes together.
Then sew the two large rectangles together.
Press all your seams open.
Lay your back piece with right side down. Lay your piece of flannel on top. Then lay your pieced flag right side up. Pin throughout the quilt as much as you'd like.
Sew straight down the middle of each open seam allowance.
Trim all the edges so that all three layers match up and all sides and corners match up.
For the stars I traced a circle that had a diameter of 11.5″. Then I used a cup with a diameter of 3.25″ to fit 13 stars around the large circle.
Trace a 2.25″ circle and cut a star from it. Use this star as a template and trace it into each 3.25″ circle.
Pin the white star piece through all layers onto the quilt. Sew each star outline.
Cut out the excess fabric leaving a 1/2″ seam allowance around each star.
Cut all the seam allowances every 1/4″ to 1/2″ to create the rag effect. This is by far the longest part of the whole process.
Wash and dry your quilt at least once. You may need to do it again to get the rag look you want.
I still enjoy pulling this flag quilt out every single summer. It's great to sit on outside to watch fireworks or as a throw on your couch.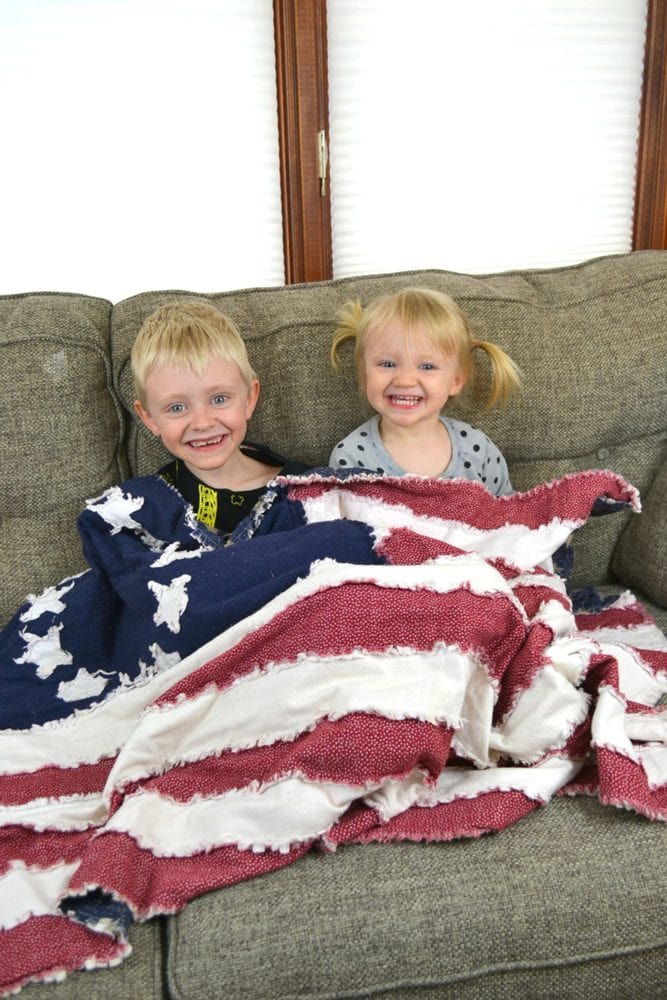 I love that it's like an old tattered flag handed down through the generations.