This post may contain affiliate links indicated with a *. Read the full disclosure here
I really love cardigans on babies and kids. I just love them. They look so dapper and so cute and so little. I don't love constructing a cardigan all from scratch unless it's for something special. I don't want to deal with buttonholes and sewing on buttons. Upcycling a cardigan has more steps than a basic tee upcycle or even a cap sleeve tee upcycle, but it's still pretty simple!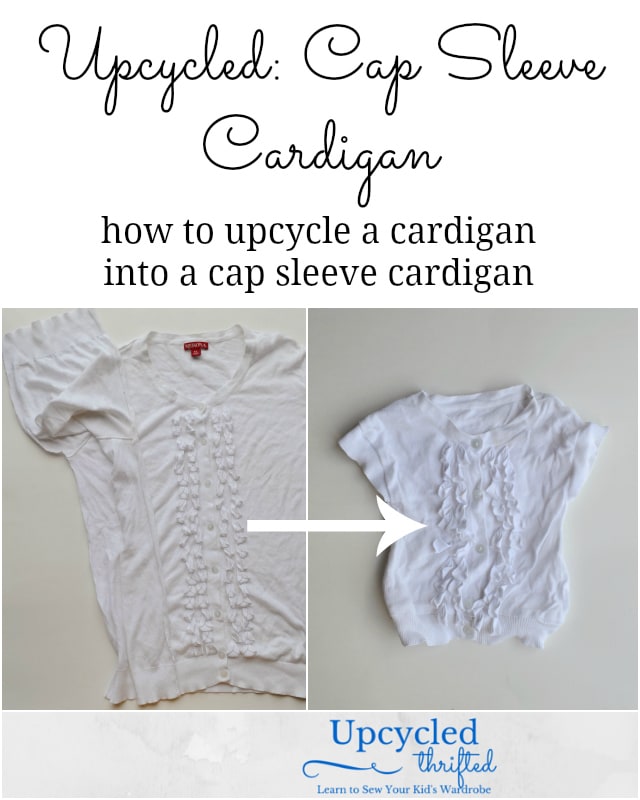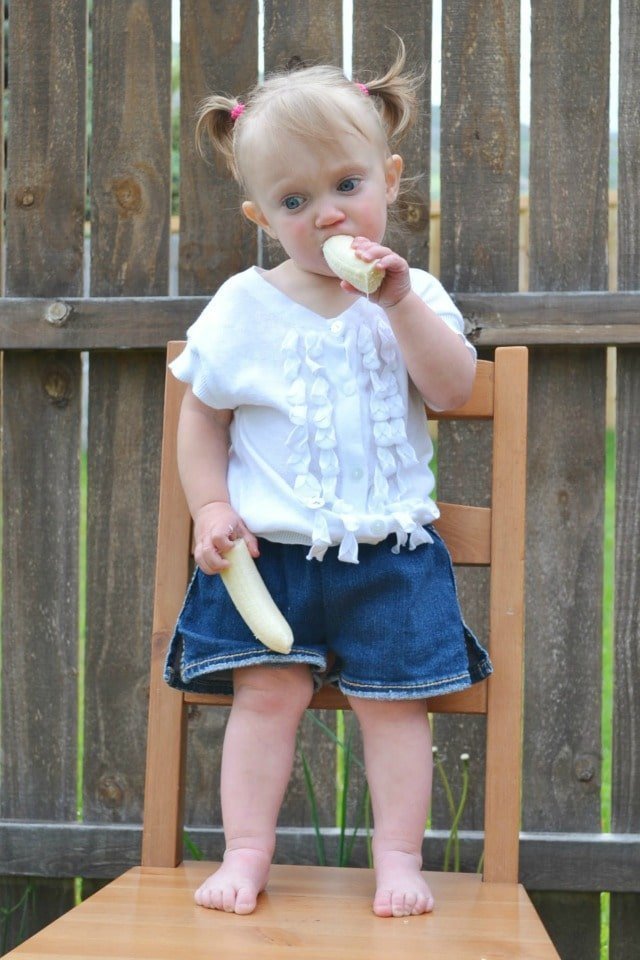 Supplies
Instructions
1. Draw in seam allowances and hem allowances on the pattern.
2. Cut the cardigan along the side seams and up through the sleeves.
3. Fold the front of the cardigan on the center front (button placket) and line up the pattern along the fold. Line up the neckline of the pattern with the neckline of the cardigan.
*Make sure you check where you are cutting along the bottom. Don't cut through a button or a buttonhole, but cut about an inch above or below to give some room for seam allowance.
4. Do the same for the back. You might have to play with the neckline a little bit to get it to fit.
5. Use the sleeve or sleeve band to cut the sleeves. I used the ribbing of the sleeves. I curved the ribbing and cut the sleeve band on a curve. (You can see in the second picture the curved sleeve band: one side is straight and one side is curved.)
6. Then I sewed it on just like a regular sleeve.
7. Cut off the ribbing including the button placket.
8. How wide your pattern is will determine how long the ribbing should be. I like my ribbing to be 75-85% shorter than the circumference to pull it in and make it look good. I ended up using the entire front section of the ribbing for this baby cardigan. I just sewed it together at the back and matched that center back seam to the center back of the cardigan. I also lined up the button plackets on the front.
9. Construct the cardigan as the pattern instructs.
My mom donated this cardigan specifically to upcycle it. When I first saw it, I knew it would be an adorable little cardigan for my daughter. I've been saving it for awhile to cut it up. She finally grew enough to make it worth it.
These two siblings can't love each other any more. And everything they're wearing is upcycled. Yay, for #upcycledkid! Share any upcycle inspired projects for your children with the hashtag #upcycledkid!
Find the big list of all the upcycling tutorials I've created!