How to Make a Cape from a T-Shirt
This post may contain affiliate links
Learn how to make a cape from a t-shirt for the easiest DIY cape! Add Velcro to the neck for an easy on and off option.
It's superhero time all the time at my house. ALL THE TIME. My son wears a cape morning to night, and then it sits on his windowsill while he sleeps.
We had two purchased capes that have gotten lost somewhere so I needed a quick way to make a cape. My son needed to be a superhero right then. So I came up with this quick t-shirt cape. You can make one yourself with this easy DIY cape made from an adult t-shirt!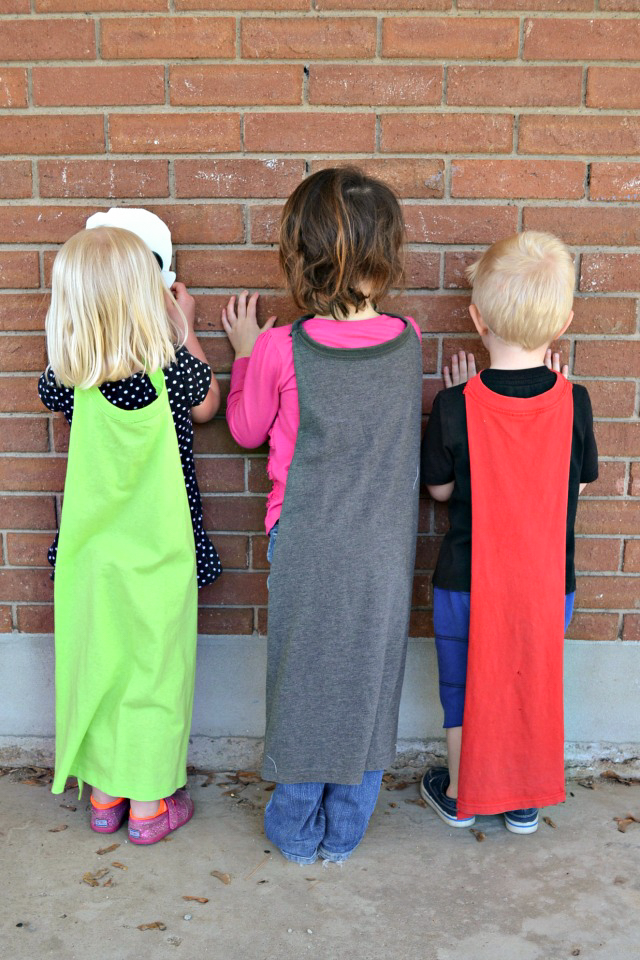 Make one or three or ten! I could see myself making these as favors for a superhero birthday party. How fun would that be?!
If your kids aren't into superheroes, then you could do princess capes, wizard capes, space capes, etc.
I even made one for my son's knight outfit. He likes to be superheroes and knights. Anything he can dress up as he will. See what he looks like as a young King Arthur!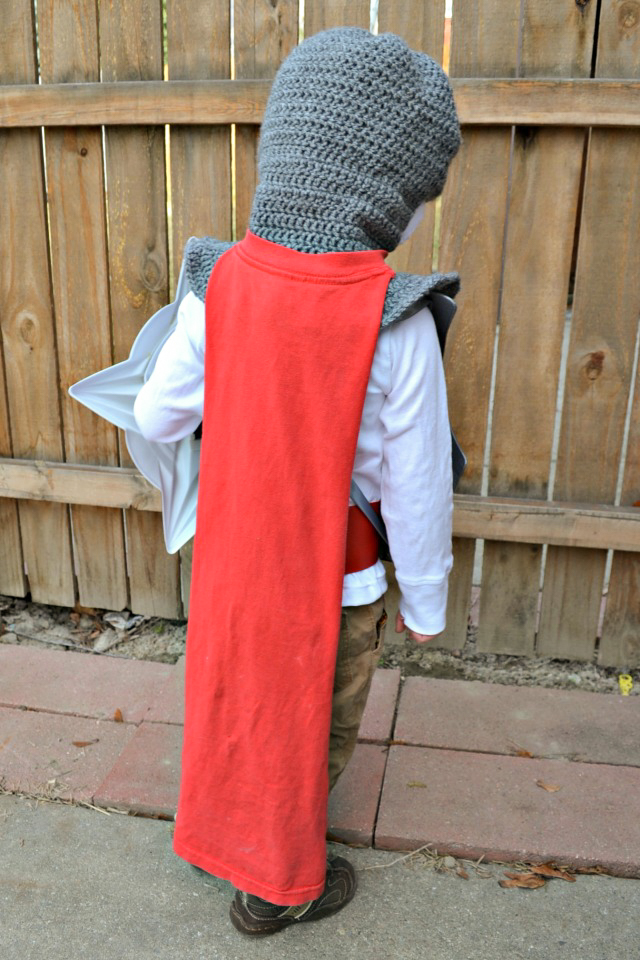 What adult t-shirt works for a cape?
Any adult t-shirt will work for a cape as long as the fabric is sturdy and durable. It will get played with a lot and needs to withstand that and being washed often.
These types of t-shirts are usually made from 100% cotton or a 50/50 cotton/polyester blend. My favorite t-shirt to use is a men's simple t-shirt because they are all essentially uniform in shape.
Do you love to sew? Try one of these fun sewing projects:
How to Make a Cape from a T-Shirt
Supplies
Easy DIY Cape Tutorial
Carefully lay out the adult t-shirt face down on a flat surface.
Cut from the sides at the bottom up to where the shoulder seam meets the neckline.
Cut around the neckline between the t-shirt and the neckband and keep the neck band intact. Cut the neck band open at the center front.
Fold the neckband over 1/2 inch and add a piece of Velcro to each side. One side is the loop side and one side is the hook side. You finished!
If you make something using this tutorial, I'd love to see! Please share it on social media with the hashtag #heatherhandmade and tag me!