10 Sewing and Craft Subscription Boxes for Kids
This post may contain affiliate links
Give the joy of creating with these fun sewing and craft subscription boxes for kids. They will love having their own projects.
My kids love seeing what I'm working one and often want to join in. One of my kids always begs to sew, and I had to get a sewing machine that they could all use so that I wouldn't have to share mine.
I've been looking at sewing and craft subscription boxes for kids so that they could get excited about creating and making. When they saw their packages come in the mail, they were jumping up and down. Once I let them open it, they've been creating ever since.
Some of these boxes are art based, some are sewing based, and some are craft based. Some have just one project, and some have several projects.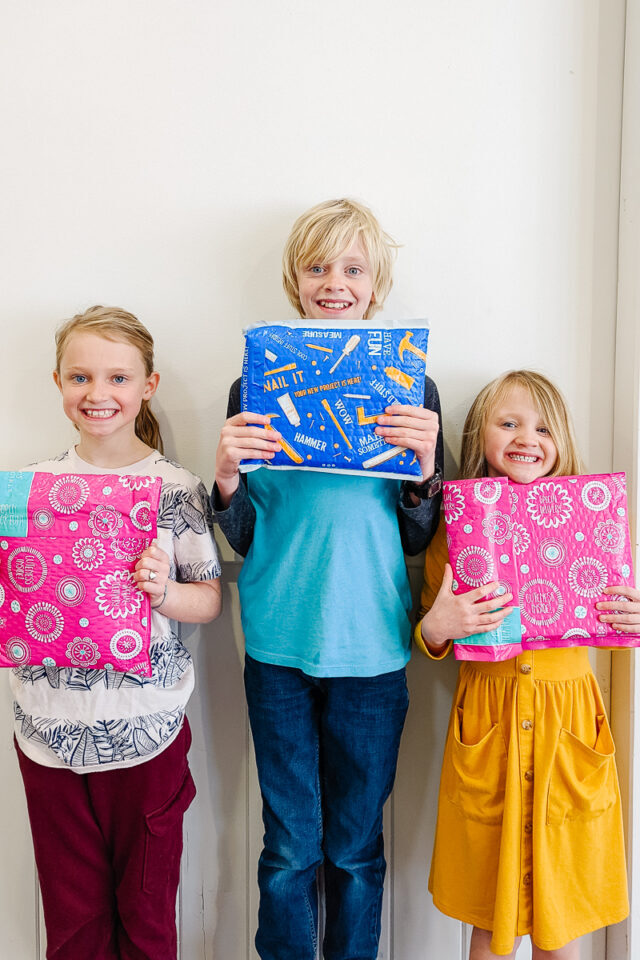 Some of these kits ship monthly and some of these boxes ship quarterly. The price ranges from $25 to $100, and some shops have several options for different boxes. There are also boxes that are for younger children and boxes that are for older children, so you can find what you like.
Do you like to sew? Check out some of these lists:
Sewing and Craft Subscription Boxes for Kids
Give the joy of creating with these fun sewing and craft subscription boxes for kids. They will love having their own projects.
Photo Credit: shareasale.com
Created for girls ages 7-12, the Creative Girls Club offers a new world of crafting inside each and every kit...TWO kits per month! Inside, she'll find easy-to-follow instructions and all the materials needed to get crafting with minimal adult supervision. She'll learn fun skills that will last a lifetime: painting, beading, stitching, paper crafting, and much more! This subscription is shipped from the US.
I think this kit works for boys and girls. I tried it with my daughters and they love it!
Photo Credit: shareasale.com
The Young Woodworkers Kit Club is a woodworking craft kit series designed for children ages 8 and up — the perfect window of opportunity to pass on a love of woodworking to the next generation. Kids will love the feeling of pride and accomplishment that comes with mastering real-world building skills they'll carry into adulthood. This subscription is shipped from the US.
I tried this with my son he he loves it. He loves having his own tools and building something.
Photo Credit: sewwhatbox.refr.cc
Sew a fun and creative project while learning sewing machine basics! In this monthly sewing box you'll recieve pre-cut sewing project kits for quick creation, video tutorials for easy learning, themed fabrics for inspiration, and extra goodies/tidbits for building your sewing knowledge and tool collection. This subscription is shipped from the US.
Photo Credit: mygirlfriendsquiltshoppe.com
A sewing box that is curated to teach young boys and girls to learn how to sew with beginner, kid-friendly sewing projects, patterns, and video tutorials. Thready brings you the joy of learning something new and creating something exciting with your kids, all boxed up and delivered right to your door. This box is recommended for ages 12 and under.
This one is not on a subscription model and has new boxes to purchase every couple of months. This subscription is shipped from the US.
Photo Credit: littlemisssewnsew.co.uk
'Kids Sew Too' is a monthly fabric and virtual sewing lesson especially for children.  Every month we will send out a fabric bundle along with a pattern and full colour instructions to make a project suitable for children.  As we know children learn best from demonstrations therefore we will provide an exclusive monthly video tutorial to support your child through the month's project!  The projects will be taught via the video tutorials on a sewing machine however the projects can be hand sewn is preferred.
This subscription is shipped from the UK.
Photo Credit: thenichehays.square.site
 Each kit contains materials and easy-to-follow instructions that allow kids aged 7 and up to create a different unique mixed media craft project. With fun and colorful materials like pom-poms, felt, yarn, ribbon, fun foam, wood and more, our kits will keep kids busy and help them create their own decorative handmade craft.
The best thing about these kits is that you can buy a subscription, but you can also buy individual kits (and see what is inside) for a little more choice. This subscription is shipped from the US.
Photo Credit: www.etsy.com
Soul Collection's Creative Sewing Kits range from Beginners to Advanced Sewing Projects for kids ages 7 and up! The majority of these projects are recommended to be sewn with a sewing machine with basic skills of sewing, however, not to worry if you don't have a machine.
We can also complete these sewing projects with some basic hand-sewing skills, which of course will take longer but you'll still have nice project you made on your own! This subscription is shipped from the US.
Photo Credit: www.kidsartbox.com
The My Artist Box provides an open-and-go solution for art lovers who want to encourage curiosity and creativity in their children. You'll get four art projects and several pages of educational material in each box.
Each of these art subscription boxes features one artist, a person who is purposefully selected with the diversity of the art world in mind.
Photo Credit: www.wecraftbox.com
Crafting adventures delivered so that you can soak up more playful screen-free time with your children. For children ages 3-9, and there are 4-5 crafts in each box. Each box has a story theme and video tutorials. Give them the gift of creativity!
Photo Credit: www.greenkidcrafts.com
Get the Discovery boxes for kids ages 5-10+ or Junior boxes for kids ages 3-5. The monthly themed boxes arrive filled with 4-6 Science and Art projects plus a 12-page magazine. Kids create, make and discover while sparking a lifelong love of learning!
If you make something using this sewing project, I'd love to see! Please share it on social media with the hashtag #heatherhandmade and tag me!