Make a Baby Cheater Quilt
This post may contain affiliate links
Learn how to make a baby cheater quilt because it's the easiest quilt to sew! It uses a little bit of fabric and it's so fast to create!
Isn't it so fun to make baby items? Everything is so cute, little, and colorful. I like to have an easy gift ready whenever there's a new baby, but I don't like spending a lot of time to make the baby gift.
That's why I love making baby cheater quilts because they are so pretty and look like a time-intensive quilt, but they are so quick and easy! If you can sew a straight line you can make a baby cheater quilt!
Don't miss the free printable cheater quilt guide at the end of the post!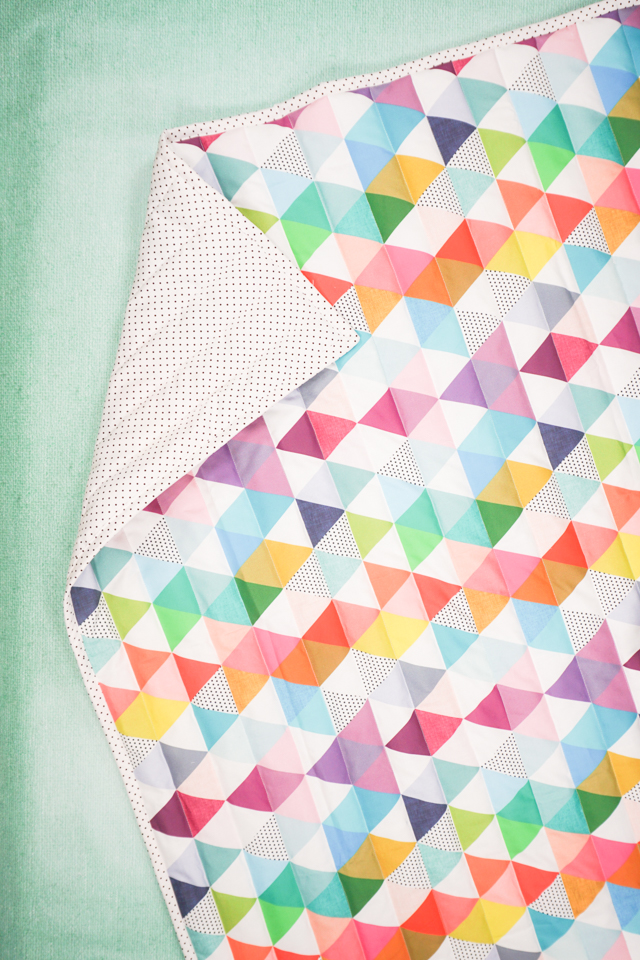 Do you love to sew? Try some of these sewing projects: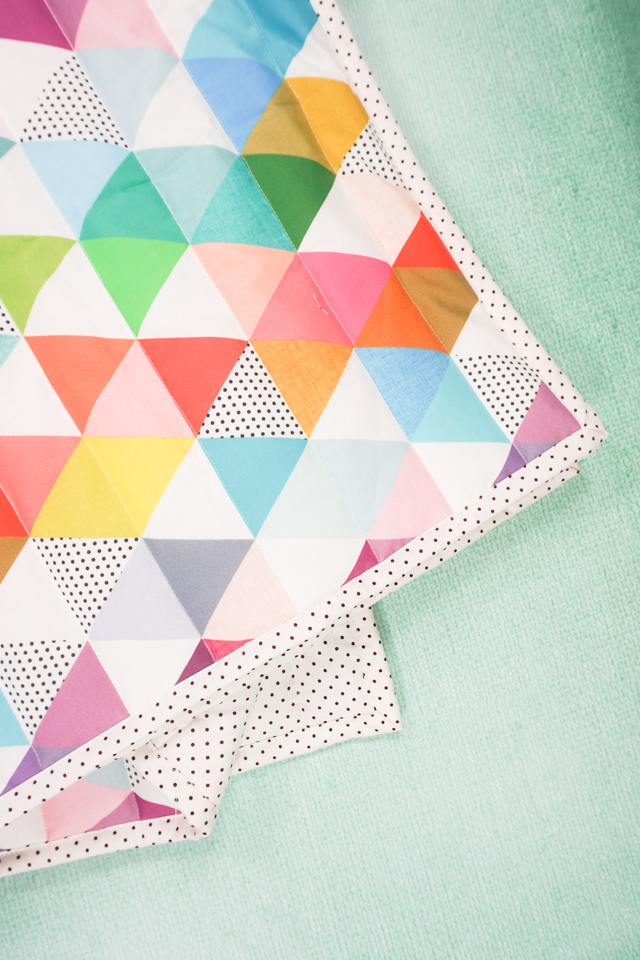 What is a cheater quilt?
A cheater quilt is a quilt that has one piece of fabric for the quilt top instead pieces of fabric sewn together. You can use cheater quilt fabric or just large stripes, buffalo plaid, or triangle fabric. Essentially you can use any fabric that has a grid you can follow.
Where to buy cheater quilt fabric?
Spoonflower has some great cheater quilt fabric options. I used this rainbow triangle fabric for my quilt top . A cheater quilt is such a great beginner sewing project!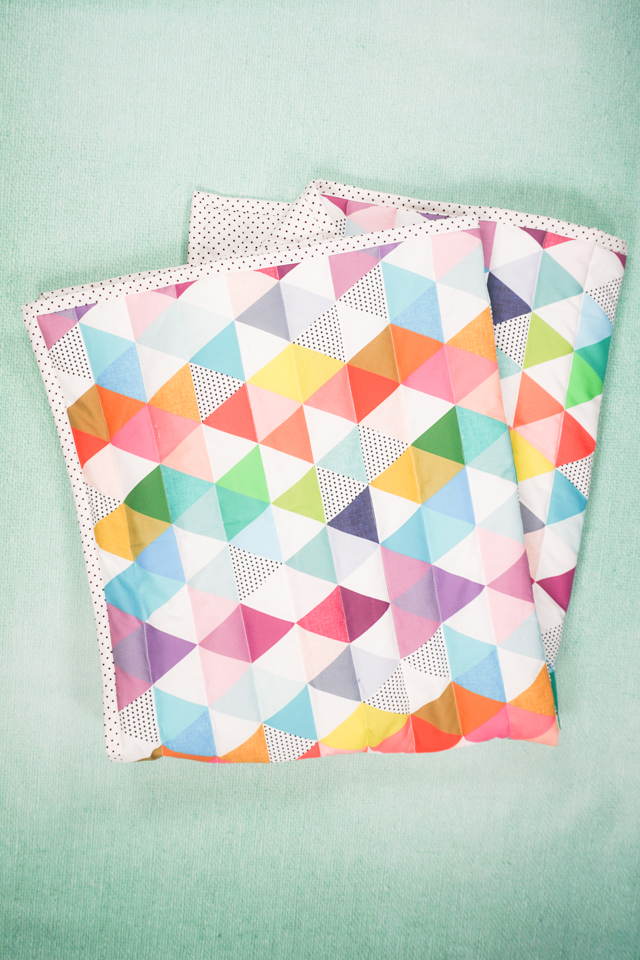 How to Make a Baby Cheater Quilt
This is how to make a throw size cheater quilt, so if you change the size it works just the same for a baby cheater quilt!
supplies
1.25 yard of quilting cotton with stripes, plaid, or triangles
1.25 yard coordinating quilting cotton for the back
1.25 yard of batting
5 yards of bias binding
Make a quilt sandwich by placing the backing fabric face down. Place the batting on top. Place the quilt top on top with right side facing up. I find it easiest to line up two sides to get everything in the right place and have any excess on the other two sides.
Use safety pins to hold the three layers together. I like to use them every 6-10 inches or so.
Sew a line of stitches along each line of the fabric design. This might look like stripes, this might look like a grid, or this might look like triangles.
I find a walking foot helps with preventing shifting or puckers anywhere on the fabric.
Once the quilt top has been completely quilted cut off the excess fabric, batting, and backing. Only the top design should be left.
Finish the quilt by adding bias binding to the edges. You can use purchased bias binding or you can make your own bias binding. I made my own bias binding from the leftover fabric from the backing.
Wash the quilt in hot water and dry it on hot. You finished!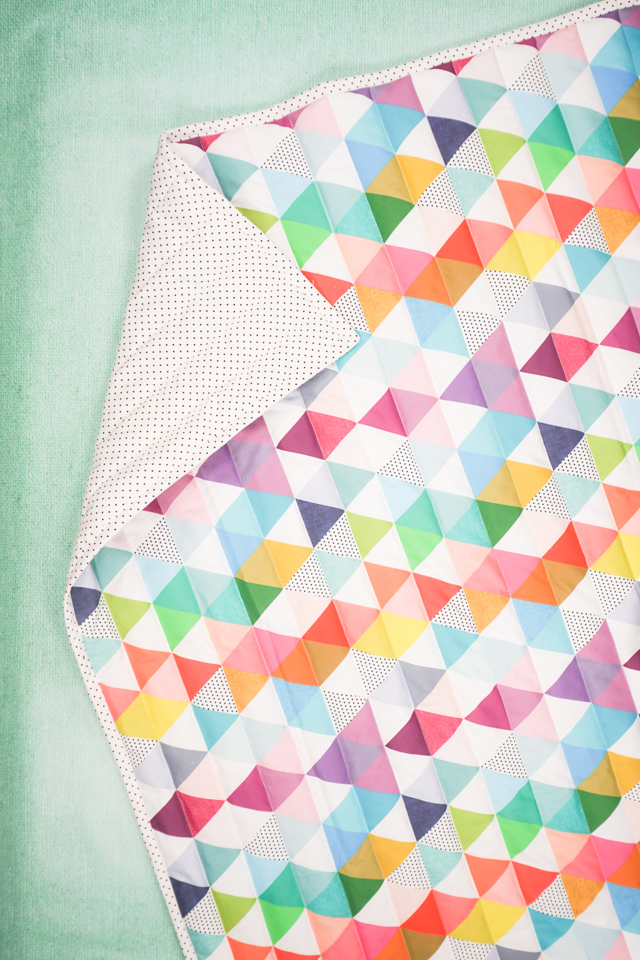 How to Make a Cheater Quilt
Learn how to make a cheater quilt that is fast, easy, and you can use any striped or plaid fabric. A cheater quilt is perfect for gifts!
Materials
Cheater quilt fabric, large striped fabric, buffalo plaid fabric, or triangle fabric for the quilt top in the amount of your choice - DO NOT PREWASH
Backing quilting cotton or flannel fabric in the amount of your choice - DO NOT PREWASH
Batting in the amount of your choice - The quilting size of the batting should coincide with the size of the cheater quilt fabric grid.
Matching pre-made bias binding or handmade bias binding
Tools
Sewing tools
Sewing machine
Instructions
Trim off any white space and selvedges from the quilt top fabric like the selvedge. If you order Spoonflower fabric there's a lot of white space to trim off.
Make a quilt sandwich by laying the back fabric right side down, then the batting, and then the quilt top fabric right side up. Make sure all the fabric is centered with each other and the wrinkles are smoothed out.
This process is a little easier if the backing is the same size as the batting, and if they are both larger than the quilt top.
Safety pin all the layers first. Your saftey pins should be at about 12 inches apart or closer.
Using a walking foot quilt along the lines of the quilt top fabric. I sewed all my horizontal lines first and then all my vertical lines.
I start on one side and go to the middle and then start on the other side and go to the middle. It's a little easier that way.
Trim all the excess off of the edges so that the corners are squared and edges are straight.
Cut a curve into the corners. I prefer curved corners since they are easier for me to sew bias binding on. You can do regular 90 degree corners if you prefer.
If you use pre-made bias binding it makes the quilt much faster. I topstitch my binding on since I like the look of it.
If you make your own bias binding it takes it a little bit longer, but you can have a cool print along the edge. I still topstitch bias binding on because I like the look of it.
Recommended Products
As an Amazon Associate and member of other affiliate programs, I earn from qualifying purchases.
Get the free PDF guide here!
If you make something using this sewing project, I'd love to see! Please share it on social media with the hashtag #heatherhandmade and tag me!