Free Ugly Sweater SVG for Christmas
This post may contain affiliate links
Use a free ugly sweater SVG cut file to make a funny and silly Christmas t-shirt. Men and women can wear it any holiday party!
I made some ugly Christmas sweaters for my family years ago when we only had one kid. They were so fun to make and wear. My husband still wears his (he's adorable), but my son grew out of his and mine fell apart because I didn't finish any of the raw edges.
I plan on remaking those Christmas sweaters sometime, but I made some quick free ugly sweater SVGs that you and I can use until then!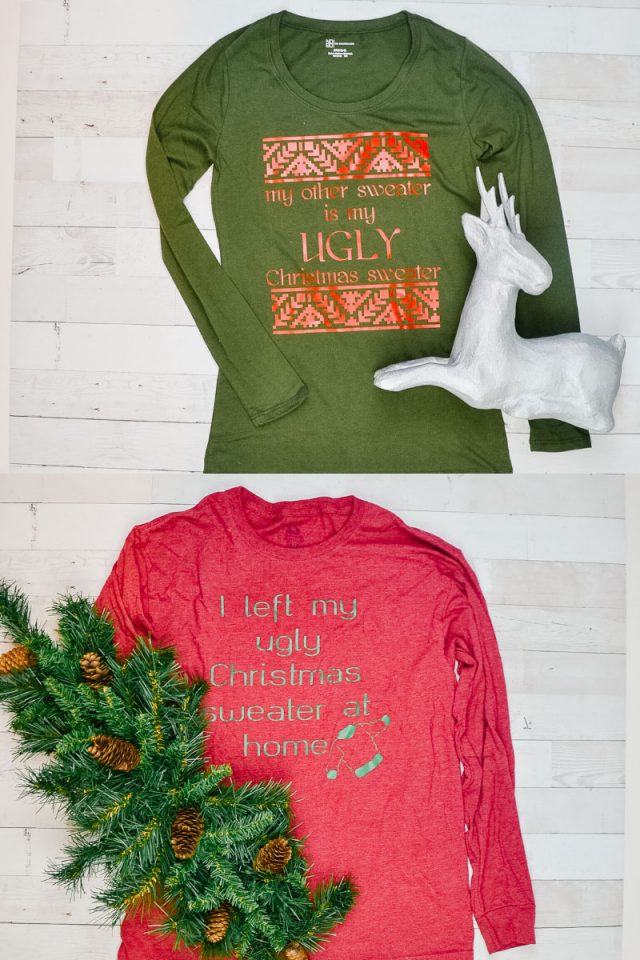 The one that I made for myself says, "my other sweater is my UGLY Christmas sweater." It goes great on a tee or sweatshirt. Wear it to a Christmas party to be festive, but you get to wear something comfortable and simple!
Do you love to make at Christmastime? Try one of these ideas: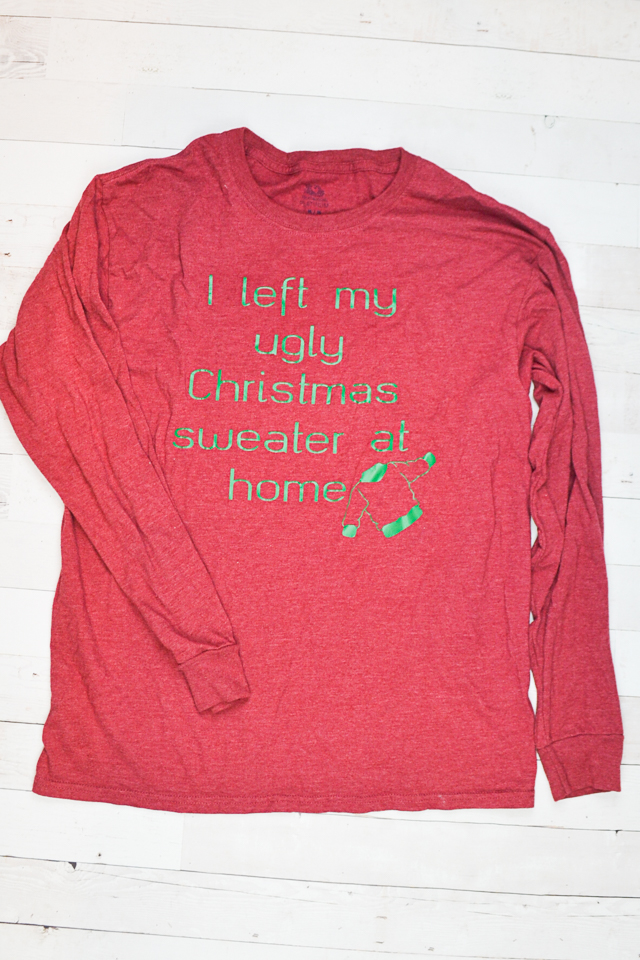 What is an SVG file?
An SVG file is a scalable vector graphics or an image format that can be scaled large or small without losing any details. It's a great way for sharing images that can be used in cutting machines since the image will stay perfect even if the size is changed.
Can these designs be used on Cricut, Silhouette, and Brother?
SVG files are great and can be used with any cutting machine as long as the machine's program can have files added to it.
What is Iron-On Vinyl or HTV?
Iron-on vinyl or heat transfer vinyl is vinyl that has glue or adhesive on the back that is activated when heated. When the iron-on vinyl is heated the glue causes the iron-on vinyl to be fused to the t-shirt. The iron-on vinyl sits on top of the fabric.
The color of the iron-on vinyl is the color it will be after being heated. The color does not change.
What is Infusible Ink?
Infusible ink is ink that is transferred by heat. It's essentially sublimation, but it's now accessible to hobby crafters. When infusible ink is transferred the ink is infused into the item.
Infusible ink can be purchased as an infusible ink transfer sheet and as infusible ink pens. The colors of the infusible ink transfer sheet look pale before being heated, but they are very bright once heated and transferred.
Free Ugly Sweater SVG for Christmas
I used red iron-on vinyl* on an olive tee. I like the contrast and the bright red. It would be a little easier to read if there was more contrast, but it's still a great tee. I've done gold on olive, and it looked amazing.
You can tell the buying ready-to-wear tees doesn't always work for me. The sleeves are always too short! I'm going to make my own sweatshirt so that it fits right, and apply this Ugly Sweater SVG.
For my husband I made a tee that said, "I left my ugly Christmas sweater at home." He wears it to lots of Christmas parties every year because it's such an easy way to be festive. He actually trades of between this Christmas tee and his ugly snowman sweater.
I actually made this tee for my husband two years ago, and it still looks great. It's been washed a lot with no problems. I used green iron-on vinyl* on a heathered red tee.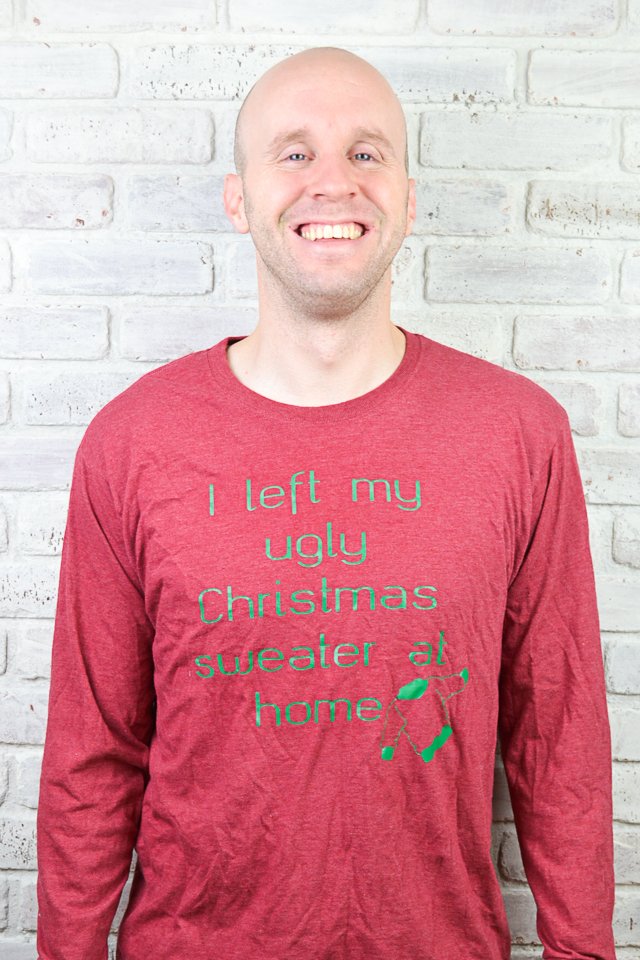 Get the Free SVG Cut File Below!
If you make something using this free SVG file, I'd love to see! Please share it on social media with the hashtag #heatherhandmade and tag me!