Free Ugly Sweater SVG for Christmas
Instead of making or buying an ugly Christmas sweater, use a free ugly sweater SVG to make a funny and silly Christmas tee. It works for any holiday party!
I made some ugly Christmas sweaters for my family years ago when we only had one kid. They were so fun to make and wear. My husband still wears his (he's adorable), but my son grew out of his and mine fell apart because I didn't finish any of the raw edges.
I plan on remaking those Christmas sweaters sometime, but I made some quick free ugly sweater SVGs that you and I can use until then!
The one that I made for myself says, "my other sweater is my UGLY Christmas sweater." It goes great on a tee or sweatshirt. Wear it to a Christmas party to be festive, but you get to wear something comfortable and simple!
Do you love to make at Christmastime? Try one of these ideas:
I used red iron-on vinyl* on an olive tee. I like the contrast and the bright red. It would be a little easier to read if there was more contrast, but it's still a great tee. I've done gold on olive, and it looked amazing.
You can tell the buying ready-to-wear tees doesn't always work for me. The sleeves are always too short! I'm going to make my own sweatshirt so that it fits right, and apply this Ugly Sweater SVG.
For my husband I made a tee that said, "I left my ugly Christmas sweater at home." He wears it to lots of Christmas parties every year because it's such an easy way to be festive. He actually trades of between this Christmas tee and his ugly snowman sweater.
I actually made this tee for my husband two years ago, and it still looks great. It's been washed a lot with no problems. I used green iron-on vinyl* on a heathered red tee.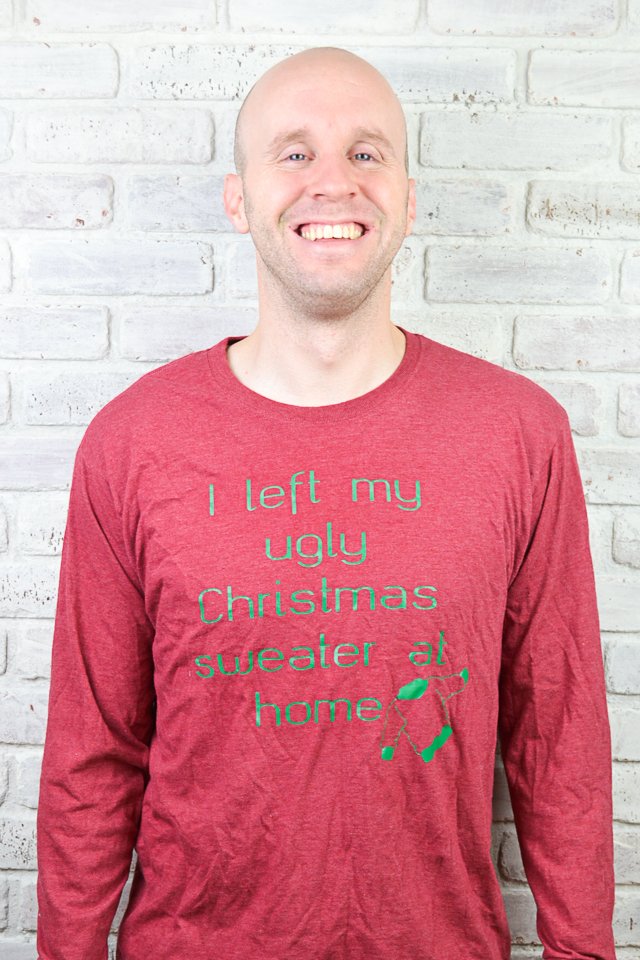 If you make something using this free SVG file, I'd love to see! Please share it on social media with the hashtag #heatherhandmade and tag me!