Free Christmas SVG for Kids
This post may contain affiliate links
Make some funny Christmas tees for kids with a free Christmas SVG. They are perfect for holiday parties or Christmas pajamas!
I just love graphic tees. I have a pretty simple handmade style that is mostly made of solids, but I love wearing graphic tees to give interest to an outfit without being too loud.
Since getting a Cricut Maker* I've loved making graphic tees for myself and everyone in my family. It's so easy to make something for one of my kids and make them feel extra special. They love being apart of the process and choosing colors and images.
I also have some ugly sweater SVGS for Christmas that are so fun. Because some people don't enjoy wearing ugly Christmas sweaters or getting dressed up, and these ugly sweater graphic tees can be their backup.
Do you love to make at Christmastime? Try one of these ideas: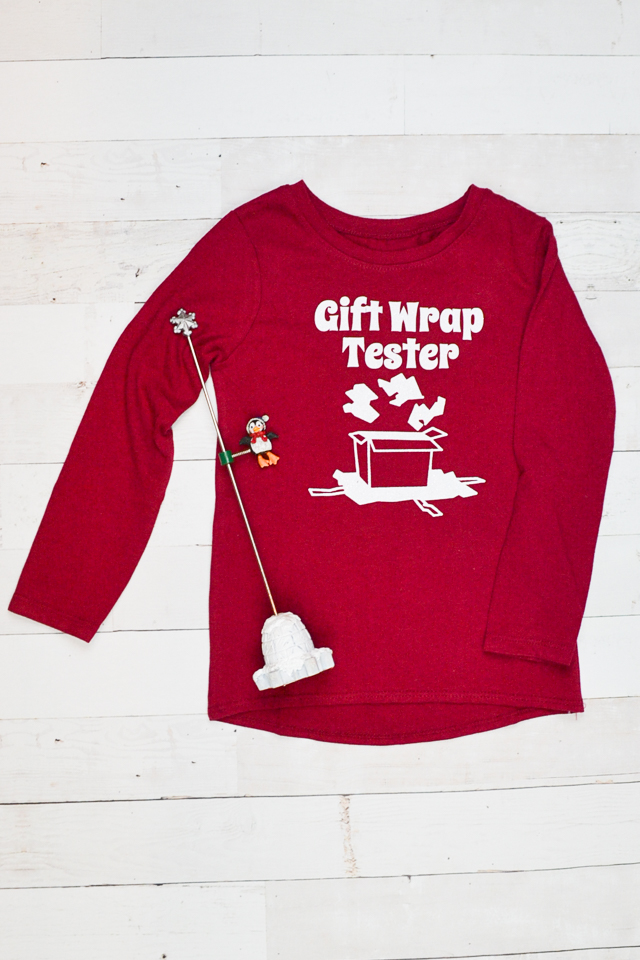 What is an SVG file?
An SVG file is a scalable vector graphics or an image format that can be scaled large or small without losing any details. It's a great way for sharing images that can be used in cutting machines since the image will stay perfect even if the size is changed.
Can these designs be used on Cricut, Silhouette, and Brother?
SVG files are great and can be used with any cutting machine as long as the machine's program can have files added to it.
What is Iron-On Vinyl or HTV?
Iron-on vinyl or heat transfer vinyl is vinyl that has glue or adhesive on the back that is activated when heated. When the iron-on vinyl is heated the glue causes the iron-on vinyl to be fused to the t-shirt. The iron-on vinyl sits on top of the fabric.
The color of the iron-on vinyl is the color it will be after being heated. The color does not change.
What is Infusible Ink?
Infusible ink is ink that is transferred by heat. It's essentially sublimation, but it's now accessible to hobby crafters. When infusible ink is transferred the ink is infused into the item.
Infusible ink can be purchased as an infusible ink transfer sheet and as infusible ink pens. The colors of the infusible ink transfer sheet look pale before being heated, but they are very bright once heated and transferred.
Free Christmas SVG cut files for Kids
Santa in Training SVG
I decided to make a free cut files that work great for the men and boys in your life. Often the men and boys in our lives don't get anything handmade.
The cut file I'm sharing with you today are "Santa in training" with a bitten cookie. It's great for all the boys in your life.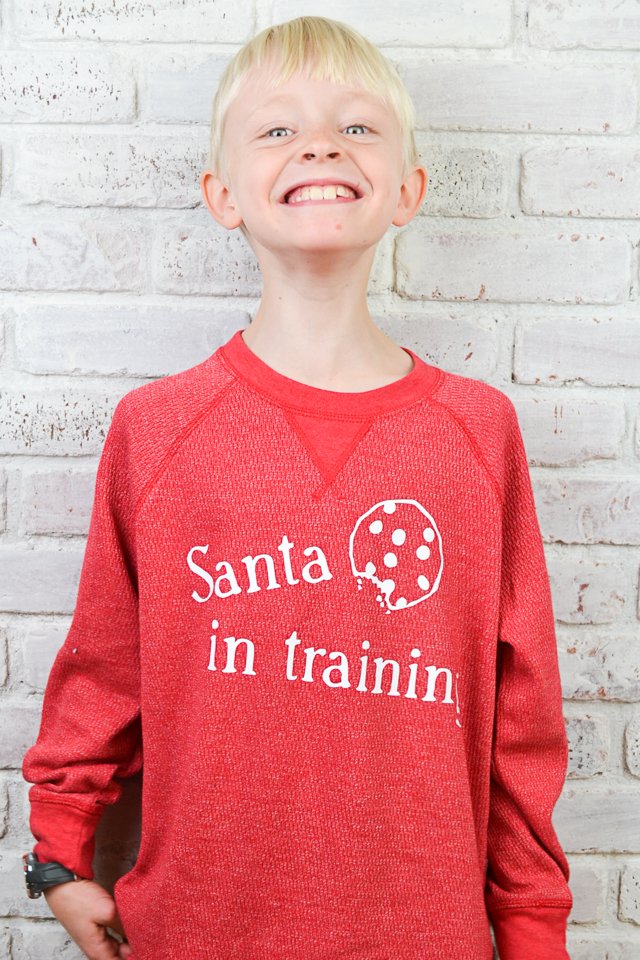 I first fell in love with sewing for boys when my first boy was tiny. It was so fun to be able to sew cute stuff with some boundaries because it totally stretched my creativity. My boy appreciates handmade items way more than my two daughters.
I used a red shirt I bought at the store and white iron-on vinyl*. I lean towards graphic tees made with one color.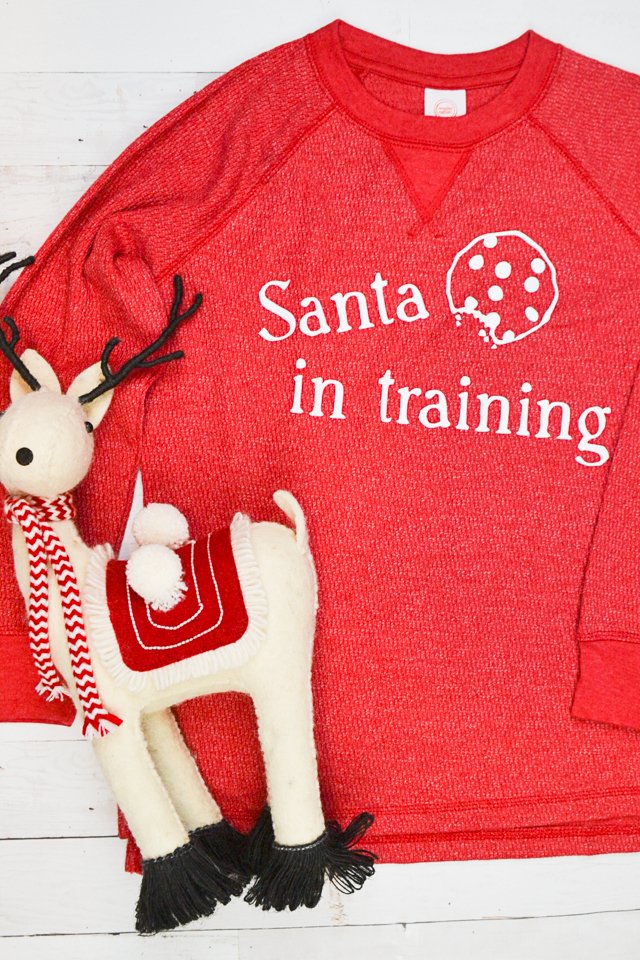 I've been Medium SVG
This one says, "I've been nice MEDIUM naughty" with the nice and naughty crossed off which is great for a kid doing their best to get on the nice list! It's perfect for toddlers who are curious and often getting into things.
I didn't want to leave out my daughters, and I had so much fun creating their Christmas tee SVGs. I actually had this design in mind a couple of years ago when my daughters were toddlers because they were getting into everything!
They were partners in crime and loved it. I've now made two of these tees so they each one this year and they love matching.
I used a green shirt I bought at the store and white iron-on vinyl*. I lean towards graphic tees made with one color.
Gift Wrap Tester SVG
Does your baby or toddler like to open presents? Or do you or your child like opening presents? This SVG says, "gift wrap tester" and is perfect for anyone who like to open presents.
I love the idea of someone's job to test gift wrap by opening presents. Wouldn't that be the best job? It's also a play on toddlers and babies getting into everything while you are working on it. My kids are always undoing what I'm doing.
I used a maroon shirt I bought at the store and white iron-on vinyl*. I lean towards graphic tees made with one color.
Get the Free SVG Cut File Below!
If you make something using a free Christmas SVG, I'd love to see! Please share it on social media with the hashtag #heatherhandmade and tag me!