DIY Reindeer Ugly Christmas Sweater
This post may contain affiliate links
Learn how to make a DIY reindeer ugly Christmas sweater with a sweatshirt, iron-on vinyl, and a felt ball. This is a quick Cricut project for the holidays!
I wasn't planning on making any ugly Christmas sweaters this year, but my kids get to have a tacky Christmas sweater day at school. We sat down and talked about some ideas so I could make something they wanted to wear. My son decided on a reindeer Christmas sweater.
I used a sweatshirt he already had which is why the color is blue (I actually made it for a costume last year, and it feels great to reuse it!) and added a reindeer face in iron-on vinyl. I went more for cute ugly instead of tacky ugly. Both my son and I love how it turned out!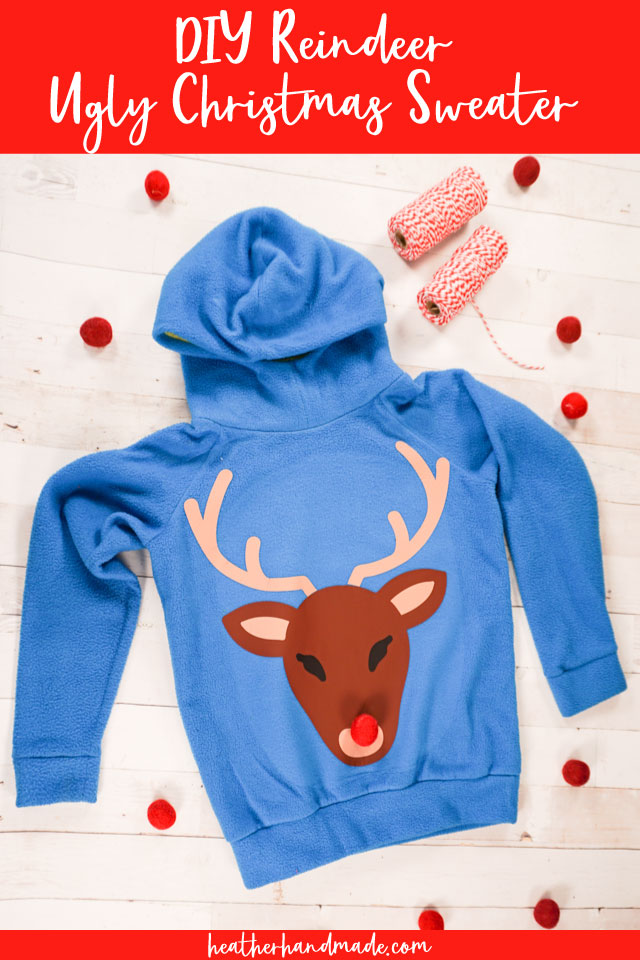 I made the reindeer head and antlers as big as the sweatshirt would allow. I love the pop of red that the felt ball adds, but you can do iron-on vinyl instead if you want. This design works great for boys or girls, and children or adults.
Do you love to make? Try some of these fun projects:
DIY Reindeer Ugly Christmas Sweater
supplies
Use your cutting machine to cut out the three different colors of iron-on vinyl.
Weed all the designs.
Apply the antlers to the sweatshirt with an Easypress 2. If you do the antlers first you can bring it up as high as possible for a good position to start. Let it cool and then peel the plastic backing.
Apply the reindeer head to the sweatshirt. Make sure to cover the antlers again to protect the iron-on vinyl from the heat. Let it cool and then peel the plastic backing.
Apply the eyes, nose detail, and ear details to the sweatshirt. Make sure to cover all the iron-on vinyl before heating to protect it.
Let it cool and then peel the plastic backing.
Use a hand needle and thread to sew the felt ball onto the nose detail. Sew many times to secure it. Sewing through the iron-on vinyl will create holes that will never go away, but it is hidden under the felt ball.
You finished!
If you make something using this sewing project, I'd love to see! Please share it on social media with the hashtag #heatherhandmade and tag me!