DIY Christmas Pillow Covers
DIY Christmas pillow covers are so fun to snuggle with, and they bring in the holiday spirit. With two fat quarters you can make your own French seam envelope pillow.
I'm so excited to share a really cute and really easy french seam pillow tutorial with you today! And it's just in time for the holidays so you can make your own DIY Christmas pillow covers.
I wanted to make some holiday pillows since my kids are really getting into the holiday spirit this year. They were really excited about this holiday fabric from My Fabric Designs! My sister (the amazing hand letterer) designed the holiday calligraphy fabric, and I designed the watercolor evergreen fabric.
Do you love to sew? Try one of these fun sewing projects:
DIY Christmas Pillow Covers
SUPPLIES
2 fat quarters
16 inch pillow form insert
Gather your supplies. Wash and dry your fat quarters first.
2. Cut the front (the lettered fabric) 18″x18″.
3. Cut the back 18″ tall. Then cut the fabric in half widthwise. A fat quarter comes 21″x18″ so the two backs should be 10.5″x18″.
4. Hem one long side of each back. If your fabric is directional make sure you hem the opposite sides.
5. Lay the front right side up. Put one back right side down on top of the front with the hemmed edge towards the middle. Put the other back right side down on top of the front and other back with the hemmed edge towards the middle. The hems should overlap a couple of inches.
6. Pin the edges.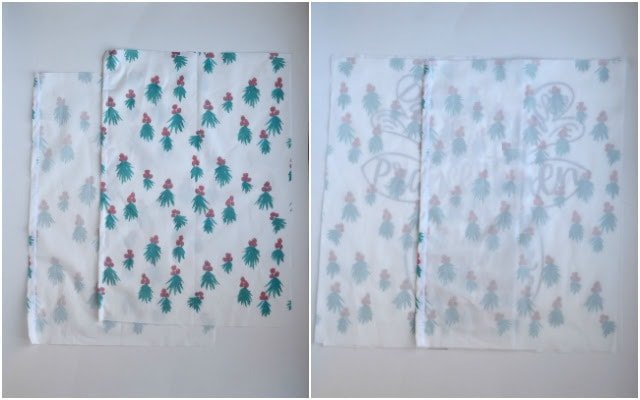 6. Sew all around the pillow with a 1/4″ seam allowance. Trim the corners. (My seams are serged, but you don't have to serge at all.
7. Turn the pillow right side out and press edges carefully.
8. Sew 1/2″ around all the edges. This encloses the raw edges and makes a nice "frame" for the pillow.
9. Insert a pillow form and enjoy your pretty new pillow!
These holiday pillows are so fun and so festive! It's a quick and easy DIY Christmas pillow cover!
If you make something using this DIY Christmas pillow covers tutorial, I'd love to see! Please share it on social media with the hashtag #heatherhandmade and tag me!