Free Wild One SVG for T-Shirts
This post may contain affiliate links
Use this free "Wild One" cut file to make a fun Valentine's day graphic tee! It works for any holiday, and it's fun for boys and girls.
I don't love all the implied boyfriend/girlfriend Valentine t-shirts for boys or girls. Instead I designed a "wild one" t-shirt for my son to wear. It doesn't have anything to do with Valentine's day and it doesn't even have red or pink. It's just a cool, furry bear holding a sign that says "wild one."
My son loves it and that's all that matters! He even wore it the day after I made it. He is such a joy to sew for because he appreciates what I make him.
I made a really SIMPLE Valentine's t-shirt for my son this year. It's the second time I've used the design, so I'll talk about all the differences to show how versatile it is. He can wear it all year! This is a fun and easy Cricut Maker sewing project!
I used an infusible ink transfer sheet for the black background, and then I sewed the sweatshirt fleece bear design over top. Black infusible ink is so bold and dark, and I love that it never cracks or peels. I used a polyester t-shirt so that I could use infusible ink.
Get tips to applique on stretch fabric to make the sweatshirt fleece bear easier.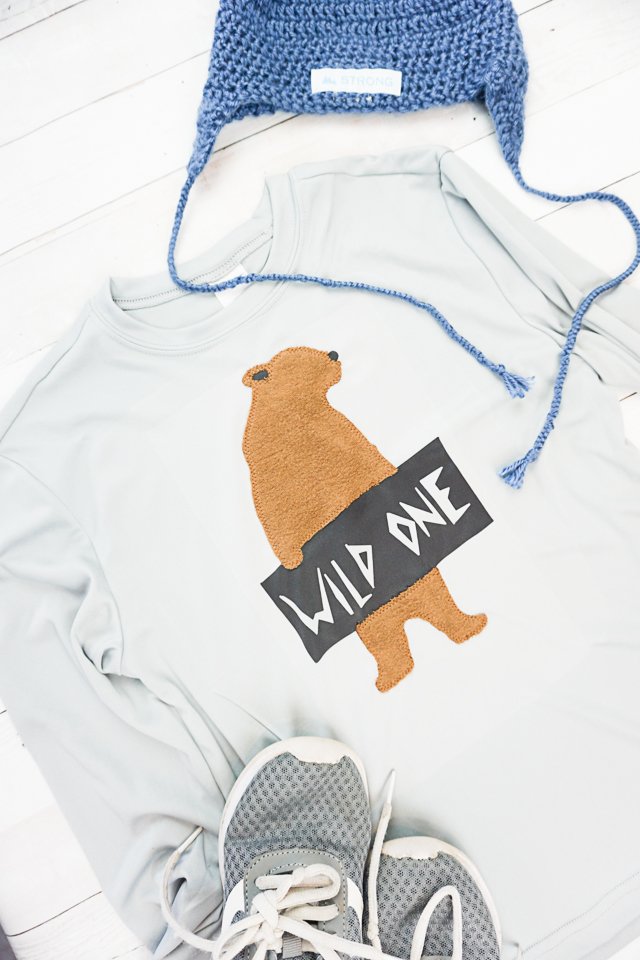 The first one I made a couple of years ago I applied a faux fur bear and a faux leather sign that says "wild one". This was back when I didn't have a cutting machine so I cut it all by hand. Then I pinned the pieces onto a t-shirt and sewed them on.
He wore this tee until the long sleeves were too short, so I chopped them into short sleeves so he could keep wearing it. The faux fur was really long, but it calmed down after a couple of times in the washer.
How to Combine Fabric with Infusible Ink
supplies
Cut the lone bear shape out of fabric by hand or with a Cricut Maker. I mirrored the image and place the fuzzy side (the side I wanted to be the right side) down.
Weed the design and carefully peel the fabric off of the mat.
For infusible ink mirror design and place the infusible ink transfer sheet plastic backing side down.
Have your Cricut Maker cut out the full design.
Week the infusible ink transfer sheet. Make sure you weed out all the words.
Place a piece of cardstock between the layers of fabric. Heat up the shirt for 15 seconds with a piece of butcher paper protecting the fabric.
Place the infusible ink design on the polyester shirt where you want it to be.
Heat the design at 400 degrees for 40 seconds. Let the design cool.
Peel the transfer sheet to reveal the design.
Carefully pin the fuzzy fabric onto the bear of the design.
Carefully zigzag around all the edges of the bear.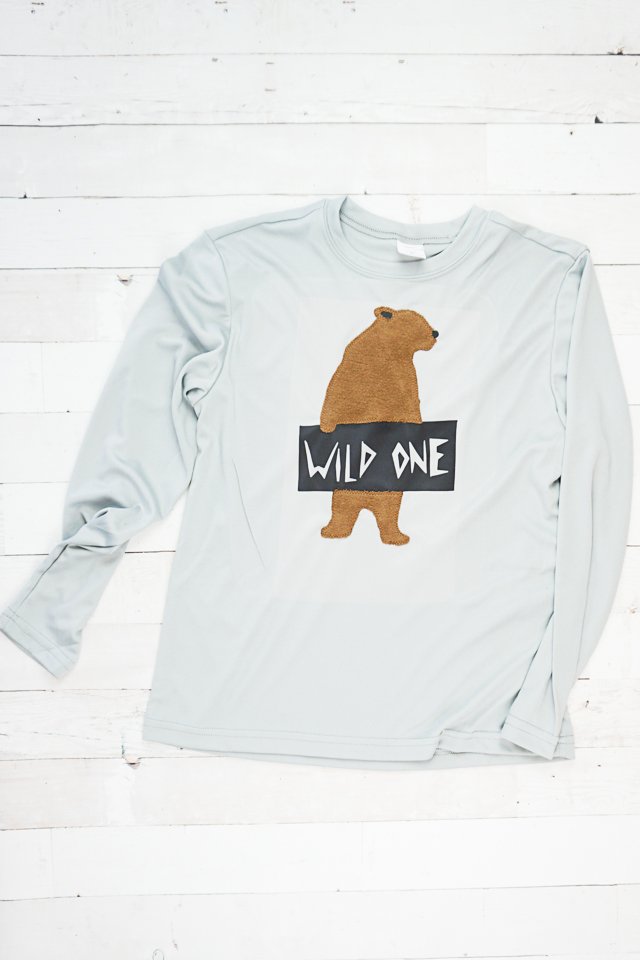 Get the Free SVG Cut File Below!
Get the free "wild one" SVG!
If you make something using this free Wild One cut file, I'd love to see! Please share it on social media with the hashtag #heatherhandmade and tag me!