This post may contain affiliate links indicated with a *. Read the full disclosure here
Cut up an old purse to make this gorgeous and easy DIY leather ornament.
Find an old leather purse and turn it into a gorgeous leather ornament! I love the simple, minimalist look that this DIY leather ornament creates, and it's really easy to make with just some scissors and hot glue!
There are affiliate links in this post.
I'm really into organic materials with lots of texture. I love the look of leather, shells, raw wood, fur, and felt. Instead of choosing colors I often choose a mix of textures. These leather ornaments could also be made with leather or suede!
It's so fun to use all these textures when decorating for Christmas. I've even made a leather tree ornament, and they both would look great next to a DIY fur ornament.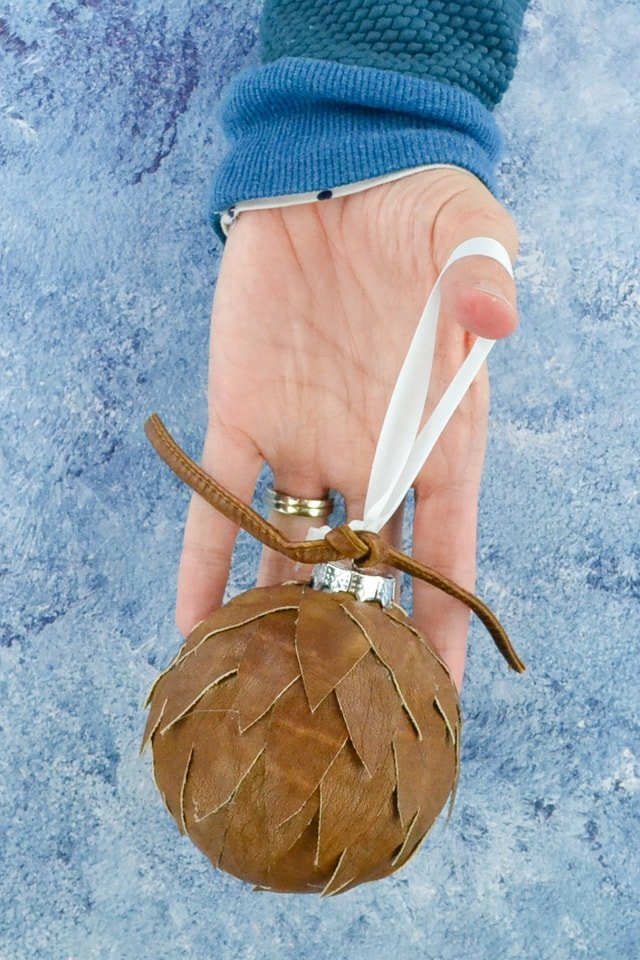 The best part about these ornaments is that they are really inexpensive to make especially if you cut up a leather bag. I love being able to use up unwanted materials to make something beautiful. And saving money is a great benefit!
DIY Leather Ornament Tutorial
Supplies
Leather handbag (to cut up)
Marking tool and leaf shape
Ribbon
2. Cut up the bag to separate the large leather pieces. (You could cut the handles off and use them for this easy tote bag with leather handles.)
3. Take your "leaf" template and mark the shape of the back of the leather pieces. You're going to need a lot so do more than you think you'll need.
4. Cut out all the leaf shapes. Don't worry if the shape varies slightly. It'll add to the character of the ornament.
5. Cut out a 2 inch in diameter circle out of the leather.
6. Glue the leather circle to the bottom of the glass ornament. Remove the metal part from the top of the ornament.
7. Start gluing the leather leaf pieces on the ornament. The point of the leaf should point down, and they should overlap at least halfway with the pieces below them. You want to cover all the glass.
8. Keep glue the leather leaf pieces all the way around and up the glass ornament.
6. At the top glue the pieces so that the straight edge lines up with the hole.
7. Put the metal piece back onto the top of the ornament.
8. If your purse has a tassel on the zipper then carefully remove it. Tie it in a square knot around the metal loop at the top of the ornament.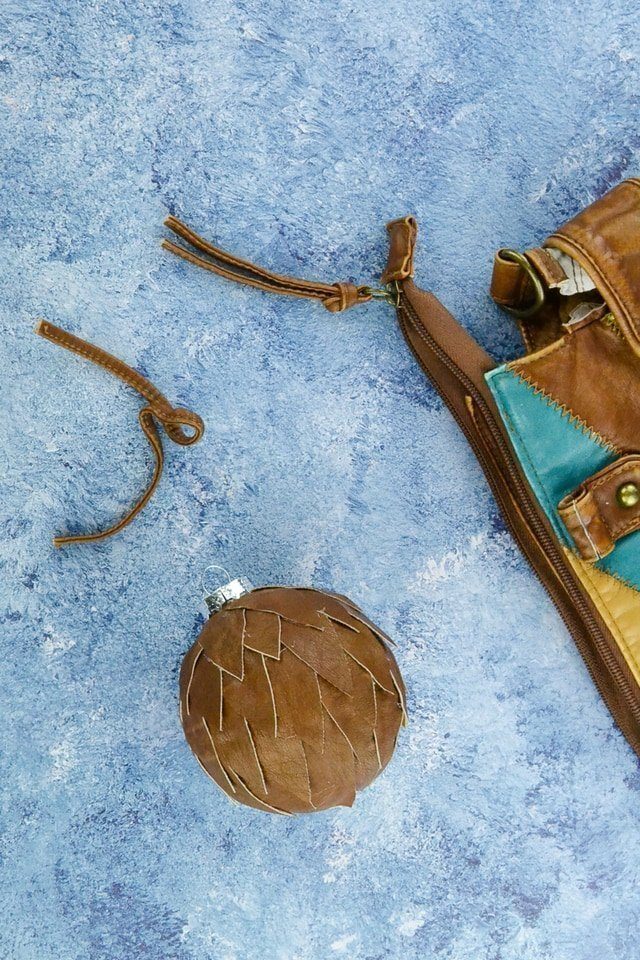 9. Add a ribbon loop to the ring and you have finished!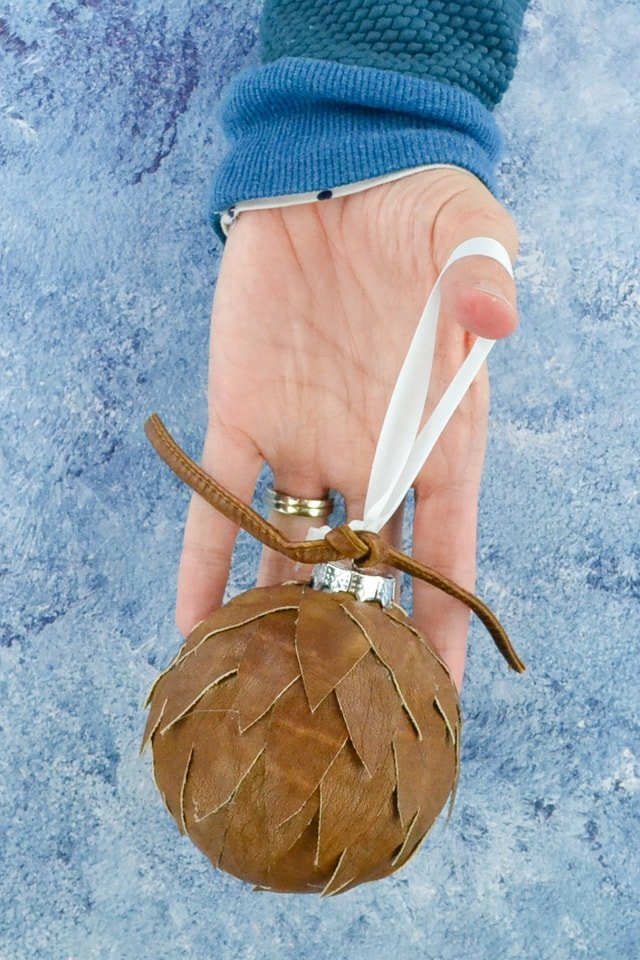 Hang it on your tree to enjoy! If you make something using DIY leather ornament tutorial, I'd love to see! Please share it on social media with the hashtag #heatherhandmade and tag me!