How to Make a Tote With Leather Handles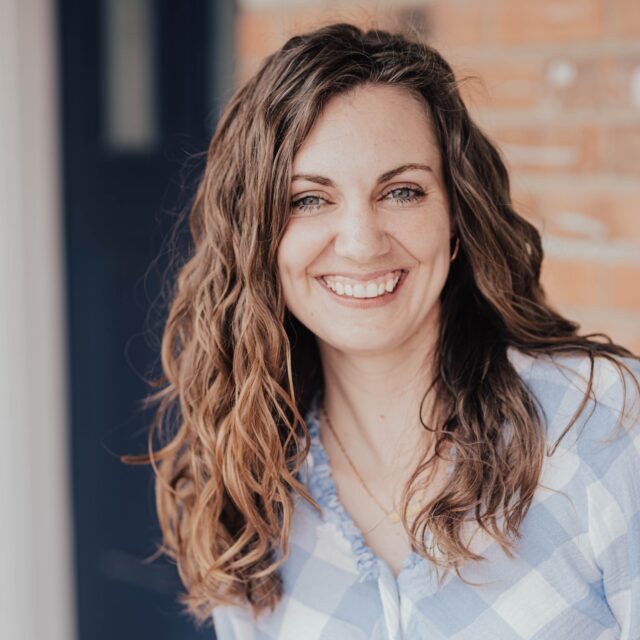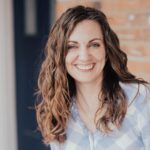 This post may contain affiliate links.
Learn how to make a tote bag with leather handles. This beginner sewing project looks great and is perfect for carrying your essentials!
These tote bags with leather handles are perfect for any fun outings you'll be going on. I love putting a couple of essentials in my tote bag when I take my kids to the splash pad for the afternoon.
I love carrying a water bottle, snacks, and a book to read while my kids play. Let's learn how to make a tote bag with leather handles! Don't miss the free sewing pattern at the end of the post.
The simple design of the bag makes the print and leather show off. I made one bag with a subtle pattern and high contrasting leather, and I made one bag with a busy print and a subtle leather. I love the contrast of leather against the canvas fabric.
What fabric should I use for an unlined tote bag?
Since you won't be able to interface the fabric and hide the interfacing with lining and you won't have the extra layer of lining fabric for strength, you'll need a really strong fabric to be durable. The best fabric to use for an unlined tote bag is canvas since it strong, durable, easy to find, and easy to sew.
Should I prewash the fabric?
Yes, you should prewash the fabric before cutting and sewing. You want the fabric to be in the right condition so that it won't shrink or fade in the future after you wash it. Also, since you are adding leather to the tote bag it can't be washed so you'll need to wash the fabric before.
What leather should I use?
If you are buying leather, I prefer to use leather that is 1 mm – 2 mm thick. This is right in between being thick enough to be strong but not too thick to be hard to sew. Sometimes you can buy half a hide, or you can get smaller scraps to work with.
Other places I like to find leather is leather jackets, skirts, and purses from the thrift store. There are lots of great ways to find leather for cheap.
Do you love to sew? Try one of these sewing projects:
I got these two gorgeous canvas fabrics from Sewing Studio. I taught these bags in a class and Sewing Studio sponsored the class. There are lots of fun canvas print fabrics available. You can use the code "HEATHER" to get 10% off your next order.
I wanted to use a small piece of leather for this tote bag to keep it affordable. I used these embossed Craft Cuts from Tandy Leather because they are pretty and affordable. It does mean you have to have seams in the middle of your straps, but it's hard to see.
How to make a tote with leather handles
Supplies
1/2 yard of canvas fabric*
9×11 piece of leather
Optional: gluestick* for holding leather together instead of pinning
Free tote bag sewing pattern – get it at the end of the post
Gather your supplies.
Use the free sewing pattern at the end of the post, or cut your canvas 33 inches wide and 18 inches tall. Make sure you cut off both selvedges.
Cut the leather into 1 inch strips.
With WRONG sides together sew around three sides of the canvas leaving a short side unsewn.
We are going to sew the bag with a French seam.
Trim seam allowances to 1/8″.
Turn wrong side out and press seams flat.
Sew around the same three sides with a 3/8″ seam allowance. You now have a nice enclosed seam.
Line up the bottom seam with the side seam at the inside corners and sew 2″ in perpendicular to the seam. You will be creating a little triangle.
Fold the top of the bag once at 1/4″ and then again at 1″.
Press and pin.
Sew around the top edge 7/8″ from the top fold.
Add a tag on your hem if you want.
Change your needle to a leather sewing machine needle.
Take the eight strips of leather. Sew two together on the short side with a 1/4″ seam allowance. Do this to the other six strips.
You now have four strips of leather. With the WRONG sides of the leather together sew two straps together making a double sided strap. Offset the seams so there's less layers of leather to sew through.
Do it to the other two straps.
Trim the edges of the straps so that they are all the same length.
Sew the edges of the straps in a square onto the hem of the bag. The straps should be in the middle of the bag and six edges apart.
Have fun pairing leather and canvas for the perfect tote! Happy tote-making and toting all your stuff!
Get the Free Sewing Pattern here!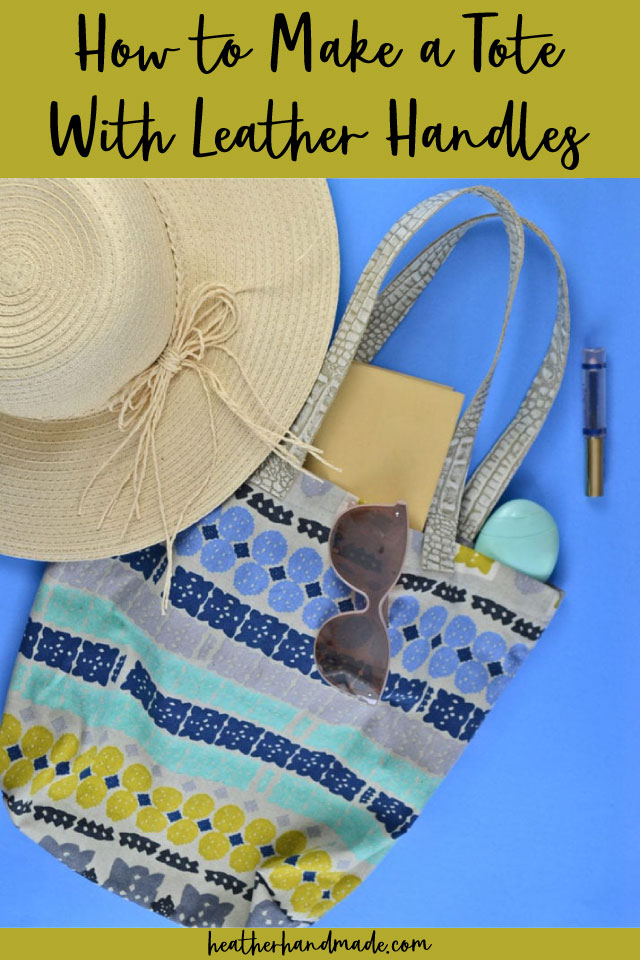 If you make something using this sewing project, I'd love to see! Please share it on social media with the hashtag #heatherhandmade and tag me!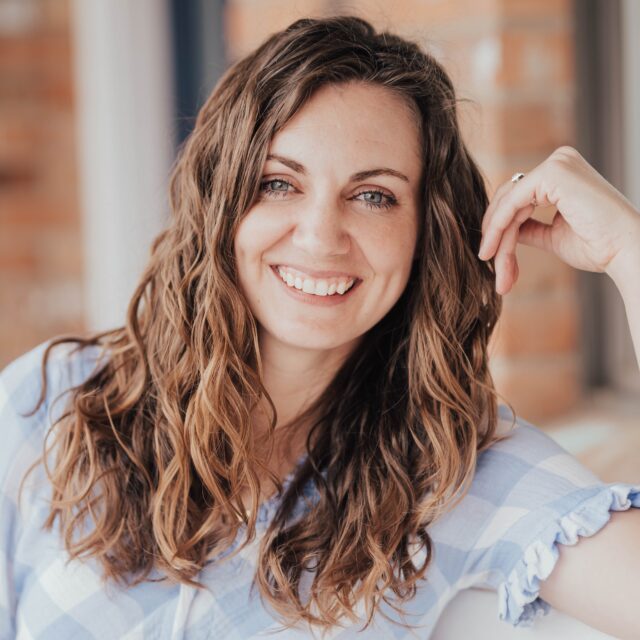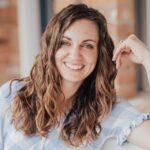 I believe small sewing moments can create great joy. Find your own "right" way to sew. -Heather