DIY Infusible Ink Dish Towels
This post may contain affiliate links
Learn how to make DIY Infusible Ink dish towels for your kitchen with Cricut. Add some pretty trim for an extra special detail!
I go through dish towels and hand towels so fast in my house. My kids always use them to dry their hands, to clean up spills, and to play with them. Luckily, I can make pretty ones to replace the ruined ones so that I always have a fresh and clean towel to use.
I had the idea of a "print" on a towel using infusible ink. It would add color and interest to the dish towel, but the print would never come off or fade. The only way it can be ruined is by getting stained, but I think the print will help hide most stains!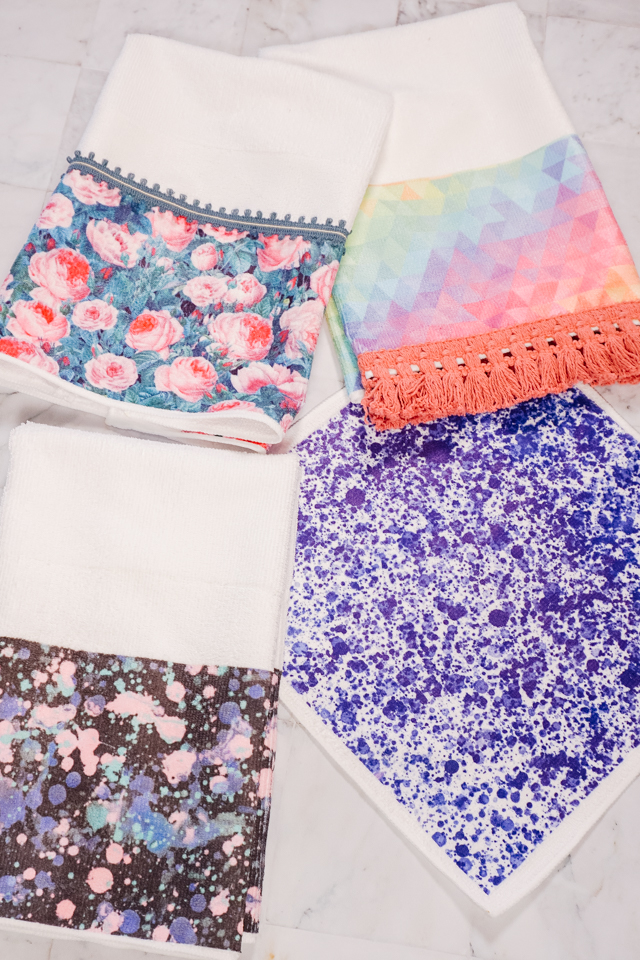 What is Infusible Ink?
Infusible ink is ink that is transferred by heat. It's essentially sublimation, but it's now accessible to hobby crafters. When infusible ink is transferred the ink is infused into the item.
Infusible ink can be purchased as an infusible ink transfer sheet and as infusible ink pens. The colors of the infusible ink transfer sheet look pale before being heated, but they are very bright once heated and transferred.
Cricut Infusible Ink is a way to apply something to fabric. Instead of gluing vinyl on top, infusible ink is ink that is transferred through heat and pressure. The ink goes down into the fabric and infuses into it. It's similar to the sublimation process.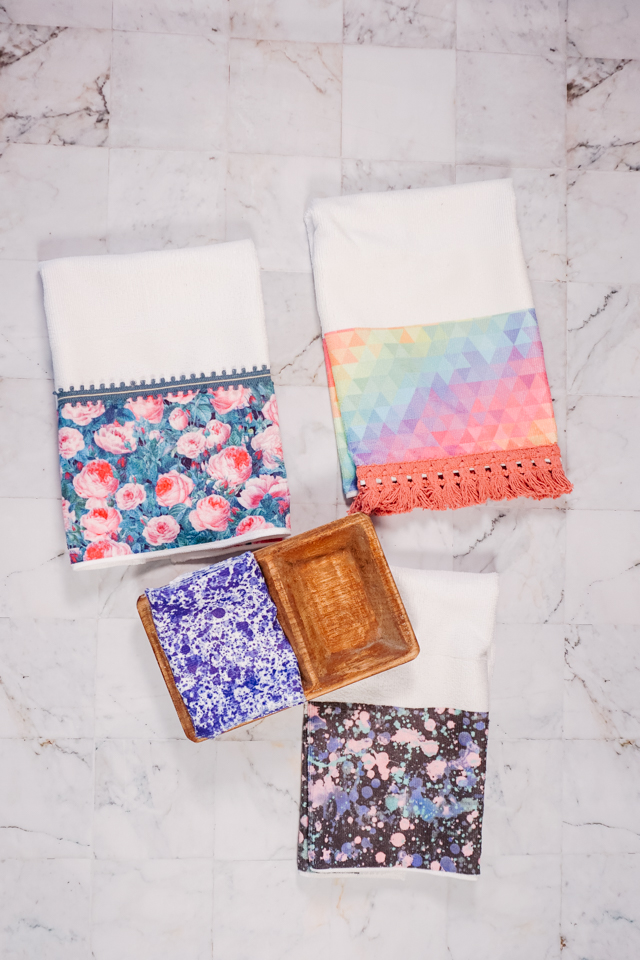 What dish towels can be used with Infusible Ink?
You have to use 100% polyester dish towels to work with Infusible ink. I used these microfiber kitchen towels and wash cloths* for this project. It was great to get everything in a set so that I had multiple to work with.
I like to search for sublimation blanks on Amazon to see lots of different products that will work with Infusible Ink.
Learn all about Cricut Infusible Ink:
DIY Infusible Ink Dish Towels
Supplies
Easypress mat
Optional: Ribbon, tassel, or pompom trim – something that is durable and can be washed a lot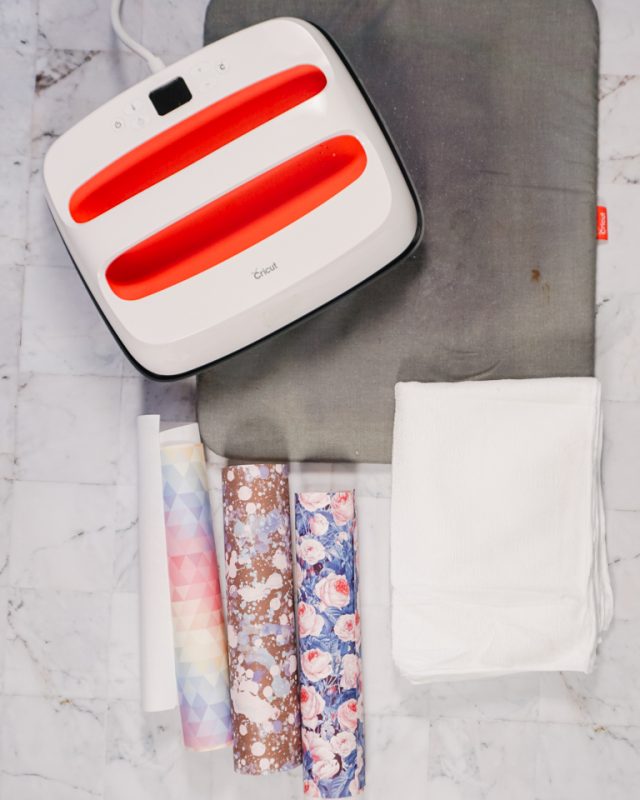 I wanted my Infusible Ink to be as big as possible to cover as much as the dish towel as possible. I couldn't use an entire sheet since my large Easypress 2 isn't big enough.
I cut each Infusible Ink transfer sheet in half and used one half on one side of the towel and the other half on the other side of the towel. I did not use my Cricut Maker to cut a design, but you could add words or pictures within the Infusible Ink.
Set your Easypress 2 to 400 degrees and 40 seconds. Iron the dish towel flat and heat up the area you will be doing the Infusible Ink.
Brush off any dust or debris. Place the Infusible Ink transfer sheet down along the short edge of the towel. Place the butcher paper on top.
Apply the Easypress and cover the transfer sheet completely for 40 seconds. (The temperature fluctuates slightly whenever I do 400 degrees.)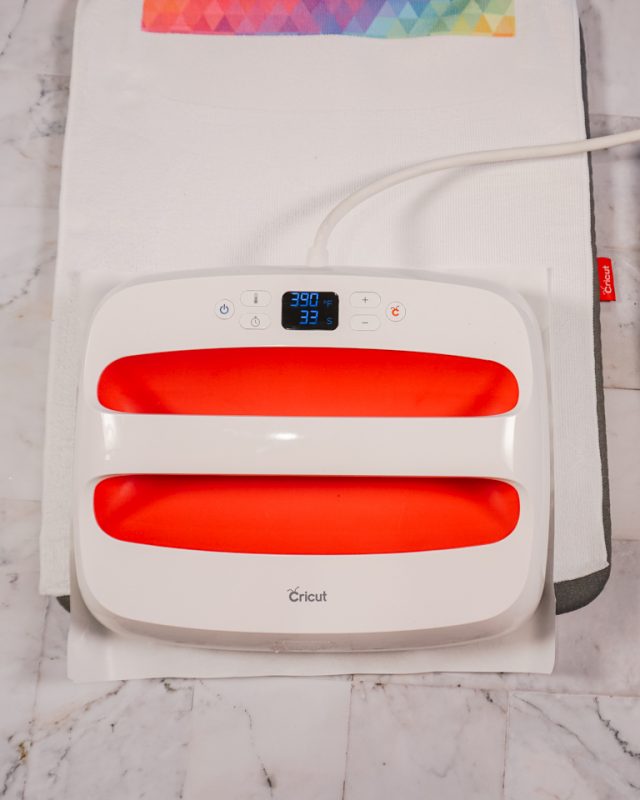 Take off the butcher paper and peel of the transfer sheet. Do the same to the other side of the towel.
If you want to do a wash cloth, trim the infusible ink transfer sheet so that it is about 11.5 inches by 11.5 inches.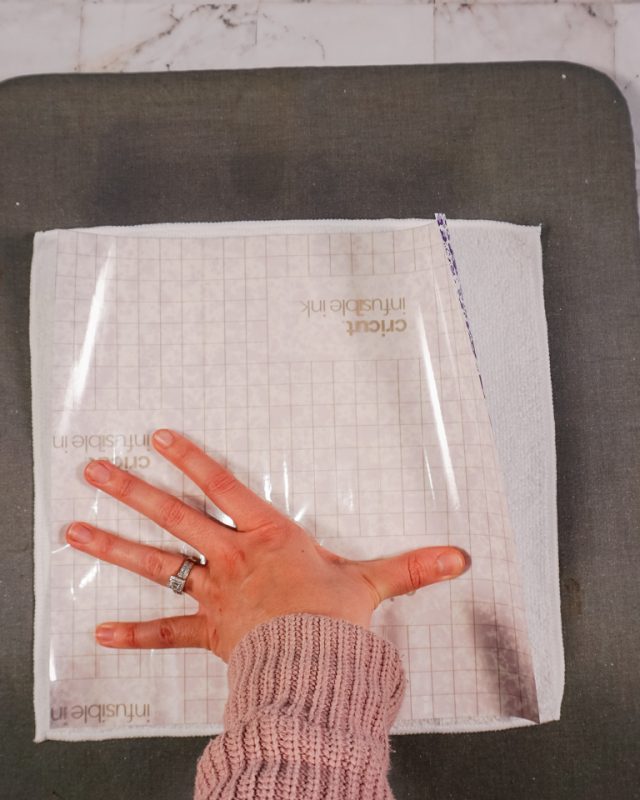 Press and heat up the wash cloth. Place the infusible ink transfer sheet down and then the butcher paper.
Apply the Easypress 2 for 40 seconds. Peel off the butcher paper and transfer sheet.
Now you have a completely printed wash cloth.
To add trim to the dish towels, pick out a trim that is cotton based and durable. I chose pink tassels for the rainbow triangle towel and thick ribbon for the flower towel.
Sew the trim at the top of the print for a nice separation between the white and the print.
Or sew the trim along the bottom for a nice edge. This tassel trim had a chain stitch I had to pull off at the bottom to release the tassels.
You finished!
If you make something using this sewing project, I'd love to see! Please share it on social media with the hashtag #heatherhandmade and tag me!