DIY Flannel and Sherpa Blanket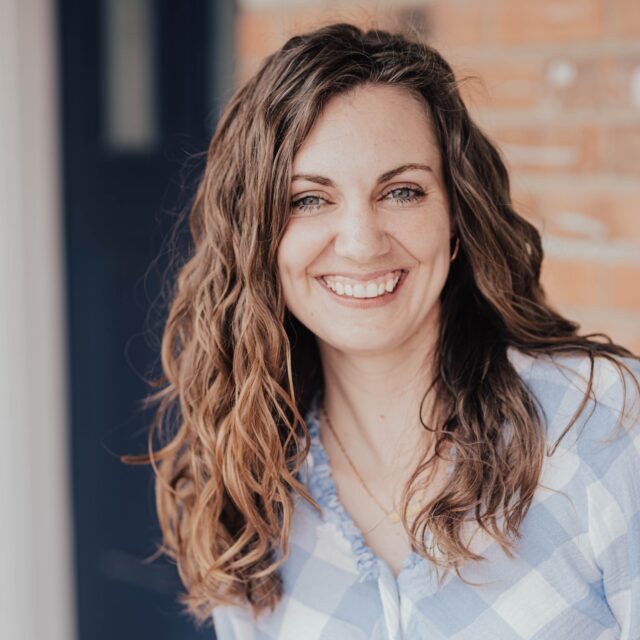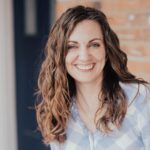 This post may contain affiliate links.
Learn how to make a DIY flannel and sherpa blanket for a cozy handmade gift. This easy sewing project uses fabric and just a sewing machine!
I get so cold during the winter so I just love snuggling up in a cozy, warm blanket. I've made plenty of blankets and quilts before, but none of them were super warm. Sometimes I use two blankets at once to warm me up enough.
Blankets are such fun gifts because they are big gifts, they are easy to make, and the person will think of you every time they use it. This blanket combines flannel and fleece sherpa for a stunning look and easy care.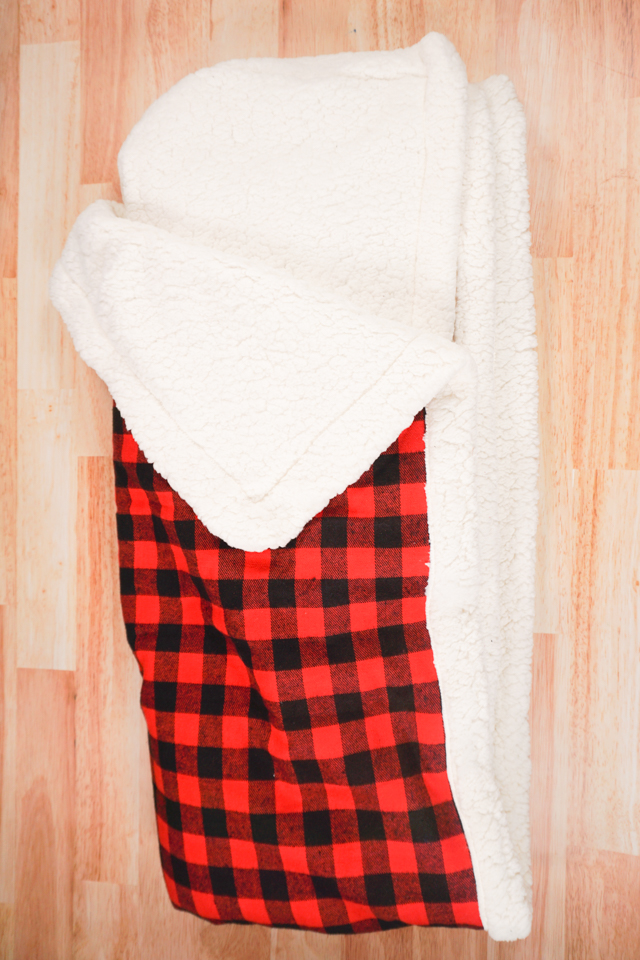 I chose a classic red and black plaid for the flannel since it looks at feels like the holidays, but I also think it works well for the whole winter. The red has a warm look to it.
To contrast I chose a white fleece sherpa since fleece is easy to find and easy to care for. I almost chose black because black would hide any dirt on the edges, but I liked how the off-white and the plaid looked together.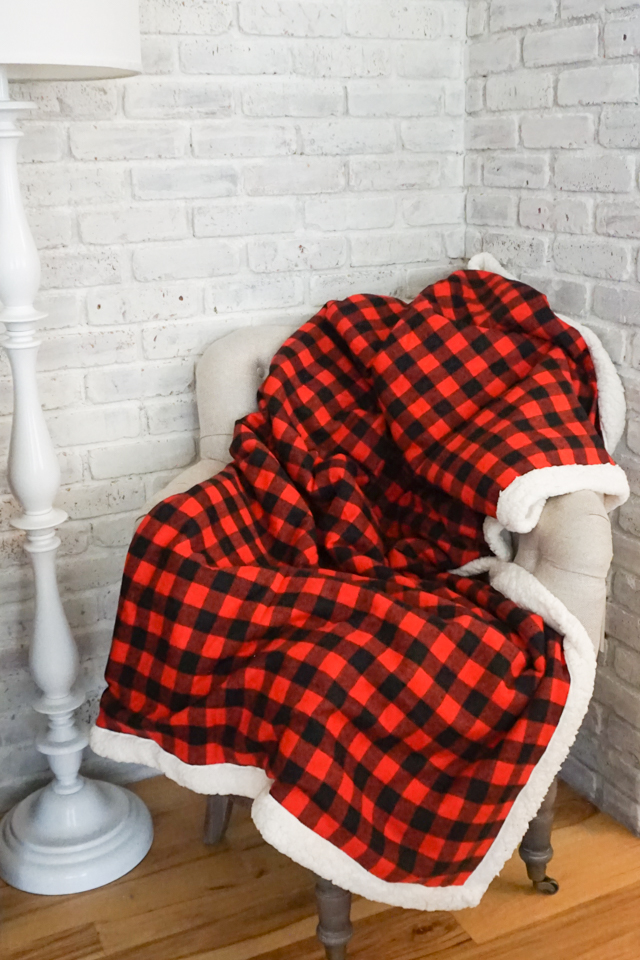 What fabric should I use to make sherpa and flannel blanket?
The best fabric for this blanket is sherpa that is made from fleece and cotton flannel fabric. Real sherpa is from sheep, faux sherpa has a fuzzy side and a faux suede side, and the fleece sherpa that I chose is polyester fleece with an extra fuzzy size.
Cotton flannel fabric is easy to find and easy to sew. It comes in solids and all sorts of prints. I recommend if you are using plaid or stripes to get yarn dyed fabric (you can tell if it's yard dyed when the colors are the same on both sides). Your fabric won't be off grain when you use it.
Blankets get washed a lot so it's important to choose fabrics that can take a lot of wear like fleece and flannel.
Should I prewash my fabric?
Yes, it's important to prewash and dry the fabric so that when it gets washed after it's finished it won't shrink or bleed colors.
Do you love to sew? Try one of these fun sewing projects: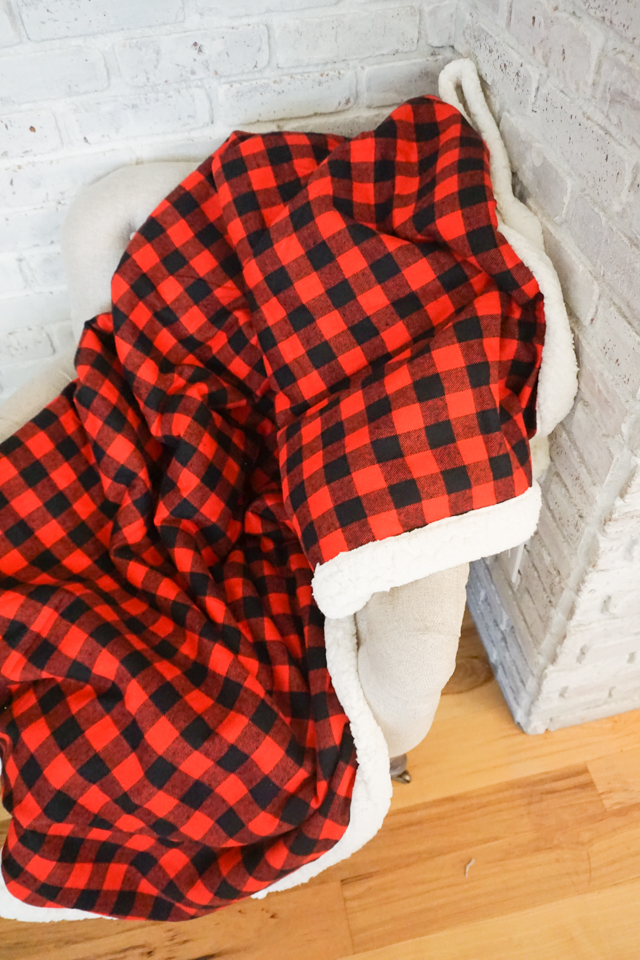 DIY Flannel and Sherpa Blanket
Supplies
2 yards of sherpa fleece fabric
4 yards of flannel fabric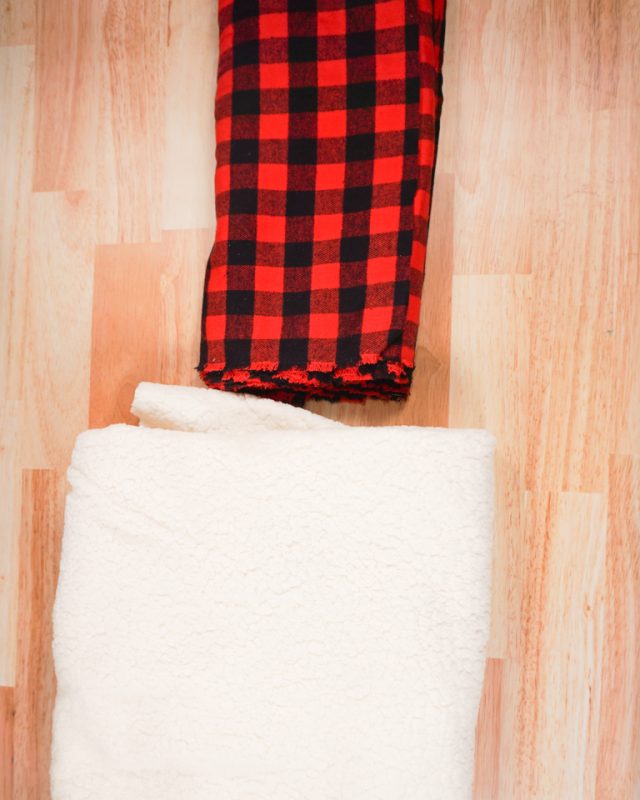 Cut the flannel fabric into two 2 yard pieces.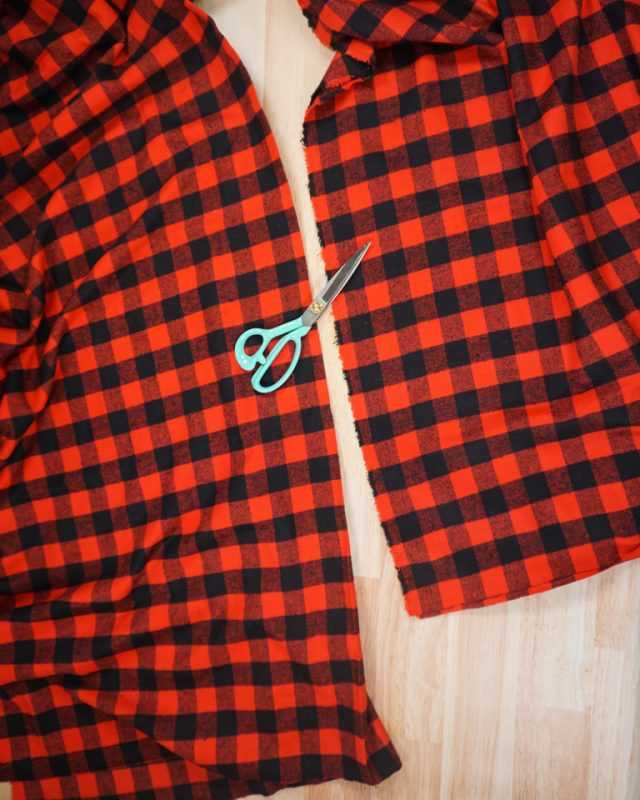 Match up the selvedge edges of the flannel fabric and sew the selvedges together at 1/2 inch with right sides together. Backstitch when you start and when you stop.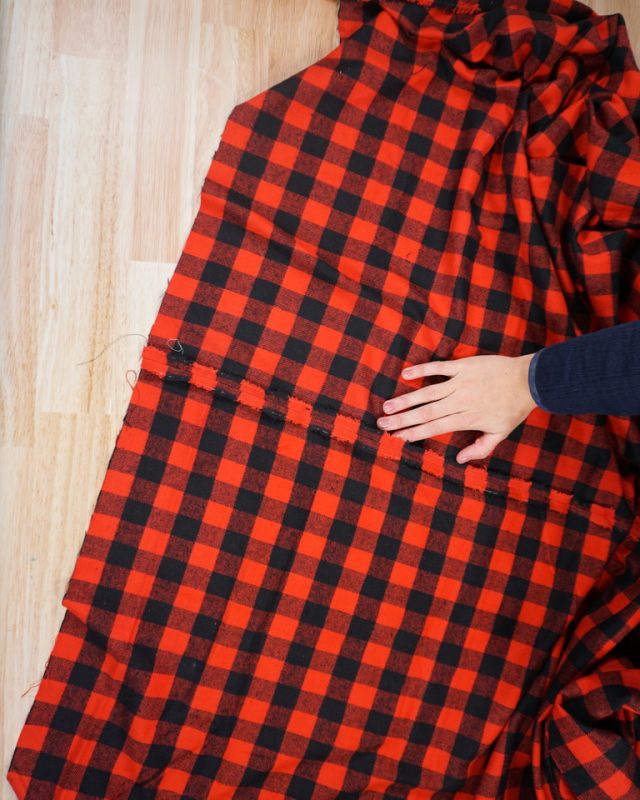 Cut the new large rectangle until it measures 70 inches long and 58 inches wide.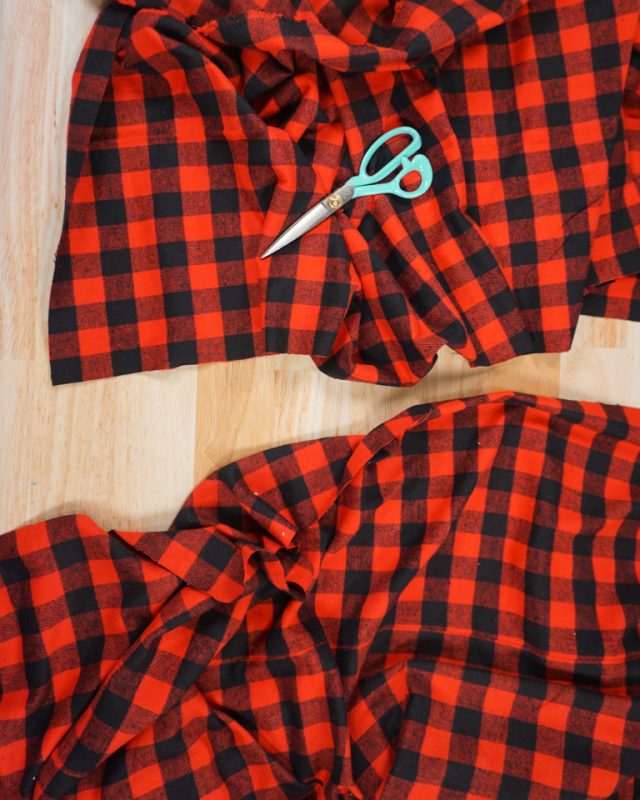 Cut the fleece sherpa to be 72 inches long. Cut the selvedges off so that the fleece is 60 inches wide.
Fold each corner of the sherpa fleece at an angle so that the two straight sides are matched up. Sew 2 inches from the point perpendicular to the straight edges down to the fold. Backstitch when you start and when you stop.
Trim the seam allowance and turn the miter corner right side out.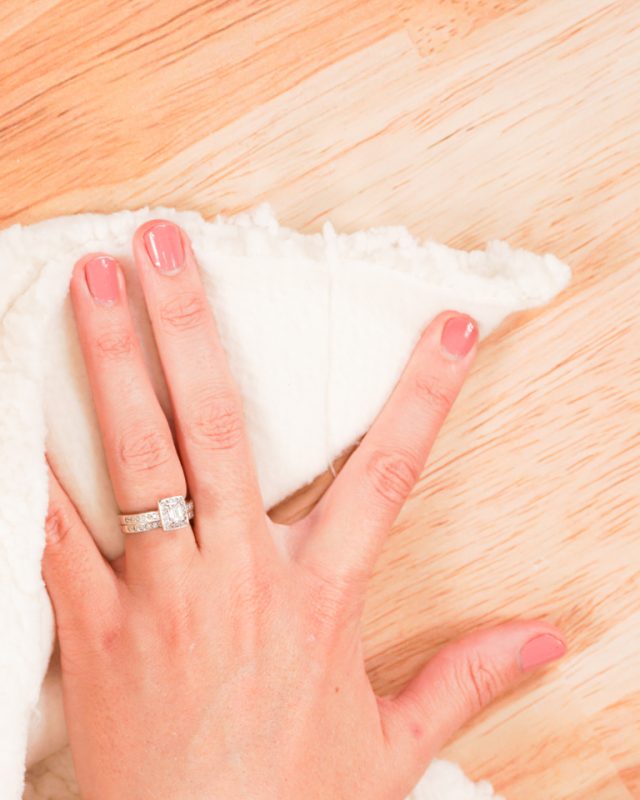 Lay the flannel on top of the fleece with wrong sides together. Center the flannel on top of the fleece so there is 1 inch of fleece showing on all four sides.
Fold the fleece over the flannel so that the raw edge of the flannel is enclosed. Pin the "hem" in place.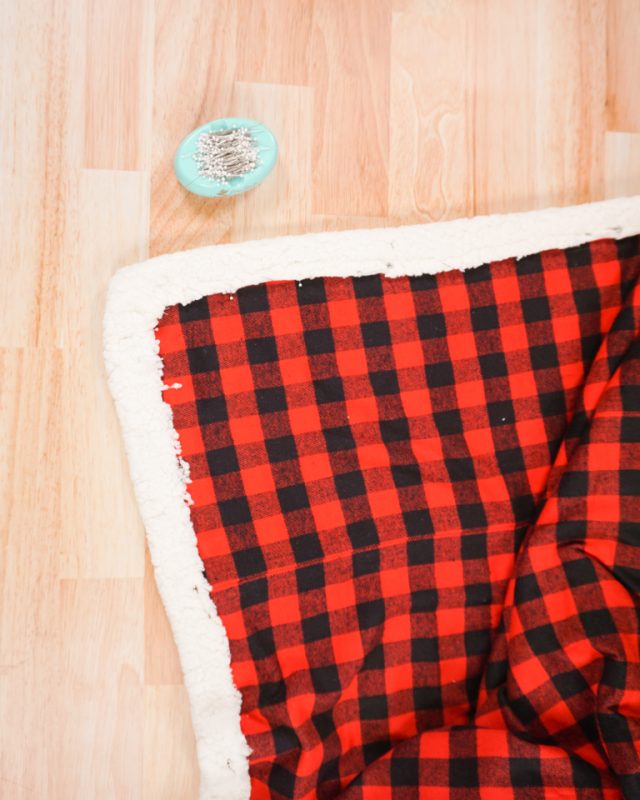 Sew a wide zigzag stitch along the edge of the fleece to sew the hem, enclose the flannel edge, and create a border around the edge of the blanket. You finished!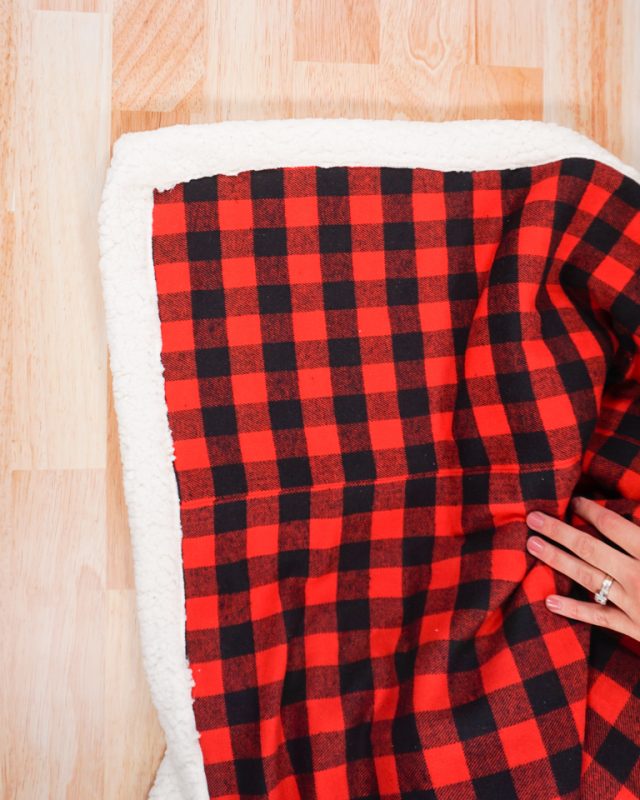 If you make something using this sewing project, I'd love to see! Please share it on social media with the hashtag #heatherhandmade and tag me!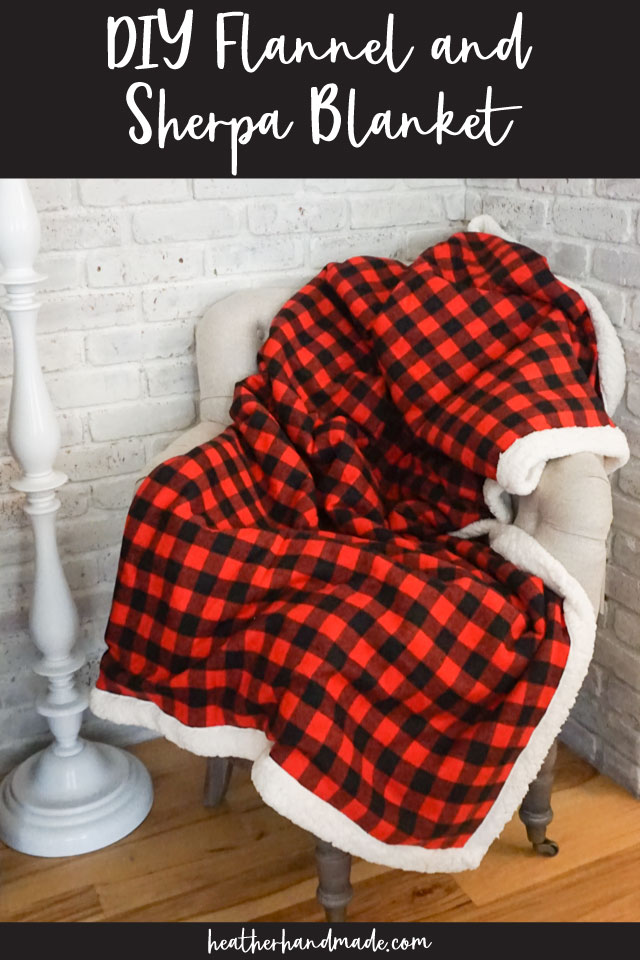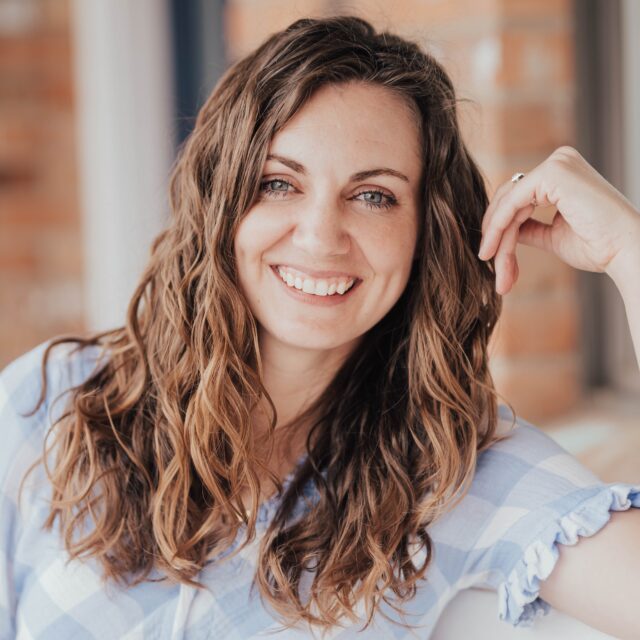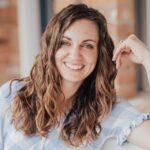 I believe small sewing moments can create great joy. Find your own "right" way to sew. -Heather