DIY Fabric Ornament Ball with Free Pattern
This post may contain affiliate links
Learn how to make a DIY Fabric Ornament ball with a free sewing pattern. Use the same fabric or alternate fabrics for a classic ornament.
I love the look of a classic ball or bauble ornament, and this year I decided to make my own with fabric. Earlier this year I made a free ball sewing pattern in two different sizes, and the smaller size is the perfect DIY fabric ornament ball size.
It works when you use all the same fabric to look like a solid colored ornament, and it also works when you alternate between two fabrics for a really classic ornament look. It was so fun to make these ornaments, and I can't wait to see the ornaments that you make!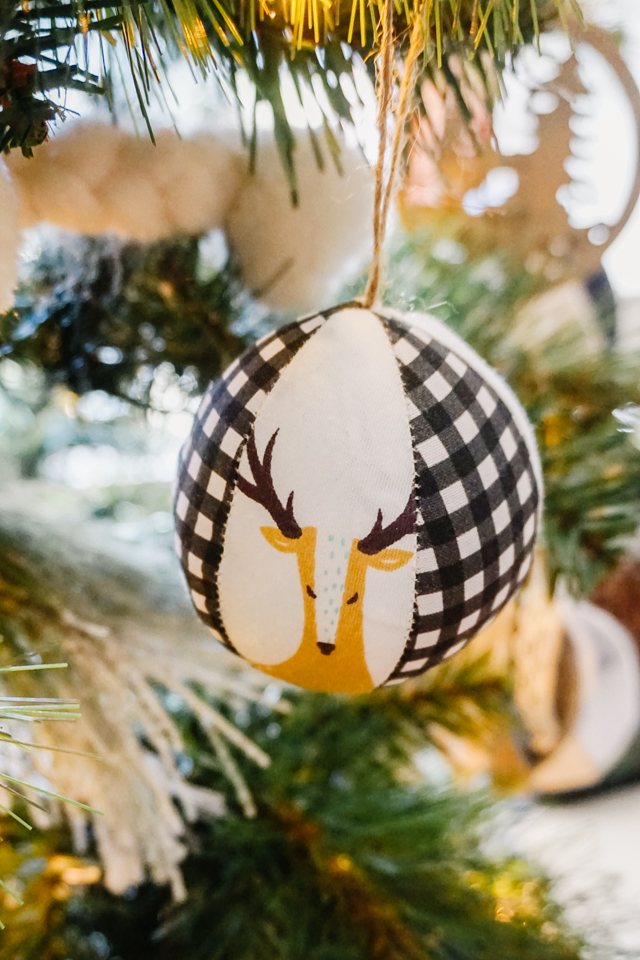 What fabric works best for a fabric ornament?
The best fabric to use for an ornament is quilting cotton. It's soft, smooth, easy to find, easy to sew, and it comes in every print and color imaginable. You can also use flannel or canvas if you need to.
Should I prewash the fabric?
You do not need to prewash the fabric since the ornament will never be washed.
What other supplies do I need for the DIY ornament?
Besides sewing supplies you'll also need some ribbon for the hanging loop, and you'll need some polyfil.
Do you love to sew? Try one of these sewing projects:
DIY Fabric Ornament Ball with Free Pattern
Supplies
Scraps of quilting cotton
Polyfil
Scrap of ribbon
Get the free ball sewing pattern at the end of the post
Cut out six pieces of fabric for one ornament. If you do the same fabric all the pieces will be from the same fabric. If you alternate the ornament then do three pieces from the two different fabrics.
Transfer the marks from the pattern to the back of the fabric pieces.
Pin three fabric pieces right sides together along the sides. Sew the sides starting and stopping at the dots. Backstitch when you start and when you stop.
You now half two halves of a sphere.
Cut the ribbon 8 inches long. Fold it in half and pin the short ends to the top of one half.
Pin both halves with right sides together matching the top and the bottom.
Sew around the circle and leave a 2 inch hole. Backstitch when you start and when you stop.
Trim the top and the bottom seam allowances to reduce the bulk.
Turn the fabric ornament right side out through the hole.
Stuff the fabric ball with polyfil until the ball is full and firm. I like to use small pieces of polyfil to get all the curves.
Hand stitch the hole closed with a hand needle, thread, and a ladder stitch. You finished!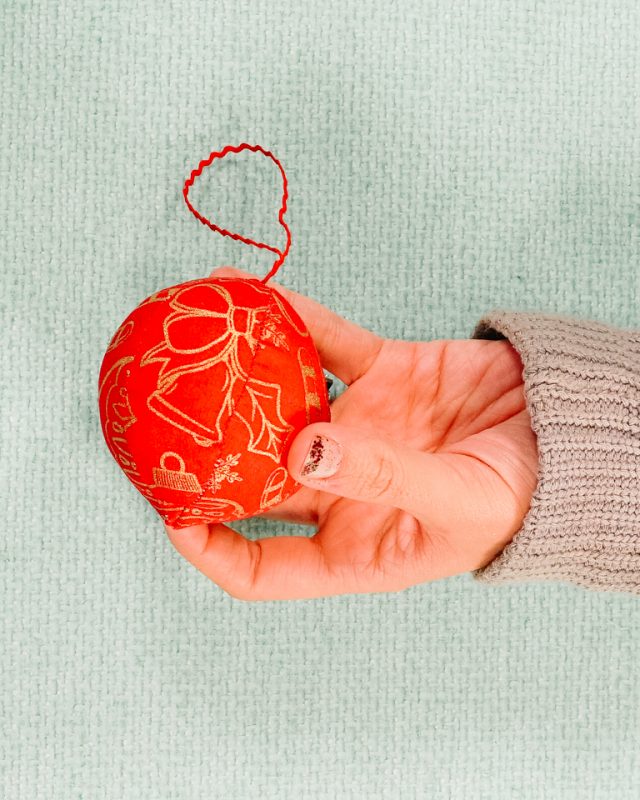 If you make something using this sewing project, I'd love to see! Please share it on social media with the hashtag #heatherhandmade and tag me!