How to Applique on Stretch Fabric
This post may contain affiliate links
Learn how to applique on stretch fabric. This sewing technique works great for knit fabric. It's easy as long as you have the right supplies!
I am so excited to show you my latest swimsuit. This is something based on an idea I have had for over a decade, and I finally created it. I can't wait to wear this all summer long! This is such a fun summer sewing project!
When I was a young teenager I found a gorgeous tankini top on sale. It was white with the word "love" on the front in solid primary colors. The only problem was that it was a size too small.
I ordered it anyway to try it, and it definitely didn't fit. I had to send it back, but I'm remembered and dreamed of this swim top ever since.
Here are some tips for sewing a swimsuit to help you make your own!
When I heard about Raspberry Creek Fabrics new swim line, I knew I had to try recreating the swim top. The thing I love most about each Raspberry Creek Fabrics line is that so many colors and prints coordinate.
I chose all the navy prints on stretch: navy floral, navy dots, navy stripes, and navy gingham. Then I got some solid white stretch swim and some swim lining.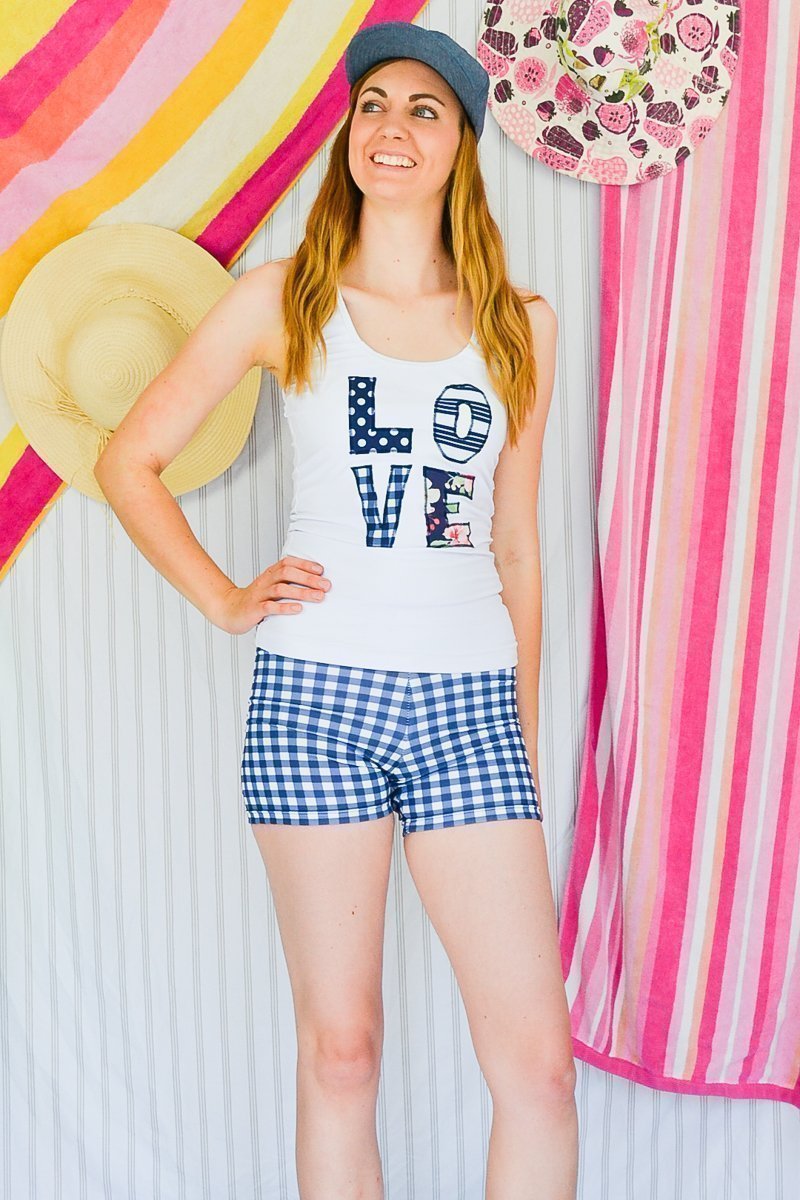 The ability to sew a swimsuit that fits me the way I want and has the details I want is a true superpower. I love customizing my swimsuit to feel comfortable in my body, comfortable in the water, and comfortable chasing and playing with little children.
It's important to me to be so comfortable in my swimsuit that I don't have to give it another thought while I'm enjoying myself in the sun.
I used the Essential Tank pattern and the Peg Legs pattern by Patterns for Pirates. I really wanted the classic racer back tank look found in the Essential Tank.
It ended up that I had to widen the straps slightly since I knew that the swim elastic would remove more than what the original pattern intended. I also lengthened the waist one inch.
For the swim bottoms I used the Peg Legs shorts version, but I lengthened them slightly to get the look I wanted. I also added a waistband for a tighter fit while swimming.
How to Applique on Stretch Fabric
Supplies
Sewing Tools
Stretch fabric like swim knit fabric or cotton spandex jersey
Tissue paper
Cut squares of knit fabric just larger than your applique.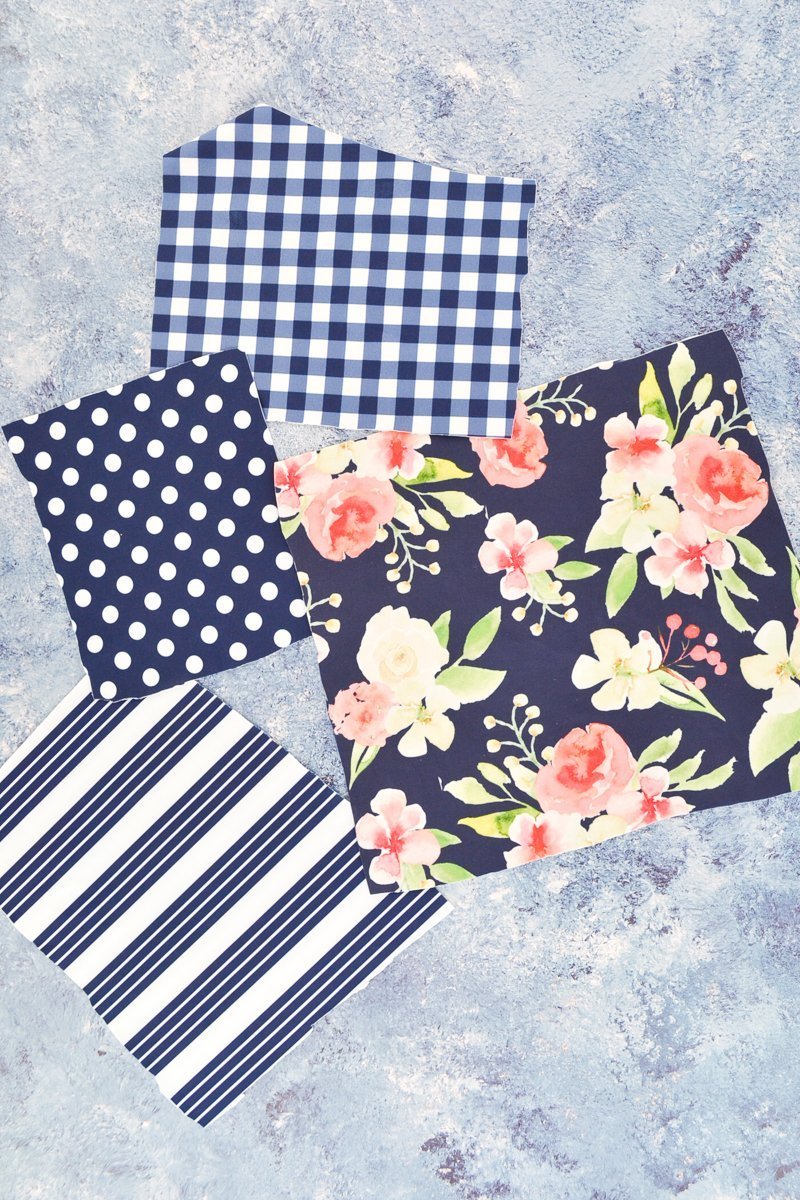 Cute the SoftStretch just smaller than the fabric. Fuse the adhesive to the back of the stretch fabric.
Draw your REVERSED applique design on the paper backing.
Cut out the applique. Peel the paper backing off of the adhesive.
Place the applique adhesive side on the your garment. Pin the applique in place.
Use an iron to fuse the applique to the garment.
With a wide and short zigzag stitch, my stitch was 4.5 wide and .5 long, stitch around the applique. To prevent the fabric stretching out place tissue paper under the fabric.
Once you've sewn around all of the appliques press again to remove any waviness.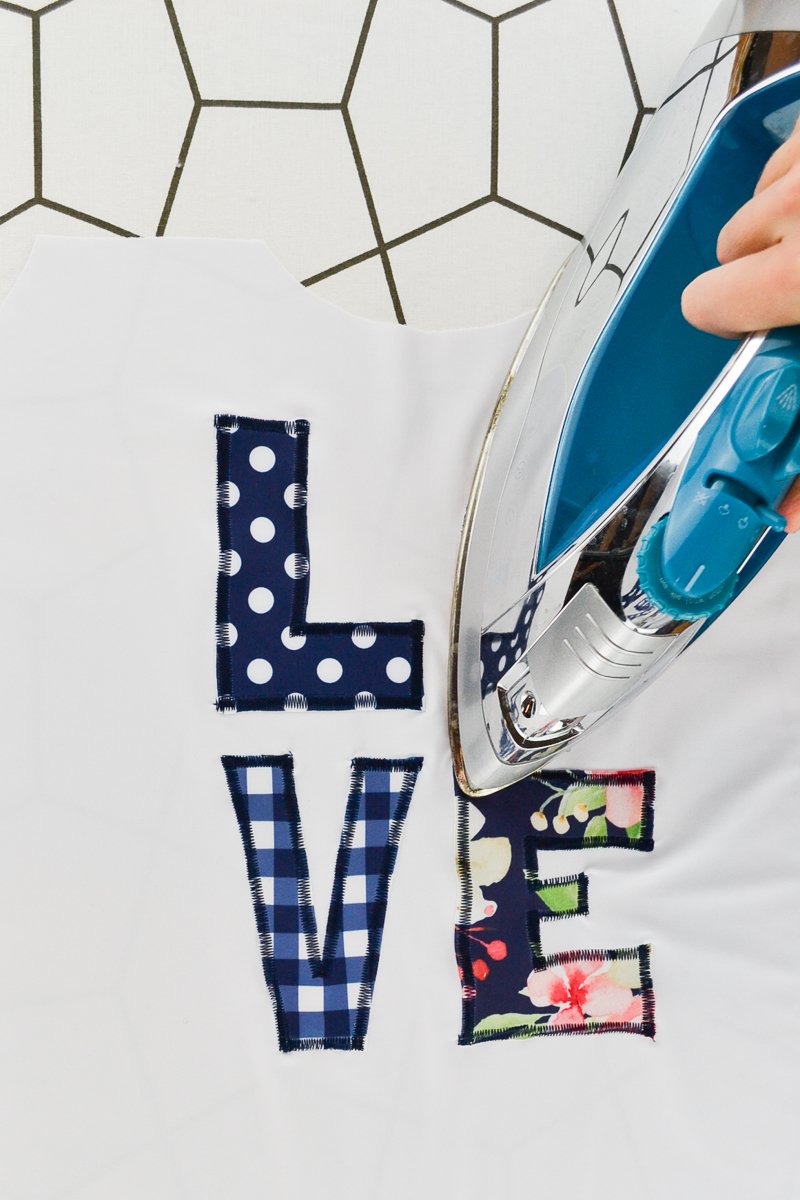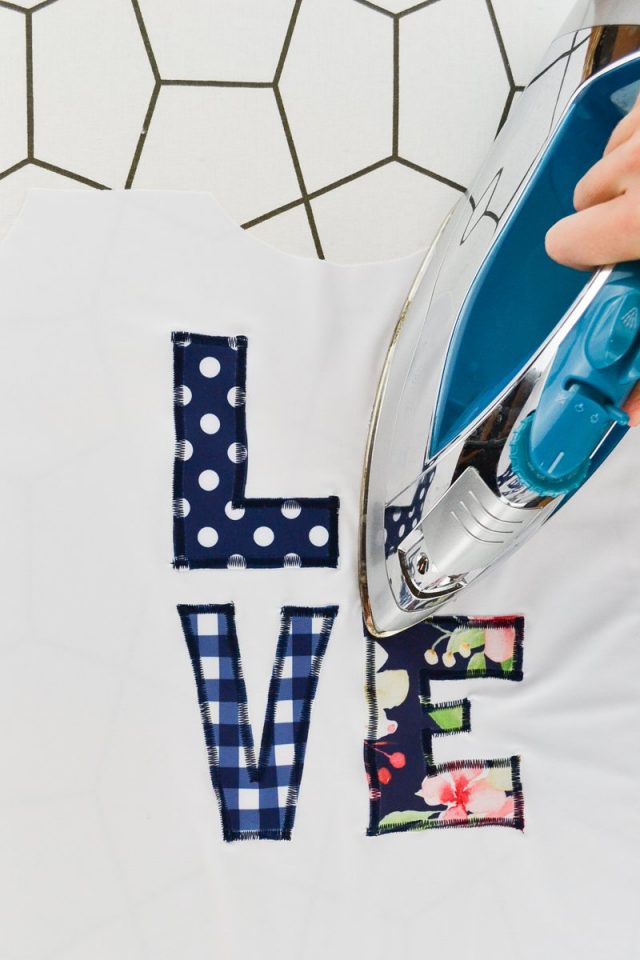 If you make something using this applique on stretch fabric tutorial, I'd love to see! Please share it on social media with the hashtag #heatherhandmade and tag me!